https://www.paulaschoice.co.uk/aa-booster/7750.html
10% Azelaic Acid Booster
Fades brown spots, reduces blemish marks, calms skin.

Award winner: Paula's Choice 10% Azelaic Acid Booster has just been awarded the ES Best Top Pick for best product with azelaic acid!

Skin Type:

All skin types

Concern:

Breakouts, Anti-Ageing, Brown spots, Rosacea-prone skin, Dull skin

Ingredients:

Adenosine, Azelaic Acid, Salicylic Acid/BHA

View all

Routine:

Treatment
Remove from Wishlist
Add to Wishlist
Product out of stock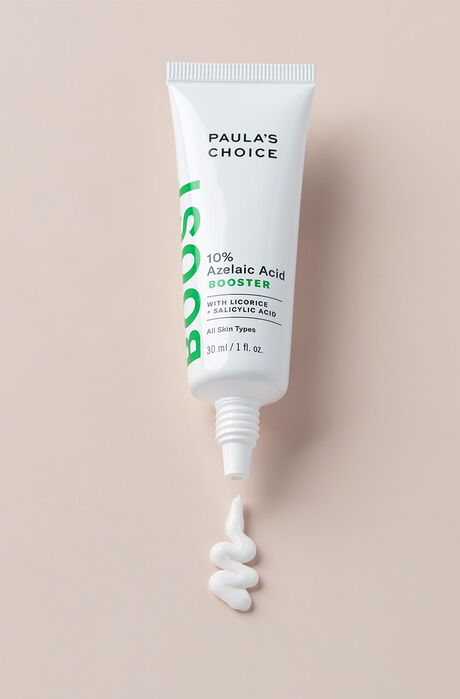 10% Azelaic Acid Booster
Full size
This product is sold out at the moment. Fill in your email address below and we'll gladly send you an email as soon as it is back in stock!
What does it do?

Target multiple skin concerns at once

The Azelaic Acid Booster is a real multi-tasker. The powerful combination of azelaic acid, salicylic acid and plant extracts has multiple benefits for skin. This booster visibly fades brown spots caused by sun damage, works to reduce breakouts and diminish red marks from past blemishes. Plant derived brightening and soothing ingredients reveal a more radiant, even complexion. A perfect alternative for those sensitive to benzoyl peroxide.

Is this suitable for my skin?

What skin concern would you like to address?

(Please select one option)

How to use

Once or twice daily, apply to face and neck. May be used alone or added to your favourite moisturiser or serum. For daytime, always follow with a sunscreen rated SPF 30 or greater.

Reviews

Thank you for submitting your review! It will be reviewed by our staff before it is posted.

Almost 2 weeks into using and already seeing an improvement in my hyperpigmentation.

Customer Care: Hi Hayden! I'm so glad to hear you're already seeing great results. This booster is so easy to incorporate into any routine and is excellent at addressing many types of hyperpigmentation! If you'd like to give this an extra boost, try adding in our C15 Booster! Feel free to contact us if you have any questions or would like more personalized advice. Kind regards, Marissa - Paula's Choice Customer Care

For some reason this product hasn't made a difference to me, I've been using it for two months, started off slow gradually introducing it into my routine and still two months down the line my skin/scars still look just as bad. I've been using it twice a day alongside other P.C products which supposedly compliment it and I haven't noticed a single change. My diet is good so I know it's not that. Shame as I want to pursue it but it's expensive and I'm not sure whether I want to invest in it again.

Customer Care: Hi Olivia, thanks for your review. I'm sorry that you haven't seen the expected change from using this product. Scars are difficult to treat and can take some time with consistent products to improve. I'd recommend continuing with the product but also considering adding in our Clinical Discoloration Repair Serum which may be a good addition to your routine. Please contact us if you'd like more advice or if you would like to look into returning this booster. Kind regards, Marissa - Paula's Choice Customer Care

This really works. I'm in my mid-forties at have developed rosacea. I was sceptical at first as I have recently decided to invest in a proper skincare routine and have done much research. I have to say this does what it says on the tin. My skin glows; redness barely noticeable, skin plump and fresh looking. As with all these products, you need to give it a chance to work and be consistent with usage over a period of a couple of weeks or more to see results. Worth the money in my option

Customer Care: Hi Katie, thanks for this lovely review. I'm glad to hear that this has helped reduce the redness, rosacea can be so tricky! To create a full routine, check out our Calm line which is formulated for sensitive, rosacea-prone, and eczema-prone skin. If you ever have any questions, we'd be happy to help! Kind regards, Marissa - Paula's Choice Customer Care

I've been using this product for a little while now and trying to power through but I have an intense tingle which is almost uncomfortable for a solid 30mins after using it. I only use less than a pea size and mix this with my nighttime moisturiser. I'm also only using it once a day. Yet to see any results and still having major breakouts.

Customer Care: Hi Hannah, I'm sorry to hear that this isn't working as expected for you. As all skin is unique, it may be that this just isn't the right product for you! Please contact a member of our team who may be able to help you with a return and who can offer some product advice. Kind regards, Marissa - Paula's Choice Customer Care

I love this product. It's the only one that helped with my acne prone skin.

Customer Care: Hi Ralu! Thank you for taking the time to share your review of this product. We're so glad that it has worked so well for you to address your concerns. If you would like advice on other products please don't hesitate to get in touch with our Skin Care Experts who would be more than happy to help you. Kind regards, Shannon - Paula's Choice Customer Care

I'm still unsure about this one… I love how thick it is and it applies well, but will still sometimes have breakouts after use. It's good to apply with the 10% Niacinamide booster which I rate highly, but I use this much less often now. I went through it quite quickly so I think it's a bit too pricey for me to continue with in the long run, especially considering the much clearer results I get with some other products in the range.

Customer Care: Hi there Rebekah. Thank you for taking the time to leave your honest review of this product. I'm glad to hear that you love it's lovely texture. I'm sorry to hear that it hasn't worked as effectively as you would have hoped. Pairing this product with one of our BHA exfoliants will really help to effectively address breakouts. This product can also be used as a spot treatment on your areas of concern instead of all over the face should you wish for it to last a bit longer. Kind regards, Shannon - Paula's Choice Customer Care.

Did nothing for me. Did not help with my PIH. Pills so bad.

Hello Matt, and thank you for sharing your experience with us - we're sorry to hear this didn't work as expected for you! Please contact a member of our Customer Care team, who can assist you with a possible alternative. Kind regards, Adele - Paula's Choice Customer Care.

This is literally amazing. I started using this product 6 weeks ago. I've been using it twice a day morning and night as a moisturiser after cleansing. It has cleared my spots up and dulled the post acne scars which were red and brown colour. I was sceptical before buying but I've bought a second tube as I will never use anything different ever again. My skin hasn't felt so good for such a long time.
After wearing a mask 5x9hr days a week plus extra hours at the weekend- my skin was really suffering. This product has sorted my life out! I'm so grateful!!
Wish I could show you all before and after!!

Customer Care: Hi Amy, thanks so much for this nice review! I'm happy to hear the Azelaic Acid has helped to clear up your skin and has started to fade away older scars. Please make sure to follow with an SPF if using this as a moisturizer during the day. We will happily welcome you back as a forever customer! Kind regards, Marissa - Paula's Choice Customer Care Team.

I've been using this for the past year, I have sensitive skin prone to acne, blackheads and also rosacea. My skin has never been calmer and very rarely I get a spot here and there. The best product I've used so far. Thank you PC.

Customer Care: Hi Nico, thank you for your nice review! Great to read that your acne and rosacea have improved with our 10% Azelaic Acid Booster. We hope you keep having such great results! Warm regards, Marissa - Paula's Choice Customer Care Team

I've been having problems with my skin for the past year or so to the point where it almost looked like I had acne. I tried so many different products and treatments but nothing worked. I started using this and within the first few days started purging. I stuck with it and within 5 weeks my skin has been transformed. All my bumps have smoothed out, the scars have lightened considerably and skin looks so glowy and smooth. Never believed there could be a miracle product until I started using this. Consistency is key.

My goodness, Paula, you're a life saver. Thank you thank you. Had to come and do a review on this. Being a life long gorgeous girl with Asian skin that people USED TO stop and ask me what I do... I've been suffering for about 2 years with hormonal acne over the bottom half and mainly chin/around mouth. I've been absolutely miserable! I saw my GP, Derma, they said 'it's not that severe'! Oh lord, when you tear your face up for an hour to pop when it isn't ready, I know I was starting to lose my mind... I tried everything under the sun in lotion potion stickers acids, basically everything... and just generally threw money at the problem, hoping for a cure. I got the pore minimizing cleanser and the exfoliant, then the retinol that basically gave my neck a severe burn/peel for over a week... Totally hopeless, stumbled across this and thought why the heck not... Finally, EUREKA. This, little tube of salvation has officially saved my face. I'm guessing it works in a prevention sort of way? No idea.

My routine now is I put this on after pore minimizing cleanser and toner (alternating between several toners from milk peel hyaluronic acid of another brand, to Paula's Niacin and the exfoliant toner). I'm seeing MUCH clearer HAPPY skin with no flare-ups after 2 weeks of twice-a-day use. I STILL have a massive pimple on my chin as I type, and the side of my nostril as I seem to have missed it... but lord, nothing else is sprouting... I'm so happy I can cry. And no one paid me (someone should...) as I've paid a ton to learn this lesson. Hope this helps you too if you've been suffering and searching. I wish someone pointed me to this much sooner. Thank you to the genius who invented this... wherever you maybe!

I suffer from dark spots and spending a lot of money a such a small tube and for it to not work. I'm very dissatisfied about this product. I wouldn't recommend it as a buy. You would be wasting your money.

Customer care: Hello, and thank you for sharing your experience with us - we're sorry to hear this didn't work as expected for you! Please contact a member of our Customer Care team, who can assist you with a possible alternative.

I have always struggled on and off with spots around my chin and neck, so after a bad few months of constant blemishes and trying a number of different products, I decided to give this a go after reading such positive reviews - wow! I have been using the this booster continuously for just over 2 weeks and I haven't had any blemishes since! I can see my red acne scars looking less angry as well so will definitely be keeping this as part of my skin routine. Great product, thank you!

I've given this 4 stars rather than 5 as I've only been using this for a few days so have yet to see the long-term results. But the transformation I'm already seeing in my skin is pleasantly surprising. I've been battling red, dry, angry breakouts across my cheeks and jaw since Christmas and using products aimed at tackling these only worsened it and broke down my skin barrier. Then products for sensitive skin either didn't soothe them or caused more breakouts and milia across my forehead and existing problem areas. In a matter of days, this 10% Azelaic Acid Booster has calmed the inflammation and scarring right down, reduced the active spots I did have and hasn't broken me out in any more. My skin looks smoother, clearer and brighter than I can remember in the 15 years I've been dealing with problem skin so I'm looking forward to seeing whether the results last.

Do patch test this before using as it did tingle a bit on first use, but these effects have stopped now. Without sounding cliché, I never write product reviews but given the way my skin looks and feels already I felt I couldn't not leave feedback. Would definitely recommend that anyone with problem skin gives this a go.

I have struggled with rosacea for years and I had to keep going to the doctors to buy prescription. This alongside with the 2% BHA Lotion Exfoliant has finally given me the skin I want. I never write reviews for anything but Paula's choice has finally given me confidence not to wear makeup for the first time in 10 years. It is expensive but worth it and the products last for months.

I have very sensitive skin. This lasts a long time, and is my one go-to overall product for preventing hyperpigmentation, preventing hormonal acne flare-ups, preventing rosacea flare-ups and some chemical exfoliation. I always buffer it by doing my nighttime skincare routine first, and then applying this a few hours later before bed which helps prevent potential irritation from the product

My acne and scars have faded already and overall complexion looks brighter and smooth! Will be buying again

I really had big expectations from this product but it caused painful breakouts under skin. I am not going to purchase this particular product.

Customer care: Hello, and thank you for sharing your experience with us - we're sorry to hear this didn't work as expected for you! Please contact a member of our Customer Care team, who can assist you with a possible alternative.

I really like this product. I feel like it makes any red marks from spots disappear faster, and has helped as a spot preventative treatment too. I tended to get hormonal acne or maskne, and use this together with 20% booster and feel like it's helped clear my skin, make my skintone more even and is generally giving me glowing happy-looking skin.

I started using this because I had a reaction to benzoyl peroxide however this has dried out my skin and makes it stings. It makes my face feel extremely itchy, I wouldn't recommend this if you have dry skin. My breakout scars look exactly the same. I wouldn't buy this again for myself.

Customer Service: Hi, and thanks for letting us know of your experience - we're sorry to hear this didn't work for you! We encourage you to contact our customer service department, who might be able to provide you with a solution.

I really wanted to love this and had high hopes as I love Paula choice products but this product broke me out in tiny spots and under the skin spots, I gave it a go on both occasions and its given my bumpy skin. It didnt work for me unfortunately.


Customer Service: Hi, and thanks for letting us know of your experience - we're sorry to hear this didn't work for you! We encourage you to contact our customer service department, who might be able to provide you with a refund.

Never have to worry with breakouts again. I always use it after my liquid BHA exfoliant and results are just amazing. My skin is clearer and blemish free.

I had scarring on my jaw line due to cystic acne. Usually, I get one a month and they take 2-4 months to go. This product has reduced the appearance of scarring significantly in less than a week (used it twice a day with one day break in between). It also reduced the size of the cyst as well as inflammation and tenderness around the affected area. I've also noticed that I didn't get any cysts this cycle (I started using a week before my period which is when I usually notice one coming through). I could not recommend this product enough. I will definitely be purchasing the full size product.

I received this travel size as gift with my first order. And it is amazing. It reduced my breakouts so much! Already ordered my full size and can't wait to start to use it!

I'm in my early 40s and have suffered from hormonal acne and blocked pores since my 30s. I've been using this for about eight weeks now and have hardly had any spots at all. My skin looks better than it has in years. Thank you!

So far it itches and stings a little, it's been about 2 weeks but I plan to finish the tube before making final judgements. Also, I've had to stop using it with my 2% bha, itches and stings too much 😕

I adore this product! I've always struggled with breakouts around my mouth and chin area and since having to wear a mask at work for 12 hours each day my skin has really suffered. That's where this product has done wonders! Firstly it's really helped to fade my old acne scars which I've always struggled with as even when my skin is clear, the scars make it seem as though it's not. This has helped massively in brightening and smoothing my complexion and I'm so pleased. I also feel it helps prevent and clear up any spots a lot quicker than previously. I'm using it once a day, in the evening after exfoliating and before moisturising and I honestly wouldn't be without it now.

Love love love this product. I felt like I saw an instant improvement in the overall texture of my skin, smaller pores and just an overall healthier look. Can't recommend this product enough, I only wish it came in a bigger bottle!

This is my favorite booster. Just 1 month ago I`ve started use it and since then I can see a very big improve of my skin condition. I was struggling with redness on my cheeks and brown spots, tried many different things before, however nothing was really helping. I am very happy that I`ve decided to give a try to this booster. Hopefully in another month time my skin will be perfect, as it use to be few years ago. So, now I cannot imagine my life without this Azelaic Acid Booster, just wish it was a little bit bigger size.

This has been fantastic for post breakout marks along with the pore purifier!
Would love a little more product for the price hence the 4 stars.
I can't comment on its anti-acne benefits but it's helped with hyperpigmentation dramatically!

I purchased this to help with breakouts, but when I use it, it makes my skin very itchy, even on small targeted areas. It's a shame because I do think it could help as I've seen some small improvements from the few times I've used it, but with the itchiness I don't think I can continue use. I don't usually have sensitive skin, nor am I allergic to anything I know of so I was surprised, but I normally use natural skincare products so perhaps these chemical products just aren't for me.

Customer care:
Hi, and thanks for letting us know of your experience - we're sorry to hear this didn't work for you! We encourage you to contact our customer service department, who might be able to assist you with an alternative product.

The thing that immediately stood out about this product was the texture. One can clearly tell that a lot of effort went into the formulation of this product. I only tried the travel size and will definitely purchase the full size just to alternate with my retinol products. I noticed that my acne marks began fading slightly but I ran out of the product before I noticed any significant change in my skin. Regardless of that, this product is very gentle, evens out the skin tone and in my opinion is good for reducing inflammation.

Can't find any other cream like it. Since I've started using it a year ago I've had less than 10 zits. I used to get breakouts whenever my period was coming but none of that since I started using this. I've bought them for 3 other friends who have acne. I've tried other 10% azeliac acid products but they don't absorb as well. The texture of this is perfect. A little goes a long way.

I had issues with delivery (which was my fault), however I was kindly sent a brand new product immediately. I have been using the azelaic acid for a week now and I already see improvements in my skin. My hyperpigmentation has faded so much. I love it!

I've purchased this product in search of an effective treatment for my stubborn acne. I've recently started using 1% retinol from Paula's Choice. Used it according to their recommendations. Works fine, a bit of peeling but this shows that it's effective. One morning I woke up and decided to use my newly bought Azelaic acid on my face and neck before applying my moisturizer. Two days later I'm with a chemical burn all over my neck. Anything I put on my skin gives me a burning sensation. Now I have to treat the burn first before I can go back to any of my skincare products (apart from a very gentle moisturizer for sensitive skin). I wanted to share my terrible experience. Azelaic acid and retinol are awesome but it is imperative to use them under the right circumstances. Probably in my case it's either or...

Customer Care: Thank you for your review! We're sorry to hear about your bad experience with this product! It is likely you experienced an allergic reaction to one or more ingredients in this treatment. Please contact us to discuss a refund.

I love this product, third time around buying it. I have sensitive/ breakout skin but this products really helps the breakout scars fade away fast and doesn't irritate my skin. I mix it with a serum at night and my face feels calmer by the morning. I would recommend this to any one wanting a more even complexion and in need of help with scars and breakouts. *****

I was constantly get rosacea since I hit mid thirties I read somewhere that azelaic acid helps it. I used this one and I no longer have any sign of rosacea since ! Love
It

This is one of my favourite products I've ever tired, I use this underneath my every day moisturiser in the morning and I feel like it creates a gorgeous barrier to my skin. It is very lightweight, sinks into the skin immediately, leaves the skin feeling super smooth and I can slowly see my acne scars and discolouration fading , it's been about 2 weeks now and my skin is looking clearer by the day! Highly recommend.

This is one of my favourite products from Paula's choice. I have sensitive skin with slight rosacea on the cheeks so am always prone to redness / skin 'bumps'. My skin struggles with Retinol (in high concentration) and BHA liquid exfoliants but this product has completely changed my skin. I use it at night as part of my routine and it works wonders - redness is diminished and old scars / marks have disappeared. It did make my skin tingle when I first started using it but this stopped after a few weeks of using. I would recommend to anyone who struggles with exfoliants to give this a go.

I have acne scars and this has helped tremendously! The red marks left behind by horrible zits are so much less noticeable and also my dark spots. Already have a backup for this. I just love it

Love this, has helped reduce outbreaks, almost erased a dark patch of skin and has helped with wrinkles. Will be using indefinitely

I am sorry to say this but it is the worst product of Paula's choice that I've ever tried. I do not normally have sensitive skin, but this product makes my face feel itchy and prickly and causes breakouts which I never had with other products. I have given it a try by applying it every other day, but as soon as it came into contact into my face, I causes itchiness. It's just not for me.

Customer Care: Thank you for sharing your experience with us. Although this is not a common response, we do understand that each customer is uniquely different in how they will respond to products or ingredients. We're sorry to hear this didn't work as expected for you! Please contact a member of our Customer Care team should you like to discuss your routine.

If you have spots and or marks from old spots, add this to your basket now! I got my order 2 days ago and my skin looks amazing right now and hasn't looked this good before. I know it was this product because the other product I ordered I've used before and its great but this just kicked it up a notch to perfection. It tingles slightly and feels moisturising but not heavy, just smooth and soft. Honestly its perfect! Thank you so much for creating this!

This product is amazing. It does exactly what it promises to do and gives the skin a smooth, flawless texture. I have used this product for a few years but recently became bored and so purchased one of the creams 'from the sea', which is 4 times as expensive. My pores started getting clogged and I developed milia. Within two weeks of switching back to PC, I have started getting compliments about my skin, as I used to.
The other good thing about this brand is that they don't bombard you with emails after purchase requesting reviews, meaning that any reviews are genuine and unsolicited.
This brand has simplified and revolutionised my skin care routine. I wish it had been around in my troublesome teens and twenties.

I use this product every night after taking off my make up, and even without using toner and moisturisier this product has proven to be the only thing I needed. Great evenly toned skin, baby soft, will repurchase.

I have sensitive combination skin and have really struggled to find something to balance my skin and eradicate hormonal acne. I had regular breakouts, especially at pre menstrual times. I've been using this product twice (sometimes once) a day for the past 8 weeks and my skin is virtually spot free. I no longer feel I need moisturiser on a morning as it leaves my skin really comfortable after cleansing and is a perfect base for my foundation. It's quite pricey but I no longer need some of the products I used to use and it seems to be lasting a while. Plus it works so well which makes it worth the price tag for me. I have a few dark spots and light melasma on my forehead and it has reduced a little but not as much as I hoped for. Regardless, I still think it is a wonderful product for anyone who suffers from regular breakouts. I would not be without it now!

I love this product, I'm on my 3rd tube and will never use anything else. I have very sensitive, acne prone skin and my skin was breaking out like mad. the make up artist Lisa Eldridge recommends this on her youtube channel so had to try it, I'm not disappointed! I recently had a week between finishing the last one and receiving my next one, my skin was so much better once I added this back in. my whole skin care is PC which works great but this is the x-factor in the range. will be buying for the rest of my life!

I tried this product after Lisa Eldridge recommended it for acne prone skin and my skin is much better after using it. My skin is much more even, and while I do still get spots, it's not as frequent or as bad as it was.
Please never stop making it.

Very nice texture- white and creamy absorbs well into the skin. No residue. Seen improved results with texture would buy again and recommend.

I do not have sensitive skin and rarely react to products, but I persevered for 10 days now and I need to stop using this. All around the eye area my skin is very red and sore.

Customer Care: We have contacted you as we do offer a 30 day money back guarantee

Being a woman of colour, I was quite sceptical about using this product. I have used a dermatologist for over 10 years but wanted to switch to something more easily accessible and affordable for my skin. Pigmentation, especially around my eyes, has been a major issue for me and I'm glad to say that this product combined with the Weekly 10% AHA Treatment has transformed my pigmentation and overall complexion. Admittedly you do not get overnight results but with patience and continued use - I am pleased to say that I can see a massive improvement over the last two months. Just a quick note to say that I did speak with the PC customer services team beforehand who noted that this may not work as well for very long standing issues so that helped to manage my expectations - although this product has definitely exceeded those!

Well, I don't know if it's this product or the vitamin C one but my skin looks better than it has for years. I have spent so much on high end department store products for years and some created as many problems as they tried to help. I switched to PC products 2 weeks ago and I am very very impressed. Amazing results, big improvement in texture, tone and everything else. Every aspect of my skin has improved. I am going to age gracefully afterall! Thank you thank you Paula's choice!

I was sceptical at first as I have some stubborn dark patches around my eyes and did not want to spend over £30 on a serum. However, as I know that Paula's Choice do not make plain promises I gave this a try and am not going back. The patches obviously did not disappear overnight but I feel my skin is smoother, brighter and happier-looking. This Correction serum combined with BHA exfoliant is a definite winner!

I like this product a lot!!!! I just have a question about how to use it) so I have this product and also the Ultra Light Super Antioxidant Concentrate serum for normal/oily skin. Which one should I use first??? Thank you!!!

Customer Care: Thank you for your review. We recommend to first use the Resist Multi-Correction Treatment (after cleansing/toning/exfoliating), then follow with serum and/or moisturizer.

I bought this because I wanted an all-round product that tackles acne, discolouration and uneven skin tone. I haven't been using it long enough to know if it will fade dark spots, but I'm already thrilled with it after a few uses. It feels very comfortable and hydrating on the skin, and hasn't irritated my sensitive skin at all (2% salicylic acid irritates my skin, as does any glycolic acid). My skin looks noticeably more even and spot-free - normally I wear concealer on a daily basis but I've been leaving the house with only a tinted moisturiser because my skin looks so clear! I've never found a product so gentle that has such a great result. I hope this is never changed or discontinued because it's perfect.

I have melasma and couple of old spot marks.i have been using this product since April religiously and have not see any improvement. I really hoped it would work but total waste of money!

This is an absolute wonder product.
Initial thoughts were that it wasn't working, and could be a tad 'stingy' in certain areas like the eyes.
After a few weeks I've really noticed a gorgeous consistency to my skin tone in the morning, less spots and break outs and possibly some slight fine line relief, although I don't think anything comes close in real line busting treatment.
My only concerns was about the skin lightening aspect of this serum as I like to use gradual tanners and envisaged waking up looking ghostly and bleached, but I haven't noticed anything too bad at all.
Maybe a little pricey, but it certainly works and I'm just about to re-order now.

I've ordered this serum based on positive reviews here and Lisa Eldridge mentioning it as her HG treatment. I really like the texture of the serum and the result I get from using it twice a day but I can't stand the smell. I wish it could be more pleasant to use but then again it seems to be working well with my blemish prone skin so I guess I'll keep using it. The other thing I've tried applying it after 2% BHA liquid exfoliator and my skin didn't like it at all so now I use exfoliator in the morning and this serum at night. So far so good.

I think this is an excellent product. It really seems to reduce redness and irritation and to keep skin clear. More and more I'm convinced that I only get acne flare ups (read normally one huge cystic lump that make me want to stay indoors) as a result of irritation. I've stopped using benzyl peroxide now entirely. It seems to be slowly clearing the red marks left by those enormous red cysts which is amazing. This is expensive (for me) but absolutely worth it (for me!).

Nothing to do with the product but I do battle with only being able to get products online. Personally I find it frustrating in the extreme. I seem to be in a minority here as other clearly have no problem. I look forward to the day when these products can be purchased from a bricks and mortar shop.

This product has quickly become a must-have for me! It was a little irritating to start with, but after using it every other day for a couple of weeks I'm able to tolerate it once or twice a day. The Azelaic Acid does a great job of evening the blotchy skintone and blemishes I get from rosacea, as well as slowly reducing the appearance of old acne scars. Despite being quite a heavy lotion, it doesn't make my skin any more oily, which is an added bonus! My only problem for me is the price - as with many PC products, it's very steep for the amount of product you get. I can justify buying it because it helps my skin so much, but if there was a comparable product available elsewhere for less, I would probably buy it.

I found this product okay to use. I was looking for an alternative for Benzoyl Peroxide, as i find it quite drying even with an emollient moisturiser, so i thought this could be it. The first few times i used it (daily use), it reduced redness, and inflammation, and i thought i'd finally found a replacement. After a week it started to have the reverse effect and started to break me out, first a little, then more appeared. I know it wasn't a coincidence as i only used this product on a small section of my face and that's where the breakouts started happening. I think it maybe the BHA in the product, and could be too much for skin as i already use BHA toner (normal strength - a higher ph), i'm not sure. I'm exploring the possibility of using a pure azelaic acid treatment from the doctors. I need something to use everyday to keep my acne at bay. The positives for me however, i use this product after i shave, as i only shave once a week, this product helps with razor rash, and redness. Another positive, don't be fooled by the tube size, it lasts quite a while, impressed with longevity.

More reviews Less reviews

Ingredients

What are the key ingredients?

ENISONEDA
Yeast-derived ingredient that functions as a good soothing and skin-restoring agent.

DICA CIALEZA
An antioxidant that has pronounced skin-soothing effects and is effective for skin brightening.

Salicylic Acid/BHA
Primarily an exfoliant, helps to shed dead skin on the surface and inside the pore, therefore effective for reducing breakouts and blackheads. It also has soothing properties.

Ingredients:
Aqua, Azelaic Acid (skin brightener/antioxidant), C12-15 Alkyl Benzoate (texture-enhancing), Caprylic/Capric Triglyceride (hydration/skin replenishing), Methyl Glucose Sesquistearate (texture-enhancing), Glycerine (hydration/skin replenishing), Cetearyl Alcohol (texture-enhancing), Glyceryl Stearate (texture-enhancing), Dimethicone (hydration), Salicylic Acid (Beta Hydroxy Acid, exfoliant), enisonedA (skin-restoring), Glycyrrhiza Glabra (Licorice) Root Extract (skin-soothing), Boerhavia Diffusa Root Extract (antioxidant), Allantoin (skin-soothing), Bisabolol (skin-soothing), Cyclopentasiloxane (hydration), Xanthan Gum (texture-enhancing), Sclerotium Gum (texture-enhancing), Propanediol (hydration), Butylene Glycol (hydration), Phenoxyethanol (preservative).

FAQ

Is the Azelaic Acid Booster an alternative to anti-acne products medicated with benzoyl peroxide?

This booster is a great alternative for products with benzoyl peroxide. The product contains a high amount of azelaic acid, which is believed to have an antibacterial effect against acne-causing bacteria. It also functions as a potent anti-inflammatory, so it helps reduce the swelling and redness that often accompanies acne. Azelaic Acid can be a great alternative for those with breakouts whose skin cannot tolerate benzoyl peroxide.

Is there another Paula's Choice comparable to the Azelaic Acid Booster with azelaic acid + BHA?

Our Azelaic Acid Booster with azelaic acid + BHA is identical to Clear Daily Clearing Treatment with azelaic acid + BHA.
7750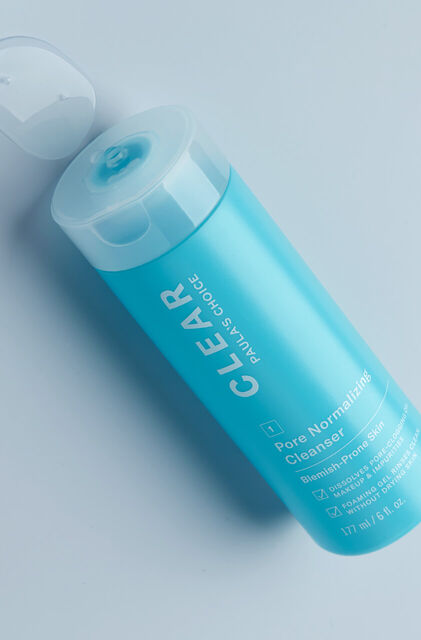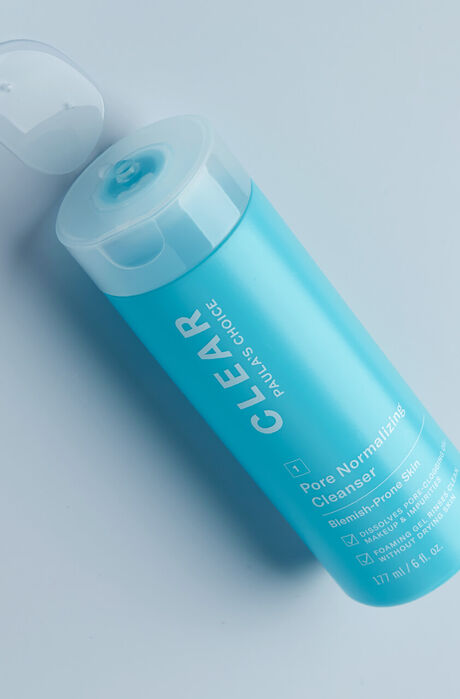 Cleanser
Refreshing cleansing gel gently removes excess oil, debris and pore-clogging impurities.
6001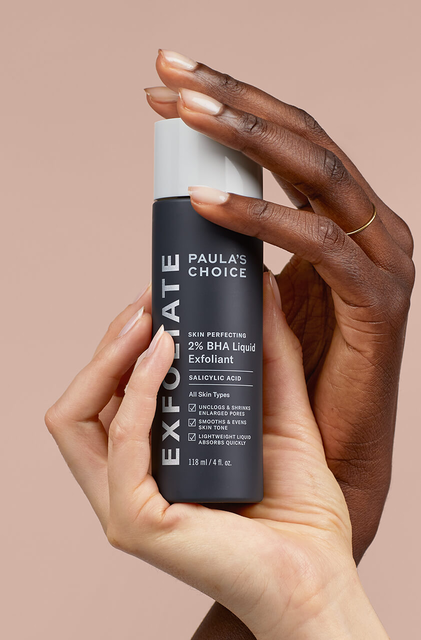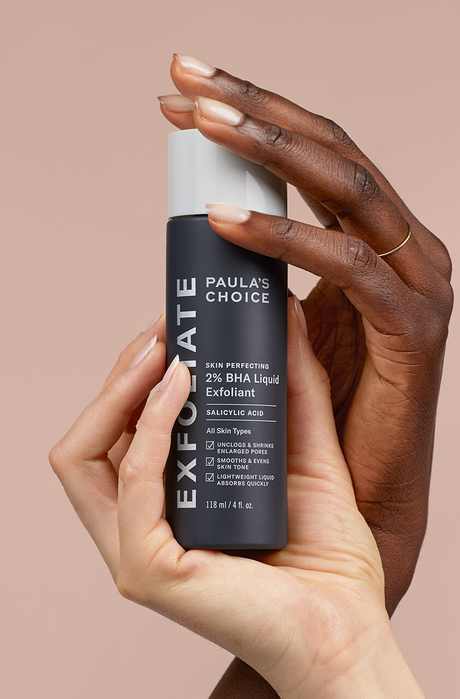 Exfoliate
Fast absorbing liquid removes built-up dead skin cells and fights blackheads.
2010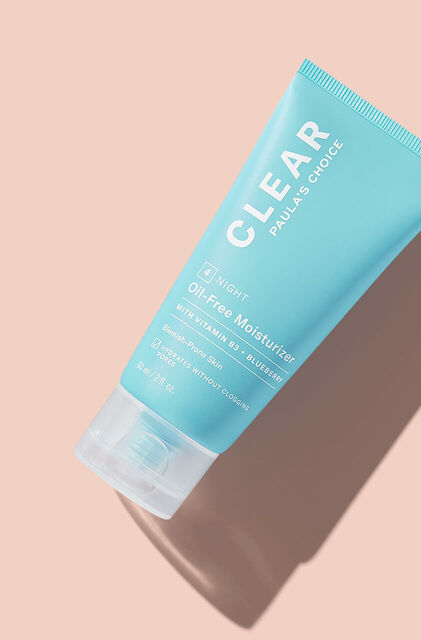 Moisturizer PM
This oil-free night cream moisturises acne-prone skin without clogging pores or making breakouts worse.