https://www.paulaschoice.co.uk/omega-complex-travel-kit/bundleomegatrial.html
Omega+ Complex Travel Kit
A triple dose of omega fatty acids hydrate and nourish skin.

Skin Type:

Normal skin, Dry skin

Concern:

Very dry skin, Sensitive skin

Ingredients:

Chia seed, Linseed, Ceramides

View all
Remove from Wishlist
Add to Wishlist
Product out of stock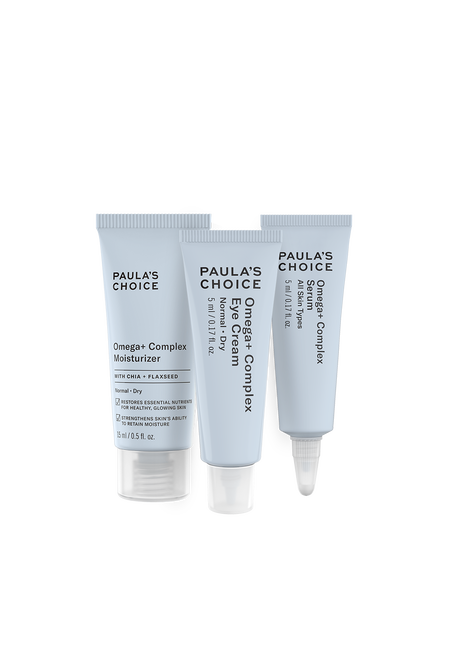 Omega+ Complex Travel Kit
This product is sold out at the moment. Fill in your email address below and we'll gladly send you an email as soon as it is back in stock!
What does it do?

This serum, moisturiser and eye cream set utilises the power of omega fatty acids to repair, restore and soften skin.

Feed your skin with three omega-rich formulas to maximise hydration, moisture retention and strengthen the skin's natural barrier. All three products are packed with omegas 3, 6 and 9, and compliment each other perfectly.

The Omega+ Complex Serum uses potent antioxidants and skin-restoring ceramides to help promote supple, younger-looking skin. The Omega+ Complex Moisturiser is a rich-textured cream which soothes skin and replenishes moisture. Nourish the delicate area around your eyes with the Omega+ Complex Eye Cream. The sheer, lightweight texture softens the appearance of fine lines and wrinkles over time and is easy to layer with the rest of your skincare routine.

Key Features

Strengthens skin's natural barrier

Promotes radiant-looking skin

How to use

Directions for use can be found on the product pages of the individual products.

Reviews

Ingredients

What are the key ingredients?

Chia seed
This non-fragrant plant oil is a rich source of omega fatty acids and antioxidants.

Flax seed
Linseed, (also known as Flax seed oil) contains antioxidants. Linseed is also a rich source of linolenic acid, an important fatty acid.

Ceramides
Major components of skin's outer layers, necessary for their water-retention capacity and provide replenishing and restoring benefits.

Please check the individual products for ingredient listings.

FAQ

What are omega fatty acids?

Omega fatty acids help to enhance skin hydration by sealing in the skin's moisture and reducing evaporation to the surrounding atmosphere. There are 11 omega fatty acids; the most vital for skin are:

Omega-3 - Found in foods such as fish oil, flax seed (linseed) oil, walnut oil, and chia oil.
Omega-6 - Abundant in many plant oils, linoleic acid, and passion fruit oil.
Omega-9 - Plentiful in flax seed (linseed) oil and soybean, canola, peanut, and sunflower oils.

What makes the Omega+ Complex Serum different?

Omega+ Complex Serum is a nutritional powerhouse for dry, dehydrated skin that's showing signs of fatigue. Light in texture but heavy on beautiful results, this ceramide- and omega oil-enriched serum visibly hydrates, rejuvenates, and softens skin from the first use. It's the only Paula's Choice serum that contains a specially selected mix of essential fatty acids designed to restore skin's vitality and care for its delicate barrier – key to a healthier, younger-looking appearance. Each oil and skin-restoring ingredient in this unique formulation also provides antioxidant benefits, making it ideal for layering with any of our other serums for enhanced results.

Who is the Omega+ Complex Moisturiser for?

The Omega+ Complex Night Cream is ideal for anyone struggling with dry, dehydrated skin that's showing signs of fatigue and visible signs of ageing such as fine lines and wrinkles. Also excellent for those with sensitive and/or damaged skin.

How do the eye creams from Paula's Choice differ?

Omega+ Complex Eye Cream - The sheer and lightweight consistency absorbs quickly into skin and addresses dehydration, dullness and early signs of ageing around the eye area. The ingredients used resonate with those looking for increased natural ingredients.
Resist Anti-Aging Eye Cream – Think overnight eye mask. This hyper-rich, balm-like cream is a great option for those experiencing extra dryness in addition to signs of ageing around the eyes.
Resist Anti-Aging Eye Gel – This refreshingly light gel option is great for daytime use. The cooling applicator quickly soothes puffiness while other key ingredients brighten and help reduce fine lines over time.
Clinical Ceramide-Enriched Firming Eye Cream – This potent, creamy lotion was formulated for those who want to address aggressive signs of ageing including lines, wrinkles, discolourations and lack of firmness. It is considered a powerhouse treatment for the eye area.