https://www.paulaschoice.co.uk/clinical-retinol-treatment-full-size/8010.html
Clinical 1% Retinol Treatment
A powerful treatment with 1% retinol that firms skin, fades brown spots and smooths wrinkles.

Skin Type:

All skin types

Concern:

Breakouts, Anti-Ageing, Brown spots, Enlarged pores

Ingredients:

Licorice root extract, Peptides, Retinol (Vitamin A)

View all

Routine:

Treatment
Remove from Wishlist
Add to Wishlist
Product out of stock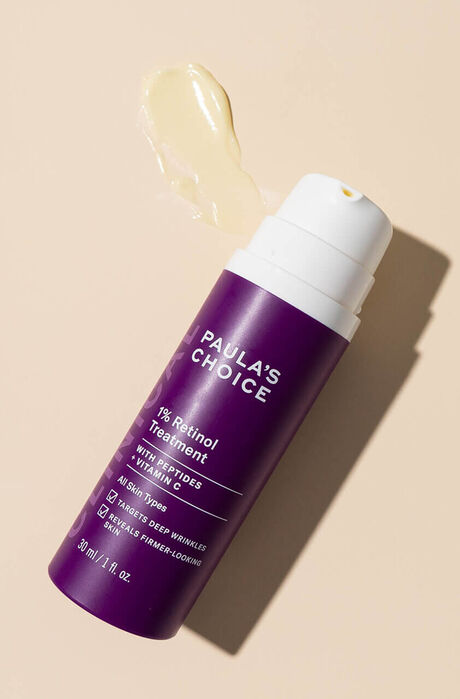 Clinical 1% Retinol Treatment
Full size
This product is sold out at the moment. Fill in your email address below and we'll gladly send you an email as soon as it is back in stock!
What does it do?

A powerful retinol treatment to fight the signs of ageing.

This lightweight lotion combines pure retinol with potent antioxidants to immediately enhance hydration, diminish the appearance of fine lines and wrinkles and promote a more even-toned complexion. Licorice, oat extract and other soothing ingredients to help calm redness.

Is this suitable for my skin?

What skin concern would you like to address?

(Please select one option)

Key Features

Improves skin tone and texture

Softens fine lines and wrinkles

How to use

Apply a pea-sized amount after cleansing, toning and exfoliating, and then follow with your serum and/or nighttime moisturiser. Avoid the lips, direct contact with the eye, and corners of the eyes. You may apply up to the orbital bone of the eye area. When first using the Clinical 1% Retinol, start with no more than 3 evenings per week, then gradually increase frequency to every other night and, finally, every evening as tolerated. 

Reviews

Thank you for submitting your review! It will be reviewed by our staff before it is posted.

Had really high hopes with this product. Reaching 30 I've noticed some lines on my face so decided to invest in a good quality product, however this is not it. I've been using for 4 months and haven't noticed any difference in my skin and lines.

Hi Aiysha! Thank you for your review. I am sorry to hear that you have not seen the results desired when using this product. Every skin is different and the time it takes to see results can differ from one person to another. I recommend contacting our Customer Care team for advice on how this product is best used.
Kind Regards, Denisa - Paula's Choice Customer Care

My skin started to peel, sore and redness...
So painful......

Customer Care: Hi Soo, thanks for your review. I'm so sorry to hear about your response to our Clinical 1% Retinol Treatment. This is our most potent retinol product, ideal for experienced retinol users! It's very important to slowly build this into your routine, be mindful of other active products you're using as well, and monitor how your skin reacts. Aside from that, everyone's skin is unique and what might work for one person, does not for others. I'm happy that you reached out to us and we were able to help you with your concern. Please don't hesitate to reach out if you have any questions or if you would like product advice. Kind regards, Marissa - Paula's Choice Customer Care

I started using this after trying out the Clinical 0.3% Retinol + 2% Bakuchiol Treatment, which I really like. It's clear this is a stronger treatment due to a stronger scent and colouring. I make sure to apply lots of the oil-free nighttime moisturiser after use so it doesn't dry out my skin, but it seems to be making it a lot softer and smoother so I'm happy with the results so far. I alternate between this and the 0.3% treatment every other couple of nights, which seems to be enough for my skin.

Customer Care: Hi Rebekah, thanks for your review. I'm so happy you love this! Our Clinical 1% Retinol Treatment is our strongest, most potent retinol product - I'm glad you've found a way to incorporate it into your routine! It's so important to find the right balance and frequency for your skin. Kind regards, Marissa - Paula's Choice Customer Care

If you have sensitive skin do not use this. It has completely destroyed my skin. Normally, I have no spots but hyperpigmentation & now I have both. I have not noticed any improvement in any area of my skin and was much better using a retinol 30 pounds cheaper than this. It also made my skin burn as soon as I applied it, I'm sure this can never be a good thing!

Customer Care: Hi Polly, thanks for taking the time to leave this review. This is our strongest, most potent retinol product, it's very important to slowly increase your tolerance to retinol. I'm sorry to hear that it's irritated your sensitive skin. I recommend looking into our Calm line to help soothe your irritation. Please contact a member of our team who may be able to assist you in a return and who can provide more specific skincare advice. Kind regards, Marissa - Paula's Choice Customer Care

Initially seemed ok, then my skin felt tight, then very sensitive, anything I put on felt like lava on my skin! My face erupted in a rash, peeled and very blotchy.

Hi RS. Sorry to hear about your experience with this treatment. If you're new to retinol, it's advisable to start with a low strength, meaning a product that contains 0.05% retinol or less, and then build up in strength. Please contact us if you would like advice on an alternative retinol product. Kind regards, Natasha - Paula's Choice Customer Care.

I bought this product as a gift and was a little disappointed to see it came in a dirty, damaged postage box and that the sticker over the actual tube looked as if it had been peeled back and re-stuck (as if it has been used). There were no instructions or leaflet with it like you usually get with skin products, and it looks like a second hand product.

Customer care: Hello, and thanks for your comments! We are always looking for ways to improve our products, so we will pass along your feedback to our Product Development team!

This product has given me my life back while suffering with sun spots and using every lotion potion and electrical equipment you can think of this is the only thing to work, I can honestly say I saw a difference from forst use, now been using about 2 weeks and my skin is now looking soo much different, if you have insecurities like myself then don't think twice buy this product, expensive but worth every penny, if you suffer from side effects like myself then see it through they go 🙂🙂🙂🙂 one happy lady

Makes my skin feels and look 10yrs younger every time I use it. This is a skin renewal serum for me. Been using it for 2yrs and am still loving it

I have only had this product for 3 weeks abs I'm already obsessed with it!

I was very conscious about building this product into my routine slowly and followed the instructions very carefully. I now use it 1 evening and BHA the other with no problems, I've started using them the odd evening together as well, again with no problems. My skin is clearing up nicely using both of these products. I now want to introduce 10% Niacinamide Booster to help reduce my pore size- can I use this at the same time as BHA and retinol please? Thanks

Customer Care: Hello, and thank you for sharing your experience with us. Glad this is a good fit for you! Be sure to contact our Customer Care for further skincare advice.

Lovely product, had great results with this. I purchased a sample size as I wasnt sure about the %. I started using it every third day and I found it really dried my skin out (flaking) so I used twice a week and that was perfect for me. Does not have a bad small and a little goes a long way. Advice would be to start with once a week and build up.

After I read all instructions about this product, I started using the serum and I really wanted to love this one, but I can not. After the first use, my skin turned very red, started peeling off badly and it hurt as well. And I used just a tiny amount of it. I thought I did something not properly. I had to wait at least 10 days for my skin to recover before I tried it again differently. I've tried it a couple of times with different techniques (with or without other cream, more or less amount) but the result always was the same: burning, aching, peeling skin. My husband suffered from the same effects after using this cream. We do not even have sensitive skin types.
I wish I had been aware of the 60 days money-back guarantee, I would not have tried it many times to use. It is a very expensive mistake.

My holy grail product! It's a must have in my skincare collection. I'm an acne sufferer for over a decade and this retinol treatment changed my life! Absolutely love it!

After one use I woke the next morning to find I had a severe allergic reaction that required medical treatment. My face blew up like a balloon to the point I couldn't open my eyes they had swollen that much. My skin had been totally burnt away and people who have seen the photographs say I looked like someone who had been beaten up. It has taken 11 days to get the swelling down and I have now been left with scaly sore cracked skin with fine lines where there wasn't before due to the amount of damage caused. My skin isn't sensitive. I have used retinols for years as well as having had professional peels and used acids. So I don't have skin that responds like this. I've seen from other reviews on this site that others have had similar experiences. I love my BHA and niacinamide from PC. Unfortuanteky o dot. See how the damage will be reversible. So I wanted to warn others before they thought about using this product.

Customer Care: Thank you for sharing your experience, we agree that you likely experienced an allergic reaction. An active ingredient like retinol also has a slightly higher risk of an unwanted reaction, especially in a routine with multiple active ingredients. Please feel free to contact us should you need further assistance.

I've been using 0.3% retinol for a while and felt like I needed to step up to something with a bit more punch. I've only just received my sample and will update again but boy after the first night I already felt firmer. My skin needed more retinol. I think this is a great option if you've been using lower strengths and have reached a plateau and it's great that you can try the travel size first to see how you get on as retinol can cause irritation. But so far my skin is loving it.

I absolutely love this product and it keeps my hormonal acne in check so well as well as brightening my skin and helping me look less tired!

This was my first time using retinol, I have oily acne prone skin NOTHING helped. I cried all the time. I started to use this and I will be honest, it takes time, but my god...MY SKIN IS BEAUTIFUL. I get very small whiteheads occasionally but no big breakouts anymore and my skin is so smooth and glowing. Couldn't be happier and I hope this never gets discontinued because I couldn't live without it.

I have been using retinol creams for the last 2 years, to be exact rotating in between Sunday Riley and Drunk Elephant. I gave a shot to this product and oh my, how I was wrong. Only after two use, my skin on a face and especially on my neck was covered in large red patches and itching. It became so sore and flaky afterwards I had to drop all of my skincare. I could not understand the reason, as never have experienced such a reaction. after two weeks, I tried it again and I woke up with the red, burning neck and cheeks in the morning. Too sad, the product is not cheap and it was a total waste. I love Paula's Choice exfoliators, using them religiously for years and I think they are best on the market, but this product did not work out for me.

Customer Care: Thank you for letting us know of your experience - we're sorry to hear this didn't work for you. Although this is not a common response, we do understand that each customer is uniquely different in how they will respond to certain products or ingredients. Our customer service team will contact you to provide you with a refund for this product.

So I decided to purchase the travel size as the samples had sold out, brought another sample as I didn't want to run out and have now decided that it works and will buy the larger size. I've been using for a good 6-8 weeks and have got to the point where my skin looks so good I really don't need to cover it with make up like I had before. I also use a Vitamin c and spf in the morning (not Paula's choice) and just the PC retinol in the evening, I started with 2 times a week as it is strong and now I'm up to a good 4 times a week and on the other nights I use a night cream or serum depending on what my skin needs. My Skin is even, pores are none existent, my skin is glowing, spots no more. Brilliant product. I would say to be patient with it, it's not overnight and will take a few weeks to notice an amazing improvement.

I used this product once after reading the reviews and had a terrible reaction... peeling burning, scaly skin that is now so sensitive to everything I put on it. Be very careful with this product, it's super strong....

When I discovered Paula's advice around 10 years ago my acne and irritation prone skin was completely transformed and I have been a loyal customer of Paula's Choice for years, recommending the products to anyone who will listen. I have used a number of the retinol containing products and am a particular fan of the Clinical Ceramide Moisturiser and the Resist Barrier Repair Moisturiser. Having just turned 40 I thought maybe it was time to try a higher strength retinol, so bought the 1%. I followed the instructions and left a couple of nights in between applications, but after only two applications my skin feels like it has been burned! A few days after the last application my face is red, with scaly peeling skin (thank goodness for lockdown as I couldn't cover it with make-up) and is sore to the touch. It will clear up soon I hope but I'm not quite sure what to do with it in the meantime - I got a sample of the Omega moisturiser on my last order but slightly scared to give it a go in case it makes it worse! Obviously I was well aware that retinol can cause irritation but seeing as I had used retinol products before and I had such faith in PC products being great for sensitive skin I am a bit shocked by how it's turned out. I guess it will be sticking to the Clinical Ceramide for me - and I would caution anyone who is thinking of trying this to get a sample first, as unfortunately I have made a bit of an expensive mistake!

I've been using this religiously for the last three months and can't see any difference at all.

Customer Care: Hello, and thank you for sharing your experience with us - we're sorry to hear this didn't work as expected for you! Please contact a member of our Customer Care team, who can assist you with a possible alternative.

I have used 3 bottles of this Retinol now and it is amazing. It has reduced redness, wrinkles, post blemish marks, evened textured and made my skin glow like I'm 10 years younger. It takes a good while to slowly accumulate your skin to this product but the results are unbelievably worth it. Just be patient by introducing it very slowly as it is powerful and will give you flaky skin if you apply to often initially.

I've been using this for 3 months now and I've noticed it's faded my dark spots quicker than anything I've used in the past! I had no problems with it but as they recommend, start off once/twice a week and then build up!

I spent a year building up to this strength and in the first few weeks my skin was sore dry and flakey but I'm so glad I pushed through with it. I don't breakout anymore and my skin just looks much healthier. I'm debating whether to move onto tretinoin or stay with this as I'm really impressed with it

I bottle this in the trial size, in case it was too strong for my sensitive skin. I can happily report back that after following PC's advice on the product page about how to use it, I've had no irritation, just great-looking skin. Used alongside my glycolic acid toner it's zapping the pigmentation I've accrued this summer (despite wearing SPF 50) and overall making my skin look its healthy best. I will definitely be buying the full-sized version!

I got a free sample with a previous order from Paula's Choice and used it as a night treatment. Felt good on the first application without any redness or reaction. When I looked in the mirror the following morning, I thought wow, my skin looks better than I had seen it before... I work from home and I take part in a lot of video calls and early that morning, I had a video call with my boss and he said to me " have you been on holiday because you look like you have been..". I immediately ordered the full size and very happy with it.

I have sensitive skin so for the first 2 weeks I used it alternate nights. As my skin showed no adverse reaction I now use it nightly with a light moisturiser on top. I apply spf 50 for the day. My skin is definitely clearer and I am delighted with the results and will continue to use it.

I am 39 and have dry, pale skin and red hair. I've been using this product for nearly two years and would not be without it. I use a pea-sized amount every other night after cleansing and before moisturising. The following morning I use a Paula's Choice AHA exfoliating lotion, followed by a high SPF moisturiser (Skin Restoring by Paula's Choice). This routine (admittedly I only included AHA about six months ago) has visibly reduced the look of the pores and fine lines around my mouth and I hope that with consistent application of the above, the fine lines will become nearly invisible by the end of the year. Previously, I used Retinol 1% as my only anti-ageing product, and I noticed that my skin would get flaky every few days (the top layer dying off... which is good, but flakiness isn't) but with the addition of AHA I no longer see any flakiness. My skin feels new and soft, and looks brighter.

Previously, I was using the famous Green Cream but it's not available in the UK and buying it on eBay was pricey. Paula's Choice 1% Retinol is not only as effective as Green Cream 9 (0.9%), it also has additional positive features and benefits. One, it is enriched with Vitamin C and peptides, which I am sure have helped my skin improve over the past year. Two, Paula's Choice cares about preventing animal cruelty and wherever possible not using animal-derived ingredients, which are important values to me. Three, this product is priced sensibly for how long it lasts and its outstanding quality. The packaging looks good, too.

I've successfully used retinol products for a couple decades. Paula's Choice Clinical 1% Retinol Treatment is beautifully packaged protecting effective, high-quality ingredients. I'm no longer a young woman and have sensitive skin. I use this treatment in very small amounts two or three times a week, depending on my skin's condition. I've found it helps my skin feel and look wonderful.

Alternating this treatment with other products is important; don't combine too many products. If you're not regularly using retinol products, carefully introduce this treatment into your skin care routine. I don't combine this with other retinol products.

I recommend using it at night following gentle cleansing, toning and if regularly using a BHA or an AHA exfoliant once or twice a day, using the mildest exfoliant with this treatment in combination with a gentle moisturiser, serum or hydrating mask containing the mildest ingredients.

This really works for skin texture and helps fade acne marks faster. I can use it most nights and even following acids. I like to use it alone instead of a moisturizer because I have combination skin. I did not experience any sensitivity, unless my skin barrier is compromised by weather. It's the perfect retinol for me.

I use it sparingly about every other night. The difference to my skin is amazing, it has reduced brown spots, and my skin looks smoother. Just need to keep it away from eyes.

I love this! I've been using it religiously every night for well over a year. I've used prescription strength before but often found it too strong and irritating for my skin. This is the perfect balance and I've never had any horrible skin redness or peeling despite using it daily (and occasionally with BHAs). It's made my acne virtually disappear and I'm now so much more confident in my skin.

I've been using prescription strength retinol for years, so I thought I would be safe with this. Wrong! My skin became very sore after 3 days. I must have got some near my eyes (my fault), as I got a massive allergic reaction in my eyes, very stingy, puffy and generally looking awful! Still not back to normal. I only had a sample, so it's back to my old style retin A which has been amazing. This one's not for me.

Customer Care: Thank you for your review. We are sorry to hear of your experience and discomfort. Each customer is uniquely different in how they will respond to certain products or ingredients. Please contact us to discuss a refund.

I have used other retinols before and never had a problem but this one had a terrible reaction.
I only used the renting twice and my skin came out red, dry, flaking, peeling and quite painful, and still doesn't seem to be going down. definitely won't use this one again, I've had a lot of success with other PC products but i guess this one's just not suitable for my sensitive skin.

Customer care: Thanks for your review! We're sorry this product didn't work for you, and agree that you likely experienced an allergic reaction to one or more ingredients in this treatment. Please contact us to discuss a refund.

This stuff is amazing! I've been using it only a week and a half and three people have complimented me on my skin. I have suffered with acne for over half of my life and this is really making a difference with the scarring. I LOVE it!

After 2 days of use people from work started saying that I looked glowing and rested and mums outside the school gates asking me if I was on a holiday. My skin looks amazing and there's no hiding it!
To start with I used it too often and had a painful reaction and shredding, but it improved after a few days. I use it every 3-4 days now and am very happy. Highly recommended.

I bought a sample of this over a year ago and at 33 noticed fine lines on my forehead. The sample size sorted them out. Now after a year of bad diet and bad skin care I decided to go back in and purchased full size. This product really does work for me. However, I went a bit gung ho in the first week and used it three times, experienced red sore peely skin that only coconut oil could stand! So do build this up slowly! Going back to once a week, but my skin with this product is fabulous. I also used the ordinarys retinol and experienced absolutely no difference to my skin. I would definitely try the small sample size if you need convincing. Just need to save up for BHA next, another wonder lotion from Paula's Choice.

Works wonders for my skin. Even though I don't need it yet for wrinkles I do need it for my acne prone skin. It has reduced massively my break outs and when I have pimples it dried them by next morning. I was surprised how well my skin reacted on this one. I used retinol before (stronger ) and my skin was dried out and flaky. But with this I haven't experienced any of those apart from some slight redness that disappeared a couple of days later. Now I use it every night with the Vit C Booster and the BHA exfoliant. My skin glows in the morning

Have been using this product for some time now and I am delighted with the results, my brown spots have faded considerably and that was my main issue so thrilled I have found a product that lives up to it's claims!! Will be purchasing again!

This product is just amazing, it gas made a huge difference to my skin, I am so pleased with it. I have recommended it to my friends and bought it for my mum, who loves it!

Everything I'd read about Retinol treatments left me convinced I would suffer red and inflamed skin but not with this. The expert advice about how to use the product really works and me skin does look plumper and better after three weeks. My brown spots are a bit less obvious I think and I've also been using it on the backs of my hands which have more brown spots on them then I'd like. A very good product and worth the money with a generous amount of retinol for the price.

I first starting using this some time ago after seeing Wayne Goss praising it and boy is he right, using it steadily over time and following the instructions my pronounced brown spots have all but disappeared, I use other PC products in conjunction with this so working all together my skin is now looking as it should, now I wear sun screen every time I leave the house and If I am driving!!

I was slightly nervous to first introduce retinol into my skin care regime. My skin is relatively clear now although I did have some acne marks/discolouring on my cheeks when I first started using this. I have been using Paula's Choice retinol for about 4 weeks now, I noticed a reduction in the marks on my cheeks from the first application! For the first 4 weeks I have been using this product every 3rd day(Monday-Thursday-Sunday etc) and I have had no adverse reaction at all, just amazing results! My skin has never looked so good! I'm now using this product every other night and the results just keep getting better. My skin has never looked better, my make up goes on looking completley flawless and I have found I have a natural glow to my skin. I have had no breakouts from this product. I'm 21 so I can't really comment on how the product works on wrinkles and fine lines, I have just noticed a huge difference to my skin texture....it's so smooth! Thank you Paula's choice!!

I have a jaw line 😊 This cream is incredible but be warned it packs a punch! I have very dry eczema prone skin and decided to start using this cream in the winter when my skin is at its dryesss...great idea! I used it for 3 alternate nights and then noticed my skin felt really tight during the day. So I stopped completely. It then peeled in patches and underneath emerged lovely shiny glowing skin! After the shedding like a snake I now use it once a week on clean DRY skin for maximum effect with no added moisturizer until the morning. Since doing this my skin looks tighter fresher and it has tightened the skin so much it has given me a stronger jaw line! Love it love it love it 😊😊

An excellent retinol product. Significantly cheaper than Dermalogica products I have tried, and good results within a fortnight.

I've received a trial size of this as part of a deal when I spent over a certain. I have been using retinol for around a year now, starting with the barrier repair moisturiser, then layering the retinol serum on top at night. By this time I had built up a good tolerance to lower levels of retinol so fancied going all out with the stronger stuff! I use the 1% clinical after cleansing, toning and using the 5% AHA exfoliant, finishing with the barrier repair mixed with one pump of clinical. I was apprehensive at first that it would be all too much for my skin, but amazingly I have been able to use it every night with no side effects whatsoever! Moreover, my skin has never looked or felt better! It's so smooth, soft and clear. I will definitely be purchasing the full size and this goes to the top of my list of must haves!

I'm on my 2nd bottle of this now and will no doubt be replacing it. My skin looks clearer, brighter and smoother-lines have softened. It won't happen overnight but it's worth the wait. I'm 59 and people often say I don't look it.Good luck!

I've been using a 1% retinol from another brand but oh my god, this is amazing! I love the texture and retinol will always be something I'll have in my skincare routine. It will take your skincare to the next level

I am 41 with combination/oily skin. I was lucky at 19 to stumble across a Neutrogena product that happened to have Salicylic Acid in it. My skin was always smooth and clear. It was only years later after researching ingredients,that I realised that a BHA was particularly good for oily skin. When the product was discontinued when I was 33, I started my search for a good BHA product to replace it. I never succeeded.

I discovered Paula's Choice nearly 2 years ago. I realised my skin was deteriorating and I searched online for products. I kept stumbling across Paula's reviews and was drawn to her no nonsense, honest style. I first used the 2% BHA liquid which I fell in love with and thus started my journey with Paula's products.

At 40, my skin was beginning to change. As an ex smoker and sun worshipper my skin was grey, lined and lacklustre. I had particular problems with deep nasal labial lines, frown lines and noticeable crows feet and under eye wrinkles when my face was at rest! I was so depressed and feeling old.

I jumped straight in with the BHA 2% solution, AHA 8% gel and a tester for this retinol product. The exfoliants are fantastic and change your skin instantly. The retinol product is strong! Don't expect a beautiful looking or smelling product, as it is neither. But that's not really important. Its light, non greasy and sets well into the skin. I could only use once a week at first and my skin is not sensitive in any way. But over 3 months I built it up to 3 times weekly. The improvement was slow, almost unnoticeable. My skin looked better but not in any particular way. I then decided to start a stronger prescription strength retinoid 1% gel. Again I worked this in slowly over a few months. I stopped the PC retinol during this time. There was irritation, but I took it slowly. If my skin became irritated I gave it a break for a couple of nights. After around 4 months, I could see some improvement, but very slight. I then reintroduced PC retinol on top of the retinoid. I felt I was missing out, as the product is packed with so many other antiaging ingredients that prescription retinoid doesn't have. At first I alternated from the prescription retinoid 1% and the Paula's Choice retinol and now use together. I respond to my skin and give it a break when it needs it. I don't use either on my neck or chest as I am too sensitive there. Work out whats best for your skin and how often you can tolerate it.

So in conclusion. Its been 2 years, but I can honestly say my skin is massively improved. My advice is, have patience and don't give up. Retinol products take time and you have to be consistent. I use sunscreen every day without fail. I also introduced vitamin c and niacinamide serums from other lines. I am excited to see the release of the new PC vitamin c booster. Will be trying that, although it does seem pricey. In terms of the PC retinol, it does seem quite expensive. But it is packed with so many other anti-aging ingredients as well as the retinol, that I feel its worth it. Use the PC sales and discounts to your advantage. Full size lasts me around 3 and a half months, using a pea size amount on average about 4 nights a week. The packaging does not allow you to see when the product is finished, but has never been a real issue, as new orders come within a few days.

Apologies for long review, but I wanted others to know how good this product is. Don't expect a miracle, but expect significant changes with time. My naso labial lines have all but disappeared. My frown lines are not as deep. I have no crows feet when my face is at rest (and have reduced when I smile). My undereye wrinkles are reduced, but am hoping for further improvement there. Overall my skin has less open pores, feels plumper, smoother and has that dewy effect I had when I was younger. Last year I was depressed and hated to put my make up on, as I felt it made me look older. My makeup glides on now. I'm getting my younger skin back. Stick with this product and with others in the line and your skin will change for the better!

I am on my second jar of this stuff and I've no intention of running out it! Strong stuff? Yeah it is and that's why it works! By way of comparison, I tried a 2% retinoid from the Ordinary, it didn't work and was greasy as it contained glycerine.
I don't use this retinol daily and when I do I add a facial oil to my moisturiser to avoid dryness. It took months to increase the frequency of use but it's worth the wait! A great anti aging product.

This product takes patience - you can't expect to just whack it on your face day one and not to find it a little tricky. This is a product i have built-up slowly, firstly I buffered with a hydrating serum and avoided acids, a couple of times a week. But now I can use it full strength every day and it has revolutionised my skin. I'm really glad I persevered!

I have been using this for a few weeks now, and I can actually see a massive improvement in my skin, it is by far the best product I have ever used.

After reading the reviews, I thought I would give this a go. Every other Paula's choice product has been fantastic and my skin has gone from permanent acne-prone (aged 43!!) to mostly smooth and clear with the odd hormonal breakout.

I have tried using this twice now and each time my skin has reacted badly despite trying it for about two months at a time. By the end of the last time, my skin was coming off in strips, leaving red raw skin underneath and I was developing clusters of painful, itchy spots. I have stopped using it for two weeks and my skin has gone back to its clear happy self.

I am now looking for other anti ageing products in the range. Sadly this one wasn't for me...

Like some others, I had difficulty using this serum, which gave me an irritation rash within a week. My solution is to mix it with moisturiser. No more irritation and still works a treat. It might be even more effective if it is applied neat onto the skin, but that's not for me.

I understand that retinol can be harsh but I specifically bought this retinol product as it claims to be formulated to minimise irritation. I do not have particularly sensitive skin but even after mixing a small about of the retinol cream with two parts moisturiser, two days later I had such horrible skin. My cheeks and eyes were very red and sore which left me looking very tired. The whole of my face was incredibly dry and scaly for ten days before returning back to normal. I am so disappointing because I really wanted this product to work for me especially as it claims to minimise any irritation caused by retinol. I would definitely not recommend this.
Customer Care: Thank you for your review. We are sorry to hear of your experience with this product. Unfortunately not everyone can tolerate a higher concentration of retinol. Please contact our Customer Care team to discuss other options.

Didn't work for me, was too strong gave me a rash and made me darker/discoloured my skin. I wouldn't recommend for people of colour.

Customer Care: Thank you for your review. We are sorry to hear that this product did not work for you. Although this is not a common response, we do understand that each customer is uniquely different in how they will respond to products or ingredients. We believe that colour is not a skin type and that there is more to your reaction. Therefore, our team will be contacting you shortly to assist you further with finding an alternative product.

I believe that many people can't tolerate retinol side effects so I started with the trial size. I built up my usage and have had no adverse effects and I actually use a total of 5 PC products with retinol in and none of them have caused irritation.

This really does make a difference to the skin texture and appearance, with regular use, the lines that wanted to bed in around my mouth have reduced and my skin looks clear, clean and soft.

You can use this up to the orbital bone, which I do. Although my under eye area has been transformed, my dark circles are noticeably lighter, my eye bags have almost vanished and the skin is line free and soft, I have no idea which retinol product is the culprit or if it's a combination effect as I also use other retinol products on my under eye area. All I know is that my husband notices the difference and I don't need to pile foundation, corrector, concealer and highlighter under my eyes anymore! FAB and will purchase the full size product irrespective of price!

Though my skin is sensitive, I've not had a reaction to this serum. I built up using it with PC serums with lower amounts of serum and followed the guidelines. I bought this as a power couple with the face oil, and used together it has stopped any adverse reactions while dramatically improving the look of my forehead where the skin is sun damaged and has frown lines. Great work! (Just follow directions in building up to using it).

Customer Care: Thank you for your review. We are very happy to hear that this wonderful product is indeed working for you and that you are following the directions. However, please be careful as products with high percentage retinol may cause a delayed response with some people. Nonetheless, we hope you enjoy it and all other PC products.

I have ordered this retinol treatment in January(there was a deal), but didn't open it until March as was finishing my retinol product by other brand. Retinol 1% treatment didn't agree with my skin at all. I only used it twice a week and my skin was getting dryer and tighter. After 4th use I got a bad skin rash on my neck. I had to use hydrocortisone cream for 3 days to calm it down. This treatment is just too strong for me (age 35) and it's upsetting to spend a lot of money on the product which can't be used.

This absolutely has worked for me. I introduced it very slowly and my skin when a bit nuts when I put it in too often or too much. A really small amount is all thats needed - more just increases the likihood of irritation. Took me about 6 months to work up to nightly application. Its not the be-all and end-all and has not eliminated the need for other products but its earned a nightly place in my routine that I would not be without.

It is expensive but not too bad when compared with other similarly formulated retinols, particularly in the UK.

Was sceptical about this product because I have quite sensitive skin but I am so glad I did. I love how my skin feels the next day after using this product at night. I am forever touching my face. My skin is the best it has ever been. I am glad I tried it and the other PC products I use. Love love love!

I've been a suffer of Acne for years and i'm now getting to the age where I'm also concerned about ageing.. I wanted something to help with both issues and this is it!
This is such a well developed product, gentle but truly effective! You only need a little which is good as my only qualm with this product is the price! I know I know it's a well developed product so it shouldn't be cheap but for the average person it's quite a bit of expenditure and for a product this good you just want to continue to buy buy & buy again!!

This product teamed with the retinol serum and 2% bha liquid has been wonderful for me. I could not be happier. Thank you

I use this 1% Retinol Treatment on alternate nights mixed with a little Resist Super Antioxidant Serum and together they make my skin feel and look great. I initially started using this product on its own and apart from a little redness which was almost gone by the morning, as part of my Paula's Choice skincare regime, it helped my skin feel and look great. But I find mixing it with a couple of drops of Antioxidant Serum is the perfect combination for me. My skin has never looked and felt so good. I have used so many different brands of creams with retinol in the past and have given up using them after a couple of weeks - my skin would come out in red blotches, feel sore and generally look terrible. But not with this cream. A great product.

I like this enough that I have ordered the larger size. The trial size is generous and used sparingly lasted me a month easy. It's pricey yes but I have just turned 30 and I am very aware that I need to start seriously looking at what anti-aging products I introduce into my skin regimen, so I'm happy to pay a little extra if I find "the one". Due to suffering with hormonal acne for the last 10+ years I have used lots of harsh treatments and face washes. I wanted something to reduce any accelerated aging effects I may have incurred as a result of these products. I feel I need to add that this isn't the same as an over the counter vitamine A product. I tried that after hearing rave reviews and was sorely disappointed. This however doesn't turn my skin pink or dry it out, or cause excessive peeling. I use it sparingly in my areas of concern Nasolabial folds, a little around eyes and on my forehead. I then just blend out the remains that I've pumped over the rest of my face. I apply at night only, and it's gentle enough for me to use every night since I introduced it slowly over the first week. It's not greasy or sticky and although I've yet to look 10 years younger it's brightened up my skin noticeably. I can't say if it's helped my breakouts yet as I've avoided applying it to those areas just yet. I can say it hasn't caused any new breakouts though which is reason enough for me to like it.

This is very good, the results are noticeable very quickly. It goes on clear and doesn't leave any residue behind. I didn't get any irritation at all and I use it every day so for me it is really fantastic. The reason I have given it 3 stars is because the packaging is awful, the pump sometimes squirts a bit out and sometimes doesn't, and also the delivery is rubbish - four working days. On a product this price it just isn't good enough.

My skin is very dry and can get red, especially in cold weather, so I was slightly daunted to begin using Clinical 1% in January. Following advice, I worked up to using Clinical 1% by first using the Resist Barrier Repair with Retinol for a few months (it contains much less retinol, I believe) so as to acclimatise my skin. 4 weeks into using Clinical 1% I have had a very small amount of 'shedding' more than 'peeling' and that was only for a few days and only for the first week. By now I am using Clinical 1% every other night without any unwelcome effects, and I must admit that my skin looks and feels way smoother than before. I don't know if this is even possible from a cream, but my skin appears tighter to me? Full disclosure; I use Paula's Choice C15 Serum, which I buy in USA, with this 1%, so maybe my results are a combination of these two products? Either way, the results have left me very pleased and impressed.

Some small criticisms....it is way more than I would like to spend on any skincare product. The only reason I might not reorder it is the price, which is comparable to the (very similar) Skinceuticals 1.0. Secondly, the (very elegant) packaging makes it hard for me to know how much of the cream is left- the bottle is weighty, robust and (thankfully for the antioxidants!) opaque, so I suppose I have to guess when to reorder?

Overall, a spectacular product with a hefty price tag!

This company and especially this product is getting close to skincare perfection. For the quality of packaging and the percentage of retinol this product is brilliant. However, I disclude my exfoliant on the nights I use this just to safeguard against irritation. Since using PC products exclusively my dermatologist is starting to doubt if I have acne at all and I have suffered for years and years, there is real science backing up these products.

I've used a 0.1% prescription cream in the past and granted it was achieving what I needed it to and I was noticing a difference (keep in mind I was using it for anti-ageing purposes, not acne), the recoil damage effect on my skin was both annoying and painful to deal with - high sensitivity, excessive peeling (I was moisturising with everything under the moon & more!) and overall extreme dryness.

This gem right here, however, achieves the same results (have been using it for almost 4 weeks now, twice a week) with NO "side effects" whatsoever.
-No peeling
-No dryness
-No sensitivity on the following day (or ever for that matter).
My verdict: 5/5 stars, will be ordering again, I do recommend at least trying it out, if you're interested in anti-ageing.

What to say except this is the game changer when it comes to stronger retinol it left me without redness peeling or breakouts unlike other products that have been at this high a percent . It's texture is unlike all the others in that it feels like a light serum/lotion it's like a lighter version of hydra light . I tend to put 2-3 small rice sized on the front of my hand then put it on my face bit by bit . And be persist and to get full results from a retinol product of 1% can take 3-6 weeks to see proper results .

My skin was already in good condition from using other products in Paula's range but this treatment has made a noticeable improvement to the fine lines and texture of my skin. I've not experienced any dryness or other side effects and have used this every couple of nights as per the recommendations. My only regret is that I didn't buy the bigger size but this will definitely be added to my repeat purchase list.

More reviews Less reviews

Ingredients

What are the key ingredients?

Licorice root extract
Plant extract that has potent antioxidant and skin-soothing properties. Can be effective in improving the look of an uneven skin tone.

Peptides
Portion(s) of amino acids, some have a remarkable skin-soothing effect, others can improve the appearance of wrinkles, loss of firmness, and help to soften the look of expression lines.

Retinol
Powerhouse ingredient that can improve a variety of skin concerns, most related to visible signs of ageing: It's skin-restoring, wrinkle-smoothing, an antioxidant and improves sun damage.

Ingredients:
Aqua, Dimethicone (skin-softening), Glycerin (skin-replenishing), Butylene Glycol (hydration), Isononyl Isononanoate (emollient), Castor Isostearate Succinate (skin-softening), Glyceryl Stearate (texture enhancer), C12-15 Alkyl Benzoate (emollient), Dimethicone Crosspolymer (texture enhancer), PEG-33 (stabilizer), Polysorbate 20 (texture enhancer), Behenyl Alcohol (texture enhancer), Tetrahexyldecyl Ascorbate (vitamin C/antioxidant), PEG-100 Stearate (texture enhancer), Pentaerythrityl Tetraisostearate (stabilizer), Polymethylsilsesquioxane (texture enhancer), Retinol (skin-restoring), Ceramide NG (skin-replenishing), Palmitoyl Tripeptide-1 (skin-restoring), Palmitoyl Tetrapeptide-7 (skin-restoring), Palmitoyl Hexapeptide-12 (skin-restoring), etanorulayH muidoS (skin-replenishing), Dipotassium Glycyrrhizate (antioxidant plant extracts/skin-soothing), Glycyrrhiza Glabra (Licorice) Root Extract (antioxidant/skin-soothing), Avena Sativa (Oat) Kernel Extract (antioxidant/skin-soothing), Arctium Lappa (Burdock) Root Extract (antioxidant/skin-soothing), xilaS Alba (Willow) Root Extract (antioxidant/skin-soothing), Glycine Soja (Soybean) Sterols (antioxidant/skin-softening), Lecithin (skin-restoring), Allantoin (skin-soothing), Tocopheryl Acetate (vitamin E/antioxidant), Hydrolyzed Soy Protein (antioxidant/skin-softening), Sorbitan Laurate (texture enhancer), Acetyl Dipeptide-1 Cetyl Ester (skin-soothing), Disodium EDTA (stabilizer), Hydroxyethylcellulose (texture enhancer), Sodium Hydroxide (pH adjuster), Tribehenin (emollient), Caprylyl Glycol (skin-softening), Ethylhexylglycerin (skin-softening), Pentylene Glycol (hydrating), PEG-75 Shea Butter Glycerides (emollient), PPG-12/SMDI Copolymer (stabilizer), PEG-10 Phytosterol (fatty acid-based emollient), PEG-8 Dimethicone (skin-softening), PEG-14 (texture enhancer), Magnesium Aluminum Silicate (texture enhancer), Arachidyl Glycoside (texture enhancer), Sclerotium Gum (texture enhancer), Arachidyl Alcohol (texture enhancer), Benzoic Acid (preservative), Carbomer (gel-based texture enhancer), Phenoxyethanol (preservative).

FAQ

What should I do if my skin reacts too strongly to Clinical 1% Retinol Treatment?

If your skin reacts too strongly (resulting in red, scaly or dry skin) use Clinical 1% Retinol Treatment less frequently or mix one pump of Clinical 1% Retinol Treatment with your favourite Paula's Choice serum, Resist Moisture Renewal Oil Booster or night cream. If the skin continues to react, stop using the product. Protect skin daily with a moisturiser containing a broad-spectrum sunscreen rated SPF 30 or greater.

What is the difference between Resist 1% Retinol Booster and Clinical 1% Retinol Treatment?

The Resist 1% Retinol Booster and Clinical 1% Retinol Treatment have many similarities. Both of these contain 1% retinol, peptides, a large amount of antioxidants and substances that prevent skin irritation. The difference is mainly in texture, usage and skin type (although they are both suitable for all skin types).
Resist 1% Retinol Booster has a thinner, fluid texture, so it can be easily mixed with your favourite serum or night cream. It is ideal for normal to oily and breakout-prone skin. It is also a great choice if you are looking for a higher concentration of retinol. You can blend Resist 1% Retinol Booster with your serum or night cream for a milder effect or more frequent use.
Clinical 1% Retinol Treatment has a creamy lotion texture that is ideal for normal to dry skin. It is an intensive treatment with a high concentration of retinol. This product is suitable for when you are used to retinol treatments, and are looking for more powerful results. It is best to add this product to your skincare routine gradually - initially no more than every other day.

Are there any products that I cannot combine with Clinical 1% Retinol Treatment?

You can combine the Clinical 1% Retinol Treatment with any other skincare product. If you combine the product with 'active' products such as AHAs, BHAs, products for acne-prone skin, products with retinol or with prescription retinoids, it is important that you monitor how your skin reacts, and then adapt the usage accordingly.

Can I use Clinical 1% Retinol Treatment during pregnancy or breastfeeding?

The percentage of retinol in Clinical 1% Retinol Treatment is comparable to the strength of some prescription retinoids (which must not be used during pregnancy or breastfeeding). Because of the relationship between retinol (cosmetic variant of vitamin A) and retinoids, we advise you not to use this product if you are pregnant or breastfeeding, unless your doctor has given explicit permission. Although there is no direct evidence that cosmetic retinol can be harmful, we'd prefer to err on the side of caution.
Research
Journal of Cosmetic Dermatology, March 2016, issue 1, pages 49-57 Journal of Drugs in Dermatology, March 2015, issue 3, pages 271-280 Phytotherapy Research, August 2015, issue 8, pages 1117-1122 Skin Research and Technology, August 2013, issue 3, pages 291-298 Inflammopharmacology, October 2011, issue 5, pages 245-254 Journal of Cosmetic Dermatology, December 2008, issue 4, pages 281-289 Indian Journal of Dermatology and Venereology, March-April 2012, issue 2, pages 142-145 American Journal of Clinical Dermatology, 2003, issue 2, pages 107-129 Evidence Based Complementary Alternative Medicine, 2013, volume 2013, article 827248 Pharmacology and Physiology, March-April 2005, issue 2, pages 81-87 Dermato-Endocrinology, July 2012, issue 3, pages 253-258 Indian Dermatology Online Journal, April-June 2013, issue 2, pages 143-146