Beginner's Guide to Routines
Whether you want to smooth wrinkles, fade brown spots or address other skin concerns, it all starts with a personalised skincare routine. Discover yours.
One skincare product can't do it all
There isn't one miracle product that can give you ageless looking skin. More often than not, it takes several products to address both your skin type and your range of concerns, from wrinkles and sun damage to clogged pores, dull skin, dehydrated skin, breakouts, redness and so on. Our Essential Routine covers the 3 basic steps you need for healthy skin. If you've already got the basics covered, you can try an Advanced Routine, adding additional products to target specific concerns.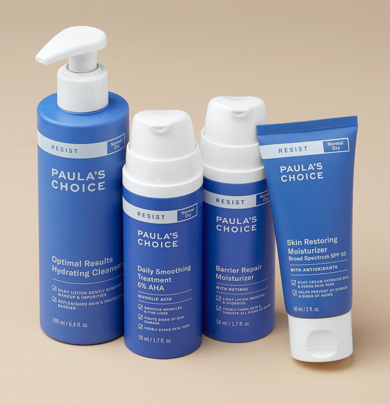 What is a skincare routine and why do I need one?
Knowing what products work together, how they benefit your skin, and the order in which to use them is incredibly important when selecting the most effective skincare routine for you. At Paula's Choice, we recommend an essential skincare routine that consists of three simple steps, 4 products, each designed to treat the core needs of any skin type—the minimum your skin needs to keep it healthy and protected day and night.
Find the perfect routine for you with our Routine Finder. Backed by 35+ years of extensive research we have 500+ routines specifically customised to deliver visible results.
What products make an essential skincare routine and how do i use them?
Regardless of your skin type, your skincare routine should contain a minimum of 4 products: a cleanser, an exfoliant, a day moisturiser with a minimum SPF of 30 and a night-time moisturiser. These are the core products required to meet all the basic needs of your skin to maintain its health and appearance for the short and long term.

The first essential step of every skincare routine is to cleanse. Cleansers remove dirt, excess sebum and makeup. When your face is clean, it allows the other products you use to work even better.
How to choose a cleanser
If your skin is normal to dry, choose a cleanser with a rich creamy or lotion texture to gently cleanse and nourish skin without drying it out even further. If your skin is oily to combination, opt for a gel or light lotion texture.

A gentle leave-on AHA or BHA exfoliant removes built-up layers of dead skin cells that cause dullness and clogged pores. They are effective for treating sun damage, wrinkles, blackheads, clogged pores and breakouts. When used as the second step in your routine, an exfoliant will leave your skin smooth, radiant, and younger-looking. Exfoliants also help other products absorb better into the skin. After application, you don't have to rinse it off and you can immediately follow with the rest of your routine.
How to choose an exfoliant
Choosing an AHA or BHA exfoliant depends on your skin type and concerns. AHA's exfoliate the surface of skin and are most effective for dry, sun-damaged skin. BHA's exfoliate the surface of skin and inside the pores and are best for oily to combination skin with breakouts and blackheads. Due to its anti-inflammatory properties, BHA's are also great for calming redness and sensitivity. Our exfoliants are suitable for all skin types.

The final and most critical step of your daytime routine is application of a moisturiser with SPF 30 or higher. SPF moisturisers keep your skin shielded from sun damage which is the No. 1 cause of wrinkles, brown spots, and other signs of ageing. Use as the last step of your morning routine.
How to choose a day moisturiser
When looking for a new moisturiser, the texture of the product should match your skin type. For normal to dry skin, look for creamy, lotion textures for extra hydration and nourishment. For oily to combination skin, go for light-weight, liquid textures that don't clog your pores or make you break out.

A night cream should provide more than simple hydration. Packed with antioxidants, cell-communicating and skin-repairing ingredients that all help skin function better and look healthier, our moisturisers come in cream, lotion, gel, and liquid textures to suit every skin type. You can (and should) use them around the eye area. Use as the last step in your evening skincare routine for smoother, younger-looking skin.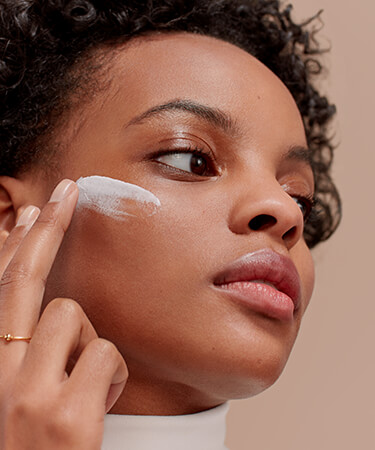 How do I know which products are right for me?
Your skin type determines which product textures are best suited for you. To discover your skin type, you can monitor how your skin responds after washing with a cleanser and leaving it bare. If your skin feels tight and uncomfortable, you have dry skin. If your skin immediately becomes shiny after, then it's likely that you have oily skin. If you experience oiliness in some areas and feel tightness on other parts, then you have combination skin. If your skin feels fine after and doesn't look shiny, then you have normal skin. Discover more.
As a general rule of thumb: normal to dry skin needs creamy and lotion textures that nourish and hydrate, oily skin needs more light-weight textures like liquids to prevent pores from clogging. For combination skin, you may need light-weight textures for the oily parts of your skin and lotion textures for the drier parts of your skin.
Find the perfect routine for your skin type and concerns in just a few clicks with our new Routine Finder.
How can I make my routine more personal?
You may find that your skin requires a little extra boost to treat stubborn skincare concerns.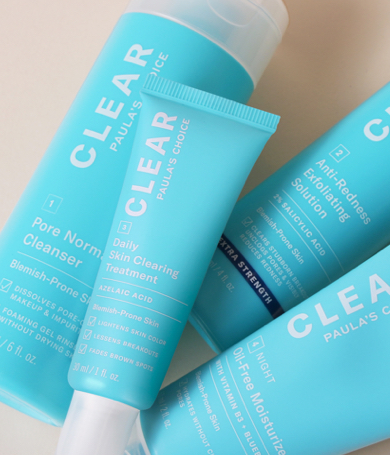 Breakouts
Fight breakouts with research-backed ingredients that work together to get at the root of the problem, without irritating skin. A consistent routine based around cleansing, exfoliating and mositurising with SPF will put you on the path to clearer skin. Our 2% BHA Exfoliant is a must have product if you suffer from acne-prone skin. It gently removes dead skin cells and unclogs blocked pores (which cause breakouts). Need something extra? Our Clear Skin Clearing Treatment contains 10% azelaic acid and works to prevent blemishes, fade post-breakout marks and soothe redness.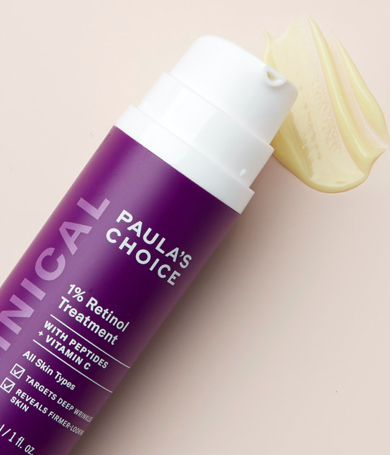 Wrinkles
With age, fine lines and wrinkles become inevitable. We use proven age-defying ingredients backed by science to deliver visible results. Retinol (vitamin A), has stunning anti-ageing properties. Our Clinical 1% Retinol Treatment combines pure retinol with potent antioxidants to immediately enhance hydration and diminish the appearance of fine lines and wrinkles.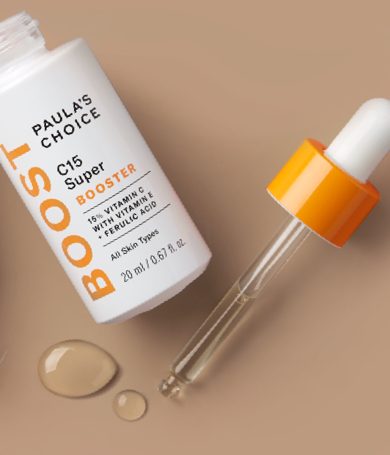 Brown Spots
Contrary to popular belief, brown spots are caused by unprotected sun exposure, not age. The most effective way to prevent brown spots is daily use of a moisturiser with at least SPF30 as the last step of your routine. Our C15 Super Booster contains 15% vitamin C and ferulic acid to brighten uneven skin while improving the appearance of wrinkles and fine lines.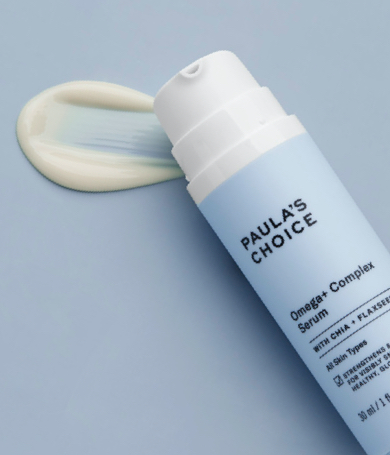 Dry skin
It is important that your essential routine consists of an SPF moisturiser and gentle products that focus on nourishing and repairing your skin. For extra nourishmment, try our Omega+ Complex Serum. It's rich in omega fatty acids, potent antioxidants and skin-restoring ceramides that work to instantly replenish and strengthen the skin's natural barrier.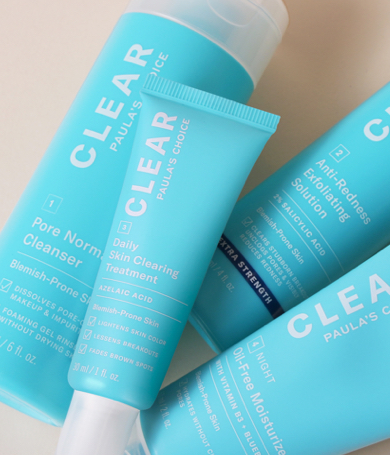 Where do the 'extra' products fit into my essential routine?
When adding products to your routine, follow this guideline:
Step 1: Cleanser
Step 2: Toner
Step 3: Exfoliant
Step 4: Booster, treatment and/or serum
Step 5: Moisturiser
When using a booster, treatment and/or serum in your routine it often works best to apply them in order of thickness, starting with the most liquid product first.
How do I know if I am using the right routine?
You'll notice a significant difference if you're using the right products for you. Your skin will be smoother, brighter and healthier. It can take a while before you notice results on more stubborn skin concerns (after all, they didn't appear overnight!). When trying new products, and especially a new routine, you should allow at least 2 weeks to see if your skin improves. Use our routine finder to discover what your skin needs.
Do I need to adapt my routine to the seasons?
If you have found the right routine for your skin, you shouldn't have to adapt it for different seasons. The basic needs of your skin remain the same, winter or summer, rain or shine. Keep in mind that this doesn't count for everyone, no skin is the same. What may change is the need to add extra products, like extra layers of sunscreen in the summer to oily, acne-prone or combination skin, or when heating and air-conditioning is taking a toll on your already dry skin.
Want to know more about routines and why they are important?
Sign up for our 4 day Routines e-course and learn how to get beautiful, healthy skin in just a few minutes a day.
* Please note that by signing up to our routine course you will also be subscribing to our Paula's Choice newsletter. New subscribers get €5 off their next order over €25.
Customer Service
Need help with finding the right product for you skin? Our customer care team are skincare and product experts and can guide you to the best skin of your life.