Exfoliation for beginners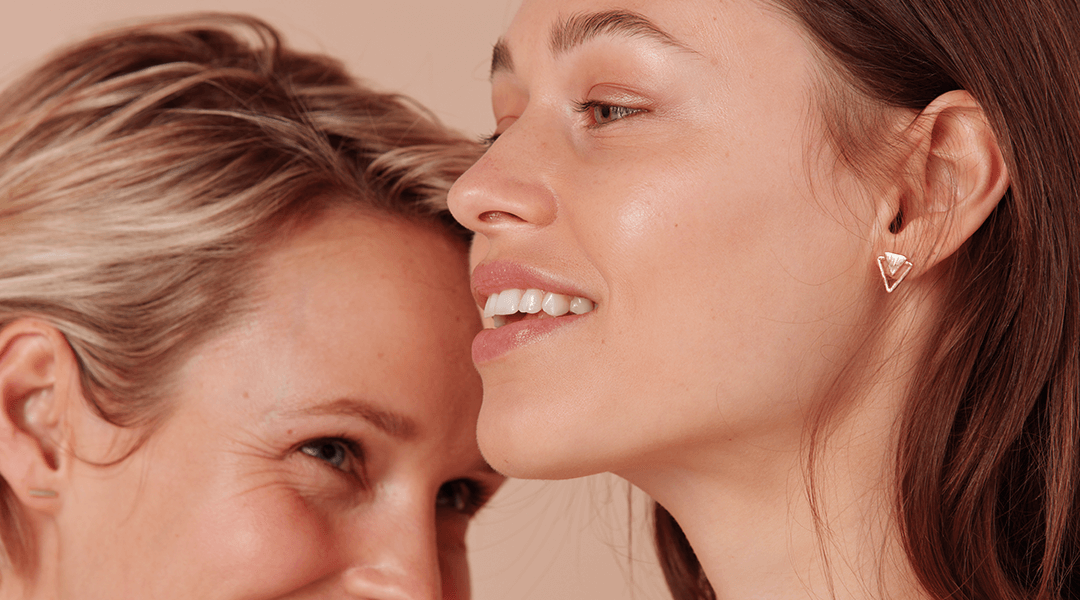 Don't scrub, exfoliate
Exfoliating is a key step in your skincare routine. Not only does it improve skins health, gently removing built up dead skin cells helps for other products to penetrate better into skins surface.
A leave-on exfoliant can make a big difference for any skin type and skin concern. Adding this step to your routine is the fastest and most effective way to get glowing, smooth, even toned and hydrated skin.
View all exfoliants
What is an exfoliant?
AHA and BHA leave-on exfoliants gently remove the buildup of dead skin cells without damaging your skin's outermost layer. They have numerous benefits including their ability to:
Gently but effectively smoothe rough skin
Help unclog pores
Minimise the appearance of fine lines and wrinkles
Brighten and even out skin tone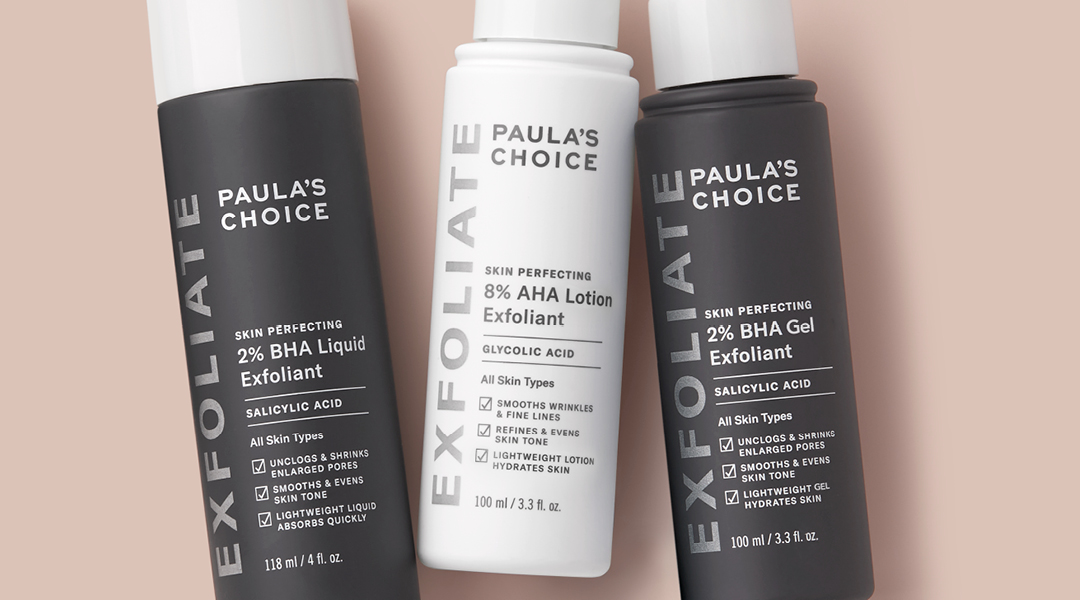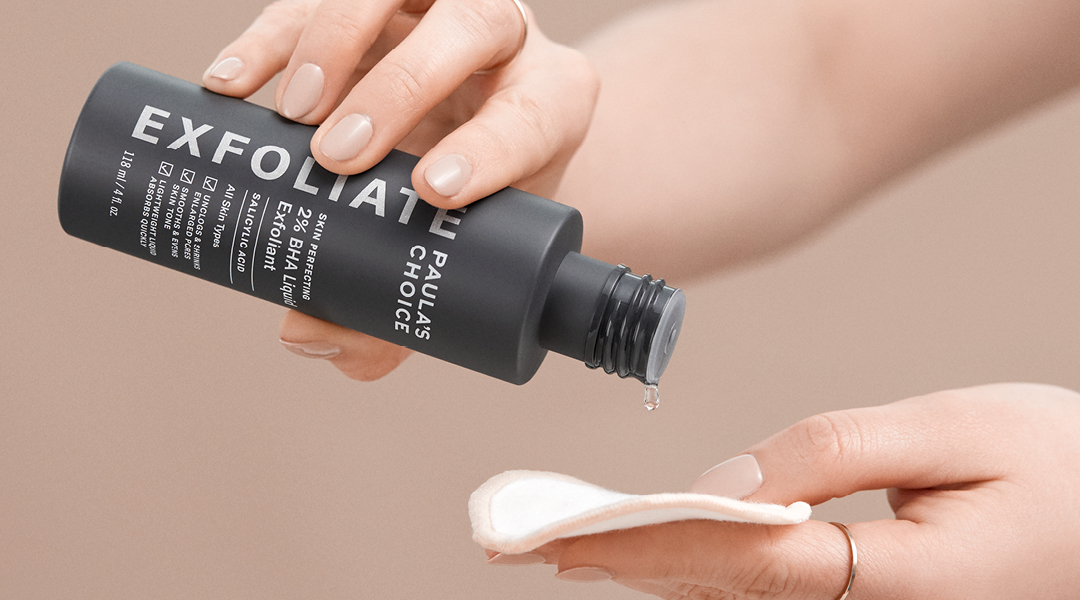 How to use a leave-on exfoliant
STEP 1: Cleanse and tone skin
STEP 2: Using your fingers or a cotton pad, apply the exfoliant to your face and neck. Do not rinse.
STEP 3: Apply your moisturiser. If you use an acid exfoliant during the day, always follow with a moisturiser with SPF 30 or more.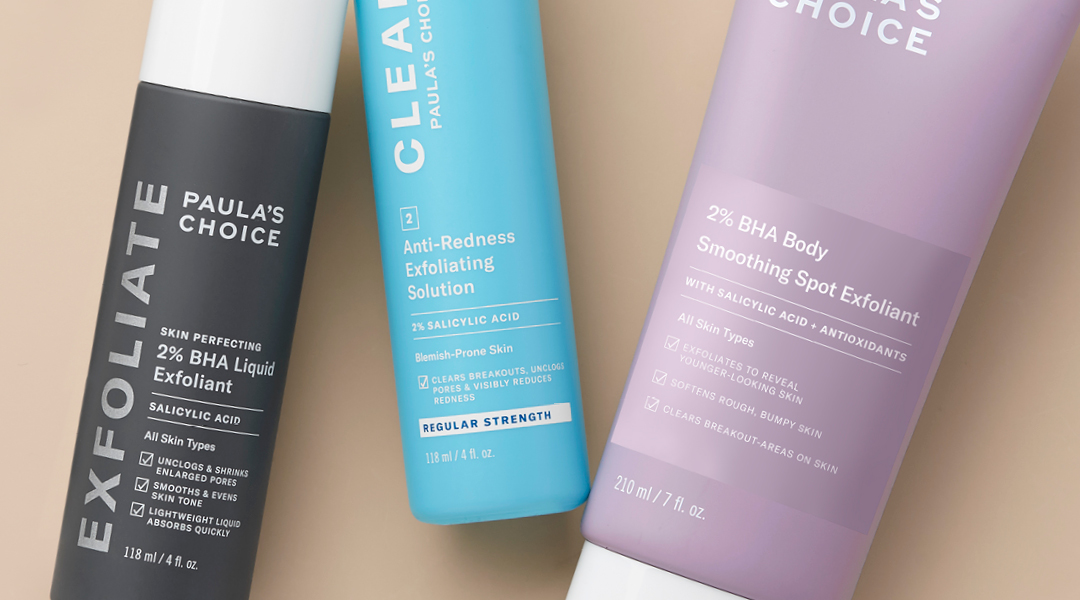 BHA (salicylic acid)
Recommended for:
✓ Oily skin
✓ Sensitive skin
✓ Breakouts and blackheads
✓ Rosacea-prone skin
Go to BHA Exfoliants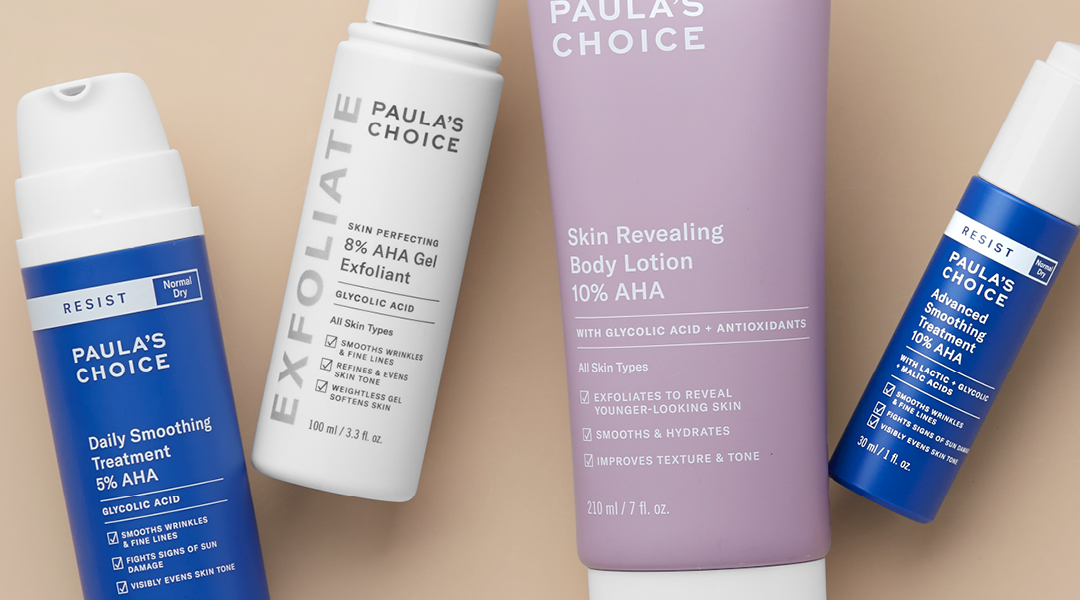 AHA (glycolic acid / lactic acid)
Recommended for:
✓ Dry skin
✓ Sun damaged skin

Go to AHA Exfoliants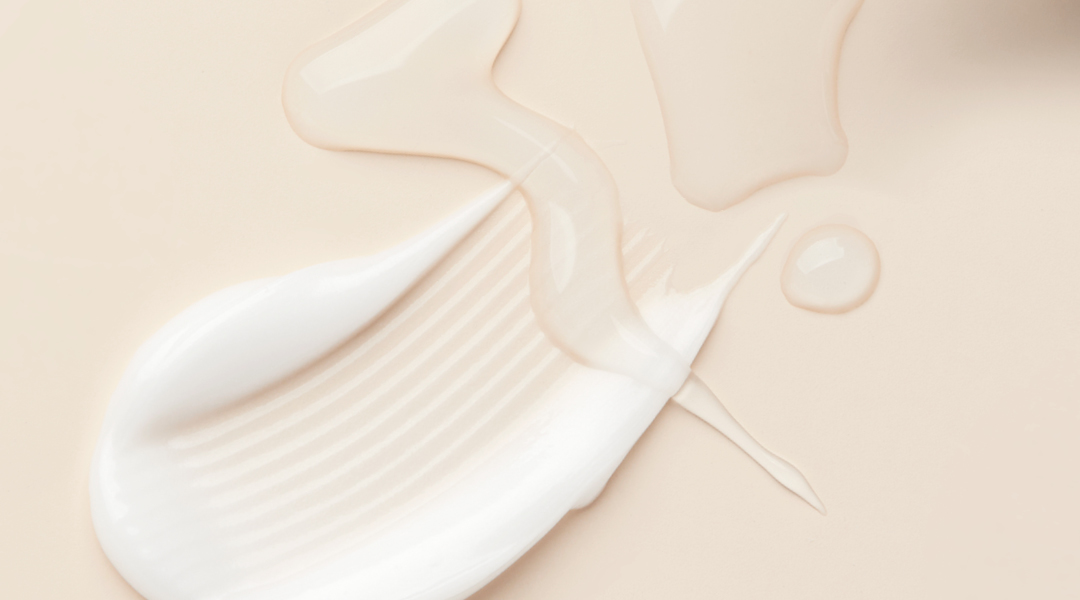 Which texture do you prefer?
Paula's Choice exfoliants come in 3 textures but are suitable for all skin types. The texture you choose is down to personal preference but some textures work particularly well for certain skin types:
For dry skin: Lotion exfoliant
For combination skin: Gel exfoliant
For combination to oily skin: Liquid exfoliant
Our award-winning, number one bestselling product worldwide: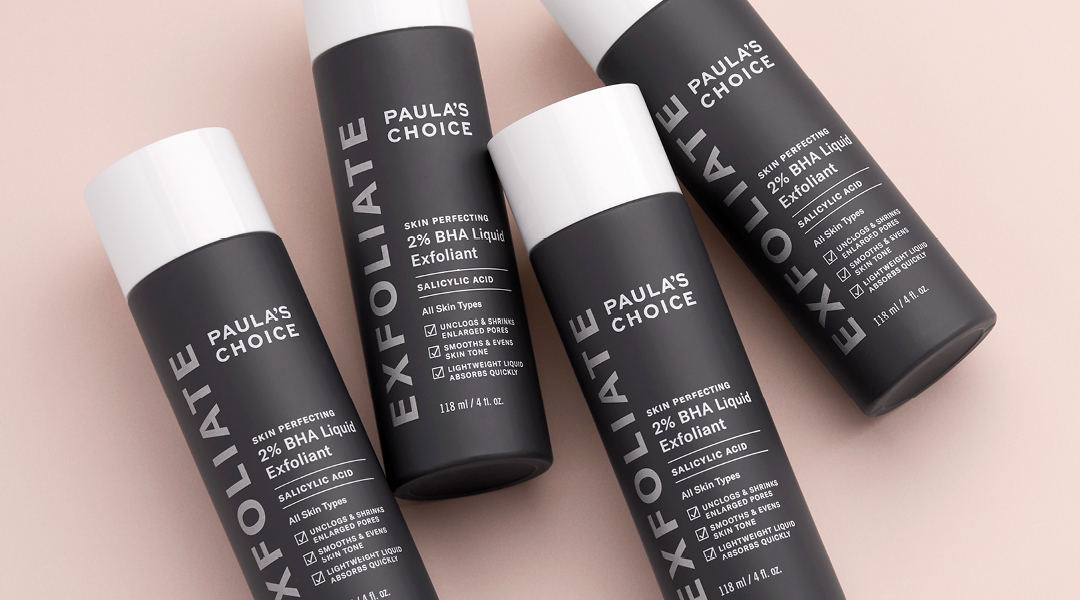 The Skin Perfecting 2% BHA Liquid Exfoliant gently sheds dead skin cells, rapidly unclogs pores and reduces blackheads leaving skin smoother, brighter and clearer. BHA has anti-inflammatory properties to soothe and calm red skin.
Why our customers use a Paula's Choice exfoliant
Addicted

Alex
"Every time I finish this exfoliant I immediately get a new one, I remember 14 months ago when I tried my first bottle.. After 30 minutes-ish my skin completely changed.. It had a glow, not oily. My skin just changed. It's hard to explain but this exfoliant will be with me for life!"
Excellent product

Jen7
"Since I started using this a few months ago I have had NO hormonal breakouts on my chin! The effect was immediate. It is the only product I have ever used that has consistently prevented breakouts. The pores on my nose have become less noticable and my combination skin with oily t-zone is much more 'normal' now. I only use it 2-3 times a week. I'll never go back to face scrubs!"
Life changing

Lily
"I've had the worst skin of my life since I turned 20, a year later and I've tried what felt like every brand and every product but experienced continued dissppointment. This product has completely changed the game, I was doubtful to begin with so bought the sample size, only to buy the full size 2 days later! I love that you can use it twice a day, my skin is so much more comfortable (enough to barely wear any make up) and all of my acne like blemishes are clearing up!"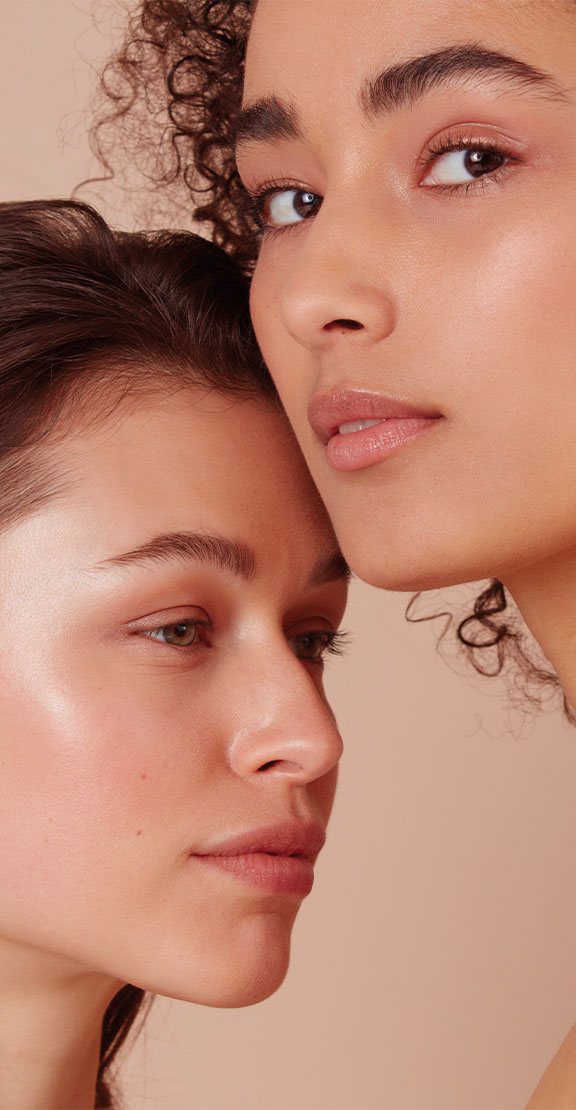 Do you want more skincare advice, tips and exclusive offers?
Sign up for our newsletter and become a Paula's Choice Member. Your benefits:
+ Welcome gift*
+ Exclusive deals*
+ Skincare advice
+ Birthday gift
* Only valid for new registrations. Valid on orders from £25.
Customer Service
Need help with finding the right product for you skin? Our customer care team are skincare and product experts and can guide you to the best skin of your life.