https://www.paulaschoice.co.uk/resist-anti-aging-super-light-daily-wrinkle-defense-spf-30-full-size/7760.html
Resist Anti-Aging Moisturiser SPF 30
Lightly tinted moisturising lotion protects skin from sun and absorbs excess oil.

Skin Type:

Combination skin, Oily skin

Concern:

Breakouts , Anti-Ageing , Brown spots , Sensitive skin

Ingredients:

Antioxidants , Resveratrol , Zinc Oxide

View all

Routine:

Moisturizer AM
Remove from Wishlist
Add to Wishlist
Product out of stock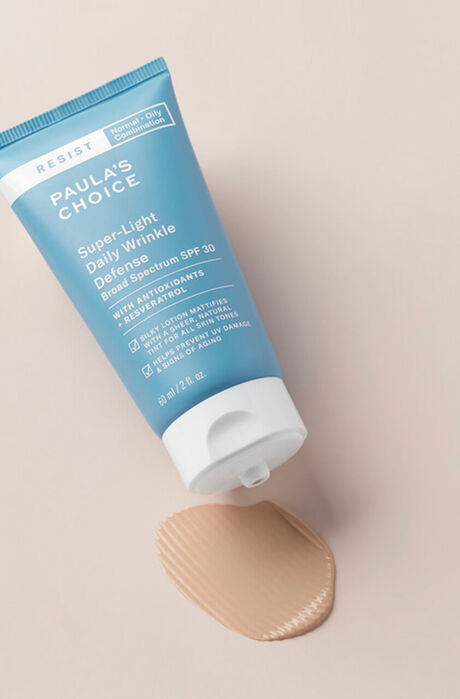 Resist Anti-Aging Moisturiser SPF 30
Full size
This product is sold out at the moment. Fill in your email address below and we'll gladly send you an email as soon as it is back in stock!
What does it do?

A lightly tinted mattifying moisturiser.

This super-light anti-ageing moisturiser with SPF protection minimises shine by absorbing excess oil. A gentle mineral-based sunscreen and potent blend of antioxidants protect and fortify the skin. The sheer tint and soft matte finish make it the perfect makeup base.

How to use

Apply as the last step in your morning skincare routine. Allow a moment to dry before applying makeup.

Reviews

Thank you for submitting your review! It will be reviewed by our staff before it is posted.

This is without doubt the best SPF I have ever tried. I have oily skin and I had to blot my skin especially my T zone 3 times per day otherwise my face looked drenched in oil by the end of it. Now my skin looks amazing and no need to blot my skin at all! For those who formulated this beautiful product, I cannot thank you enough! Please never discontinue this SPF.

Customer Care: Hi Maria, thanks for your lovely review! I'm so happy you've found our Resist SPF 30 Moisturizer and that it works so well for you! This is a great option for oily/combination skin and is full of absorbing ingredients to help control oil throughout the day. The light tint makes it a great option for under makeup and you can never complain about sun protection! If you still struggle with excess oil during the day, check out our Shine Stopper! Kind regards, Marissa - Paula's Choice Customer Care

I love this. LOVE it. Moisturises my skin if it's feeling tight, the tint is just enough to leave my skin looking even and fresh without looking made up, and stays matte to the end of the day. And it doesn't break me out, which is basically unheard of. Please don't ever discontinue!

Customer Care: Hi Laura. We love to hear how much you're enjoy this product! This moisturiser is ideal for those with normal to combination or oily skin and works to protect the skin from sun damage, absorb any extra oil and fight signs of aging. The anti-aging benefits and the soft matte finish paired with the light tint are just a couple of reasons why we love it too! We're so pleased that you've found your fave SPF! Kind regards, Shannon - Paula's Choice Customer Care

I use this product daily as it is the only sunscreen based product that truly works on my very oily, pale & sensitive skin. It minimises pores and more importantly protects against UVA rays (most beauty products only protect against UVB rays). I would rate at 5 stars if it was available in factor 50, which I really need.

Customer Care: Hi Louise, thanks for your review of our Resist Anti-Aging SPF 30 Moisturizer. I'm so glad you've found a product that works for you. We are proud that all of our daytime moisturizers have broad spectrum (UVA & UVB) protection! The mineral SPF protection means it's a great option for sensitive skin, however a disadvantage of mineral sun filters is that they can sometimes leave a white-cast on the skin when applied. For this reason, products with mineral filters often have a maximum SPF30 since a higher factor would mean more mineral particles. The more mineral particles, the stronger the white-cast! If you'd like to try one of our SPF 50s with synthetic protection, consider our Resist Anti-Aging Ultra-Light Hydrating Fluid SPF 50! Kind regards, Marissa - Paula's Choice Customer Care

Bought consistently for several years now and is for me, the best SPF daily moisturiser for truely oily skin. Tint is not strong (although I would favour more yellow, less pink tone myself) but takes away any potential white cast which is common in SPF products. Contains 3 of the best ingredients for skin. My skin has caused me a lot of sadness over the years and still, age 45, I have super oily skin which is 95% kept in check by a handful of products including Resist Anti-Aging Moisturiser SPF 30. Wish the same was available in 50 SFP but 30 SPF is still good and I am a sun-avoider anyway. Have not found anything else as effective and have in fact stopped the search :)

Customer Care: Hi ACM! Thank you for taking the time to leave your review of our Resist Anti-Aging Moisturiser SPF 30. We're so happy to hear how much you love it! By using this product not only are you getting that vital sun protection, hydration and excess oil control, but the potent blend of antioxidants will also protect and fortify the skin further. Kind regards, Shannon - Paula's Choice Customer Care

Pros:
-VERY nice matte finish
-easy to apply, feels nice

Cons:
-expensive, you need to use a decent amount so it doesn't last very long
-can run into eyes and sting, especially if the weather is windy or you exercise

Customer Care: Hi Al, thank you for taking the time to let us know your thoughts on our Resist Anti-Aging Moisturiser SPF 30. This lightly tinted, mineral-based SPF focuses on providing you with very important sun protection as well as fighting signs of aging and helping to control excess oil. We're so happy to hear that you love it's lightweight, matte finish and the way it feels on your skin. I'm sorry to hear that you've found that it can run into your eyes under certain circumstances. Kind regards, Shannon - Paula's Choice Customer Care

After testing thousands of tinted moisturisers with SPF I can honestly say this product is the best for my oily skin! I stopped using foundation since I discovered this beauty, my skin looks flawless, poreless and matte all day! Cannot imagine my life without it- I've just purchased my 3rd bottle. Thank you!

Customer Care: Hi Kam, thank you for taking the time to leave this great review of our Resist Anti-Aging Moisturiser SPF 30. It's fantastic to hear that you're loving this product so much! If you're ever looking for other product recommendations or routine advice, please reach out to our Customer Care Team who will be more than happy to help. Kind regards, Shannon - Paula's Choice Customer Care

As someone with acne prone, oily skin who this product is targeted for I was really disappointed. This product firstly did not absorb into the skin leaving the tint as a visible 'top layer' sitting on top. Secondly it made my skin (which has been very stable) flare into an acne breakout which weeks later is still not settling. I withdrew the product, left it a few weeks then tried again and it was definitely connected. Overall did not leave a nice appearance on oily skin. Paula's Choice will not return as it is beyond 60 days- I was trying to give the product a chance. Beware the time frame if you're having any issues.

Customer Care: Hi Hayley, thank you for taking the time to let us know how you found our Resist Anti-Aging Moisturiser SPF 30. I'm sorry to hear that this product was not a good fit for your skin. Please don't hesitate to reach out to our Skin Care Experts who would be more than happy to help you find an alternative SPF suitable for your skin type. Kind regards, Shannon - Paula's Choice Customer Care

I have tried a lot of mineral spf's trying to find one that is right for me. This one for me is a winner. It is lightweight and easy to apply. I have combination/oily skin so is great to find an spf that doesn't make my skin shiny/greasy. I have fair skin and find the tint easily blends in and helps minimise redness. Also layers well over other products and under makeup.

Customer Care: Customer Care: Hi NikkiS, thank you for taking the time to leave your review of our Resist Anti-Aging Moisturiser SPF 30. It's wonderful to hear that this product has been such a great fit for your combination to oily skin type and that you have found the light tint has helped address your redness. SPF is vital and needs to be applied every day, so it's great to hear how happy you are with this product. If you're ever looking for other product recommendations or routine advice please reach out to our Customer Care Team who will be more than happy to help. Kind regards, Shannon - Paula's Choice Customer Care

I have normal/dry skin and still, I love this SPF. It's super light weight as it says on the formula and since I have very fair skin, this gives me that slight tint and an even tone. Yes, it looks a bit chalky when you apply it, but after 30 seconds it takes a very natural colour (for my skin).
The only downside for me, is that it does dry my skin a bit, especially when reapplied and especially under my eyes, even though my morning routine is Hyal. acid, Vit C, Moisturizer, a very famous Korean SPF 50+++ (that turned out it wasn't SPF 50+++) to add more moisture and then the Resist Anti-Aging Moisturiser SPF 30 from PC. So yes, if you have oily skin, this might be just for you. However, I love the formula, the application and the natural look of the tint. I think it's a bit pricey for the amount of ml, but I tend to wait for the 20% discount to purchase.

Customer Care: Hi Ana, thank you for taking the time to leave this great review of our Resist Anti-Aging Moisturiser SPF 30. This lightly tinted, mineral-based SPF focuses on providing you with that vital sun protection as well as fighting signs of aging. It is designed for those who have normal or more combination to oily skin types and as you have normal to dry skin, this is why you may find it a bit drying for you at times. If you're ever looking for other product recommendations or routine advice, please reach out to our Customer Care Team who will be more than happy to help. Kind regards, Shannon - Paula's Choice Customer Care

I really like this spf and continue to use it everyday! I have sensitive, combination and acne prone skin. I enjoy the tint as it helps to cover up my post-acne marks, and it doesn't break me out. It does have a strong white cast when you first apply but this does disappear in a few minutes! I am lucky that the cast is wearable for me but I can imagine it would leave a purple hue for other people of colour! I just wish it was more moisturising - after the cream has dried I can feel some tugging on my cheeks, even after having used the Paula's Choice Clear Moisturiser underneath! I think it's unfortunately not accurate to consider this a moisturiser for combination skin. Still, the ingredients are amazing and I love that it's oil-free! I also found that after a few weeks of use, the texture became less fluid and became more of a paste. It's not a major problem but the first few application of a new tube are definitely the best for me in terms of texture and cast! Hope this helps! :)

Hi Adi,

Thank you so much for leaving such a detailed review of the Resist Anti-Aging Moisturiser SPF 30 on our website. We are always looking for ways to improve our products so I will be sure to pass this feedback on. If you would like advice on choose some products please get in touch!

Kind regards,
Adele - Paula's Choice Customer Care

If I could give this product 10 stars I would - It's absolutely fantastic.

I have super oily skin with large pores and this keeps me non shiny, basically oil free all day.

It has such a nice silky feel when applying, not like other oil control products that feel drying / clogging and not nice on the skin. This feels weightless and so so nice.

I feel like there looks like there's going to be more of a tint to it when you squeeze it out the bottle however when applying it I feel like it disappears into the skin nicely with a lovely NON-SHINY finish!

I just wish wish wish this came in an SPF 50 version however I always apply a sunscreen mist before leaving the house and throughout the day to top up my spf.

I use this product mainly to control my oily skin and the best part is I don't even have to use powder over the top to get rid of the shine a lot of spfs / moisturisers leave on the skin. I also don't need to keep applying powder through the day to help control the oil as this product does that for me which means I'm actually wearing less makeup - added bonus.

I love it so much please never discontinue this product as I have tried SO MANY that always leave my skin a greasy mess by the end of the day or makes my face feel like a slip and slide. This DOES NOT!

I just want to add I was previously using the age resist spf 50 which is so light and lovely however it did leave my skin shiny after applying and I had to use powder to cover the shine - also did still get a little oily throughout the day however it was the best spf I had tried before finding this one.

Just another perfect product from PC.

Customer Care: Dear Sophie, thank you for taking the time to write such a positive review about the Resist Super Light SPF 30 Moisturizer! I'm so happy you've found a moisturizer that protects from the sun and leaves your face shine-free. Unfortunately, we don't offer this product in SPF 50 but it sounds like you're knowledgeable about how often you should be re-applying and ,you're using an additional product. Protective skincare that leads to less makeup is a win! Warm regards, Marissa - Paula's Choice Customer Care Team

I've been using this for years and always go back to it; it's just the very best for my oily skin.

Customer Care: Thanks for your positive review! It's great to hear that you feel confident using a daily moisturizer with SPF with oily skin. We would love to welcome you back into our web shop. Warm regards, Marissa - Paula's Choice Customer Care Team

Good product it's does the work BUT I don't like the fact that it's leave white cast on the face after applying it. Leaves my face looking white like I just rubbed some white powder.

Hello Lollipop and thank you for sharing your experience! I'm sorry to read this leaves white-cast on your face. The tint was indeed added to this product to offset the white-cast effect which can occur for some when using mineral SPF's. Please contact a member of our Customer Care team, who can assist you with a possible alternative. Kind regards, Natasha - Paula's Choice Customer Care Team.

I have used this product for over a year now and I think it would be really hard for me to want to try something else. I have quite dry skin and have tried a few different tinted SPF'...this one does not flake or budge. The consistency is lovely and the subtle tint means that I no longer wear foundation...just the SPF and a bit of concealer. I've had so many compliments on my skin since using this product. I would definitely recommend!

This is a light, silky lotion that glides on effortlessly and immediately sinks into the skin leaving no residue or shine. It's a perfect matte primer and makeup sits perfectly on top of it. I have combo skin with a very oily t zone. When I wear this under makeup my makeup doesn't budge and I don't have to blot or re-powder.

I've been looking for an SPF like this for so long. Wish I'd tried it sooner! It's got the perfect amount of tint and it doesn't look greasy. Amazing!!

For the formula I would give this product 5 stars. However as a male I do not put makeup over the top of this product and after around an hour it turns my face orange. Please produce this product in a non tinted version it is an amazing formula for oily/ combo skin. I have done quite a lot of research and read others reviews on this and I am not the only one who mentions the orange look. I already email Paulas Choice customer service to ask for a non tinted version but to no avail. I am sure you sell a lot of this product so you understand it is a very good product. Please consider producing a non tinted version I think it would be popular with not just me.

Customer Care: Hello, and thanks for your comments! We are always looking for ways to improve our products, so we will pass along your feedback to our Product Development team!

I really like this spf moisturizer, it gives me matte finish like I always look for in spf and it's lightwight. Its doesn't dry out the skin quickly like most other matte spf, you have time to rub it in and after 5-6 minutes it's dried down on your skin. It's great for no makeup- makeup day, it gives a little bit correction on my skin. What I don't like is the smell, maybe could be improved in the future.


Customer Care: Hello, and thanks for your comments! We are always looking for ways to improve our products, so we will pass along your feedback to our Product Development team!

I am very disappointed, this completely dries out my skin. I have combination skin but after using this I get patches of dry skin on my forehead, cheeks and chin. I have to use another moisturiser straight after. I won't be buying this again.

Customer Care: Hello, and thank you for sharing your experience with us - we're sorry to hear this didn't work as expected for you! Please contact a member of our Customer Care team, who can assist you with a possible alternative.

I've been using this sunscreen for 6 months and I'm really happy with it. I like the fact it's tinted and it doesn't make my skin greasy at all. I would love to see the same sunscreen but with spf 50

It's a shame they don't do this in other shades. The moisturiser it's self is light weight and sits nice on my oily skin, it hasn't made me breakout and for a moisturiser with a SPF it's really good. However, I have tanned skin and this definitely makes my face paler. The colour isn't too hash and a lot of it does just rub into the skin but it's not a suitable colour for anyone with tanned skin. It's a shame because I like this moisturiser and would love to keep using it but I won't buy it again.

Customer Care: Hi there! We're sorry this wasn't a fit for you! Be sure to contact our Customer Care for assistance with a possible alternative.

I hardly ever write reviews but on this occasion I had to. I am super impressed by this product, I used to buy Oil control SPF 15 by Murad for many years but unfortunately they have changed the formula somehow (SPF45) and it just didn't agree with me and it made me super shiny. I was gutted because I loved the product. I was on the hunt for identical product like the Murad one but I was unsuccessful. All other day creams or primers that claim to combat oiliness and huge pores never worked for me and made me shiny and oily after 3 hours of wearing. But this is the Bomb, I can only use a little bit on my face and it protects my skin from the sun, doesn't make me oily or shiny at all, it's matte and very pleasant on the skin and I can also wear it without foundation, it doesn't leave a white cast at all. Thank you Paula's Choice.

I've been looking for something to control my oily t-zone. I use other PC products like the BHA exfoliator, Clear Cleanser, Retinol and Niamacide booster. This is a great base and I was so surprised it stopped my skin being oily with foundation on top!! Honestly incredible and I didn't need to use powder all day!!

Wow, this is the best SPF in the Paula's Choice line for controlling oil. It is better than sheer defense on the skin balancing line. I was worried about the tint at first on my very pale skin, but it is sheer and disappears when it is applied. As the tint is so sheer, it is not a foundation or tinted moisturizer/ BB cream. And therefore, it is suitable for most skin tones as the colour disappears on application, just like any white coloured moisturiser or serum does. Assuming you are not using an excessive amount, of course. My skin looks great with this - it blurs the pores on my nose and it keeps oil at bay for more than twice as long as other SPFs that claim to control oil. This must keep me oil-free for more than 8-9 hours which is AMAZING!! (I have not tested it on hot summer days though.) I think it is unsuitable for combination dry skin due to the powerful oil absorbing nature of the product. But if you are more on the oily side of combination it is excellent. I use a good hydrator at night to prevent my skin becoming dry, and in the day I use the super light anti oxidant serum under the SPF, again to provide some hydration comfort, and prevent dehydration of the skin.

I love this product. My skin is really fussy, but this moisturiser doesn't dry my skin out and hasn't caused any breakouts. It also feels really silky which makes it easy to apply. I have quite pale skin and the tinting is subtle but pleasant. The only thing to watch out for is that the tint can build up in my eyebrows leaving them a bit orangey - but nothing that a decent wash can't remove.

I have combination oily skin meaning that I have oily T-zone whereas my cheeks are dry. I have been using this product for weeks in combination with the cleanser from the same line. I struggle every night to remove the face cream with the cleanser which means that it builds up day-by-day and leaves a dry white residue on my cheeks (even though it's a tinted cream!). People have pointed out my cheeks asking if I had a skin disorder. I don't recommend this product to people with combination-oily skin.

Customer care:
Thank you for sharing your experience with us - we're sorry to hear this didn't work as expected for you! Please contact a member of our Customer Care team, who can assist you with a possible alternative.

I adore this product. I've been using it daily for 5 years and it's seriously improved the look and texture of my skin, helping to keep oil under control and also keeping wrinkles away with the SPF. I'm constantly mistaken for being in my 20s (I'm 33) and I feel like this SPF has a part to play in that!

I like that this is lightly tinted as it gives me a little bit more of an even complexion. I feel protected and happy knowing that this is helping to minimise my acne pigmentation too.

Love this product. I've worn heavy foundation for years but since discovering this I stopped a few weeks ago. Doesn't irritate my eyes like products with SPF normally do and is completely non greasy.

For me I can´t see any reason to have a SPF sunscreen in every daycare product since I live in a nordic country. We had 3 hours of sun in November and we spend minimum of time outside. For me it´s just an added chemical. I only need a lot of hydration.

This is a fabulous light weight moisturiser that effectively hydrates and evens out skin tone ( with light tint) as well as providing sun protection. I have problematic skin in early 50s and find 'chemical' spf make me break out so this ' natural' zinc oxide formula is fantastic.
The skin tint is quite pale but for me it's fine, gives a light even out of skin tone.

This SPF moisturiser has indeed a very light texture and feels so soft and smooth when applied, it doesn't feel like sunscreen at all. The tint is perfect on fair skin, it evens out the skin tone and I don't even need make up on top of it. The finish is natural and not too matte that it looks dry. I'm actually impressed every time I get back home and see that my skin looks exactly like when I left: no oiliness, no dry patches, soft skin. I love that I can apply it on top of other skin care products without it pilling or looking weird, I tried many sunscreens for combination/oily skin that would just rub off if applied in the recommended 1.25 ml amount. I use it around my eyes and on my eyelids without any problem. Overall great, I'm glad I found this, however as a student I find it a bit overpriced, thankfully there are discounts from time to time.

I've been using this spf for nearly 2 years and will continue to have it in my routine. It's light enough for my combination skin, but still adds moisture where I need it. The hint of colour instantly evens out my skin and allows me to rely less on makeup during the day.

I only trust mineral sunscreen. The problem is Zinc Oxide in them tend to give my face a waxwork appearance. I have tried so many physical sunscreen and this is the only one that doesn't give me an unnatural greasy and white tinged look. I don't use foundation. This sunscreen acts like a light foundation and I put powder on top. Plus it doesn't crease on my eyelids. All round excellent product. I'd be lost without this sunscreen.

This is perfect for me. I have discolouration and rosacea flares and while this is sheer coverage it definitely evens out my skin tone and makes me look a lot better. It is for oily skin definitely and can cling to dry patches so I use a light moisturiser underneath but I'm so impressed don't know what I'd do if it was discontinued

I have exceptionally oily skin which is also sensitive due to an acne treatment topical. For my skin type, this product is as good as it gets (from what I've found so far). My skin does get oily after a while, but nothing on this earth is presently able to stop that. I would give it 5 stars, as I do like that it has a light coverage, however, I wish the tint wasn't pink based. I think it would be more helpful for more skin tones if it had a yellow base. So that's my two cents.

This is the moisturiser that has finally converted me to wearing daily SPF! Chemical sunscreens bring me out in spots and make my oily skin even oilier, but this mineral one is amazing. I just pop vitamin C serum on clean skin, then rub this in all over once it has soaked in. The tint and blur effect is like a tinted moisturiser with good coverage and gives a lovely no-make-up-but-better-skin look. I use an oil cleanser to rinse it off at the end of the day, before a hydrating cleanser to make sure my skin is totally clean again. I'm repurchasing and would heartily recommend!

I don't wear much make-up and this tinted moisturiser gives the perfect amount of cover. I use it as a light foundation. It isn't as moisturising as I'd like, so I apply it over a light moisturiser. I'm in my 40s now and too much matte tends to look dry, so I like to use a dewy setting spray over the top, which gives me a youthful glow. I have always had normal-to-combi skin, which is prone to breakouts. This product looks great and has caused no reaction in the 2+ years I've been using it almost daily.

I have combination skin and this is quite drying but the tint is perfect for fair to light skin and great at evening out skin tone. Tad expensive but it's worth it just wish it was spf 50 instead

I wouldn't call this a moisturiser at all - it gives your skin zero hydration & seems to suck the moisture out instead! I have to put it on over a moisturiser & use it just as an SPF & even then it dries my skin out. For reference I have combination oily skin - or I did have until I started using this product. I now have dry patches on my forehead which is usually oily to touch.

The other problem I had with this is the tint - I have very fair skin which i struggle to find foundation light enough for & the tint in this spf made my face look a little orange.

I would have given 1 star however it does do its job as an SPF & I love that it's fragrance free, but I won't be repurchasing. I would only recommend this if your skin is excessively oily & not too fair.

Customer Care - Hello, and thank you for sharing your experience with us - we're sorry to hear this didn't work as expected for you! Please contact a member of our Customer Care team, who can assist you with a possible alternative.

Whilst this is a great mattifying moisturiser on my oily T-zone and doesn't leave me greasy after using it, the tint is a bit of a let down.
I have some dry areas on my cheeks and around my mouth and it just seems to cling to them and highlight that they're there.

This is a good moisturizer, I have combination skin and it does leave my skin a little bit oily but I fix that with a powder afterwards.

For any one who suffers with redness, sensitive skin or rosacea this sunscreen is a must have. Any sunscreens that contain a chemical filter really irritates my skin so this being mineral and not leaving a white cast is fantastic . Also the tint really helps to tone up skin and fade redness without looking like makeup. The tint is on the paler side but it blends easy and sets really helping to combat shine and oil. I enjoy using this product daily.

I ordered a sample of this product to make sure it was the right one and, after a lot of trial and error, I thought I had found the perfect SPF for my oily skin; a matte and smooth finish with a nice colour and zero white cast. But when I purchased the full size bottle, my skin started to react really badly. The first day I noticed it quite dry. The second, a slightly uncomfortable itchiness. And by the third day, the itchiness came with irritation and a burning sensation that took me almost a week (and some very gentle and soothing products) to get rid of. Nothing visible or any redness, but a very uncomfortable feeling.

I've been using Paula's 1% Clinical Retinol and the 2% BHA Exfoliant and I've never had any issue. In fact, they are both doing a great job so far. But unfortunately, there was something in this product that was reacting really badly on my skin. This is even more disappointing since the price was more than what I would have paid for an SPF, but I thought it was going to be a good investment based on the sample I tried previously.

Customer Care: We're sorry to hear that this product wasn't suitable for your skin. We will contact you by email to discuss other options & our return policy.

This is fantastic at controlling my oily skin, it doesn't break me out or irritate. Unfortunately I can't were this as the tint is to dark for my pale skin :-(
If this came in an untinted version I would were it everyday!

I'm so amazed by this. I had no idea it was tinted until i opened the sample and saw it. When i put it on my skin it felt almost difficult to move around my face. But when i did, wow, my skin looked better with it on that without. I kept checking on my skin because it felt odd? Ive never experienced anything like it. But know i know that was because its a mineral moisturiser which acts differently to standard moisturisers. But to me, my skin felt tighter and drier. I have extremely oiley skin and im 40, i still gets spots daily and this has impressed me so much with its ability to keep it in check that i'm 100% buying a full sized bottle.

I'm likelier to have an adverse reaction with facial sun-protection products containing synthetic sunscreens. The zinc oxide protection in the Resist Anti-Aging Moisturiser is gentle and effective. There aren't many good mineral sunscreens with antioxidants and skin-soothing ingredients are on the market. This one is outstanding and fragrance-free as well. Mineral sunscreens often feel drying on my face. I must prime my dry skin with a little moisturiser following cleansing, toning and exfoliation prior applying this sunscreen. I use other good mineral sunscreens but I'm not comfortable without having this one in my drawer as well.

I love most of the PC products but this was very disappointing. I've stick with it for two weeks but really can't get on with it at all. It leaves a horrible tacky feel to your face & the colour is awful, I've had so many people asking me if I felt ill! I won't be buying this again.

I really wanted this moisturizer to become my holy grail daily moisturizer -- I am a PC devotee and it had everything I was looking for: SPF, shine control and even a bit of tint. It smoothed out my complexion, and it blended well with a drop or two of foundation if I wanted more coverage.
Unfortunately, I hated the way it felt on my skin. It left my skin with a greasy, slightly tacky feel and the color transferred easily to clothing or my hands if I touched my face at all. I tried setting it with powder, but it didn't make a noticeable difference. The mattifying effect also wore off after about 4 hours. I was constantly aware of it sitting on my face, the way I used to feel about older-generation foundations, and I couldn't wait to get home at the end of the day and wash it off with an oil-based cleanser. I never tried it in humid weather but I imagine the effect would be even worse.
I'm switching to the Clear Ultra-Light Daily Hydrating Fluid, which has a better mattifying effect for my oily T-zone and doesn't have the tint. Disappointed with this one, especially given the price.

I've tested a multitude of sunscreens over the years, and after using this every day for the last 6 month, I can safely say it's by far the best I've tried. I would highly recommend this to anyone with oily skin – it's the only physical sunscreen I've found that doesn't make my skin appear greasy, and doesn't cause breakouts. In fact, it seems to keep the oil at bay throughout the day. I always apply a generous amount for optimum sun protection, and this still glides on easily, drying to a soft matte finish. The tint evens out my skin tone beautifully (although it is just a smidgen too dark for me) and on good skin days, I'd wear this on its own. But it's also a fantastic primer under makeup and makes it last longer too. I prefer to use this as a sunscreen over a water-based moisturiser, which seems to prevent any potential dryness. In fact, I'm currently using medication which has made my skin go from oily to very dry, and I'm still able to use this SPF without any problems. All in all, a wonderful product and I'm so glad I found it!

I've been using Paula's choice products including the resist spf30 for over a year now. I was at my lowest point having used a makeup product that catapulted my skin into a severe reaction where literally NOTHING would bring it back to calm. I've always had good skin so I was at my wits end. After researching products that didn't contain any aggravating ingredients I came across Paula's choice products. I bought the calm range.... not only did my skin return to normal within the week I started using them, I noticed about a month on that my skin had jumped to a new level!!! I am such a fan of these products that I swing from wanting to tell everybody to wanting to keep it my little secret. I am now glad I had my bad reaction because otherwise I would never have had the good fortune of finding my perfect skin care.

I've been using Paula's choice products including the resist spf30 for over a year now. I was at my lowest point having used a makeup product that catapulted my skin into a severe reaction where literally NOTHING would bring it back to calm. I've always had good skin so I was at my wits end. After researching products that didn't contain any aggravating ingredients I came across Paula's choice products. I bought the calm range.... not only did my skin return to normal within the week I started using them, I noticed about a month on that my skin had jumped to a new level !!! I am such a fan of these products that I swing from wanting to tell everybody to wanting to keep it my little secret. I am now glad I had my bad reaction because otherwise I would never have had the good fortune of finding my perfect skin care.

This product is amazing. It works as a multipurpose antiaging, oily skin, spf and can be also primer as It removes shine. Please never stop producing it

I have been using this moisturiser for three months now and its doing a great job. I was using three different moisturisers together to try and combat my combination skin, now I no longer need to as I no longer suffer any dry patches. The only thing that hasn't changed is my oily chin. Overall I am pleased and it has made a positive difference to the condition of my skin.

I honestly love this product and I don't know where to begin telling people!
I would start by thanking Paula's Choice skin care for the massive improvement to my skin and now my skin looks that much healthier with no breakouts I wear this moisturiser as a sheer foundation! As it has slight foundation colour in the product to help reduce that shine/flash back from the Sunscreen ingredients I can now get away with wearing this for those days when I can't be bothered to wear make up.
It's light weight texture leaves my skin blowy but not oily as it sinks into the skin immediately but doesn't leave it feeling right or dry.
I've been using it everyday for over a year now and I'm probably on my 3rd bottle.
I have bought a lot of moisturisers, drugstore and high end, and honestly this is the best one I have come across!
Thank you Paula's Choice for your amazing skin care products! :)

I'm a guy so I don't really use moisturisers with added tints but this one works really well on skin as it stops it from looking too oily/shiny. It also has a better feeling on the face, rather than feeling too heavy or sticky, it feels light and almost powdery. Would recommend

Love this product, super light never makes my skin shiny and has a slight tint so i dont have to apply foundation if i dont want to. I would absolutely recommend this product it does everything it says on the tube!!!!

I normally buy the youth extending moisturiser but wanted something a tad more matt. This is definitely very matt. I have black skin (NC50 for reference) and this 'natural tint' that is supposed to work for all skin tones leaves a grey cast which is visible over make up! Absolutely awful!

Customer Care: We are sorry to hear this wasn't a match for you!

I bought this to wear as a daily moisturiser as it has spf30 and I have combination skin which is starting to get fine lines.
The consistency is good but it dries to a super matt finish and left my skin feeling really tight. The finish was so matt that my fine lines showed up even more especially when smiling! I think if you have very oily skin it might be okay, but for me with oily in the t-zone and normal elsewhere it was far too drying.

I took this with me in my trip to Barcelona. It was the only one I had with me. It was burning my face in every application. I didn't have anything with me and I had to use it. Why Paula's team? I love all your products but this:'(

Customer Care: Thank you for your feedback. We are sorry to hear of your experience. Unfortunately, not everyone reacts in the same way to skin-care ingredients, and some can be more sensitive to a particular ingredient than others. Even the symptoms of sensitivity can be different from one person to another. We will contact you to discuss other options.

I'm very pleased with this product. However, for my dry cheeks it's simply not hydrating enough. I have to combine it with the booster to keep my skin hydrated over the course of the day. I wish PC would develop the exact same moisturizer for dry skin.
I'd also like to address previously mentioned concerns: For me the moisturizer works just fine around the eye area, although it sometimes is a bit difficult to have it absorbed, so a lot of very gentle rubbing is necessary, which might not be ideal for any impatient people. Also, even though I have a full beard, I don't have any troubles with absorption around my beard area. I also can't make out any residue as has been previously mentioned.
Overall, it's a great moisturizer, also for a beard and the eye area; that doesn't leave the general sunscreen shine on your face. The only downside is that for people with very dry skin it might not be moisturizing enough and an additional booster may be necessary, which sort of feels like PC trying to get me to purchase two products when one should really be sufficient.

I have been using this moisturiser for a while now and I can honestly say I have not found a better one or a comparison to date...
This moisturiser not only has a SPF30 protection for when the summer hasn't totally come in, but also has a slight tint to avoid flashback from camera's if you want to use this for night time as well.
It melts into my skin in minutes and doesn't leave a tacky texture and doesn't effect my primers performance (NYX Angel Veil) before foundation application.
Without this moisturiser my foundation and overall make-up after 6 hours looks dreadful.... Oily in my T zone severely and cakey on my chin and upper lip which I then have to salvage by using oil blotters and a dry beauty blender!
AND we cannot forget this moisturiser and Brand are completely cruelty free!!!
This is why I LOVE Paula's Choice products.

I have tried so many sun creams and none of them suited my skin,but this really did.It absorbed really well no shine at all and helped keep my makeup shine free all day.I will definitely repurchase this.

I have combo skin and hate tinted moisturisers to death -- no matter how well I exfoliate they have always sloughed off and make me resemble a lizard person shedding my human costume. Sunscreens also have given me a white, slightly greasy cast, and considering I'm also prone to red rosacea-like glows this makes me look like an embarrassed ghost. Hated this too when I first put it on -- it looked chalky, far too dark and just kind of weird -- but after ten minutes I had the kind of matte, even skin that usually takes me ten minutes of full face cover to recreate. Feels silky, stays put while I am exercising, doesn't clog, doesn't settle into my lines. This product is a godsend. I don't even bother with foundation now most of the time, albeit it's a great pre-makeup cover -- everyone has been complimenting me on how great my skin looks. I bought a second bottle just so I don't have to have to deal with any transition time once the first runs out. I went to a wedding recently wearing this without any other foundation and my skin looked perfect the whole night, no face-of-molten-slap syndrome by the end.

The ultimate tinted SPF. If they only started selling this in bigger bottles, I would be the first one there, throwing fistfuls of money like the Monopoly man.

I was in the market for a new daily SPF after using a couple of cheaper ones which felt too greasy for my combo/oily skin. I am trying to get in the habit of wearing spf everyday but hated looking so shiny and the thick feeling of most spfs when applying. This is a game changer and my new favourite, the only downside for me is the smell, it smells like a cooking oil or something? but this goes away very quickly. As for the tint, i was slightly worried as i am super pale but have found this blends into nothingness and does stop the white cast as claimed. I like the texture, it sinks in immediately and it doesn't make me look shiny at all. :)

Can't rate this sunscreen too highly, I wouldn't be without it. I've tried pretty much every line out there for sunscreen and would put this up against anything. Minor gripe is the increase in price fairly recently, but it's still not unreasonable for 60ml of product. My favourite thing about this sunscreen? It's very sweat-resistant which means it's great for exercising outdoors and doesn't sting my eyes as most all other 'facial moisturisers with SPF' have done under sweaty conditions :)

When they say that this is light, they are not joking - it really is. I find that mineral sunscreens can dry out your skin, and this is no exception - even though i have combination skin that is acne prone, this can still leave me feeling dry if my skin is going through a "drier phase" but i'm not rating it down because I still haven't found anything that is better AND my pale skin loves the tint that this has! On really good skin days, not that there are that many, I could even use this as a light tinted moisturiser all by itself and if i wanted extra moisture i think a serum underneath would really solve the issue.
I've repurchased this twice now, and that is not something i'm prone to doing with products since i'm always wondering what's better and what's new, but this is just a staple wonderful product that i keep coming back to. If you have dry or dark skin you probably won't like this at all, but for me I really love it.

Purchased this due to great reviews and for oily but really did not work for my individual skin. The tint is fine for men and women of all color as when you actually apply it, it looks like every other moisturizer and leaves no color. Its also good as it has no white cast, which is good and unlike every other Mineral/Physical Suncreen.

But it was extremely runny. It's easy to waste product and it felt like something was sitting on my face it was horrible. Didn't adsorb well at all. Made my skin itch and irritated. My skin didn't feel smooth at all, it left a chalk like feeling consistency on my face, even on my hands when I touched it. It felt like I had make up on, not because of the tint but because of the feel and texture on my skin that didn't go away.

Good Sunscreen as there is no way the sun will get through this and fine for women who are used to wearing make up, but due to the texture I would not recommend for men at all. Very disappointed. I would recommend the Skin Balancing SPF which is amazing for oily skin, also has no white cast and is cheaper which I am gonna try and exchange this for.

I've been looking for a moisturiser with spf for ages that wasn't white or greasy. This is perfect for me! The slight tint doesn't show, just evens out my skin tone and I don't need to use as much foundation anymore! My skin feels hydrated but not shiny after use! Really recommend for young or oil prone skin that needs protecting but not smothering :)

I'm a 26 year old male with oily skin that is prone to break outs. I've never used a Paula's choice moisturiser or a SPF product on the face regularly, but after I heard in a study almost 90% of visible skin ageing can be the result of everyday skin damage I decided to use SPF daily. I chose the light moisturiser because I use a face oil in the day and didn't want anything too heavy as I have oily skin naturally anyway.

First thing you notice is the colour, it comes out looking like a BB cream in lightish foundation colour. It doesn't have any coverage really but when I applied it I noticed a warm hue to my skin tone that was probably more noticeable because my skin tone is very fair (redhead fair!). I don't mind this because I like having a warmer/sun skinned look but for anyone who is very pale and likes it that way this might be a problem for you.

Applying it a little goes a long way and it feels very lightweight and non-greasy, which I was concerned about considering my experience of the regular SPFs you use on holiday which make me breakout on my face. Also surprisingly very mattifying! I've been back from the gym after sweating and my face doesn't feel oily or look shiny look like it normally does but looked and felt like I just applied it.

Overall in the short time of using this product I love it, only downside is it's smell as it still reminds me of the smell of sunscreen I normally use although for a product with 100% no fragrance this is a small compromise I am happy to accept. Great product!

When I first tried this product I was a bit disappointed; being a male I found the tint too much like a foundation. I also found it to be too matt. I prefer a more silky finish, however i did like how it felt on my skin. I decided to blend it with my favourite moisturiser Paula's Choice Youth Extending moisturiser. Wow I was so pleased with the finish and colour! Just perfect! This blend is my "go to" moisturiser and if I coul, I would rate this combination 6 stars out of 5!!!

I am a HUGE Paula's Choice fan, and there are many products that I now utterly swear by - the 2% bha liquid, the 10% aha treatment, the resist advanced weightless toner, the retinol serum, and the clinical 1% retinol treatment. I bought this Resist Anti-Aging Super-Light Daily Wrinkle Defense SPF30 to use as my daily moisturiser as I use retinol every night and really should be protecting my skin with an spf moisturiser during the day. My skin is combination, prone to clogged pores and very occasionally a little dry, but not at all sensitive.

I ordered this and have used it five times now, each time I found it difficult to apply (it really does have a chalky skin-toned tint, which is absolutely fine on my pale skin but might be a problem with a tan), the colour is extremely natural and suitable for a guy who doesnt want to look like he has any make-up type effect, EXCEPT that it clings horribly to my dark brown short beard/long stubble, making it look ashy and makeup-y. I wear makeup sometimes and have no worries about doing so, but this just looked horrible near facial hair. This isn't an inherent failure of the product, but is definitely something male customers or those with dark eyebrows might want to be aware of.

The other, and main, issue I had with the product is that it offered no moisture whatsoever - my skin actually feels drier with it on, and it dries down leaving a horrible sticky, tacky feeling all over my face. I've tried it with an additional light moisturiser underneath, but didn't see much improvement, and wouldn't want to have to pre-moisturise before a moisturiser anyway. It also, due to its suncreen content, has quite a pronounced smell - whilst it's not totally unpleasant, it is noticeable for several hours even after I have applied a fragrance (as someone who is a fragrance nut, this was also an issue as it fights with whatever scent I am wearing.) Regarding the dryness it creates, with the product on my face there were tiny flecks of dry skin that were either caused by the product, or made visible by it when nothing else does - my skin, due to the other PC products I use, normally looks very clear and hydrated, with no dryness whatsoever. In addition to dryness, also makes my face feel very irritated - I kept looking in the mirror expecting it to be reddened and visibly irritated, but it was just the sensation without any visible effects. Given that it's a physical sunscreen I expected it to be gentle, not irritating.

Given the plethora of excellent reviews of this product, I am clearly in the minority but it's truly awful on my face, which as I've said is somewhat of a shock given my experience with everything else I've tried from PC and the fact that my skin doesn't get mad with almost any products ever. Definitely try a sample or two, as I've completely wasted my money this time.

Customer Care: Thank you for your review. Although this is not a common response, we do understand that each customer is uniquely different in how they will respond to products or ingredients. We can see that our customer care team has already provided you with a reasonable solution.

I cannot fault this moisteriser. I tried a sample because a colleague of mine recommended it, and after trying it I just couldn't go back to my old skin care routine.

It feels soft and smells nice when applying, sinks into skin quickly and acts as a perfect base for foundation and leaves you looking refreshed and plump if you choose not to wear any (I actually have the confidence now to go out without ANY foundation on as this acts as a BB Cream would). People have even noticed how fresh I look now and comment on my skin without knowing why I look different.

As you can tell I LOVE this moisteriser and would recommend it over and over.

I'm only my second tube as I apply this on top of a moisturiser and it's lasted about 6 months! Great for those on a budget. I've found it to be a really good product, but it could be transformed into a truely great all-rounder if it were made in say, four different shades, and not just the one. It does even out skin tone and conceal minor blemishes, so acts like a very lightweight tinted moisturiser as well as a straight forward moisturiser with a good SPF. I really like this aspect and think it could be capitalised on by adding a choice of shades. Personally I would like a more yellow, rather than pink tone to it as my skin is light olive. As it is it's still a good product that definately leaves a no shine matte finish. It's a little dry in the winter, but that can be remedied by applying more, or a different moisturiser underneath. It's a very natural looking product, but having said that, in the shade it is at the moment, I can still see a very faint white cast when viewed from the side, or at an angle. It's also one of the few skin care products that doesn't irritate my eyes - which is the biggest problem I have to overcome in my choice of products.

Customer care: Thank you for your feedback. The purpose of the tint in this sunscreen is to prevent the white cast usually caused by mineral sunscreens. We're happy to hear you like it.

What an amazing find!!! I ordered PC's Resist sample kits to try out some heavy-duty AHA, BHA and Retinol treatments, and this product, completely unexpectedly, almost stole the show! Well, I love the exfoliants as well, but in a way I had already given up on my search for a perfect 2 in 1 SPF product after trying countless BB and CC creams, sun protections lotions, fluids, oils... I'm not overly picky, all I want is minimum 30 spf, has uva protection, and doesn't make me look white as a ghost, or oily and orange as fried chicken. I've literally wasted 100s and 100s for high-end and high-street products, all of which either make my skin break up horribly, are too oily to wear alone and too oily to layer anything on top, or have unnatural orange, pink or grey tint. And I can't go out without spf as even 10 minutes gives me sun spots. Now, i may have finally found my perfect spf! With perfect peach tint, its matches my nordic skin perfectly. Since you're supposed to use half a teaspoon of spf cream for face to have a decent protection, this is actually also more moisturising that I expected, and with colder weather, I can just layer it on top of usual moisturiser. Genius product, thank you!

I am SOOOOO disappointed with this product!!!

I've been a fan of Paula's Choice and I thought this product had all the making of something I was going to love particularly as the ingredients are really highly thought of and I invested a lot of research into exactly the product I wanted to purchase.

I'm sorry this product was a real let down... the tint looks awful on my skin and I have never experienced acne break outs like this for years!!! As soon as I started using this product I can link it to all my new angry spots. I've wasted my money and I'm really disappointed!

Customer Service: Thank you for your feedback. Although this is not a common response, we do understand that each customer is uniquely different in how they will respond to products or ingredients. We will be contacting you shortly by email to discuss an alternative product.

I used this product for 3 weeks and I have all of a sudden started getting super dry skin on my forehead (where most of the oil on my face is produced) and I have started breaking out. I loved this product when I first started using it because I searched for years trying to find an oil controlling moisturizer that actually controlled oil! This did, and does, but to a whole new extreme. It has completely dried my skin out and has left me with noticeable dry patches on my head. Add to that the fact that it is tinted, it has ruined it for me. It's a shame really because this product had the stance to be amazing, and it's let me down...

More of a personal review of products for my own future reference when I come to reorder: I think I have somewhere between normal and Dry skin. Not too dry and not too oily but depending on the weather and season, seems to benefit from heavy moisturiser in the evening and light version in sweaty hot summers. I tried the sample of this SPF 30 thinking that I might use it on very hot days only. Nice light consistency with slight colour (much like a tinted moisturiser), gave my face that ever so slight coverage. Could even build up the coverage with more layers of the same lotion. Like SPF 30 and like the coverage and consistency but probably too drying, even in the hottest of weathers.. is particularly dry on the driest part of my face (naturally!) which are my cheeks and just under the eye area near the temple and above the cheekbone area. But may try a few more samples again when on a hot-sun holiday near the equator.

I love this product! It has a light texture and isn't tacky to the touch. There is a slight tint which is perfect for my skin tone and means that on my brave days I can wander around town feeling all proud of myself for not wearing make-up!

Although unfragranced there is a slight scent which I find pleasant and not off-putting (even the husband like to kiss my face when I'm wearing it).

A little definitely goes a long way although I'd be interested in hearing the required amount to achieve the listed SPF protection.

I have recommended this product to my sister and I will most definitely be re-purchasing.

Customer Care: We have contacted you about the SPF question

I am a recent Paula's Choice convert. Having spent 100's - 100'S!!! of pounds on skincare in the past, I have finally found products my skin loves. I am VERY fair skinned, light and almost neutral in tone, I am the lightest shade in foundations and have combination skin that does not like to absorb ANY products, whether lotions, creams or gels (cheap or high end!). My skin simply kicks them out, so they tend to sit on the surface. But my skin absorbs this really well! It is a perfect shade for me - it does not oxidise (go orange)on my skin, and it moisturises and protects me from the sun. What more can I ask for? Colur, moisture and SPF! It is silky smooth and sinks in almost straight away, it adds the slightest tint to my skin, almost invisible. In fact it evens out my skin tone quite well. I find it perfect as a base for my Elizabeth Arden/Bare Minerals powder foundation. As with all the Paula's Choice products I now use, I got several samples first to try. I'm so glad I did. Thank you Paula :)

Wearing this, although much lighter than traditional SPFs, still make me feel a bit 'caked in foundation'. I feel like I'm getting all the disadvantages of wearing a tinted SPF moisturiser (heaviness on skin, not easy to blend), without the advantages (proper coverage). It leaves my skin feeling tacky for hours as it doesn't soak in well.
Having said that, I have no doubt it provides my skin with beneficial ingredients and does a good job of protecting it from the sun, and the tint does prevent any white cast from showing.

I have been using this product on a daily basis for a few months now and although the product hasn't blown me away (what SPF products would?), I haven't had any problems with it; in the past I've struggled to find a decent SPF that hasn't irritated my skin in some way.

By far the best thing about this product is the fact that it can be used around the eyes: I've found it really difficult to track down an SPF suitable for the eye-area that doesn't cost the world. My only gripes would be that I would prefer the product not to be tinted - although it's subtle enough for my pale skin - as I feel the colour in the product may dry out the sensitive eye-area with regular use, and as a result I have noticed that occasionally my eyeshadow "drags" a little more than normal when blending it with a brush. Having said that, I would repurchase this product.

I don't know how to delete my past reviews but I have to get back on it. I first found the product way too drying but after not using it for a while and hydrating my skin properly I went from a dehydrated dry combination skin to my usual dry combination skin and I us this moisturizer in my T-zone only now and it works like a charm and helps my make-up stay put.

It just shows that Paula's Choice's advice to keep experimenting is completely true. Can someone please tell me how to delete my old reviews? Customer Care: Thank you for your review. Great to hear this product works for you now! We have removed the review at your request.

I absolutely love this sunscreen! I have tried countless sunscreens in my quest to find one I like and can use everyday. I got my 2nd sunburn ever in late September 2014, and realised I had to use sunscreen everyday to prevent future damage. Since then I have tried various sunscreen and hated all of them! They were too heavy, left a white cast and did not feel pleasant on the skin. Especially for someone like me who has oily sensitive skin I cannot stand sunscreen that feel unpleasant and make me shiny! I ordered a few samples of this sunscreen early in my search but didn't use it on my face. Initially after trying it on my hand I thought it was too drying and the tint worried me. Fast forward a few months and I tried it on my face over a gel moisturiser as a last resort to see if I liked it and I haven't looked back since! It is an EXCELLENT sunscreen that spreads like a dream, the tint evens the skintone somewhat and best of all it sets to a matte finish! It doesn't not feel drying at all but I prefer at this winter time of the year to layer it with something underneath. In the summer I'm sure it will be fine to use it by itself since I am oily. I also ordered the Ultra-Light Antioxidant Serum to layer it underneath the sunscreen instead of my gel moisturiser. Hopefully that will be a winning combination that I can use successfully. I also ordered another tube of this just to make sure I have a backup since I love it so much and don't want to be without it ever. I really hope this product does not get discontinued or the formula changed since I think it is PERFECT and my search is over. I plan to use this indefinitely and highly recommend it!

I have tried countless moisturisers & spend £££'s on those that promise results & never deliver. I read up on all of the moisturisers & their ingredients (via Beautypedia!) & was stunned about all of the unnecessary additives & minimal "active" ingredients that didn't help my sensitive, combination skin.
I thought I'd try this & bought a weeks worth of samples-which is just fantastic to make sure it's right for you before you take the plunge with a full size!
I was totally gobsmacked with the results-the cream is slightly tinted & smoothed on beautifully. My pores were invisible & my normally oily T-Zone didn't appear at all! The SPF is great. Another huge bonus is that I now only wear a tiny amount of light coverage foundation-rather than a medium/full coverage. My skin looks & feels AMAZING! After 35 years of searching, I've found my perfect moisturiser! Thank you PC! X

Zinc oxide works most effectively for me in keeping oils under control on my skin and also not aggravating my skin as other sunscreen actives do. However I get frustrated that in most skincare products it has such an unappealing application it actually feels like I am applying clown makeup. However, this just combines the best of all worlds it has a high zinc oxide content making me feel safe that I am not going to get UVA or UVB damage but it just applies so beautifully not leaving a white cast (due to the great tint) and also having a great silky smooth texture that I have never before experienced in a zinc oxide sunscreen. Great, great product.

I have this moisturiser, mainly for round my eyes, as the under eye area is the only area on my face, at the age of just- turned 50, that is now beginning yo show signs of aging in the form of fine lines. I don't, as yet, use it all over my face, as I am using the clear mattifying moisturiser during the day and the ultra light serum and the hydra light moisture infusing lotion at night. These products, following the clear normalising cleanser, the balancing toner and the extra strength exfoliator, together with the occasional use of the balancing mask, have transformed my skin!! I also do use a benzoyl pentoxide product on the now occasional spot that I get, mainly at a certain time of the month. Where I personally disagree slightly with Paula's advice, is that I still think that you DO need an eye-specific product. I did not find that any of Paula's products helped my fine lines, to be honest. So, I have reverted back to my eye serum and eye cream. This Resist product around the eyes is a bit drying for me. Although, Paula, to be fair, does state that, if your eye area is different from the skin on the rest of your face(which mine is), then you may need a separate eye product. But, all in all, as well as being terrific ant- blemish and acne products, they are also excellent anti- aging products.

Great sunscreen, no shine, no white cast. The tint offsets that and as long as your don't use too much it is not noticeable. Great that it is based on zinc oxide and has no titanium dioxide which is more likely to clog pores. I like the matte finish but find it a little too drying so gave it 4 instead of 5 stars but is non irritating. Sometimes you need to wash twice in the evening to get all of it off though.

I use this product with my Oil Balancing Cleanser and the super antioxidant Resist Serum. They work perfectly with each other, but my only problem with this is that it is tinted. Not because I'm a guy... I work in the cosmetics industry so I wear make-up on a daily basis, but my only problem is that normally I would just use any excess as a hand moisturiser after applying to my face, but don't if you wear white. I have forgotten on many occasions and wiped my hand on my towel after using this on my face and my towel is left with a huge tan streak down it!

It's a shame this product doesn't come in an un-tinted version or it would have received 5 stars...

Amazing stuff this...It keeps my skin happy all day...I have never had my skin feel this good ...ever! I have suffered with acne all of my life for the most part, since finding Paulas Choice products I can honestly say that I have the odd spot insteadof full acne...and with time Iit seems to be getting better and better. The colour of this product is perfect for me...Once rubbed in it dissappears and leave a near matt finish, perfect for us blokes! I can't recommend this product enough! Many thanks! And once again...PLEASE DO NOT CHANGE THE FORMULA...IT'S PERFECT!

This SPF moisturiser feels wonderful on my skin. I ordered it to use under foundation but am so delighted with the smooth, even finish it gives - matte, even on my t zone- that I can actually go without foundation make up! Love it!

I have never managed to find a moisturiser which didn't make me break out, and finding an SPF one was even harder as they tended to be very thick and gloopy and much too rich for my skin. I also try and avoid chemical sunscreens as I have quite sensitive eyes and find that they cause irritation to them.
I was kind of shocked when I first tried this moisturiser as it seemed quite heavily tinted - it looked very much like a foundation - and looked quite rich and creamy - I was sure it would look very obviously like makeup on my skin, and also that it would be far too rich for my greasy skin and make it break out.
However, having applied it carefully according to the instructions - what a revelation! At first it did seem like it left a slight cast on my face, but it spread beautifully and once it had sunk in, after a few minutes I was amazed - my skin looked great! Glowing, even and very soft and smooth, but it didn't look obvious and it even smoothed over my chin, neck and cheeks which I normally have a problem with as I have a heavy beard.
As a bonus the tint make any spots or red areas look a lot less noticeable - they didn't disappear completely but looked much less red and less obvious, and I didn't feel I looked like I was wearing makeup or foundation.
Best of all, I have used it right over my eyelids and under my eyes and it hasn't caused even a hint of irritation, so it's great to know my delicate eye area has SPF protection without irritation - that's some achievement with how sensitive my eyes are!
I've had lots of comments on how good my skin looks, and I've been using it long enough now to realise it won't make my skin break out. I even quite like the smell - like all PC products it's unfragranced, but it has a slightly biscuity smell which is quite pleasant. I have a slightly olive complexion and find the shade just right, but after a few minutes if you rub it in properly, it really does seem to disappear so I think it would suit the majority of skin tones except maybe very fair or very dark.
I don't give it five stars for three minor reasons - one, I was surprised that although my skin does feel smooth and soft after application, it also feels ever so slightly drying - this may just be the unfamiliar sensation of the mineral sunscreen, and it's only very slight, but I was still surprised a Resist moisturiser product didn't feel just slightly more hydrating.
Secondly, I find it a little hard to wash off - even using a PC cleanser, I need to wash twice and even then get a little of the tint on the cotton pad when I use a toner. Perhaps I am using too much - but I don't want to use too little and not get the sun protection I need. To be fair Paula's Choice could help more - on her products she tends to refer to "nickel-sized" amounts but we Europeans don't use nickels so I'm not sure how much that is!
Finally - the price. I accept that PC has to comply with EU cosmetics regulations and that we pay extra taxes etc. here but I still feel that at almost £30 for a small tube, this is very expensive. Complying with EU regulations is a one-off cost - once the formula is adjusted that's it - and European currencies are generally stronger than the US dollar, which helps offset import costs, so I don't entirely accept that the higher price I am charged in the UK is truly justified compared to the US price.
It's worth it, and I'll continue to use it, but it means I can't afford to buy other PC products I'd like to and have to prioritise and just buy a few key products. I am sure a modest price cut would be more than offset my better sales.
If it were very slightly more hydrating, was easier to wash off and cost a little less it would be perfect - and to be fair the first two problems may be caused by my using too much (any feedback on this would helpful bearing in mind I want to keep the SPF protection effective), it would be perfect. As it is, it's still an excellent SPF moisturiser and the best I've found to date - I'll be ordering it again.

Was very disappointed with this moisturiser. i bought it as I was looking for something that contained resveratrol and some of the other key ingredients plus sunscreen for the day time. Was very excited to see it said it was perfect for all skin tones with no white cast. That has not been my experience. I've had this for several days and tried using it on dry skin, damp skin and left to absorb for several hours and my face is left looking ghostly grey. Really wished it had the sunscreen formula used in the Skin Balancing as I still really like the other aspects of this formula which is why I gave it 2 stars.

This does exactly what it says on the tube. For what more could one ask? It actually firms my skin, who knew that was possible? It leases my oily face matte all day long and I can use it right up to the lash line so I'm protected all over. Weirdly, I also adore the smell of this product; I'm aware it's not fragranced but the combination of ingredients smells divine, like so many PC products. Finally, a sunscreen with which I am entirely happy.

My husband called me 'carrot face' when I wore this. As others have noted, it really does turn some of us orange. However, thanks to the review below, which was most helpful, I have ordered the hydralight moisturiser and hope by mixing the two I can arrive at something which works.

After years of searching for a facial sunscreen that doesn't leave an oily residue or cause irritation, I'm glad I found this. Upon application it feels like a skin treat rather than a regular sunscreen. It glides on setting to an even, healthy look. My skin looks rested and even toned. It's great to know I can finally wear sunscreen every day and hope that my brown marked skin appreciates it in the longer term.
I've always had problematic skin for all my 42 years - mild acne and psoriasis and Paula's Choice products never fail to impress me by giving me the healthy skin I always wanted. Getting my male mates to buy it is another matter - they can't get past the name 'Paula's Choice' - I'm happy to be more metro-sexual and love the improvements I'm seeing. Thanks from a now converted Paula's Choice advocate

I'm another one of the growing army of pale people who cannot use this sunscreen by itself, because the tint is way way too dark, and the tone is pink/orangey, so not good at all. I mix it about fifty fifty with the Hydralight Mineral sunscreen and then the colour becomes bearable, dries out nicely and leaves a lovely matt finish that lasts, and looks very natural too.

I wish this was made without any tint of any kind, or at least with a very very light tint, so pale people could use it straight from the tube without having to mix with anything.

I actually can't use this product in isolation; the tint oxidises on my face to a vivid orange - I have fair 'level 1' skin - and the texture, though hyper-matte, is a little too drying for my (combination to oily) skin.

HOWEVER, if I take a glob of this and mix it with the Hydralight SPF 30 (the latter in about three times the quantity of the former) then I get the most perfect, invisible finish that I've been missing since switching to mineral sunscreens. The Hydralight SPF is otherwise unbearably white for me, and never truly 'sets'; mixing in the RESIST Super-Light, as described, rectifies both of these problems and subtly evens out my skin. The combo washes easily and leaves my skin softer and more relaxed than before the morning application. Best of all (for men), it absolutely does not look like makeup.

So, whilst neither the Hydralight nor this RESIST product work for me in isolation, the combination is SO GOOD that I wanted to share my experience. Especially as my skin now benefits from the antioxidant cocktails of both products and, of course, the gentle broad-spectrum UV protection assured by mineral actives.

With regard to the cost of these products, as described in the review below, I feel some key points are missing. Firstly, if you are in any doubt about the cost-saving benefits of this UK outlet, I recommend trying to order from the US site; with the standard international shipping and mandatory duty, this product (which I ordered early, with great anticipation) came in about £10 pounds more expensive. So if you wish to use PC products, this website is absolutely the cheapest way of doing so in the UK.

Second, product for product, the prices here reflect those of department store brands such as Clinique, and in fact are often slightly cheaper. This, before you even consider the variable quality of such other companies in terms of peer-reviewed, evidence-based efficacy.

Finally, and this is a huge inconvenience for anyone who wants to use Beautypedia, the EU/UK products from many brands - despite bearing the same names and packaging as their US counterparts - are often completely DIFFERENT (and invariably inferior) formulations. This is presumably a consequence of European regulations. So your UK Cetaphil/L'Oreal/MAC product bares no relation to the US equivalent, and frustratingly is often much worse for your skin. Not so with PC, where you always get complete product parity.

i really love the smooth matte finish of this, no oilyness all day after one application. Makes my skin very soft also and breakout free. Only issue is the shade which is apparently for all skin types! When applying the recommended 1.25ml to my face, this comes up as an orange-pink colour, like the wrong shade of foundation! It is also very heavy like a thick makeup. really does not suit my fair skin. If you were to put a shade in this moisturizer different levels for different skin tones would have been good! That or have it colourless, like the other moisturizers? Was so looking forward to this too! Customer Care: Thank you for your review. Our panel tests for the RESIST Super-Light SPF 30 included those who were super fair (Level 0/Porcelain) to those with deeper skin tones (our upcoming RESIST Levels 6 &7), but we're sorry to hear this wasn't a fit for you.

I am utterly disgusted in the price you are charging UK customers for this product compared to US. In this US this cost $27.00 which equates to £17 in british pounds.Why do UK customers have to pay £16 british pounds more than US for the same product?!? I understand there are certain EU laws etc but they do not effect price by this much. For example, Cetaphil in the US costs $8ish in the UK it costs £8ish.So why do you continue to try and rip off UK customers.From now on I will not be buying from you again. I was so excited for the release of this product, but no longer will I continue to buy from you until the pricing of the product are moderately the same as other countries. Customer Care : Thank you sharing your concerns with us and we are sorry to hear that are so disppointed in our prices. With regard to your reference to the prices on the website of Paula's Choice USA, we would like to point out that prices on the EU website include VAT (which averages at 21% in the EU) and that no other import duties or taxes are payable on delivery of the goods. Prices on the website of Paula's Choice USA are exclusive of VAT (which is payable on importing the goods in the EU) and any other import duties or taxes which may apply. In addition PC Europe has to deal with extra costs to comply with EU regulations and EU testing policies. We hope to have been helpful with this information. and again we thank for sharing your thoughts with us.

More reviews Less reviews

Ingredients

What are the key ingredients?

Antioxidants
Help to protect skin against harmful free radicals, among others caused by sun light and pollution. They have anti-ageing properties and calm skin.

Resveratrol
Potent antioxidant abundant in red grapes and, therefore, in red wine. It has significant skin soothing properties for skin.

Zinc Oxide
Mineral sunscreen, effective in providing protection against sun's UVA rays in addition to UVB rays. Very gentle and therefore suitable for sensitive skin.

Ingredients:
Aqua, Cyclopentasiloxane (hydration), Zinc Oxide (Nano, broad spectrum sunscreen agent), PEG-12 Dimethicone (texture enhancer), PEG/PPG-18/18 Dimethicone (texture enhancer), Lauryl Lysine (skin-conditioning agent), Sodium Chloride (stabilizer), Trihydroxystearin (texture-enhancing), Dimethicone Crosspolymer (suspending agent), Resveratrol (antioxidant), Quercetin (antioxidant), Epigallocatechin Gallate (antioxidant), Tocopheryl Acetate (vitamin E/antioxidant), Tetrahexyldecyl Ascorbate (vitamin C/antioxidant), enisonedA (skin-restoring), Bisabolol (skin-soothing), xilaS Alba (willow) Bark Extract (skin-soothing), Punica Granatum (Pomegranate) Extract (antioxidant), Haematococcus Pluvialis (Astaxanthin) Extract (antioxidant), Hydrolyzed Corn Starch (texture-enhancing/mattifying agent), Polysorbate 80 (texture-enhancing), Hydrolyzed Silica (texture-enhancing/mattifying agent), Triethoxycaprylylsilane (texture enhancer), C12-15 Alkyl Benzoate (emollient texture enhancer), Isopropyl Titanium Triisostearate (texture-enhancing), Caprylyl Glycol (preservative), Hexylene Glycol (preservative), Ethylhexylglycerin (preservative), Iron Oxides (CI 77491, CI 77492, CI 77499) (colorant), Phenoxyethanol (preservative).

FAQ

What is the biggest difference between Resist Anti-aging Youth-extending Hydrating Fluid SPF 50 and Resist Anti-Aging Super-light Daily Wrinkle Defense SFP 30?

Resist Super-Light SPF 30 has a mineral sunscreen base, which makes this product more suitable for people with sensitive, oily skin. The mineral sunscreen also provides a greater mattifying effect than the Resist Hydrating Fluid SPF 50. Resist Super-light SPF 30 has a touch of colour to help skin look more even-toned. Resist Hydrating Fluid SPF 50 has a fantastic light texture that is ideal if you have oily, breakout and blackhead-prone skin.

Is Resist Super-Light Daily Wrinkle Defense SPF 30 suitable for breakout-prone skin?

Yes. Despite containing 13% zinc oxide, this formula was designed so that the zinc oxide 'floats' over skin rather than settling into pores - this is accomplished via innovative silicone technology.

Is Resist Super-Light Daily Wrinkle Defense SPF 30 suitable for rosacea?

Yes. Not only is the formula fragrance-free (like every other Paula's Choice product) it contains the gentle mineral active zinc oxide plus proven anti-irritants and antioxidants that work to reduce inflammation. When inflammation is reduced, skin appears less red and looks more even-toned.
Research
Seminars in Plastic Surgery, August 2016, issue 3, pages 129-133 Oxidative Medicine Longevity, 2015, volume 2015, 709628 Dermatologic Research and Practice, 2012, volume 2012, 135206 International Journal of Cosmetic Science, December 2006, issue 6, pages 447-451 Current Pharmaceutical Biotechnology, 2014, issue 2, pages 173-181 Journal of Drugs in Dermatology, September 2014, issue 9, pages 1021-1025 Evidence Based Complementary Alternative Medicine, 2013, article 827248 Journal of Cosmetic Dermatology, March 2008, issue 1 pages 2-7 Evidence Based Complementary Alternative Medicine, 2013, article 827248 Indian Dermatology Online Journal, April-June 2013, issue 2, pages 143-146 The Journal of Clinical and Aesthetic Dermatology, January 2013, issue 1, pages 16-26