https://www.paulaschoice.co.uk/peptide-booster-full-size/9550.html
Peptide Booster
8 anti-ageing peptides packed in a powerful booster for resilient, younger-looking skin.

Skin Type:

All skin types

Concern:

Anti-Ageing, Sensitive skin

Ingredients:

Peptides, Amino acids, Adenosine

View all

Routine:

Treatment
Remove from Wishlist
Add to Wishlist
Product out of stock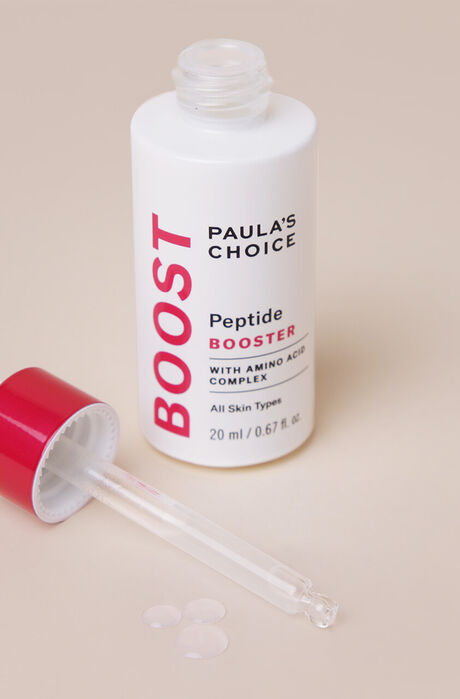 Peptide Booster
Full size
This product is sold out at the moment. Fill in your email address below and we'll gladly send you an email as soon as it is back in stock!
What does it do?

Does your skin need a pep talk?

Every skin benefits from a peptide boost. Because peptides support naturally occurring peptides in your skin like collagen, elastin and keratin. The Peptide Booster contains a powerful blend of eight highly targeted peptides, each one addresses a specific anti-ageing concern, from loss of radiance and uneven skin tone to fine lines and wrinkles. These specialised, cell-communicating ingredients effectively 'teach' skin to look and act younger by strengthening its natural reparative abilities. Together with skin-restoring ingredients such as amino acids, antioxidants and hydrators, the Peptide Booster strengthens and protects the skin's barrier and increases natural resilience. Ideal for all skin types, especially sensitive skin that may not be able to tolerate high strength retinol.

What are peptides?

Found naturally within the skin, peptides are short chains of amino acids that act as building blocks of proteins such as collagen, elastin and keratin, which are responsible for the skin's texture and strength. When applied topically to the skin, peptides trigger skin cells to perform specific functions such as building collagen and elastin, encouraging layers of skin to act younger for more supple, rejuvenated-looking skin.

How can peptides help my skin?

Peptides are cell-communicating ingredients. You can think of them as 'personal trainers' for your skin. Peptides tell your skin what to do and how in order to stay firm and younger looking. Peptides also improve skin's ability to repair itself.

Why 8 different peptides?

Peptides are like keys that only fit into certain receptors (locks) to activate (unlock) specific processes. Not all peptides are the same and all peptides have different benefits for skin. Each peptide precisely targets concerns of loss of firmness, dullness, wrinkles and discolourations.

Tripeptide-1: Visibly enhances the firmness of your skin by fostering key elements that give skin critical support
Palmitoyl Tripeptide-1 + Palmitoyl Tetrapeptide-7 + Palmitoyl Hexapeptide-12: These three peptides improve the moisture balance in skin, promote healthier-looking skin, and smooth the appearance of wrinkles.
Myristoyl Hexapeptide-16 + Myristoyl Pentapeptide-17: This duo calms signs of redness and helps skin to look and feel more resilient.
Hexanoyl Dipeptide-3 Norleucine Acetate: Helps skin's surface shed properly and speeds up this process for fresher, more vibrant skin.
Azelaoyl Bis-Dipeptide-10: Fades discolourations as a result of sun exposure, brightens dullness, and interrupts the formation of damaging substances in skin that lead to loss of firmness.

Is this suitable for my skin?

What skin concern would you like to address?

(Please select one option)

Key Features

Softens fine lines and wrinkles

Strengthens skin's natural barrier

Improves skin tone and texture

How to use

Apply once or twice daily to face, eye area and neck after cleansing, toning and exfoliating. Dispense 2-3 drops and add to your favourite serum or night moisturiser or use alone. If applied alone, follow with the rest of your routine. For daytime use, always follow with a broad-spectrum sunscreen rated SPF 30 or greater.

Reviews

Thank you for submitting your review! It will be reviewed by our staff before it is posted.

I really wanted to love this. Unfortunately, it caused lots of painful spots on my cheeks and neck (places I never get spots!). I took a break from it, hoping that it was something else causing the breakout, but more spots appeared as soon as I started using it again. I now see that a previous poster experienced the same. I would also advise avoiding if you have oily skin.

Customer Care: Hi Kate, I'm sorry that our Peptide Booster wasn't a good fit for you. Although this is not a typical response, everyone's skin is unique and what might work for one person, does not for others. Please reach out to us as we may be able to help you return the product and would love to provide some advice for an alternative! Kind regards, Marissa - Paula's Choice Customer Care

Amazing literally! I had the sample of it and I'm going to order the full size bottle as it has made my skin feel amazing, it feels instantaneously tighter and does exactly what it says on the bottle. Definitely recommend! I'm quite sensitive usually and this has been fine for my skin type!

Customer Care: Hi Sophie! Wow, I'm so glad you're loving our Peptide Booster! Peptides can be so underrated as an anti-aging ingredient and this formula also contains soothing and restoring ingredients to keep skin calm and maintain a healthy moisture barrier. This is a great option for sensitive skin as it is less sensitizing than retinol! Peptides work really well over time, but sometimes they can have immediate effects like you experienced! Don't hesitate to contact us if you ever have any questions! Kind regards, Marissa - Paula's Choice Customer Care

Lightweight product soothes and moisturises without irritation, heaviness or tackiness left on my skin. I can honestly say immediately helps me look younger after putting it on. It's expensive but it's the best peptide product on the market. I've tried many. I can't do without Paula's Choice Peptide Booster.

Customer Care: Hi Jenny, thank you for your positive review! We put a lot of effort into making sure our products work while having a great texture, so I am so happy you love our Peptide Booster. Our Boosters can all be used alongside each other to very specifically target concerns. If you need advice here, feel free to send us a message. We are happy to help you! Kind regards, Marissa - Paula's Choice Customer Care Team

Broke me out in spots

Customer Care: Thank you for your review. We are sorry to hear of your experience and discomfort. Although this is not a common response, we do understand that each customer is uniquely different in how they will respond to certain products or ingredients. We encourage you to contact our customer service department, who might be able to provide you with a refund.

I had to return it unfortunately as the product broke me out after using for a few days due to its high silicone content. Its a pity as the ingredients are top-notch otherwise, and without silicone it would be 5 stars. Will definitely repurchase if it gets reformulated to be suitable for acne prone skin (meaning no silicone).

I'm sure this has improved some of my fine lines! I also use the resist omega serum which I absolutely love. I mix both together so could be the combo of the two. Love how you can buy both together with some discount!

Not sure if this is the peptide booster or a combination of my whole routine (which also includes vitamin C booster), but my skin looks much better! The dullness has almost disappeared, I don't look so tired in the mornings, and it feels that it gives me an extra hydration which is something I really need with my skin prone to redness.
I am very happy with the product, though it is rather expensive but feels like it's worth it!

I received a sample of this with another order. I used it as part of my evening routine and could not believe how "fresh faced" I looked the following morning! (I am 44) smooth skin, and my eyes - well I guess I looked at least 5 years younger!! instantly ordered the full size bottle and have been using it for 2 weeks and I love it. I really don't write reviews but this one deserves it.

Wow, I can't believe this product!!! I never ever write reviews because honestly I'm a bit lazy but this has made my jaw drop!! I use all sorts of stuff on and off and switch and change all the time because I'm indecisive so I got a sample of this and thought sire ill give it a bash... Well this morning I put it on my fine lines/shallow wrinkles that really bother me under my eyes and my god I'm not kidding it's erased them!!!!! Gone... Dead... Expired I'm speechless!!! I love this and the glycolic acid these are both sticking around... Wowzers.. Look I'm so shocked it made me geeky 😲

Really impressed. I have sensitive skin and this has caused no problems infact serum seems to have calmed some of my redness. Fine lines and frown mark have faded a little after one week of use.

Incredible change to my elderly and drug (medical!) harassed skin huge improvement in structure - feels firm underpinned and soft - marionette lines around mouth almost gone - thank you Paula amazing stuff !

The Peptide Booster samples from my last order arrived, I've been using it for several days and I'm delighted with the product. I've ordered the full-size bottle today.

The sample size is 1ml, I've used about half that (0.5ml) after cleansing, toning and exfoliating (using a BHA) my skin in the morning and at night. It's light, absorbs quickly and replenishes without heaviness. Following with the same amount (0.5ml) of Paula's Hyaluronic Acid Booster in the morning, my skin is perfectly moisturised and ready for my mineral sunscreen. This impressed me most – the booster gave me a better base for my sunscreen. Even the best mineral sunscreens can sometimes feel drying upon application. At night, I've followed the booster application with either Calm Lightweight Restoring Cream Moisturiser or Calm Restoring Moisturiser depending upon how dry my skin feels.

Amazing what 0.5mls of the Peptide Booster achieves. I couldn't be happier.

My skin care routine is made up of Paula's Choice products. As I've aged, my skin is less resilient and prone to redness if I use too much product(s), fail to cleanse or exfoliate (BHA) properly, neglect applying a mineral sunscreen regardless of weather conditions or use anything fragrant on my face. Overall, it's less expensive and easier relying on Paula's Choice products.

Customer Care: Hi Jenny, thank you for sharing your experience with us, we are happy to hear you love the Peptide Booster as much as we do!

Love this i normally alternate between this and the hyaluronic acid booster, both textures are quite similar maybe this one is slightly lightly, gives the right amount of hydration when I mix it with the brightening treatment and leaves skin silky smooth, nice packaging as well x

More reviews Less reviews

Ingredients

What are the key ingredients?

Peptides
Portion(s) of amino acids, some have a remarkable skin-soothing effect, others can improve the appearance of wrinkles, loss of firmness, and help to soften the look of expression lines.

Amino acids
Amino acids are the building blocks of peptides and proteins. Every amino acid has a specific role such as maintaining skin's hydration, texture, resilience, and a healthy appearance.

ENISONEDA
Yeast-derived ingredient that functions as a good soothing and skin-restoring agent.

Ingredients:
Aqua, Glycerin (skin-replenishing), PEG-8 Dimethicone (texture enhancer), Tripeptide-1 (skin-restoring), Palmitoyl Tripeptide-1 (skin-restoring), Palmitoyl Tetrapeptide-7 (skin-restoring), Palmitoyl Hexapeptide-12 (skin-restoring), Myristoyl Hexapeptide-16 (skin-restoring), Myristoyl Pentapeptide-17 (skin-restoring), Hexanoyl Dipeptide-3 Norleucine Acetate (skin-restoring), Azelaoyl Bis-Dipeptide-10 (skin-restoring), Glycoproteins (hydration), Phospholipids (skin-replenishing), enisonedA (skin-restoring), Dipotassium Glycyrrhizate (skin-soothing), Arginine (amino acid/hydration), Valine (amino acid/hydration), Glycine (amino acid/hydration), Alanine (amino acid/hydration), Glutamic Acid (amino acid/hydration), Serine (amino acid/hydration), Threonine (amino acid/hydration), Yeast (Faex) Extract (skin-soothing/hydration), Isoleucine (amino acid/hydration), Proline (amino acid/hydration), Histidine (amino acid/hydration), Phenylalanine (amino acid/hydration), PCA (skin-replenishing), Phytic Acid (antioxidant), Panax Ginseng Root Extract (plant extract/antioxidant), Sodium PCA (skin-replenishing), Psidium Guajava Fruit Extract (guava fruit/antioxidant), Euterpe Oleracea Fruit Extract (acai/antioxidant), Ahnfeltiopsis Concinna Extract (algae/hydration/texture enhancer), Dextran (natural sugar/hydration), Hydrolyzed Silk (texture enhancer), Lecithin (skin-restoring fatty acid), Glyceryl Polymethacrylate (film-forming agent), C12-16 Pareth-9 (emulsifier), Trideceth-12 (emulsifier), Sodium Lactate (hydration), Carbomer (texture enhancer), Aspartic Acid (amino acid/hydration), Polysorbate 20 (emulsifier), Butylene Glycol (texture enhancer), Caprylyl Glycol (texture enhancer), PEG-8 (texture enhancer), C11-15 Pareth-7 (emulsifier), Guar Hydroxypropyltrimonium Chloride (texture enhancer), Phytosteryl/Octyldodecyl Lauroyl Glutamate (hydration), Ectoin (hydration), Citrate Buffer (pH adjuster), Trimethylsiloxyamodimethicone (texture enhancer), Phenoxyethanol (preservative), Sodium Hydroxide (pH adjuster), Ethylhexylglycerin (hydration).

FAQ

Can I use the Peptide Booster if I have sensitive or rosacea prone skin?

It is not a problem to use the Peptide Booster if you have sensitive or rosacea-prone skin. In fact, for those who cannot tolerate our higher-strength retinol products, the Peptide Booster is a great option to consider.

Can I mix the Peptide Booster with other products for application?

The peptide booster can be used alone or mixed with a serum, night time moisturiser or another booster product.

What step of my routine should I use the Peptide Booster?

You can use the booster alone after exfoliating or add it to your favourite night time moisturiser or serum.
Research
Journal of Separation Science, October 2017, pages 3,817-3,829 Journal of Ginseng Research, January 2017, pages 69-77; and January, 2015, pages 1-6 Annals of Dermatology, December 2016, pages 690-696 Clinical, Cosmetic, and Investigational Dermatology, November 2016, pages 411-419 Experimental Dermatology, November 2016, pages 865-871 Experimental and Therapeutic Medicine, August 2016, pages 1,171-1,176 EXCLI Journal, September 2015, pages 1,020-1,030 BioMed Research International, July 2015 ePublication Clinical, Cosmetic, and Investigational Dermatology, December 2013, pages 317-323 Molecular Pharmaceutics, March 2013, pages 1,063-1,069 Preventive Nutrition and Food Science, December 2012, pages 245-253 International Journal of Cosmetic Dermatology, September 2012, pages 207-212 The Journal of Clinical and Aesthetic Dermatology, January 2009, pages 36-40 International Journal of Cosmetic Science, June 2000, pages 207-218