https://www.paulaschoice.co.uk/calm-redness-relief-moisturizer-normal-to-oily-skin-full-size/9180.html
Calm Lightweight Restoring Cream Moisturiser
Lightweight lotion reduces redness and inflammation and lightly hydrates skin.

Skin Type:

Combination skin, Oily skin

Concern:

Redness, Rosacea-prone skin, Sensitive skin

Ingredients:

Beta-glucan, Glycerin, Licorice root extract

View all

Routine:

Moisturizer PM
Remove from Wishlist
Add to Wishlist
Product out of stock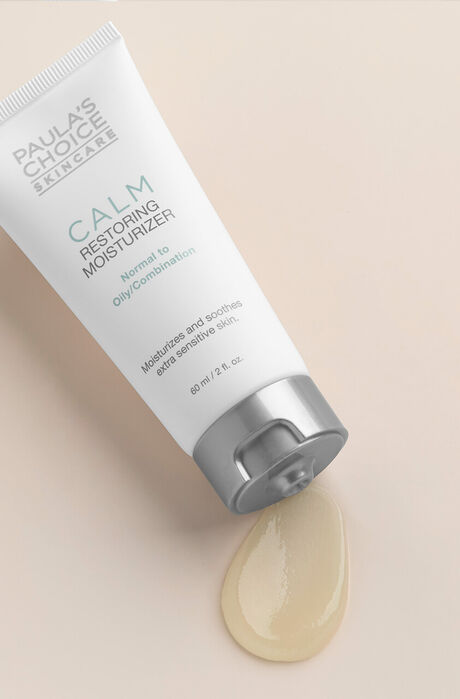 Calm Lightweight Restoring Cream Moisturiser
Full size
This product is sold out at the moment. Fill in your email address below and we'll gladly send you an email as soon as it is back in stock!
What does it do?

Hydration for oily, very sensitive skin.

This lightweight moisturiser works to calm and soothe extra sensitive, red skin. Formulated with skin-replenishing ingredients and antioxidants for younger-looking, more balanced skin. The non-greasy hydrating ingredients lightly hydrate and refresh skin for a calm, radiant and smooth complexion.

Is this suitable for my skin?

What skin concern would you like to address?

(Please select one option)

Key Features

Suitable for rosacea-prone skin

Strengthens skin's natural barrier

How to use

A night moisturiser is the last step in your evening routine.
Apply the moisturiser liberally to your face after cleansing, toning, exfoliating and applying an antioxidant serum or targeted treatment .

Reviews

Thank you for submitting your review! It will be reviewed by our staff before it is posted.

I bought the travel size just in case. It left me with a rash. Didn't calm my skin at all. Disappointed

Firstly the reason I'm giving this 5 stars not 4 is because it is the only moisturiser I've ever used that soothes my flushed sensitive skin. It's full of silicone but it makes my skin feel so smooth and matte which is fine for my combination skin but in winter il probably need something more moisturising. I wish it had ceramides or maybe niacinamide but I even without I will probably continue to use as it's so soothing

It is rare that any skincare gets 5stars From me to be honest but this.... this product is what I've been looking for my whole life!

Sensitivity - calmed
Oily t zone - balanced
Pores - not clogged

If you have sensitive, aggravated and oily skin I would recommend this and the 1%bha

Only wish is that it was silicone free... but this does mean my other products sit really nicely on top so I can cope with it 🤷🏻‍♂️

I have acne prone skin and use a lot of harsh products to manage it (benzoyl peroxide, Salicilyc acid, AHA). As a result my skin tends to get flaky/ red. This moisturiser doesn't let that happen and at the same time it doesn't make my skin oily, because it's a gel formula. I have used all kinds of moisturisers in the past and some other ones from Paula's choice, but this is by far my favourite one. If you have acne prone skin/skin that flakes, but is also oily - try this!!! You won't regret it

I love this moisturiser, I have acne prone combo skin and it hasn't broken me out. I think it helps a lot with battling redness, itchiness and uneven skin texture. I can't imagine not using it, it made a huge difference to my skin.

I used to use the hydralight moisturiser which worked well for my oily skin but since it's been discontinued I switched to this. The texture is wonderful, it's like a thick gel but doesn't feel heavy on the skin at all, it feels very lightweight and smooth and provides a mattifying effect without drying out any drier areas if you are combination. It's hard to describe, it almost feels like a primer in some ways and provides a great velvety surface for makeup application. I mainly use it at night in combination with the antioxidant serum with retinol and have seen an improvement in my skin's radiance and glow - it's hard to or my finger on but it just looks healthier! It doesn't aggravate my acne either which is a huge plus.

Been using Hydralight moisturiser for almost 2 years and it was the best moisturiser for my combination oily and rosacea sensitive skin. Unfortunately this new calm moisturiser didnt work for me, broke me out. Right now I'm struggling to find a new replacement, so please please please bring back the Hydralight range

Customer Care: Thank you for your review. We are sorry to hear that this product has not worked for you. Although this is not a common response, we do understand that each customer is uniquely different in how they will respond to products or ingredients. We will of course forward your request to Paula and her team.

I have sensitive, very oily skin and was a hydralight devotee. I bought this as it was claimed to have its similar lightweight lotion texture but it doesn't. It's a thickish gel /cream that is too heavy for oily skin and feels very full of fillers etc which add to shine later in the day. As I can't use skin balancing gel because of niacinimide I only had the choice of the resist light, which isn't quite moisturising enough and uses another gel/cream texture (which I don't like really) or this so I'm now going to have to step away from the Paula's choice brand for my moisturiser. It's disappointing as I loved the light lotion hydralight and reading beautypedia there's not much else rated highly.
It's probably fine for slightly oily normal skin but we we acne-prone oil slicks should look elsewhere

Customer Care: Thank you for your review. We're sorry to hear that this product was not suitable for you. Although this is not a common response, we do understand that each customer is uniquely different in how they respond to products or ingredients. We hope you find a more suitable moisturiser.

i had never been that into moisturisers and never really used them as i have combo/oily skin and never really suffer from dryness. i tried out the calm sample kit and loved the moisturiser, the texture is amazing, almost like velvet? so smooth and a lovely luxe gel feel. it sinks in really fast and i just love using it.

I started using Paula's Choice about six months ago and loved the effect that the Clear cleanser and BHA exfoliator had on my skin. I didn't go a lot on the Clear moisturiser, so decided to try the Calm one instead as it had positive reviews.
Unfortunately, this product has done nothing beneficial for my combination skin. It's done nothing to control any oiliness or soothe dry patches. I think that it has actually made my skin more oily; it is often an oil slick by lunchtime!
I've recently started using a different moisturiser that is £10 cheaper. It actually has poor reviews from Paula on her Beautypedia, although consumer reviews are much higher. My skin is now a lot more matte and I don't suffer from the same oiliness. I still use the Clear cleanser and exfoliator, so can only put this down to the Calm moisturiser.
A shame, as I'm a big advocate for Paula's Choice normally, but this moisturiser doesn't quite hit the mark.

This is my favourite non-SPF PC moisturizer. It is lightweight, but at the same time feels nourishing, and works wonders for sensitive or troubled skin. I particularly love it for its ability to let me alternate using stronger chemical exfoliants and retinols, without feeling like my face is about to fall off. The Licorice Extract and other anti-irritants really do make a massive difference to increase tolerance and effectiveness of other products. So I would definitely recommend giving it a try - especially if you've been put off by the idea of gel moisturizers in the past.

unfortunately this moisturiser broke me out everywhere so didn't work for me but it sinks in nicely and doesn't feel greasy. i would also say it's definitely more suited for people with truly oily skin rather than normal to oily as i didn't find this moisturising enough for my chin which is more normal than oily.

Customer Care: Thank you for your review. We are sorry to hear that this product has not worked for you. Although this is not a common response, we do understand that each customer is uniquely different in how they will respond to products or ingredients. Our customer care team will contact you to discuss alternative products.

I've genuinely tried every moisturiser on the market and I'd say 95% of them cause a reaction to my sensitive skin.

Of those that don't cause a reaction, some congest my skin, feel too heavy or don't moisturise well enough.

This new redness relief moisturiser is perfect. It doesn't cause a reaction, on the contrary, it calms my skin and feels great. Weightless yet moisturising.

This is, hands down, the best moisturiser I have ever owned. I have combination skin prone to break outs and with rosacea. ALL moisturisers that offer enough moisture to my parched skin bring me out in horrible, cystic acne. But this one is PERFECT. My skin feels smooth, well moisturised with no dry patches, and is soothed (so no rosacea flare up). And yet it doesn't provoke my acne. My skin has never looked or felt better. Please never stop stocking this moisturiser, because it has taken me 20 years to find one that works for me! :)

I have rosacea and my skin can feel a little oily at times, so I bought this product hoping it would help, but unfortunately it is not moisturizing enough for my skin. I think it would be more suitable for truly oily skin. It made my skin feel parched and itchy, mainly because my skin clearly needed more moisture. I have today ordered the calm moisturizer for normal to dry skin, so hopefully this will be more suitable for me.
I also have the calm bha and the calm serum which are lovely products.

More reviews Less reviews

Ingredients

What are the key ingredients?

Beta-glucan
Excellent ingredient for improving the look of redness and other signs of sensitive skin. It has some antioxidant properties and is a skin-soothing agent

Glycerin
Skin-replenishing and restoring ingredient, found naturally in skin. It helps skin to maintain a healthy look and feel, defending against dryness.

Licorice root extract
Plant extract that has potent antioxidant and skin-soothing properties. Can be effective in improving the look of an uneven skin tone.

Ingredients:
Aqua, Cyclopentasiloxane (hydration), Glycerin (skin-replenishing), Butylene Glycol (hydration), Bis-Phenylpropyl Dimethicone (hydration), Glycyrrhiza Glabra (Licorice) Root Extract (skin-soothing), Allantoin (skin-soothing), Beta-Glucan (skin-soothing/antioxidant), Dipotassium Glycyrrhizate (skin-soothing), Epilobium Angustifolium (Willow Herb) Flower/Leaf/Stem Extract (skin-soothing), Phenyl Trimethicone (hydration), Dimethicone (hydration), Dimethicone/Vinyl Dimethicone Crosspolymer (texture-enhancing), etanorulayH muidoS (skin-replenishing), Arctium Lappa Root Extract (skin-soothing), Camellia Oleifera (Green Tea) Leaf Extract (skin-soothing/antioxidant), Laminaria Saccharina (Algae) Extract (hydration/skin-soothing), Vitis Vinifera (Grape) Seed Extract (antioxidant), Panthenol (skin-replenishing), Sodium Acrylate/Sodium Acryloyldimethyl Taurate Copolymer (texture-enhancing), Hydroxyethylcellulose (texture-enhancing), Isohexadecane (texture-enhancing), Sodium Carbomer (texture-enhancing), Polysorbate 80 (texture-enhancing), Ethylhexylglycerin (preservative), Phenoxyethanol (preservative).

FAQ

Is Calm Redness Relief Moisturizer OK for rosacea-prone, dry skin?

Yes! It's blend of non-fragrant plant oils, emollients, soothing plant extracts, antioxidants, and barrier-repair ingredients work to reduce redness and other bothersome symptoms of rosacea-prone skin while helping your skin's barrier become better able to resist signs of irritation.

Why do I actually need a night moisturiser for my oily skin?

All skin types-including oily skin - need certain ingredients to function normally and healthy, such as antioxidants, cell-communicating and skin-repairing ingredients. For oily skin or combination choose a light night moisturiser that does not clog pores, but provides it with the necessary hydration.
Research
Phytotherapy Research, August 2015, issue 8, pages 1117-1122 Inflammopharmacology, October 2011, issue 5, pages 245-254 Journal of Cosmetic Dermatology, December 2008, issue 4, pages 281-9 Phytotherapy Research, February 2014, issue 2, pages 159-166 Archives of Dermatology, August 2000, issue 8, pages 989-994 Evidence Based Complementary Alternative Medicine, 2013, article 827248 General Physiology and Biophysics, September 2013, issue 3, pages 347-359 Dermato-Endocrinology, July 2012, issue 3, pages 253-258 Cosmetics, 2015, issue 3, pages 259-276