https://www.paulaschoice.co.uk/super-hydrate-overnight-mask-full-size/2870.html
Super Hydrate Overnight Mask
A leave-on or rinse off mask that reduces redness, soothes skin, and provides long-lasting hydration for all skin types, but especially for those struggling with sensitive skin.

The Super Hydrate Overnight Mask was created alongside skin therapist Annica Forsgren Kjellman, co-founder of Skincity.com.

Skin Type:

All skin types

Concern:

Redness, Sensitive skin

Ingredients:

Reishi mushroom, Arctic cloudberry, Shea Butter

View all

Routine:

Treatment
Remove from Wishlist
Add to Wishlist
Product out of stock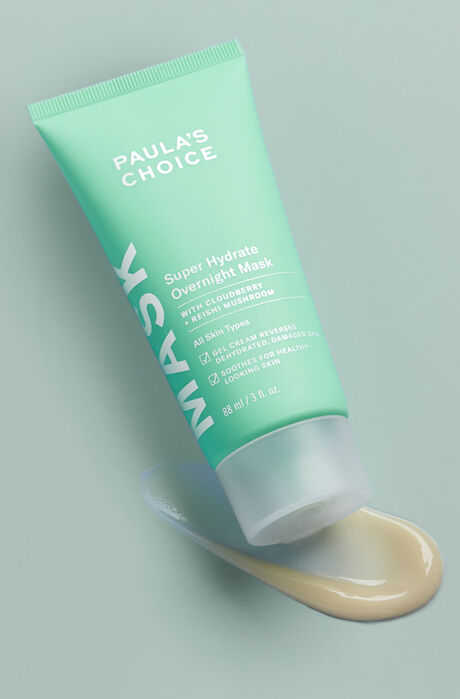 Super Hydrate Overnight Mask
Full size
This product is sold out at the moment. Fill in your email address below and we'll gladly send you an email as soon as it is back in stock!
What does it do?

A mask rich in Nordic ingredients that immediately calm, soothe and hydrate sensitive skin.

The Super Hydrate Overnight Mask is formulated with powerful plant extracts. Glycerin and shea butter deliver intense hydration, while Nordic cloudberry and reishi mushroom soothe skin and reduce redness.

This mask is formulated for all skin types but perfect for those struggling with dehydration, redness and sensitive skin. The Super Hydrate Overnight Mask leaves skin feeling plump, dewy, healthy and restored.

Is this suitable for my skin?

What skin concern would you like to address?

(Please select one option)

Key Features

Leaves skin soft and hydrated

How to use

Use on clean skin. Apply a generous amount all over the face and neck. Leave on for at least 20 minutes. Rinse thoroughly and follow with the rest of your skincare routine. For optimum results, leave on overnight as the last step in your skincare routine. Use as often as needed.

Reviews

Thank you for submitting your review! It will be reviewed by our staff before it is posted.

I'm so disappointed to see that this product contains silicone, listed as the third highest ingredient. I ordered this as a sample to try and at first loved it, it felt lovely on my skin. However after maybe 2-3 uses I've noticed my skin getting more and more sensitive and today it is positively burning, itching and peeling! Took me a while to figure out what it might be, as I also use retinol 1% and AHA 8%, I thought it was one of those (but I've been using them for a while with no issues). Just came to the website to check the ingredients of all the products I use and realised that this mask contains dimethicone, which I am sensitive too. Please, please stop putting silicone in to your products, I realise they give a nice smooth feel but for people like me who can't tolerate it, it rules out a lot of products sadly! The 'burn' is not worth it, I'm hoping my face and neck can down soon.

Hi Mel, thank you for your review! I'm sorry to hear that this product wasn't a great fit for you. Silicones have been conclusively proven safe and gentle for skin; there's no research proving they trigger or worsen any skin condition, but I completely understand that what works well for some, may not be the best for others. Please contact our Customer Care Team who may be able to help you with a refund.
Best wishes, Natasha - Paula's Choice Customer Care Team

I searched 'Paula's Choice Super Hydrating Mask' plus 'burns' after using it - and was glad that other people have experienced similar reactions; I thought I was going crazy. I applied it last night, after using retinol for a few previous evenings so wanted to try this facemask to re-hydrate. Upon application, I noticed a burning sensation, and I assumed it was because my skin was sensitive after having used retinol prior in the week (I should mention, this was applied to clean skin with no other products). I left it on, but upon waking up and throughout my face and neck are red, and look sunburnt. My skin felt tight and dry all day, and the redness didn't diminish. This mask was the only new product I used. Really surprised, as I love my other Paula's Choice products and never had this kind of reaction.

Customer Care: Hi Emily, thank you for taking the time to leave a review. I'm so sorry that our Super Hydrate Overnight Mask was not a good fit for your skin. This is intended to gently hydrate overnight and should be suitable for sensitive skin - I'm sorry that this isn't what you experienced. Unfortunately, everyone's skin is unique and what might work for one person, does not for others. Please reach out to us as we may be able to help you with a return for this product. Kind regards, Marissa - Paula's Choice Customer Care

I was looking forward to try this but the first time it immediately started to burn really badly, so I had to wash it off. Tried it another day with another skin care routine but it burned again (had no actives and only calming products). I don't even have sensitive skin so I am majorly dissapointed. Thankfully I've only bought the small package.

Hi Esime. Thank you for your review of our Super Hydrate Overnight Mask. This mask is intended to reduce redness and soothe the skin and I'm sorry to hear that this was not the experience you had. Although this is not a common reaction to this product we do understand that unfortunately not everyone's skin reacts to certain products in the same way. I encourage you to reach out to our Customer Care Team who may be able to assist you with a refund as per our 60 day return policy. Kind regards, Shannon - Paula's Choice Customer Care

I use the Super Hydrate Mask as a last step most nights. It's comfortable to leave on all night but I've used it as a mask, leaving it on for a half hour or so then rinsing it off; It's like a fortified toner in that respect. It provides immediate soothing redness relief and moisture for all areas of my face. The main ingredients of this mask are unique; I've not found a better night time moisturiser. The generously-sized tube is excellent value.

Hi Jenny4Bookds2! Thank you for taking the time to write such a lovely review of the Super Hydrate Mask. Great to hear it has helped sooth redness and add moisture! We look forward to having you on our webshop again soon. Kind regards, Adele - Paula's Choice Customer Care

As soon as I put it on it started burning my skin so I had to wash it off. It's a hassle to return as I threw away the packaging.

Customer Care: Thank you for your review. We are sorry to hear of your experience and discomfort. Although this is not a common response, we do understand that each customer is uniquely different in how they will respond to certain products or ingredients. I have contacted you regarding our return policy and your eligibility. Kind regards, Marissa, Paula's Choice Customer Care Team.

Luckily I bought the small package. I'm very disappointed with this mask. It is not at all pleasant to put it on. The smell is very ugly and makes my face burn a lot.

Customer Care: Hi there! We're sorry this wasn't a fit for you! Be sure to contact our Customer Care for assistance.

Best mask I have tried for hydration, skin looks plump and youthful in the morning.

I have red rosacea prone skin,this is the only face mask I've been able to use for years.It
leaves my skin soft,glowing and calm.It smells a bit wierd but I don't mind that.the results are
brilliant.I wouldn't be without it and always make sure I never run out.Please don't discontinue it!

More reviews Less reviews

Ingredients

What are the key ingredients?

Reishi mushroom
This mushroom has extracts, called triterpenoids, that have strong anti-inflammatory properties, which reduces irritation and redness in skin.

Arctic cloudberry
They have plenty of phenolic compounds, which act as anti-oxidants, interfering with many processes that lead to sensitive and red skin.

Shea Butter
This plant lipid, extracted from the karite tree, is used as an emollient and has smoothing properties for dry skin. it's also a rich source of antioxidants.

Ingredients:
Aqua, Butylene Glycol (hydration), Dimethicone (hydration), Hydroxyethyl Acrylate/Sodium Acryloyldimethyl Taurate Copolymer (thickener/emulsifier), Chondrus Crispus (Carrageenan) Extract (algae/hydration), Rubus Chamaemorus (Cloudberry) Fruit Extract (skin-soothing/antioxidant), Ganoderma Lucidum (Mushroom) Extract (antioxidant), Glycerin (skin-replenishing), Butyrospermum Parkii (Shea) Butter (emollient/antioxidant), Hydrogenated Lecithin (skin-replenishing), Pentapeptide-59 (skin-restoring/skin-soothing), Ginkgo Biloba Leaf Extract (antioxidant), Terminalia Chebula Fruit Extract (antioxidant), Cassia Angustifolia Seed Polysaccharide (hydration), Vaccinium Vitis-Idaea (Lingonberry) Fruit Extract (antioxidant), Sambucus Nigra (Elderberry) Fruit Extract (antioxidant), Schisandra Chinensis (Magnolia Berry) Fruit Extract (antioxidant), Rhodiola Rosea Root Extract (antioxidant), Glycyrrhiza Glabra (Licorice) Root Extract (skin-soothing), Linum Usitatissimum (Linseed) Seed Oil (skin-replenishing), Pelvetia Canaliculata (Algae) Extract (hydration), Agastache Mexicana (Hyssop) Flower/Leaf/Stem Extract (antioxidant), Betula Alba (Birch) Juice (hydration), Echium Plantagineum Seed Oil (non-fragrant antioxidant plant oil), Xanthan Gum (thickener), Synthetic Fluorphlogopite (texture enhancer), Myristamidopropyl PG-Dimonium Chloride Phosphate (emulsifier), Lauroyl Lysine (skin-softening), Propanediol (hydration), Phenoxyethanol (preservative), Ethylhexylglycerin (skin-softening), Potassium Sorbate (preservative).

FAQ

How is the Super Hydrate Mask different from the other masks we offer?

While we do offer other masks for dehydrated, dry skin, the Super Hydrate Overnight Mask was specifically developed with dryness and redness in mind. It combines a unique blend of Nordic plant extracts, a distinctive calming peptide along with other beneficial plant extracts that immediately calm, soothe and hydrate. Unlike our other hydrating masks, this formula is in a cream-gel texture that's perfect for all skin types and comforting as a sleeping mask.

What's the difference between the Super Hydrate Mask and the Skin Recovery Hydrating Treatment Mask?

Both masks moisturise and reduce signs of dry, dehydrated skin and help calm redness. The Super Hydrate Mask is less creamy but more hydrating thanks to its different mix of core ingredients that create its fresh, cream-gel texture and supple finish. The Skin Recovery mask is more emollient, resulting in a richer feel. Although both masks contain anti-redness ingredients, the Super Hydrate Mask contains higher amounts of them, each chosen for their specialised ability to relieve the various external triggers of redness, dehydration, and discomfort. The Super Hydrate Mask contains a greater concentration of natural ingredients, each also providing antioxidant benefits. The Skin Recovery mask is best for dry to very dry skin showing mild signs of sensitivity; the Super Hydrate Mask is suitable for all skin types experiencing dehydrated, distressed skin.