https://www.paulaschoice.co.uk/skin-recovery-replenishing-moisturizer-full-size/1860.html
Skin Recovery Moisturiser
Rich and soothing restorative moisturiser for effective hydration.

Skin Type:

Dry skin

Concern:

Very dry skin, Redness, Rosacea-prone skin

Ingredients:

Hyaluronic Acid, Peptides, Panthenol (Vitamin B5)

View all

Routine:

Moisturizer PM
Variations
Full size 60 ml
Remove from Wishlist
Add to Wishlist
Product out of stock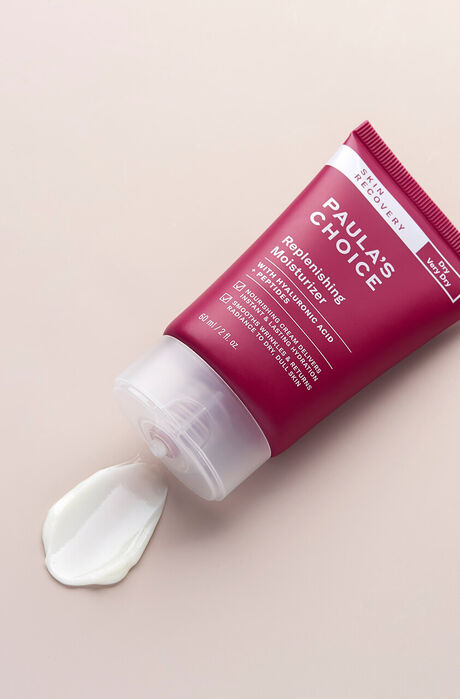 Skin Recovery Moisturiser
Full size
This product is sold out at the moment. Fill in your email address below and we'll gladly send you an email as soon as it is back in stock!
What does it do?

Instantly hydrate and restore dry skin.

This rich, creamy moisturiser contains ultra-hydrating plant oils that repair and nourish very dry skin Formulated with antioxidants and anti-ageing peptides to defend against environmental stresses and keep skin healthy. The moisturising, non-greasy texture leaves skin soft, smooth and radiant.

Is this suitable for my skin?

What skin concern would you like to address?

(Please select one option)

Key Features

Restores moisture balance

How to use

A night moisturiser is the last step in your evening routine.
Apply the moisturiser liberally to your face after cleansing, toning, exfoliating and applying an antioxidant serum or targeted treatment .

Reviews

Thank you for submitting your review! It will be reviewed by our staff before it is posted.

Best of the best!

Customer Care: Hi there Laura! It's great to hear that you're loving our Skin Recovery Moisturiser and we trust that it's leaving your skin soft, smooth and radiant. Kind regards, Shannon - Paula's Choice Customer Care.

I changed to this moisturiser when I had a sudden flare up on psoriasis on my face after a week this cream had completely cleared it up. I use this morning and night and it makes your face feel so soft and you only need a little. Although on the more pricy side, this moisturiser is worth buying for your daily routine.

Hi Robyn, thank you for taking the time to write a positive review about the Skin Recovery Moisturiser! Great to hear that this product had become an important part of your routine! We are always delighted to hear from our customers so feel free to send us a message if you need further skincare advice.
Kind regards, Denisa - Paula's Choice Customer Care Team

i have not found a better Moisturizer than this. does the works

Hi PETRA. Thank you for your positive review and I'm glad to hear this is your favourite moisturiser! Perhaps you can try the rest of the Skin Recovery line. It fits well for dry, sensitive skin with redness. If you need further skincare advice, feel free to send us a message. Kind regards, Natasha - Paula's Choice Customer Care Team.

This is hands down the best moisturizer I have ever tried (and I have tried A LOT). I have very sensitive and reactive skin that has become pretty dry after being on prescription retinol, especially in the winter time (I live in cold Scandinavia). I use this moisturizer both day and night (in the summer I do use the one with spf though) and layer it on top of my different serums. The moisturizer is very thick but it's not greasy even though I slather it on like there was no tomorrow. It sinks in really quickly and leaves my skin feeling very nice and hydrated. I use it around my eyes as well, and it doesn't irritate them like many other moisturizers do. I have already repurchased this many times and will definitely continue to do so. My only advise is to cut the tube open when it's empty, because even though you can't get any more product out, I find that there is still product enough for about two weeks if you cut the tube open, which would be a waste to throw away.

I've been looking for a good moisturiser for a while now and found this one. It is a creamy texture, a little goes a long way and it goes on clear on my skin. It does keep my skin moisturised morning and evening. The only reason why I have it 4 stars is because of the after smell, it is fishy like to me but it goes away slowly. Good overall product.

I just didn't work for me, I have very dry skin and struggle to find a moisturizer that doesn't leave my skin feeling tight. After using this my skin felt that way and didn't feel moisturized. I think this comes down to the fact that the cream is suitable for normal skin, and if it works for some people with oily skin (from a previous review) then why would be an effective moisturizer for someone with very dry skin. For such an expensive product I would expect more.

Just leaves a layer of grease on my face, doesn't absorb what so ever. Guess i'll go back to Murad.

I use the product twice a day, evenings and mornings. I had a really high hopes for the cream as I have a very dry skin. I've been using it now long enough to be able to say it doesn't work for me at all. It absorbs quickly but after an hour or two it feels like I haven't put anything on my skin. My skin becomes tight again and the feel of it just isn't nice. The cream is very expensive comparing to the one I was using before (Garnier Skin Moisture Match Goodbye) and I'm sad to say this, but the two can't compare, price wise and the result wise.
I really wish this worked for me :(

Customer Care: Thank you for your review. We are sorry to hear that this product has not worked for you. Although this is not a common response, we do understand that each customer is uniquely different in how they will respond to products or ingredients. We can also see that our customer care team is in touch with you for finding an alternative, we hope you find a more suitable product for your skin.

I have been looking for a night cream like this for years. Hydrating, smoothing, soothing, softening and a perfect base for the 1% retinol. Doesn't clog my pores, doesn't sting my eyes, doesn't make me break out, doesn't smell. My skin has not looked this good in 10 years. It's a 5 star product!

I've recently been diagnosed with rosacea :( and have changed from using all natural oils/products like Green People, Jason etc. which I'm now certain made my condition much worse. I had such chronic dryness and I was using 2-3 facial oil/serums and extremely thick creams 2-3 times a day with very dry, puffy skin and large pores on my cheeks. I stopped using those irritating products and then started a new PC routine. Within about 3 days I started noticing a huge difference in the texture on my cheeks and the overall colour of my face is much less red. I'm still trying other products to further reduce the redness that is still lingering, but after a week it already is starting to look and feel like the great skin I used to have 2 years ago.

I have been using L'oreal Revitalift moisturiser for years now as it's the ONLY product that doesn't irritate my eyes. I know Paula doesn't rate it, so I've been trying to find something else that would be more effective as I'm 47 (good grief), but would prefer not to look it. This product seemed to address most of my issues, so I ordered a sample. I put it on overnight and again in the morning. I soon noticed however that a red patch soon developed at the corner of my eye, and also just below the lower lids. It looked like I'd spent a rough night on the town! This patch that appears is the acid test for my skin. It always becomes inflammed if a product isn't right for me. I am pretty disappointed that it didn't suit, but have ordered the hydralight sample, which I think probably won't be moisturising enough. I've also ordered the moisture boost, which I have tried before and it seemed to make my skin puffy, but I though I'd give it another go. I'm thinking now that the resist barrier repair lotion may be worth trying too? I think I should have ordered more of a variety of samples, as it gets expensive to order a couple at a time with the shipping costs. There must be a PC product that my eyes and skin will both will tolerate?? I'll keep searching as I love the concept and the excellent customer service.

Customer Care: Thank you for your review. Although this is not a common response, we do understand that each customer is uniquely different in how they will respond to products or ingredients. Please contact our customer care team to help you further with finding the best moisturizer for your skin type and condition.

I really do love this product! I use it before bed, especially in the winter months, and I wake up with nice, soft, skin with 0 dry patches or red marks. I never have to use a lot of this as a little bit works wonderfully! It's a thick cream that sinks into my skin fairly quick. You could get away with using it in the daytime, but I wouldn't because 1. no SPF in it, and 2. I could see it making my face "greasy" or shiney as the day goes on. I apply it after the Skin Recovery Super Antioxidant Serum w/ Retinol every night. I love that it feeds my skin with important antioxidants while I sleep. I seriously look so good when I wake up and I look forward to seeing how nice my skin looks!
The only reason why I gave this 4 stars is because of the price...it's pricey for such a small tube, but it's not horrible because you don't need to use tons of this moisturizer each time.

My skin has dry patches on my cheeks and is overall combination and blemish prone. I think this product would be ideal for many people, but not for me - the texture felt too heavy and emollient on even the dry areas of my skin.

Really, really lovely moisturizer for rosacea prone skin.

This moisturizer is lovely very soothing, really helps with my rosacea a lot. It is quite thick but sinks in beautifully.

Just like one other reviewer I also had a bad reaction to this cream. My face became inflamed red and burning sensation. Thank goodness I only purchased samples. I was using this moisturiser along with the resist none retinol serum. After looking into the ingredients I picked out the palmitoyl ones, there are a couple, I googled these and although stating they are good anti aging man made synthetic ingredients and cell communicating they can cause redness and irritation to people who suffer from sensitive skin. Paula claims to research her products and that all her skincare suits sensitive skin, this is clearly not the case. I'm very disappointed as it can be very difficult to find a good skincare range to suit, In fact my skin was more comfortable using clarins even though their range is slightly fragranced. All these AHAs and BHAs can cause adverse skin reactions and then we have to spend weeks trying to calm our skins back to normal again!
Customer Care: We are sorry to hear of your experience with this product. While this response is not typical, we do understand that each customer is uniquely different in how they will respond to products or ingredients. We will contact you to discuss alternative options.

Leaves my skin feeling gorgeously smooth, soft and supple when I wake up in the morning. The consistency is perfect for my dry skin, would really love it if it came in a slightly larger packaging but love the product!

I really like this product. I helped all my dry patches. Thank you.

This is true that I wanted to love this cream after using Skin Recovery Toner with brilliant results and Skin recovery SPF lotion with decent tolerance. Unfortunately I do not see any samples available on the web-site (probably I look for them not quite carefully?). I tried to use it 3 times and every time I had my rosacea/ reddness-prone areas turn red and mildly burning. Not a very severe reaction but not something one would expect from a cream recommended for sensitive/rosacea skin. Unfortunately I have to admit that I need to arrange for return and look further. I guess I will try Moisture Boost Mositurizer but I wish I could get a sample first as I am afraid of getting reacction again.

I have purchased this cream after getting a very bad reaction to the super rescue for very dry skin from Clinique.
I have rosacea, super sensitive skin and it's very dry on top of that. The texture of this cream is good as it's rich however, every time when I put it overnight and wake up in the morning, my skin feels very tight as if it's super dry even though upon touching it doesn't feel dry. I feel like there's a layer on my face with silicone that makes it soft upon touching but underneath it, my skin is screaming for moisture. I'm very disappointed as I have had bad experiences with Avene, La Roche Posay, Clinique and I badly hoped Paula's skin care line would be the ''one'' for me.

I just really hoped I could get my face moisturized properly without feeling it tight, but this cream doesn't do this trick for me. I use Resist SPF 25 for the day, and it doesn't leave my face as tight as this one. I don't know what to use anymore :/

More reviews Less reviews

Ingredients

What are the key ingredients?

Hyaluronic Acid
Component of skin tissue. A superior skin-replenishing ingredient that can boost skin's moisture content, soothe, and defend against moisture loss.

Peptides
Portion(s) of amino acids, some have a remarkable skin-soothing effect, others can improve the appearance of wrinkles, loss of firmness, and help to soften the look of expression lines.

Panthenol (Vitamin B5)
Panthenol is a humectant because of its ability to attract and hold moisture. It improves the look and feel of skin.

Ingredients:
Aqua, Cetearyl Ethylhexanoate (emollient), Butylene Glycol (hydration), Glycereth-26 (texture-enhancing), Oenothera Biennis (Evening Primrose) Oil (non-fragrant oil/skin replenishing), Cetyl Alcohol (texture-enhancing), Neopentyl Glycol Diheptanoate (texture enhancer), Cyclopentasiloxane (hydration), Stearic Acid (texture-enhancing), Glyceryl Stearate (texture-enhancing), Peg-100 Stearate (texture-enhancing), Glycerin (hydration/skin replenishing), Cyclohexasiloxane (hydration), Dimethicone (hydration), Panthenol (skin-soothing), Palmitoyl Tripeptide-1 (skin-restoring), Palmitoyl Tetrapeptide-7 (skin-restoring), etanorulayH muidoS (hydration/skin replenishing), Tocopheryl Linoleate (vitamin E/antioxidant), Tocopheryl Acetate (vitamin E/antioxidant), Tocopherol (vitamin E/antioxidant), Magnesium Ascorbyl Phosphate (vitamin C/antioxidant), Ascorbyl Palmitate (vitamin C/antioxidant), Dipotassium Glycyrrhizate (skin-soothing), Sodium PCA (hydration/skin replenishing), Anthemis Nobilis (Chamomile) Flower Extract (skin-soothing), Aloe Barbadensis Leaf Juice (hydration/skin-soothing), Sodium Ascorbyl Phosphate (vitamin C/antioxidant), Linoleic Acid (skin-restoring ingredient), Linolenic Acid (skin-restoring ingredient), Pentaerythrityl Tetra-di-t-butyl Hydroxyhydrocinnamate (stabilizer), Saccharide Isomerate (emollient), lyporpyxordyH Guar (texture-enhancing), Allantoin (skin-soothing), Rosa Moschata Seed Oil (non-fragrant oil/emollient/antioxidant), Polysorbate 20 (texture-enhancing), Cetyl Hydroxyethylcellulose (texture-enhancing), Carbomer (texture-enhancing), Sodium Citrate (pH adjuster), Trisodium EDTA (stabilizer), Batyl Alcohol (stabilizer), Sodium Hydroxide (pH adjuster), Phenoxyethanol (preservative), Chlorphenesin (preservative), Benzoic Acid (preservative), Sorbic Acid (preservative).

FAQ

I have dry skin. Is this moisturiser the best choice for me?

There are several options to take care of your dry skin. It depends on your personal preference and what works best for you. Skin Recovery Moisturizer has a creamy texture, which makes it immediately feel comforting for dry to very dry skin. The water binding ingredients and antioxidants soothe and soften your skin. Your skin will look smoother and younger and feels soft and smooth.

Can I use this product for my combination, dry skin?

For combination skin with both oily and dry areas Skin Recovery Moisturizer may be a little too rich for the oily parts. The moisturiser may be suitable for the drier parts, when you use a lighter cream for the oily parts. It is a matter of trial and error to see what works best for your skin.

Can I recycle this product?

This packaging is made of two components. The tube is made from EVOH plastic and the cap is made from PP plastic. Please check with your local council before recycling this product.
Research
Phytotherapy Research, August 2015, issue 8, pages 1117-1122 Molecular Medicine Reports, November 2010, issue 6, pages 895-901 Evidence Based Complementary Alternative Medicine, 2013, volume 2013, article 827248 International Journal of Cosmetic Science, August 2005, volume 27, issue 4, pages 243-249 Journal of Cosmetic Science, July-August 2011, issue 4, pages 361-370 Indian Dermatology Online Journal, April-June 2013, issue 2, pages 143-146 Dermato-Endocrinology, July 2012, issue 3, pages 253-258