https://www.paulaschoice.co.uk/skin-recovery-enriched-calming-toner-full-size/1250.html
Skin Recovery Toner
Rich milky toner soothes and replenishes ultra-dry, flaky skin.

Skin Type:

Dry skin

Concern:

Very dry skin, Redness, Rosacea-prone skin

Ingredients:

Evening primrose oil, Panthenol (Vitamin B5), Vitamin E

View all

Routine:

Toner
Variations
Full size 190 ml
Remove from Wishlist
Add to Wishlist
Product out of stock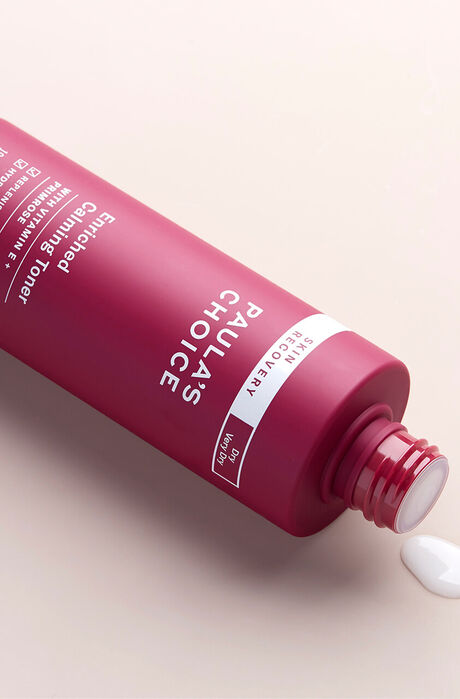 Skin Recovery Toner
Full size
This product is sold out at the moment. Fill in your email address below and we'll gladly send you an email as soon as it is back in stock!
What does it do?

An oasis of relief to dry, thirsty skin.

Rich in antioxidants and nourishing plant oils, this hydrating milky toner soothes and replenishes ultra-dry, flaky skin. The carefully blended formula revitalises skin and helps reduce redness, for soft, silky-smooth skin that is less dry and less sensitive.

Is this suitable for my skin?

Key Features

Doesn't leave skin feeling tight

Suitable for rosacea-prone skin

How to use

After cleansing, apply a little bit of toner on a cotton pad to your face and neck. Do not rinse off.
Follow with an exfoliant, antioxidant serum and/or a day or night cream suitable for your skin type. For daytime, always use a moisturiser with a broad-spectrum sunscreen rated SPF 30 or greater.

Reviews

Thank you for submitting your review! It will be reviewed by our staff before it is posted.

I had developed PD on my nose from over exfoliation and using a prescription medication. I went back to basics with hydration.

This was amazing and calmed my PD down too. I use this first thing after cleansing morning and night and my skin is so hydrated and smooth I'll never be without it. I just put in my palms and apply straight to my face instead of cotton wool and it keeps my hands soft too. Have two in my stash already I just love it. Great product.

Hi Kathleen. Thanks for your wonderful review. So happy to hear that our Skin Recovery Toner has helped your skin improve! If you have dry skin, I hope you are using the other products from the Skin Recovery range, especially the cleanser, daytime SPF moisturiser and night time moisturiser for further hydration. Kind regards, Natasha - Paula's Choice Customer Care Team

Literally saved my dry patches. I was doubtful when I was reading the previous comment but still decided to purchase and I'm glad I did. My skin barrier was really damaged, sensitive and with dry patches (I have a combo-oily skin prone acne) and I was exfoliating constantly my face, after using this toner I can literally say my skin is saved. Def I'll repurchase again

Customer Care: Hi Robin. Thank you for taking the time to leave your review of our Skin Recovery Toner. This toner is a great option for those who have dry and sensitive skin due to it's soothing and replenishing ingredients. It's both gentle and effective at soothing and hydrating your skin after cleansing. We're so glad that you love it. If you're ever looking for other product recommendations or routine advice, please reach out to our Customer Care Team who will be more than happy to help. Kind regards, Shannon - Paula's Choice Customer Care

I've been using the PC range, inclusive of the Resist Anti-Aging Toner, for many years, and have always been delighted with all the products. I cannot imagine my skincare routine without a toner now, and so, when the Resist A-A toner was out of stock recently, I ordered the Skin Recovery Toner instead. I'm so glad I did because it works even better for my skin. It feels beautifully silky and moisturising when applied, and I can definitely see and feel an additional improvement in my skin's hydration levels when using this toner. I'll be purchasing this in future and I fully recommend this toner to PC customers.

Customer Care: Hi Fiona. Thank you for taking the time to leave your review of our Skin Recovery Toner. It's so great to hear how much you love this toner and we're so pleased that it's given your skin such wonderful results. We understand how disappointing it can be when one of your favourite products are out of stock, but thankfully we do have a very wide range of products available and you may just find a new favourite - as is the case in this situation! If you would like advice on other products please get in touch with our Skin Care Experts who are always happy to help. Kind regards, Shannon - Paula's Choice Customer Care

I was not a toner person until I tried this toner. It is amazing. I do have a combination skin. My cheeks and chin are very dry whereas my t zone is oily. Ive been using this recovery toner twice everyday for over a month now and I honestly can say that it is amazing. It leaves my skin so smooth and hydrated. I don't think I have ever tried any product that leaves my skin silky. I will definitely keep buying it!

Most of my skincare is Korean/Japanese, but this is the best toner I have ever used, and I have tried a lot!
I naturally have oily acne prone skin, but the prescription strength retinol I use makes it dehydrated and irritated. This toner sooths all the irritation, restores hydration to my skin, and leaves me with a light natural glow rather than an oily sweaty mess.
I am on my 4th bottle of this, use morning and night, and hopefully will continue to do so for a long time!

So glad I bought this toner. I love the milky texture and it's goes on so nicely. Skin feels SO sooo smooth and hydrated afterward this and my serums sit nicely on top. I actually have oily/ combination skin that is prone to dehydration so I have a few products in my routine for dry skin and this is a great addition.

I've honestly fell in love with this toner. I have really dry/sensitive skin. It hydrated and soothes my skin instantly. I love the milky texture and definitely can't wait to try more from this range :)

So I've recently purchased this during the 20% off and OMG! My skin loves the moly texture. It feels like it's absorbed by my skin so beautifully but not over hydrating this. I used the PC's resist toner to but I definitely prefer this! Would recommend for combination skin!

One of Paula's Choice best products. I don't like being without this soothing skin treatment. I use it daily.

I haven't used this for long but I love how it has a milky texture! It seems to make my skin feel calm too. Hopefully will see more results in time.

This is the only thing that takes down the redness after morning shaving. I recommend to every guy out there, who shaves on a morning basis.

Easily one of Paula's Choice most underrated products. This is absolutely marvellous for taking that initial redness down, immediately following morning shaving. For guys like myself who shave every single morning, this is a MUST-HAVE!

I use this toner most often using cotton wool following cleansing. I don't often use it like an aftershave, with my hands alone. It's gentle, eases redness, calms a tense day off my face. It's more emollient than Paula's other toners and good for relieving dryness, redness or other aggravations. I really saturate that cotton wool with this one. Dryness, irritation all gone.

Initially, I tried the Resist toner and it was nice but I wasn't blown away so I thought I'd give this a go. As I use retinol products, BHA, and sometimes AHA, I was concerned about dryness, especially as my cheeks began to peel at one point but I reckon it was my overzealous use of the BHA, anyways, dry skin became a concern although I've combination skin.

This product is so moisturising, I have no irritation and it does not make my skin feel greasy or over moisturised. I have been using this under my eyes and a couple of other new products which has created an interesting dilemma for me. You see, my under eye area has been transformed, my dark circles are noticeably lighter, my eye bags have almost vanished and the skin is line free and soft, the dilemma is that I have no idea which product is the culprit or if it's the combination effect and if so which combination?! Oh well, if you're gonna have a problem, I reckon this is a good one to have!

Tried the Resist toner for normal skin and it was okay, helped me understand the need for a toner but didn't like it enough so tried this one and WOW.

It's so gentle and clean and silky, like giving your skin a big fat kiss! I even use it underneath my eyes and on my eyelids, it's that moisturising. However it's not greasy or oily and I don't know how they do it! Way to go PC!

Will be using this from now on but given that you use so little each time it's gonna be a long time before I need to repurchase!

PS the customer service is so good, it's worth buying something you don't want just so you can experience it.

I really wanted to love PC products after the reviews but unfortunately they made my skin worse.
So far I have tried three products: 2% BHA water, Skin Recovery toner, and Resist weightless toner

The BHA seemed to do what it was supposed to do at first but after a few uses (nighttime, every other night or two nights, and tiny amounts) this left my skin FAR worse than it began. It became extremely rough in texture, red, bumpy, and itchy. I then used the Skin Recovery Toner to soothe my skin which AGAIN worked initially to lessen the redness and bumps but in the end created an even rougher texture wherever I used this on my skin (I didn't use this over my whole face so I know for sure it was these products causing the issue).

The same problem occurred with the Resist weightless toner. In short, I think PC products work either way, they're either work really well for you or make your skin even worse.

Customer Care: We are sorry to hear about your experience, we have contacted you already.

Forgot to mention the great customer service in the review. Probably the best I've ever experienced. Setting new and very welcome standards.

I tried the samples of this and went on to purchase the full size. I actually needed to use something to add moisture around my eyes and on my eyelids, as they can get very dry. ALL the moisturisers I tried stung and irritated my eyes as the day wore on. This doesn't irritate them and definitely adds moisture. It does seem calming, and I'm using it after the skin recovery cleanser, and under the calm moisturiser for normal/ dry skin. I tried the Resist toner, but that one did sting my eyes.
It's a bonus that my skin is treated to more quality ingredients, as well as solving the reactive eyes problem.It feels sort of cool on the skin for the first hour or two, but I'm getting used to the sensation. My skin is super sensitive and there are no problems so far. I'm really pleased I've found a new skin care staple, as I've been on this quest for about a year and tried more products and spent more money than I care, or dare to remember.

Customer Care: Thank you for your review. We are happy to hear that this product is working for you. Actually, not everyone reacts the same to products and it may take some experimentation to find the best products, especially when having very sensitive skin. Enjoy your new found product.

This is a fantastic toner. Leaves my skin feeling cushioned and soft after use, and not dry and taut. For skin that is dry and sensitive, I'd recommend this rather than the new Calm toner. This seems to be more geared to deal with dryness.

Best toner I have ever tried, noticed dramatic changes after first use. Skin was left soft and supple.

Excellent, soothing and calming toner for use on dry skin. I had a sample and will be buying the full sizeto use on the dryer areas of my combination skin, and for days when I need an extra moisture boost.

Love this soothing toner. I use it when my skin is red or inflamed and see a difference immediately! Feels lightweight but moisturizing.

I've used several bottles of this toner, and I love the way it soothes my skin. It definitely helps restore moisture after cleansing, and leaves my skin feeling soft and plump.

After reading numerous positive reviews, i decided to invest in this toner hoping it will help my sensitive skin and keep my skin clear, this toner has instead turned my clear skin into the entire face being covered with tiny hard bumps which are all red and really sensitive to touch, it has absolutely failed my expectations and now hoping for my face to clear up which will take a long time.dissapointed with the product and does not do what is stated on the product description at all.

This toner has very smoothing and calming effect on my skin. I apply it with my hands as if it were a serum. Then I proceed with a moisturizer. It made difference to how my skin looks I guess thanks to some good ingredients that stay on skin right after washing. I never use it under my PHA night cream (2 times a week) as I heard niacinamide can conflict with acids.

Having tried a number of toners in the range I have found this one to be the best for my skin which can, at times, feel tight following a hot shower. It is a dream to apply and I can feel the benefit as it sinks into skin. It tones down any redness caused by my mild roseacea and perfectly prepares my skin for application of BHA gel. I would not use any other toner and would highly encourage those who suffer from skin redness or rosacea to give it a try.

A really lovely toner. Feels nice on the skin and really calms it down. My skin feels a bit tight after cleansing, and this toner really helps to moisturize and make it feel comfortable again. I also like the fact that it actually has skin benefiting ingredients in it, so it really is part of the skin care routine.

More reviews Less reviews

Ingredients

What are the key ingredients?

Evening Primrose Oil
Non-fragrant plant oil that can have significant skin-soothing and emollient benefits for skin.

Panthenol (Vitamin B5)
Panthenol is a humectant because of its ability to attract and hold moisture. It improves the look and feel of skin.

Vitamin E
One of the most researched antioxidants for the body and for skin. Plays a supporting role in helping defend skin from the stress caused by UV light exposure.

Ingredients:
Aqua, Cyclopentasiloxane (hydration), Butylene Glycol (hydration), Glycereth-26 (hydration/texture-enhancing), Dimethiconol (hydration), Oenothera Biennis (Evening Primrose) Oil (non-fragrant oil/antioxidant), Borago Officinalis (Borage) Seed Oil (non-fragrant oil/antioxidant), etanorulayH muidoS (hydration/skin replenishing), Tocopheryl Acetate (vitamin E/antioxidant), Tocopherol (vitamin E/antioxidant), Ascorbyl Palmitate (vitamin C/antioxidant), Panthenol (skin replenishing), Allantoin (skin-soothing), Glycerin (hydration/skin replenishing), Hydrogenated Lecithin (skin-restoring), Caprylic/Capric Triglyceride (emollient), Niacinamide (vitamin B3/skin-restoring), Superoxide Dismutase (antioxidant), PEG-40 Hydrogenated Castor Oil (emollient), Linoleamidopropyl PG-Dimonium Chloride Phosphate (stabilizer), Laureth-4 (texture-enhancing), Laureth-23 (texture-enhancing), Disodium EDTA (stabilizer), Sodium Benzoate (preservative), Chlorphenesin (preservative), Phenoxyethanol (preservative), Benzoic Acid (preservative), Sorbic Acid (preservative).

FAQ

Why do I need a toner?

A toner is a great addition after cleansing to make sure that you've removed all of your makeup. A good toner contains antioxidants that soothe your skin and protect it, and restorative ingredients that counteract dehydration. Your skin feels softer and functions better.

What is the difference between Skin Recovery Toner and Calm Toner for normal to dry skin? Which one is right for me?

The Skin Recovery Toner has the richest texture compared to our other toners and contains more plant oils and emollients to nourish and hydrate very dry skin. The Calm Toner for normal to dry skin is specifically formulated for very sensitive skin, prone to redness.

Can I recycle this product?

This packaging is made of two components. The bottle is made from PET plastic and the cap is made from PP plastic. Please check with your local council before recycling this product.
Research
Phytotherapy Research, August 2015, issue 8, pages 1117-22 Indian Dermatology Online Journal, April-June 2013, issue 2, pages 143-146 British Journal of Dermatology, February 1996, issue 2, pages 215-20 International Journal of Cosmetic Science, February 2000, issue 1, pages 21-52 International Journal of Toxicology, 2001, volume 20, supplement 1, pages 21-45 Journal of Cosmetic and Laser Therapy, January 2006, issue 2, pages 96-101 Journal of Cutaneous and Aesthetic Surgery, January-March 2013, issue 1, pages 4–11 Journal of Cosmetic Dermatology, April 2004, issue 2, pages 88-93 International Journal of Cosmetic Science, August 2005, issue 4, pages 243-9 Journal of Cosmetic Science, July-August 2011, issue 4, pages 361-70 Dermato-Endocrinology, July 2012, issue 3, pages 253-8 International Journal of Cosmetic Science, April 2000, issue 2, pages 85-94 Dermatologic Therapy, September-October 2007, issue 5, pages 314-21