https://www.paulaschoice.co.uk/skin-recovery-daily-moisturizing-lotion-broad-spectrum-spf-30-full-size/1460.html
Skin Recovery Moisturiser SPF 30
Ultra-rich cream replenishes dry skin and provides gentle, mineral-based sun protection.

Skin Type:

Normal skin, Dry skin

Concern:

Brown spots, Very dry skin, Redness, Rosacea-prone skin, Sensitive skin

Ingredients:

Soy bean oil/sterols, Titanium Dioxide, Coenzyme Q10

View all

Routine:

Moisturizer AM
Variations
Full size 60 ml
Remove from Wishlist
Add to Wishlist
Product out of stock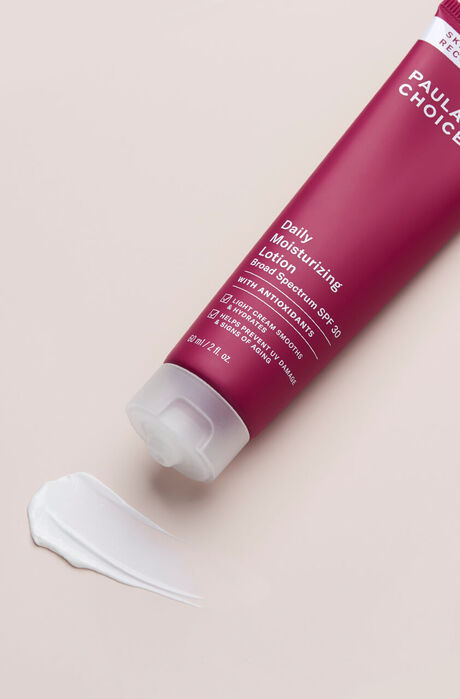 Skin Recovery Moisturiser SPF 30
Full size
This product is sold out at the moment. Fill in your email address below and we'll gladly send you an email as soon as it is back in stock!
What does it do?

Soothe and protect dry skin in one simple step.

This ultra-rich cream soothes and replenishes dry skin while providing gentle, mineral-based sun protection to prevent premature ageing. A unique complex of potent antioxidants, skin-restoring ceramides and anti-ageing peptides visibly smooth fine lines and wrinkles for softer, more supple skin.

Is this suitable for my skin?

What skin concern would you like to address?

(Please select one option)

Key Features

Suitable for rosacea-prone skin

How to use

Apply as the last step in your morning skincare routine. Allow a moment to dry before applying makeup.

Reviews

Thank you for submitting your review! It will be reviewed by our staff before it is posted.

This SPF doesn't leave you with a white chalky face like some reviews have said. It's initially white bit fades in ten minutes. Only four stars because I need to use additional moisturiser as it's not moisturising enough.

Customer Care: Hi Josie Jo, thanks for writing a review of our Skin Recovery SPF 30 Moisturizer. A disadvantage of mineral sun filters is that they can sometimes leave a white-cast on the skin when applied - we do our best to formulate our products to avoid this with as small mineral particles as possible. Typically using a smaller amount, waiting for it to absorb or rubbing it in until it's absorbed will reduce this - I'm glad you've experienced this works! If you're struggling with moisture, try using our Moisture Renewal Oil Booster before this! Feel free to reach out if you have any questions, we would love to help. Kind regards, Marissa - Paula's Choice Customer Care

I purchased this for my husband who needs a gentle face cream with SPF. He uses it all the time and it has helped calm and hydrate his skin

Actually this cream doesn't moisture at all, it supposed to hide wrinkles..... nope just highlights even more . Really money wasted. Disappointing

Customer Care: Hi, and thanks for letting us know of your experience - we're sorry to hear this didn't work for you! We encourage you to contact our customer service department, who might be able to provide you with a refund.

It's not causing any sensitivities but not moisturising enough. I am using it as SPF only and need to put another layer of moisturiser on the base...slightly disappointed.

Really good day cream. Hydrating and calming with no white cast left behind. Will purchase again. Has a nice faint cucumber like smell.

Disappointed, highlighted wrinkles instead of disguising and I don't even have that many yet, it sinks into expression lines

I found this to not be particularly moisturising for my dry skin. It has become dehydrated as a result of using this product. Really miss the Resist Anti Ageing Moituriser SPF 25. Please bring it back!

Customer Care: Thank you for your review. We are sorry to hear that this product has not worked for you. Although this is not a common response, we do understand that each customer is uniquely different in how they will respond to products or ingredients. We will of course forward your request to Paula and her team.

This moisturiser does exactly what it says on the label. After struggling with Roseacea for a while I have tried many products that either don't work or aggravate my skin. I have very fair skin which is easily dehydrated. I have been using this product in conjunction with PC Skin Recovery Antioxidant Serum with Retinol twice daily. I also apply PC Skin Perfecting 2% BHA Liquid twice per week. After one week of use my forehead cleared up and my skin tone was noticeably even, after one month my cheeks cleared up,and I hope now that given time my nose will also clear up, I'm seeing improvements here but will persevere until it is completely clear. Roseacea comes and goes in most people but I believe that with this combination of products it can be kept under control. One tube usually last's me one month however I do apply very generously.

Ordered sample set of the skin recovery pack as I have dry very sensitive skin..Loved the daily moisturiser and have just ordered in the full size. Left my skin feeling very calm and without that "tight" feeling you get when the skin is not nourished e nough. Very pleased with my first purchase from Paula's choice. Also great to have SPF sunscreen factor incorporated into moisturiser as I cannot use other sunscreen on my face as would irritate my skin

Once I tried this daily moisturiser, I've not looked back. I'm on my third tube. This is a fantastic SPF moisturiser for dry and sensitive skin. It's comforting, and the mineral SPF is very gentle, so goes on well around my eyes too. In the summer months, I switched to trusty Ultrasun as I could tell this wasn't giving me enough protection in strong sunlight and when on holiday, and it's too moisturising to keep topping up. In fact, reading the FAQ, Paula's People say that the Resist Cellular Defence, though only SPF 25, gives better protection. Might try that one in summer months. In the winter, Skin Recovery is enough I think, and very comforting.

this product kind of makes my face look a tad bit greasy after applying it. That is basically the only thing about this item that I do not like. It's the first moisturizer with SPF that does not sting or burn my face when I apply it. It takes a couple minutes for it to fully sink into my face for me (face feels tacky), but it does not leave a white cast or cause my face to breakout. I have ordered 3 tubes of this already because I'm just unsure about trying anything else as my skin is sensitive to so many things! I will stick with this and see how it goes when I experience my first winter in England this year...maybe it won't make my skin look so greasy in the cold, dry months? I must admit, this really does protect my fair skin. There have been times where I thought for sure I was still going to get burned on my face from being outside in the Florida sun, but nope! :)

I've found this cream to leaves too much of a white cast - even hours after application. I have olive skin and maybe it shows more on my colouring?? The consistency is quite difficult to apply, and you feel a little rushed before it becomes too dry. All that said, it makes my sensitive skin feel very comfortable and doesn't become shiny through the day. Maybe adding a little colour would solve the seemingly unavoidable white cast problem??
I shall try the Resist Super Light, as that has a tint, but it will probably not be hydrating enough. It would be a good addition to add tint to one of the SPF moisturisers (physical) that are intended for dry skin.
The Olay 7 Effects has a bit of yellowish colour in it, which seems to suit most people - quite unobtrusive.
I could add a little Barely There tinted moisturiser to this product to get around the ghost thing, but it's a bit of a hassle mixing it in my hands, and I'd rather my face cream was a one stop deal - as simple and as straight forward as possible with all bases covered.
I love the concept of Paula's choice though. The samples are a great idea (although a little skimpy), loads of product info, great customer service and the guarantee is very welcome too. Very well formulated and thought about products. All in all a real grasp of what the customer needs.

I have very dry, sensitive skin, and as soon as I put it on my face, I just felt relief - it is very light and moisturising with a wonderful silky texture, and it doesn't feel heavy for me at all.

I find that I do need to wear some additional moisturiser underneath when my skin feels drier than normal,but I still like the texture and feel enough that it doesn't make it a problem.

I do however agree with some of the reviewers that it is a bit too white - upgrading the product including a small amount of colour would be very welcome.

My skin has dry patches on my cheeks and is overall combination and blemish prone. I think this product would be ideal for many people, but not for me - the texture felt too heavy and emollient on even the dry areas of my skin.

I was looking for a moisturiser that would offer a good amount of SPF but also quench my dry skin whilst I had no irritation and this offer a high SPF it did nothing for my dry skin. Once winter arrived my skin just soaked all this in that when I applied make up I had the usual patches ended up having to but another moisturiser to wear underneath which defeats the whole purpose really. Won't buy again still looking for an SPF that can actually moisturise my skin.

I was a happy user of Paula's Pure Mineral Sunscreen SPF 15 until it got discontinued last year. What a bummer that was. I tried this sunscreen instead but applied by itself it leaves a white cast on my face, and I'm already very pale. Also the finish if gives me is sort of tacky and my skin feels dry after a while and I just don't like how it feels. I had Paula's new Resist Superlight SPF 30 sunscreen around, which I wasn't using at all since the dark tint made it impossible for me to use, and I decided to experiment mixing about 75% of the Skin Recovery SPF with 25% of the Superlight SPF. The result was pleasantly surprising and so far it has become my regular daily sunscreen. I have found this mixture gives me a good colour (not too dark nor too pale) and also the finish is great, my skin feels moisturized but it looks almost matte at the same time. I hope I can one day very soon at last find a good spf that ticks all the boxes and that I can use by itself, without having to mix with anything!

I have skin that is prone to extreme dryness, rosacea and allergy at times. I am aware of sun protection routines one with my type of skin should follow. So I searched and found Paula's Choice products. This moisturizer was the first thing I bought as it is so hard to find purely physical sunscreen these days. I find chemical filters might cause irritation sometimes.
Well I do not know what to think about this moisturizer as I like its texture/light scent/glowing finish/moisture it gives. I suspect that it ever so slightly makes my red rosacea spots redder. It takes time for them to calm down after I apply this cream. I do not notice anything like this effect with other creams. I do not feel any burning or stinging so I guess it might be OK reaction to something with SPF. But I will keep an eye on this cream to see if it makes any negative impact.

I have been using this product for the past 7 months. I have roseacea and my skin can feel itchy and irritated. This product has provided the much needed spf to protect my over sensitised skin. Yet it is light enough not to make your skin feel clogged like the way most other SPF's feel. It suits the combination of my skin. My cheeks can be red, dry and extremely sore, but the rest of my face is normal type. Since using this cream alongside the cleansing products there has been a marked improvement. It is the best product I have used and I have tried a lot! Very Happy, just reordered. The advice given by the Paulas Choice on-line help centre was perfect. Thank you

I've used this for about 3 years now and it's the best there is for me.My skin's combination.It dosen't look greasy just dewy on me which I love. I use it under make up and on no make up days. It's a godsend for me as I can't tolerate chemical sunscreen around eyes.I've no problem with a white cast. It does go on white but soon blends in.Feels surprisingly light.I've heard that this is going to be available in spf 30 soon. Hope this is true as then I won't have to look for a higher spf for summer.If it will be available in spf 30 I would love to know when. Customer Care : Thank you for your review. Indeed there are plans to introduce the Skin Recovery Daily Moisturizing Lotion (daytime use) with a SPF30. We hope to launch this moisturizer at the beginning of the 3rd quarter of this year.

I found this product sank into the skin immediately giving a moderate and non-greasy hydration. It provided the perfect base for foundation and the smell was very fresh, kind of like cucumbers but in a good way. I would definately recommend this product x

The ingredients are impressive and I really looked forward to using it, but even with my dry skin it took ages to sink in and left me with a pale complexion. Why cant PC develop a spf moisturiser for dry skin without the white case? Customer Care: Thank you for sharing your experience with us. For the dry skin our Pure Mineral Sunscreen with SPF15 could be a good alternative. It will be our pleasure to send you a sample.

I have to wear moisuriser underneath which defeats the purpose somehow. Not as good as some other products
Customer Care: If your skin is very dry, we advise to use a moisturizer under the sunscreen.

Having tried dozens of different moisturisers, most recently Liz Earle superskin which didn't help my dry skin at all, I'm super happy with this moisturiser. Somehow manages to hydrate my skin but with no greasy feeling. Great products. If my skin is feeling a little bit dry, I will wear the Resist moisturiser underneath.

I bought this moisturiser specifically because it was a moisturiser with SPF for dry to very dry skin. Whilst it has a nice texture and absorbs fairly quickly into my skin, I have not found it emollient enough - my skin is looks and feels quite dry about an hour after application! I am in my early 30s and wonder how the Paula's Choice range works for people who are older (and apparently tend to have drier skin)?
Customer Care: if your skin is very dry, we advise you to use a moisturizer without SPF under the Skin Recovery Daily Moisturizing Lotion with SPF15

More reviews Less reviews

Ingredients

What are the key ingredients?

Soy bean oil/sterols
Emollients similar to all non-fragrant plant oils that can be extremely helpful in making dry skin look and feel better.

Titanium Dioxide
Mineral sunscreen, protects skin from UVA and UVB radiation and, because of its gentleness, it is excellent for use on sensitive, redness-prone skin.

Coenzyme Q10
Vitamin-like substance naturally present in the body. Topical application has antioxidant and skin-soothing effects.

Ingredients:
Aqua, C12-15 Alkyl Benzoate (emollient/texture-enhancing), Isononyl Isononanoate (texture-enhancing), Titanium Dioxide (3,85%, Nano, mineral sunscreen), Prunus Armeniaca (Apricot) Kernel Oil (non-fragrant oil/emollient), Zinc Oxide (3,12%, Nano, mineral sunscreen), Cyclopentasiloxane (hydration/texture-enhancing), Glyceryl Stearate (emollient/texture-enhancing), PEG-100 Stearate (emollient/texture-enhancing), Butylene Glycol (hydration), Pentylene Glycol (hydration), Cetearyl Alcohol (emollient/texture-enhancing), Dimethicone (hydration), Glycine Soja (Soybean) Sterols (emollient), VP/Eicosene Copolymer (texture-enhancing), Avena Sativa (Oat) Kernel Extract (skin-soothing), Glycerin (hydration/skin replenishing), etanorulayH muidoS (hydration/skin replenishing), Allantoin (skin-soothing), Tocopheryl Acetate (vitamin E/antioxidant), Hydrogenated Lecithin (skin-restoring), Tetrahexyldecyl Ascorbate (vitamin C/antioxidant), Superoxide Dismutase (antioxidant), Ubiquinone (antioxidant), Ceramide NG (hydration/skin replenishing), Methicone (hydration), Palmitoyl Hexapeptide-12 (skin-restoring), PEG-10 Dimethicone (texture-enhancing), Cucumis Sativus (Cucumber) Fruit Extract (skin-soothing), Caprylic/Capric Triglyceride (emollient/texture-enhancing), Tribehenin (skin-restoring), PEG-10 Phytosterol (texture-enhancing), Sorbitan Stearate (texture-enhancing), Polyhydroxystearic Acid (texture-enhancing), Alumina (texture-enhancing), Polysorbate 20 (texture-enhancing), Aluminum Stearate (texture-enhancing), Xanthan Gum (texture-enhancing), Caprylyl Glycol (preservative), Disodium EDTA (stabilizer), Ethylhexylglycerin (preservative), Phenoxyethanol (preservative), Chlorphenesin (preservative).

FAQ

Is there another Paula's Choice product comparable to Skin Recovery Daily Moisturizing Lotion SPF 30?

Our Calm Redness Relief Moisturizer SPF 30 for normal to dry skin has the same ingredients as the Skin Recovery Daily Moisturizing Lotion SPF 30.

Can I recycle this product?

This packaging is made of two components. The tube is made from EVOH plastic and the cap is made from PP plastic. Please check with your local council before recycling this product.
Research
Seminars in Plastic Surgery, August 2016, issue 3, pages 129-133 Oxidative Medicine Longevity, 2015, volume 2015, 709628 Dermatologic Research and Practice, 2012, volume 2012, 135206 Phytotherapy Research, August 2015, issue 8, pages 1117-1122 Indian Journal of Dermatology and Venereology, March-April 2012, issue 2, pages 142-145 American Journal of Clinical Dermatology, February 2003, issue 2, pages 107-129 International Journal of Cosmetic Science, February 2000, issue 1, pages 21-52 International Journal of Toxicology, 2001, volume 20, supplement 1, pages S21-45 Dermato-Endocrinology, July 2012, issue 3, pages 253-258 International Journal of Cosmetic Science, April 2000, issue 2, pages 85-94 Indian Dermatology Online Journal, April-June 2013, issue 2, pages 143-146 The Journal of Clinical and Aesthetic Dermatology, January 2013, issue 1, pages 16-26 Biofactors, 1999, issue 2-4, pages 371-8