https://www.paulaschoice.co.uk/skin-balancing-pore-reducing-toner-full-size/1350.html
Skin Balancing Toner
Restore the balance of your skin with this lightly hydrating toner.

Skin Type:

Combination skin, Oily skin

Concern:

Breakouts, Blackheads, Enlarged pores

Ingredients:

Niacinamide/Vitamin B3, Adenosine, Glycerin

View all

Routine:

Toner
Variations
Full size 190 ml
Remove from Wishlist
Add to Wishlist
Product out of stock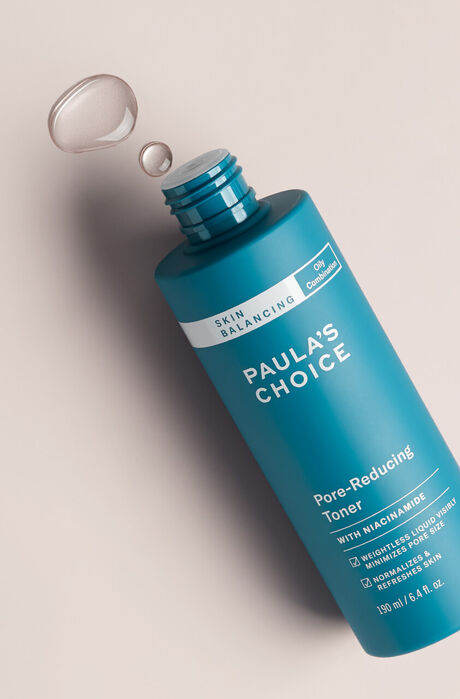 Skin Balancing Toner
Full size
This product is sold out at the moment. Fill in your email address below and we'll gladly send you an email as soon as it is back in stock!
What does it do?

Tone down oily skin and minimize pores.

Restore the balance of your skin with this light hydrating toner. Potent antioxidants, soothing plant extracts and niacinamide help to tone down oily skin and refine pores. The lightweight formula provides optimal hydration, for smooth, clearer-looking skin.

Is this suitable for my skin?

Key Features

Restores moisture balance

Fights breakouts and blackheads

How to use

After cleansing, apply a little bit of toner on a cotton pad to your face and neck. Do not rinse off.
Follow with an exfoliant, antioxidant serum and/or a day or night cream suitable for your skin type. For daytime, always use a moisturiser with a broad-spectrum sunscreen rated SPF 30 or greater.

Reviews

Thank you for submitting your review! It will be reviewed by our staff before it is posted.

I had done my morning skincare routine by the time this was delivered this morning, but I was keen to try out the texture so I put the tiniest dot on my left hand. It spread everywhere, took a few seconds to sink in and I thought - "cool, feels nice".

3 hours later I'm driving home from a meeting, my hands roughly at 10 and 2, and I look down at said hands.

This magical liquid gave me a full Madeline Ashton moment no word of a lie. For the uninitiated, my left hand looked like it did when I was 25 and my right hand was dry, red and aged.

This clearly has very potent hydrating and soothing properties which is what I'm looking for from my toner to help reduce the side effects of Tret, and I cannot wait to start using this product proper.

Hi Alex, Thank you for that great review. Sounds like you have found your ideal toner, at least for your hands, anyway! I hope that your face appreciates it just as much. Please feel free to contact us at Customer Care if you need any further product recommendations. Best wishes, Natasha - Paula's Choice Customer Care Team.

I was looking forward to seeing better results in my skin as I have started to be more intentional with skincare. Unfortunately, my face has started to break out, how does modes toner block your pores??? That's what happened really disappointed. Need some advice on what to do now!?

Customer Care: Hi Tanya, thanks for your review! I'm sorry that you haven't seen the results you expected since using our Skin Balancing Toner. Everyone's skin is unique and what might work for one person, does not for others. Please reach out to us as we may be able to help you with a return! Kind regards, Marissa - Paula's Choice Customer Care

I absolutely love this toner. It is light weight and absorbs into the skin so easily. Have been using for about two months, and I feel like my skin is brighter and more replenished.

Customer Care: Hi Elsa. It's wonderful to hear that our Skin Balancing Toner has left your skin feeling brighter and more replenished. This toner contains antioxidants that soothe and protect the skin, as well as restorative ingredients that provide hydration while still balancing oily skin. This ultimately helps your skin function better and we're so glad you're loving it just as we do! Kind regards, Shannon – Paula's Choice Customer Care

This blocked my pores quite a bit. I prefer the 2% BHA.

Customer Care: Hi Raul, I'm sorry you experienced that. Blocked pores are not a typical response to our Skin Balancing Toner, but everyone has a unique response to each product. Please know that a toner and exfoliant are not interchangeable as they both have different purposes! Toners help to remove any missed makeup, dirt, or oil, balance the skin pH and prepare it for following products. We recommend following a toner with your preferred exfoliant. Please contact a member of our customer service team who may be able to help you with a return and provide more specific skincare advice. Kind regards, Marissa - Paula's Choice Customer Care

Bought this last month as my first ever toner and I have noticed it has given me a even skintone BUT it has blocked my pores giving me blackheads on my nose and chin.

Hi Marc1. I'm sorry to hear that this toner is not a good match for your skin! Everyone's skin is unique and what might work for one person, does not for others. Please do get in touch with us for advice on suitable alternative products for you. Kind regards, Natasha - Paula's Choice Customer Care Team.

I have definitely seen a huge improvement in my pores since using this toner, as they are noticeably reduced in size. Using the toner after cleansing also makes my skin feel even more clean and refreshed.

Customer Care: Hi Rebekah, thank you for this review of our Skin Balancing Pore Reducing Toner. I'm happy to hear you've had a noticeable difference in your pore size since using this product. The light, hydrating texture is great for refreshing after you cleanse to help prepare your skin for any other products in your routine! Warm regards, Marissa - Paula's Choice Customer Care Team.

I bought this along with some other products to help with my skin which was getting very oily and irritated (face masks didn't help!). The results were instant for me, I saw a huge reduction in excess oil and pores across my forehead, nose and cheeks. Not only that my skin felt amazing! Any acne I had on my face cleared up after just over a week of use but due to my relatively young age I still struggle with a few spots here and there but this product has helped endlessly. If you're looking for a simple, reliable and effective skin care routine I highly recommend this product to be a part of it :)

I have acne combination skin, my acne is not that bad, but still. I bought this product bc I wanted a toner, and since is from Paula's Choice and for 21£ I thought this was gonna be it. I used in every way possible, not for me. My skin would get sooo dry and it would get these bumpy white pores, a lot of them. The only thing that got rid of them was stop using this toner and instead using The Paula's Choice 2% BHA toner. As I said, not for me. After 3 weeks of trying it, and not seeing any positive results, I gave it to my friend.

Hmm.. I read the reviews before buying this product and they were mixed. Some people said it caused them to breakout and I didn't want to believe it because the ingredients list sounded perfect ! And I loved her the product was fragrance free. I used this product for 3 weeks every morning and once I moisturised I would put on spf50. Unfortunately after week 2 I started getting little bumps on my face, especially on my cheeks and forehead. I continued using the product until week 3 when it become significantly worse. I've stopped using the toner and my skin is starting to bounce back. I have sensitive, combination skin.
I would say that my pores did shrink but I'm not too sure if it was as a result of the toner. Although the ingredients list is good, it can be found in other products.

Unfortunately this formulation of Niacinamide caused irritation and paradoxical post inflammatory hyperpigmentation as a result. I do have other Paula's choice products that are fine and non irritating. If you do use it test patch on a small area for a few days before applying all over your face or purchase a tester if available.

Lovely toner with no irritation. Delighted with the products from Paula's Choice.

I normally follow a very basic routine and was interested in branching out, however I wish I hadn't spent my money on this. I didn't see any difference in my pores, making me think it had no effect all. At the same time, I started having increased breakouts on my cheeks and chin - this may just be a coincidence but they have gone down since I stopped using it. My partner was trying it at the same time and he has also complained of it irritating his skin. He has oily skin and I have oily/combination. Overall I feel this product is really unnecessary, does more harm than good and adds nothing to my routine. Hopefully others will have a better experience!

Customer care:
Hi there! We're sorry the Skin Balancing Toner wasn't a fit for you! Be sure to contact our Customer Care for assistance.

I was really excited to try this toner as I've always struggled with blackheads on my chin /around my nose. Sadly it's not worked for me at all, it's actually made me break out on my forehead which I have never had before, even as a teenager! Really disappointing :(

Customer Care: Hi there! We're sorry the Skin Balancing Toner wasn't a fit for you! Be sure to contact our Customer Care for advice on alternative products.

Perfect toner for my skin. Never felt my combination skin so soft, clean and perfectly balanced after a toner. When I first purchased my first toner from Paula's choice I went for Resist anti-aging repairing toner . Even though that one is very good I always felt I can find something better for my skin. And even though my skin was looking so much better, I had a little sticky sensation and a sheen on my skin after applying it.
At first I was a bit reluctant to go for the Skin Balancing toner due to some reviews as being a good "toner moisturiser". I was afraid I was going to get something even heavier. But in the end I ordered it and it was such a wonderful surprise. The toner is perfect.
My skin looks wonderful thanks to all the Paula's Choice products. I discovered it a two months ago and already everybody is telling me how amazing my face looks . Beside that everything else about this company is a dream . Packing, delivery , customer services second to none. Thank you !

I love this toner, it feels refreshing when applied and also makes my face feel fresh after using. It leaves no stiffness, which for me is good as my face can get stiff with certain products, but with this one it doesn't. I wanted a good toner to add something a bit extra to my skin routine, I am glad I went with this one because it has lasted a long time, considering I use it once maybe even tiwce a day. The only thing with this product, it hasn't made my pores smaller. My pores aren't big at all really, but I persoanlly feel a bit conscience of them. But other than that, I feel happy using this item and would use it again.

I never thought toners did anything for me until I tried this one! It visibly reduces pores and has improved the appearance of my skin significantly. Will definitely buy again.

I purchased a sample size of this product and was really impressed so decided to buy the bottle and incorporate it into my skincare routine - very disappointed. This toner seemed to irritate my skin, leaving it really red again after I had soothed the redness with the PC Redness Relief Cleanser (which I highly recommend). This toner then also caused me to break out really quite badly, on areas of my face I hadn't broken out in before.

Customer Care: We are sorry to hear of your experience with this product. Although this is not a common response, we do understand that each customer is uniquely different in how they will respond to products or ingredients. We will be contacting you by email to recommend an alternative product.

Great toner

Customer Care: Hello, and thank you for sharing your experience with us, we are always delighted to hear from our customers.

Well done PC - an amazing range of toners covering different skin types, concerns, and giving plenty of choice for individual preference. This worked very well on my combination skin, had an enjoyable sensation when applied with a cotton pad, didn't break me out, or dry my skin, and whilst not making a dramatic noticeable difference, I trust PC's research into the ingredients and know its doing good things for me. Thanks!

I have been using this toner for 3 weeks, along with the rest of the range. I find it to be a good toner, easy to use, and I'm happy with it and would recommend.

I find this toner gives me a very oily sheen and irritates my skin, leaving little red spots. My skin feels greasy so I'm disappointed as I now have a full tub left! After speaking to customer services I've tried it in different combinations (on it's own after cleansing, with a moisturiser, without a moisturiser, without an exfoliant, etc) and I still have the same itchy and greasy feeling. Disappointing.
Customer Care: Thank you for your review. We are sorry to hear this toner is not suitable for your skin. Please contact our Customer Care Team for further assistance.

I have oily skin which is prone to redness and acne. This feels fresh and soothing. My skin always feels calm after using this. During warmer months I use this as my moisturiser and apply spf over the top. As a guy, i don't like using cotton wool as it gets trapped in my facial hair, so I pour this into my hands and pat it into my face. Brilliant product

I use this as a moisture booster for all year round to mostly apply on dry/ flaky areas of my very dry/ very oily combination skin to combat the drying affects of bha exfoliants or of spf, moisturizer and makeup with oil absorbing properties. I soak 60% of a cotton pad with the toner and first wipe it over my dry areas to deposit the most product, then wipe what remains over my oily areas. In the mornings if i want a quick cleanse i apply this all over my face then pat my T-zone with a towel. This product is good at smoothing the skin as a primer would and eases makeup application, however on very oily areas (mostly the forehead) this can leave a slight film that shines if too much is applied so powder will be needed in the day to combat this. This toner also calms body rashes.

I have sensitive skin but niacinamide does not irritate me - if you find this ingredient does sting then buy the hydralight toner.

Would also be good used as:
- a light day or night moisturizer for oily skin in dry weather.
- a light to substantial day or night moisturizer for normal to dry/oily combination skin in humid/hot summer climates/seasons.
- a quick cleanser and/ or primer for normal, dry/oily, oily skin.

I am a fan of Paula's Choice Skin Care range, but I have to agree with a previous comment- I am also experiencing a horrible oily sheen a few hours after using this toner. Have taken it out of my routine for a few weeks and by using the Clear Cleanser and Skin Balancing moisturiser my skin is relatively shine free for the day. Considering this is a toner suitable for oily skin I've found it actually seems to exacerbate the problem! My skin is much less shiny now I have stopped using it- can Paula's Choice please recommend a more suitable toner for me? I suffer from a very oily T-zone. Customer Care : Thank you for your review. We are sorry to hear the product did not produce favorable results for you. The truth is that skin care is tricky. Each person will potentially respond different to products and ingredients. Please contact customer care in the meantime so that we may analyze your routine in order to offer suggestions.

I spent years using expensive products to try to combat my very bad cystic acne in the jaw line and blackheads on my nose and chin with no success. I was very glad to find Paula's Choice products. I've first tried the "CLEAR Extra Strength Targeted Blemish Relief Toner" with great benefits, my skin was clear and free of acne, although the blackheads had not disappeared. So I decided to try the "Skin Balancing Pore-Reducing Toner" and had no luck with it, the product leaves my face too shiny, my cystic acne in the jaw line has come back and my blackheads are almost the same. I wish I'd stick to the CLEAR Toner. Customer Care : Thank you for your review. We are sorry to hear the product did not produce favorable results for you. There is a difference between the CLEAR toner and the Skin Balancing Toner. The CLEAR toner although named toner is an exfoliant and the Skin Balancing Toner is more of a tonic. Toners provide skin with a range of antioxidants and skin-repairing ingredients that restore and repair skins surface. This toner is loaded with these ingredients which help restore normal function to skin helping to eliminate the oil, and build-up which causes pores to stretch. TheCLEAR formula exfoliates both the skin's surface and inside the pore, reshaping the pore lining to unclog pores and improve skin cell turnover rate. This creates an improvement in the skin's appearance, feel, and function especially for blemish-prone skin. Additionally, BHA has anti-bacterial properties that attack blemish-causing bacteria.

I've never really used a toner before, but was persuaded by the product information and product reviews. I am very happy with this and use it at night after cleansing. It soaks in straight away and I can then follow up with my moisturiser, although normally I find just the toner is enough.

I've been using the Skin Balancing line for just under two months now and was concerned that I was still developing an oily sheen on my forehead and nose. I attributed this to Skin Balancing Daily Mattifying Lotion with SPF 15 and Antioxidants being too greasy for my skin. However, that simply isn't the case. The lotion mattifies perfectly.
Whilst wondering what product(s) caused the oily sheen, I remembered that using the toner from Simple caused the same problem and when I stopped using it, the oily sheen went away. Low and behold, when I skipped using this toner for a day my skin was nice and matte. I don't if it's the ingredients that my skin can't tolerate or that it just sits heavily on my skin, but this toner leaves an oiliness on my skin. It also causes my chin and nose to go red and on the odd occasion stings when applying it. I'm going to give it 3/5 stars for the excellent formulation and ingredients but the oiliness and redness deduct one star for each problem. Customer Care : We are sorry to hear the product did not produce favorable results for you. The truth is that skin care is tricky. Each person will potentially respond different to products and ingredients. Please contact our customer care if you need any further assistance.

I have never left a review on a skin care product before (mainly because they're not worthy of one!) however in this case WOW! What a fantastic product this is, the ingredients are first class and so are the results. Extremley well formulated and gives a genuine reason to use a toner (or start using one!). Will most definitly be purchasing from Paula again, I just wish I had discovered Paula's Choice much earlier and saved myself from Clinique's horrifying Clarifying Lotions / toners!

I wish this bottle would last longer, maybe it was just my mine as it seems to have used a considerable amount only after a couple of weeks!

I have sensitive combination skin and my normal toner seemed to be ok but this one seemed to irritate the hell out of my face making it bright red :( not a fan of this one.Customer care : Thank you for your review. We are sorry to hear about your findings and we will share your experiences with Paula and her team. It may be difficult to find the right skin care routine for the skin type you are describing (combination skin). The point is that the drier/sensitive parts of the face on the one hand and the oily T-zone and acne on the other hand, should ideally be treated differently. Sometimes problems occur when a combination skin is treated with the same products all-over.
Some ingredients which work well for the (oily) T-zone may not be suitable for the drier parts of the face and vice versa.
In all cases it is important to avoid the use of products which contain aggressive or irritating ingredients because these may deteriorate the condition of the skin. For the sensitive combination skin you might consider the Hydralight Healthy Skin Refreshing Toner.

I was recommended this by a representative of Paula's Choice after explaining the problems I have with my skin. Even though it is a little more money than I would usually pay for a toner it is actually a bit of a miracle worker! It makes your skin feels so refreshed, the only thing I can compare it too is if you've taken a walk on a bit of a windy day and your skin feels alive and fresh.
Genuinely brilliant product!

Having sensitive combination skin I've only ever had tingling if not stinging reactions to all the toners I've ever tried. I couldn't believe it when this toner just did it's job without any adverse reaction! I'll definitely continue using.

I was initially sceptical of this product as I'd never placed much faith in toners, but after using this product I can say it's great! Doesn't irritate my skin in the slightest and great as a pick me up after cleansing.

It is an awesome way of leaving a good nice layer of antioxidants and soothing ingredients onto your skin for it to absorb quickly, any time of day or night, but for me especially in the mornings before I apply my sunscreen, just to make sure I have extra antioxidant protection.

I love and have tried all of the toners, as depending on the time of the year, the weather, etc. (the eye contour area) I sometimes need one or another.

More reviews Less reviews

Ingredients

What are the key ingredients?

Niacinamide/Vitamin B3
Very effective skin-restoring ingredient that can visibly improve the appearance of enlarged pores, uneven skin tone, fine lines and dullness.

ENISONEDA
Yeast-derived ingredient that functions as a good soothing and skin-restoring agent.

Glycerin
Skin-replenishing and restoring ingredient, found naturally in skin. It helps skin to maintain a healthy look and feel, defending against dryness.

Ingredients:
Aqua, Glycerin (hydration/skin replenishing), Butylene Glycol (hydration), Niacinamide (vitamin B3/skin-restoring), Polysorbate 20 (emollient), enisonedA (skin-restoring), Anthemis Nobilis (Chamomile) Flower Extract (chamomile extract/skin-soothing), Arctium Lappa (Burdock) Root Extract (antioxidant), Hydrolyzed Jojoba Esters (hydration/skin replenishing), Sodium PCA (hydration/skin replenishing), Panthenol (skin replenishing), etanorulayH muidoS (hydration/skin replenishing), Ceramide NP (hydration/skin replenishing), Ceramide AP (hydration/skin replenishing), Ceramide EOP (hydration/skin replenishing), Phytosphingosine (hydration/skin replenishing), Cholesterol (hydration/skin replenishing), Tetrahexyldecyl Ascorbate (vitamin C/antioxidant), Oleth-10 (texture-enhancing), Sodium Lauroyl Lactylate (texture-enhancing), Caprylyl Glycol (preservative), Hexylene Glycol (preservative), Sodium Citrate (pH balancing), Xanthan Gum (texture-enhancing), Trisodium EDTA (stabilizer), Phenoxyethanol (preservative).

FAQ

Why do I need a toner?

A toner is a great addition after cleansing to make sure that you've removed all traces of makeup. A good toner contains antioxidants that soothe and protect the skin, as well as restorative ingredients that counteract dehydration. Your skin feels softer and functions better.

Can I recycle this product?

This packaging is made of two components. The tube is made from HDPE plastic and the cap is made from PP plastic. Please check with your local council before recycling this product.
Research
International Journal of Cosmetic Science, December 2006, volume 28, issue 6, pages 447-51 Molecular Medicine Reports, November 2010, issue 6, pages 895–901 Inflammopharmacology, October 2011, issue 5, pages 245-54 Journal of Cosmetic Dermatology, December 2008, issue 4, pages 281-9 American Journal of Clinical Dermatology, 2003, issue 2, pages 107-29 Indian Journal of Dermatology, May-June 2016, issue 1, 3 pages 279-287 International Journal of Cosmetic Science, February 2000, issue 1, pages 21-52 Giornale Italiano di Dermatologia e Venereologia, December 2013, issue 6, pages 687-91 Journal of Cosmetic and Laser Therapy, January 2006, issue 2, pages 96-101 Journal of Cutaneous and Aesthetic Surgery, January-March 2013, issue 1, pages 4–11 Journal of Cosmetic Dermatology, April 2004, issue 2, pages 88-93 Journal of Cosmetic Science, July-August 2011, issue 4, pages 361-70 The Journal of Clinical and Aesthetic Dermatology, March 2014, 7, issue 3, pages 18–26 Dermato-Endocrinology, July 2012, issue 3, pages 253-8 Indian Dermatology Online Journal, April-June 2013, issue 2, pages 143-146