https://www.paulaschoice.co.uk/shine-stopper-instant-matte-finish-with-microsponge-technology-full-size/3600.html
Shine Stopper
Keeps oily skin shine-free for up to 6 hours, while minimising the appearance of pores.

Skin Type:

Oily skin

Concern:

Blackheads, Enlarged pores

Ingredients:

Silicone, Glycerin

View all
Variations
Full size 30 ml
Remove from Wishlist
Add to Wishlist
Product out of stock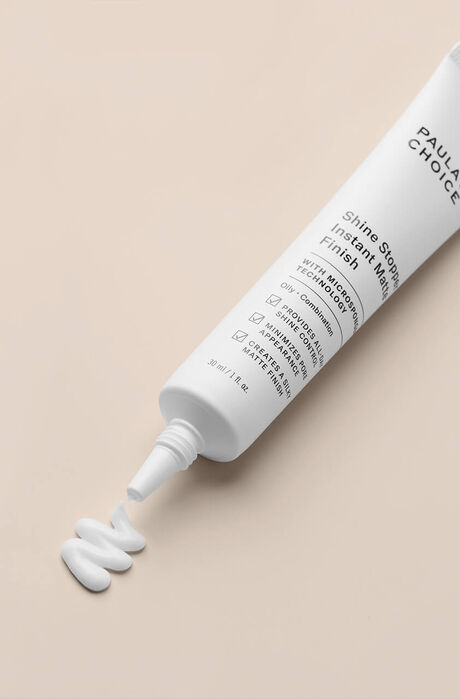 This product is sold out at the moment. Fill in your email address below and we'll gladly send you an email as soon as it is back in stock!
What does it do?

A soft, shine-free finish that lasts all day long.

This oil-absorbing primer gives a soft, powder-like finish. The unique Microsponge® technology keeps oily skin shine-free for up to 6 hours, while minimising the appearance of pores. Use it as the perfect base for flawless, long-lasting make-up or wear it alone.

Is this suitable for my skin?

Key Features

Great addition to your skincare regime

Visibly reduces enlarged pores

How to use

Use as the final step of your skincare routine. Apply a small amount by tapping your fingers on the oily parts of your face (do not rub). If you are using foundation, let this dry first before applying the Shine Stopper and possibly a face powder. You can reapply Shine Stopper during the day.

Reviews

Ingredients

What are the key ingredients?

Silicone
In its various forms it can feel like silk on skin. It's a great water-binding agent that holds up well and offers protection against moisture loss.

Glycerin
Skin-replenishing and restoring ingredient, found naturally in skin. It helps skin to maintain a healthy look and feel, defending against dryness.

Ingredients:
Aqua, Methyl Methacrylate/Glycol Dimethacrylate Crosspolymer (texture-enhancing/absorbent), Caprylic/Capric Triglyceride (emollient/texture-enhancing), Dimethicone (hydration), Cetearyl Alcohol (emollient/texture-enhancing), Glycerin (hydration/skin replenishing), PEG-100 Stearate (emollient/texture-enhancing), Magnesium Aluminum Silicate (absorbent), Glyceryl Stearate (texture-enhancing), Myristyl Myristate (texture-enhancing), Ceteareth-20 (texture-enhancing), Xanthan Gum (texture-enhancing), Disodium EDTA (stabilizer), Benzyl Alcohol (preservative), Phenoxyethanol (preservative).

FAQ

Is Shine Stopper Instant Matte Finish a primer?

Yes, Shine Stopper Instant Matte Finish is a primer in the sense that it helps those with oily skin maintain control over excess surface oil while smoothing the skin's texture. These features help enhance makeup application and wear, so you'll see longer-lasting results and won't have to touch up frequently. For best results, make sure your foundation has a matte finish.

What exactly is Microsponge® Technology?

Microsponge is a proprietary technology that works instantly and over time to help absorb and trap excess oil as it reaches your skin's surface. Much like a sponge absorbs moisture, Microsponge uses special porous polymers that not only absorb excess oil but also leave your skin feeling powdery smooth and fresh. Think of this technology as millions of spherical sponges working to keep your oily skin looking beautifully refined and perfectly matte without dryness or dullness.

Where does all of the excess oil go?

Once absorbed via the Microsponge® Technology, the excess oil remains trapped inside the unique polymers until they've reached their capacity to trap oil. Once this happens, you'll begin seeing excess shine on your skin; however, most will find that the technology built into Shine Stopper Instant Matte Finish keeps excess oil (shine) in check for several hours. When you cleanse your face, the polymers holding the excess oil are simply washed away!
Research
International Journal of Cosmetic Science, Epublication, July 2010 Molecular Pharmaceutics, September–October 2009, pages 1,441–1,448 British Journal of Dermatology, November 2006, pages 890–894; and www.microsponge.com.