https://www.paulaschoice.co.uk/resist-anti-aging-intensive-repair-cream-full-size/7810.html
Resist Anti-Aging Intensive Repair Moisturiser
Ultra-rich hydrating cream with 0.2% retinol that reinforces the skin's barrier and smooths fine lines.

Skin Type:

Dry skin

Concern:

Anti-Ageing, Brown spots, Very dry skin

Ingredients:

Niacinamide/Vitamin B3, Retinol (Vitamin A), Jojoba Oil

View all

Routine:

Moisturizer PM
Variations
Full size 50 ml
Remove from Wishlist
Add to Wishlist
Product out of stock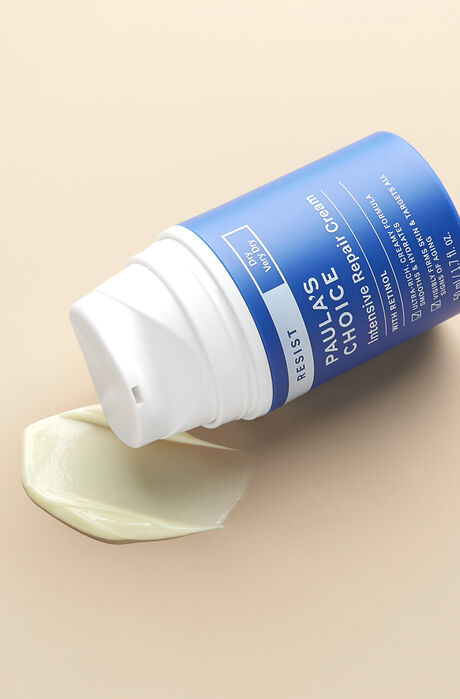 Resist Anti-Aging Intensive Repair Moisturiser
Full size
This product is sold out at the moment. Fill in your email address below and we'll gladly send you an email as soon as it is back in stock!
What does it do?

The perfect match for very dry skin with signs of ageing.

This ultra-rich cream provides deep hydration for very dry skin on face, neck and around the eye area. The concentrated formula contains retinol and peptides that work to improve firmness and reduce visible signs of ageing. The wonderfully rich texture restores skin for healthier, smoother and glowing skin.

Is this suitable for my skin?

What skin concern would you like to address?

(Please select one option)

Key Features

Softens fine lines and wrinkles

How to use

A night moisturiser is the last step in your evening routine.
Apply the moisturiser liberally to your face after cleansing, toning, exfoliating and applying an antioxidant serum or targeted treatment .

Reviews

Thank you for submitting your review! It will be reviewed by our staff before it is posted.

I have combination skin (normal to oily t zone and normal to dry cheeks), I'm in my mid 20s and I wouldn't use any other night cream. It is very rich but I don't generally wake up feeling greasy with too much product in the morning, just with soft and restored skin! The retinol is the perfect amount for me: feels like it's doing what it's meant to and with no irritation. Love that it's pretty affordable for a cruelty free, fragrance free, effective product. Only reason I chose 4 stars was that a single pump gives out slightly too much product, in my opinion: I'd prefer it to dispense a smaller portion with one pump.

Customer Care: Hi Rubi, thank you for your honest review! The Resist Intensive Repair Moisturizer is an great option for a hydration moisturizer with a low-strength retinol. As it is formulated for dry skin, the airless pump dispenses an appropriate amount to help keep dry skin moisturized. If you do find it's too heavy for your combination skin you should consider our Skin Balancing Antioxidant Serum. This is also a low-strength retinol but is made for oily/combination skin. If you'd like more personalized advice, we are happy to help you! Kind regards, Marissa - Paula's Choice Customer Care Team

This is amazing, magical cream. It takes a while to soak in but I wake with velvety soft, smoothed skin. Please continue making this!

Customer Care: Hi K, thank you for taking the time to write a review about the Resist Intensive Repair Moisturizer! It's great to hear how healthy and hydrated it's made your skin. You could also consider trying the Resist Skin Restoring Moisturizer, this is a great daytime option for dry skin as it has SPF 50! Warm regards, Marissa - Paula's Choice Customer Care Team

My all time favourite night cream. It absorbs well and leaves the skin feeling hydrated in the morning.

In it's old packaging I would have rated this 5 stars, but with the new packaging seems to have come a change in the ingredients, and not for the better. Firstly, it's changed colour, which is the biggest indicator that something has changed. It's now off-white whereas it used to be yellow. It doesn't feel as moisturising and doesn't give me that glowing skin when I wake up in the morning (like it used to). I'd describe this current version as a very averagely performing moisturiser. Really disappointed as this used to be my holy grail product. What's going on PC?

Customer Care: Thank you for your feedback. We're sorry to hear that the moisturiser doesn't seem to give you the same results, please rest assured that the formula hasn't changed. The colour of the cream can vary a bit from one batch to another. Please contact our team should you need further advice.

When you have dry skin, or like me, you are older, it can feel like your skin is drying from the inside out. This is absolutely the most luxurious product. After 50 years or more and thousands of pounds, at last a product that makes my skin comfortable, improved texture and gorgeous to apply. It is almost like having a drink when you are so thirsty. It is not greasy , it is beautiful and sometimes I use it as a mask too.

This cream is so lovely. I have normal skin without too many skin concerns other than worrying about fine lines as I'm 32. This product doesn't feel greasy but smooth and buttery..its easy to apply and you feel like you have time to work it in before it absorbs.. My skin feels enriched and well moisturized.

I have dry/combination skin and I absolutely adore this moisturiser. It has a wonderful texture that is so comforting on the skin without being too heavy. Combined with the 2% BHA liquid exfoliant I have said goodbye to stubborn blackheads - finally! I can definietly see the difference after using a retinol product on my skin, I highly recommend giving this cream a try. It's lovely around the eye area too!

My skin feel so rejuvenated after using this cream. It soaks in overnight doing just that
I agree with everything already written.
The reason I have only given it 4 stars is that the pump action of the packaging makes it difficult to get out the last of the cream, leaving wastage. Could this be rectified I wonder?

Customer Care: Thank you for your review. We are happy to hear that you are enjoying this product. We will be forwarding your review to our Product Development Team for further assessment of the pump.

This is my nighttime moisturiser which I mix with either/or 1% retinol, Resist retinol serum. It's a lovely, thick and luxurious product that really enriches the skin at night.

I use 5 PC retinol products and I believe all that retinol is the cause of my under eye area transformation! Dark circles lightened, eye bags reduced, dry lines gone, the need for serious makeup cover up banished! I've no idea if one single product is responsible for this or all combined so I'll just say it's the retinol revival!

My only issue is the lack of a proper trial size of this product and it's not the only one! The sample sachets usually contain enough of a product for 2 applications but as you can't reseal them, the ingredients are exposed to the elements so your choice is to either smother on too much product or waste it. Every product should have a proper trial size, IMHO!

I'm a 27 year old with mainly dry skin, but still break out from time to time and had quite large, clogged pores around my T-zone and chin. I had quite noticeable red marks and scars from when I squeezed spots in these areas, and my skin was quite dull.
I started using this product at the same time as the 2% BHA lotion so some of the effects I've had are hard to separate between the two, but after around 2 weeks of use, my skin was noticeably more even-toned, the scars had faded completely and new blemishes fade after a couple of days. My pores are much smaller and less noticeable and visibly 'empty' most of the time (before you could often see the stuff in them!). Finally, my eyes, which had previously always been dry and irritated when I woke up, now feel moist and fresh on a morning.
This moisturiser has an amazing, smooth, creamy but not 'heavy' texture and half a pump is more than enough for my eyes and lightly around the rest of my face (I don't like to use too much around my T-zone) so I predict a bottle will last around 3 months or more. Have already repurchased as never want to run out - excellent product, thanks Paula!

I had high hopes for this moisturiser, and in many ways I really liked it. It's a lovely yellow colour and a beautiful rich texture. It appears to be choc full of beneficial ingredients including retinol - which for me, is a major bonus as my skin can actually tolerate that well. It is a very rich cream, but absorbed into my skin well. It definitely and immediately smoothed out wrinkles, especially the fine rings around my neck, and made the skin super soft. It is maybe a little too heavy for me as my skin started look a little shiny throughout he day, but it is marketed as a rich cream for those with very dry skin, so that's understandable. My skin is normal/dry. The main issue was the dreaded watery/sensitive eyes and blurred vision that almost every cream known to man seems to produce. I was pretty gutted to get this reaction AGAIN, as overall, I really liked this moisturiser. Personally, I think it is one of Paula's best. The search continues. I'll try the Resist Barrier Repair next.

Very heavy (slightly yellow coloured) mosituriser, particularly good for night time skincare, followed by 10% AHA treatment. Does sink in rather quickly so not really all that sticky, although not sure if I would use it during the day under make up because I fear the richness will just cake my foundation cake up. Worth another sample though to get a definitive answer on this.

This took a week to arrive, so delivery is pretty bad. Normally I'd take that in to account when buying something, but to be honest this moisturiser is pretty fantastic it really blew me away. It is packed full of ingredients but more importantly it doesn't leave my skin shiny or greasy, it doesn't feel heavy, it really is super good. The packaging is a little pump which is fine by me and the pricing is pretty good even when you add on £3 for delivery. I really am happy with this moisturiser and I totally recommend it - I don't have any negatives to say about it, it is so good it makes the long delivery insignificant.

The texture of this cream is exquisite. It's definitely a cream rather than a lotion, and if you put it on oily or breakout prone skin it probably wouldn't end well. But that's not what this is designed for - and it does exactly what it says on the tin. Soothing and satisfying to spread over dry and sore skin, and the retinol boost gave me no irritation at all.

I love this new moisturiser from PC. It's perfect for my 'mature' skin. I've never said this of a product before but I really do notice a difference. The fresh moisturised feel lasts for hours and it works brilliantly under makeup. As always with P's Choice the airtight container keeps the product delivering the goods every time and there is nothing in the cream that might cause irritation. Many thanks Paula for coming up with this fabulous cream. My research is over - relief!

I LOVE THIS! It's now my favourite PC moisturiser! It's especially gorgeous if I'm going out and wearing a complete make up because it preps my skin beautifully and contains lot's of nourishing ingredients. I wear it under my SPF too in the day just because I love how it makes my skin feel!!!! I think this has to be amongst my top 3 PC products. And that's saying something! Very happy! Thank you! :)

More reviews Less reviews

Ingredients

What are the key ingredients?

Niacinamide/Vitamin B3
Very effective skin-restoring ingredient that can visibly improve the appearance of enlarged pores, uneven skin tone, fine lines and dullness.

Retinol
Powerhouse ingredient that can improve a variety of skin concerns, most related to visible signs of ageing: It's skin-restoring, wrinkle-smoothing, an antioxidant and improves sun damage.

Jojoba Oil
Shown to enhance skin's restorative properties and can also provide topical skin-soothing benefits.

Ingredients:
Aqua, Ethylhexyl Stearate (texture-enhancing), Simmondsia Chinensis (Jojoba) Seed Oil (non-fragrant antioxidant plant oil), Butylene Glycol (hydration), Glycerin (hydration/skin replenishing), Caprylic/Capric Triglyceride (hydration/skin replenishing), Petrolatum (emollient), Cetearyl Alcohol (emollient texture-enhancing), Dimethicone (skin-conditioning agent), Dipentaerythrityl Hexacaprylate/Hexacaprate (texture-enhancing), Glyceryl Stearate (texture-enhancing), Tridecyl Trimellitate (skin-conditioning agent), PEG-100 Stearate (texture-enhancing), Phenyl Trimethicone (hydration), Retinol (skin-restoring), enisonedA (skin-restoring), Palmitoyl Tetrapeptide-7 (skin-restoring), Palmitoyl Hexapeptide-12 (skin-restoring), Palmitoyl Tripeptide-1 (skin-restoring), Ceramide NG (hydration/skin replenishing), etanorulayH muidoS (hydration/skin replenishing), Magnesium Ascorbyl Phosphate (vitamin C/antioxidant), Niacinamide (skin-restoring), Tocopherol (vitamin E/antioxidant), Lecithin (fatty acid-based skin-restoring), Linoleic Acid (fatty acid-based skin-restoring), Linolenic Acid (fatty acid-based skin-restoring), Retinyl Palmitate (vitamin A/antioxidant), Glycyrrhiza Glabra (Licorice) Root Extract (skin-soothing), Camellia Oleifera (Green Tea) Seed Oil (plant-based antioxidant), Citrullus Lanatus (Watermelon) Fruit Extract (plant-based antioxidant), Lens Esculenta (Lentil) Fruit Extract (plant-based antioxidant), Pyrus Malus (Apple) Fruit Extract (plant-based antioxidant), Glycine Soja (Soybean) Sterols (plant-based antioxidant), Tribehenin (skin-conditioning agent), PEG-10 Phytosterol (texture-enhancing), Magnesium Aluminum Silicate (texture-enhancing), Sodium PCA (hydration/skin replenishing), Sodium Lactate (hydration), Sodium Hydroxide (stabilizer), Neopentyl Glycol Dicaprylate/Dicaprate (emollient), Cetearyl Glucoside (texture-enhancing), Tridecyl Stearate (emollient), Behenyl Alcohol (texture-enhancing), Sclerotium Gum (texture-enhancing), Carbomer (texture-enhancing), C12-15 Alkyl Benzoate (texture-enhancing), Polysorbate 20 (texture-enhancing), Disodium EDTA (stabilizer), Chlorphenesin (preservative), Phenoxyethanol (preservative), Benzoic Acid (pH adjuster), Sorbic Acid (preservative).

FAQ

What's the difference between Resist Intensive Repair Cream and Resist Barrier Repair Moisturizer?

The main difference is texture: The original Resist Barrier Repair Moisturizer has a lightweight lotion texture that's best for normal to slightly dry or combination skin; Resist Intensive Repair Cream has a thicker, creamier texture that's best for normal to dry or very dry skin. Both formulas contain a brilliant mix of anti-ageing ingredients, including retinol. Have normal skin? Choose based on your personal texture preference, lotion or cream!
Research
International Journal of Cosmetic Science, December 2006, issue 6, pages 447-451 Archives of Dermatology, August 2000, issue 8, pages 989-994 American Journal of Clinical Dermatology, 2003, issue 2, pages 107-129 Journal of the European Academy of Dermatology, January 2004, issue 1, pages 52-55 Evidence Based Complementary Alternative Medicine, 2013, volume 2013, article 827248 International Journal of Toxicology, 2001, volume 20, supplement 1, pages 21-45 Clinical Dermatology, August 2010, issue 4, pages 440-451 Indian Dermatology Online Journal, April-June 2013, issue 2, pages 143-146 Journal of Cosmetic and Laser Therapy, January 2006, issue 2, pages 96-101 Journal of Cutaneous and Aesthetic Surgery, January-March 2013, issue 1, pages 4-11 Journal of Cosmetic Dermatology, April 2004, issue 2, pages 88-93 Plastic Surgical Nursing, April-June 2012, issue 2, pages 71-72 Journal of the American Academy of Dermatology, March 1992, issue 3, part 2, pages 387-396 Dermatologic Therapy, May-June 2012, issue 3, pages 229-233 Indian Journal of Dermatology, May-June 2016, issue 1—3, pages 279-287 Pharmacology and Physiology, March-April 2005, issue 2, pages 81-87