https://www.paulaschoice.co.uk/omega-complex-cleansing-balm-full-size/3380.html
Omega+ Complex Cleansing Balm
A triple-action cleansing balm formulated with omegas 3, 6 and 9 to cleanse, nourish and hydrate while rinsing completely clean.

Skin Type:

All skin types

Concern:

Very dry skin, Rosacea-prone skin, Sensitive skin

Ingredients:

Caprylic/Capric Triglyceride, Meadowfoam seed oil, Jojoba Oil

View all

Routine:

Cleanser
Variations
Full size 103 ml
Remove from Wishlist
Add to Wishlist
Product out of stock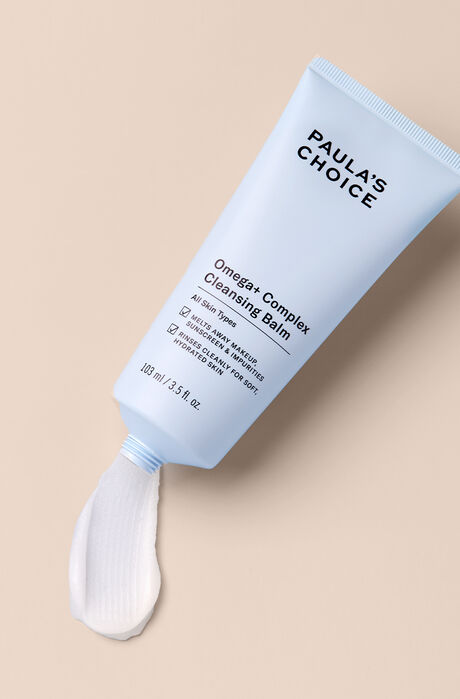 Omega+ Complex Cleansing Balm
Full size
This product is sold out at the moment. Fill in your email address below and we'll gladly send you an email as soon as it is back in stock!
What does it do?

One cleanser. Triple the action.

With a lush, velvety texture this omega-rich facial cleansing balm effectively melts away sunscreen, makeup and impurities while thoroughly – yet gently – cleansing skin. The smoothing formula rinses completely clean leaving skin feeling soft, hydrated and refreshed without ever feeling greasy.

Omega fatty acids are known for their barrier-repairing and skin-strengthening properties. Omegas 3, 6 and 9 from jojoba and meadowfoam seed oils soften and condition skin while helping to prevent moisture loss during cleansing, so skin is cleansed and nourished.

Is this suitable for my skin?

Key Features

Promotes radiant-looking skin

How to use

Gently massage a small amount onto wet or dry skin. Rinse well with lukewarm water. For a deeper clean, leave on for 60 seconds then remove with a soft washcloth.

Reviews

Ingredients

What are the key ingredients?

Caprylic/Capric Triglyceride
Derived from coconut oil and glycerin, it's considered an excellent emollient to moisturise and replenish skin.

Meadowfoam seed oil
Plant oil composed of long chain omega 9 fatty acids that acts as a softening agent in skincare and prevents moisture loss during cleansing.

Jojoba Oil
Shown to enhance skin's restorative properties and can also provide topical skin-soothing benefits.

INGREDIENTS:

Ethylhexyl Palmitate (emollient solvent), Caprylic/Capric Triglyceride (skin-replenishing), PEG-20 Glyceryl Triisostearate (emollient cleansing agent), Diisooctyl Succinate (emollient), Olive Oil PEG-7 Esters (emollient cleansing agent/emulsifier), Trihydroxystearin (texture enhancer), Glyceryl Stearate (emulsifier), Limnanthes Alba (Meadowfoam) Seed Oil (non-fragrant antioxidant/skin-softening omega fatty acid), Simmondsia Chinensis (Jojoba) Seed Oil (non-fragrant antioxidant/skin-softening omega fatty acid), Hydrogenated Rapeseed Oil (non-fragrant antioxidant/skin-softening omega fatty acid), Tocopheryl Acetate (vitamin E/antioxidant).

FAQ

Why did Paula's Choice develop the Omega+ Complex Cleansing Balm?

Cleansing balms are a great option for multi-tasking, but most on the market include fragrance, essential oils, dyes and continue to be packaged in jars. For customers who want to simplify their cleansing routine with a multi-tasking formula that effortlessly removes stubborn makeup and sunscreen while at the same time leaving skin soft and hydrated, this is the perfect option. Can be used alone or as a part of a double cleanse.

What skin type is the Omega+ Complex Cleansing Balm best for?

While this cleansing balm for the face was formulated with all skin types in mind, in general, the more supple, rich texture means it is a great option to use this cleansing balm for sensitive skin and dry skin. On application, cleansing balms warm up and transition into a silky texture that after rinsing leaves skin feeling soft, calm, and hydrated.

Can the Omega+ Complex Cleansing Balm be used alone or should it only be used as a part of a double-cleanse?

It can be used alone or paired with one of your other favourite Paula's Choice cleansers. If doing a double cleanse, use the Omega+ Complex Cleansing Balm first followed by your other cleanser.

What benefits do omega fatty acids provide if they are only briefly in contact with skin & rinsed away?

Their primary benefit is to protect and help reinforce skin's delicate barrier during the cleansing process; however, trace amounts of them are left behind after rinsing, as they work with the emollients to create a velvety-soft feeling after use rather than a greasy, film-like residue.

How does the product hold up in warmer temperatures, at what point does it start to melt and will this impact its performance?

Our extensive testing has shown that the cleansing balm formula will soften when exposed to high heat (well above room temperature, such as 38 degrees Celsius) for prolonged periods, but will not separate. This temporary softening of the balm won't impact performance, but in use you may notice its texture is thinner than usual. It will regain its natural shape when moved to a cooler temperature.

Why does the Omega+ Complex Cleansing Balm include olive oil?

It includes olive oil PEG-7 esters which work as an emollient, emulsifier, and mild cleansing agent in our Omega+ Complex Cleansing Balm. This ingredient is made from pure olive oil that's combined with PEG-7, a synthetic humectant and solvent. The blend forms a new compound that is water soluble. Olive oil PEG-7 esters work alongside other key ingredients in this cleansing balm to effortlessly whisk away excess dirt, oil, sunscreen and makeup. While we understand seeing "olive oil" as part of the ingredient name may lead some to be concerned that it may clog pores, rest assured that even if the formula contained pure olive oil, its molecular size is too large to penetrate pores. We opted for the water-soluble version so that you can enjoy the skin-softening and omega benefits of olive oil without a residue.

What are the differences between the Omega+ Complex Cleansing Balm and The UnScrub?

The products are both creamy and hydrating, but The UnScrub is meant to provide that gentle exfoliation/polishing feeling while removing dirt and sunscreen, it's not per se a makeup remover, and because of the dissolving beads it contains one should pay particular attention not to apply around the eyelids, under-brow area, and lips (where makeup is typically worn).

The Omega Cleansing Balm has superior makeup removing properties and can be used as a single step for makeup removing and cleansing at the same time. The texture is richer and more luxurious than The UnScrub. The after-feeling is also different: skin feels velvety and supple, making it well suited to dry, devitalised skin.

Can I recycle this product?

This packaging is made of two components. The tube is made from EVOH plastic and the cap is made from PP plastic. Please check with your local council before recycling this product.