https://www.paulaschoice.co.uk/lipscreen-spf-50-full-size/2560.html
Lip Balm SPF 50
Restores moisture to dry, chapped lips while protecting them from sun damage.

Skin Type:

All skin types

Concern:

Anti-Ageing

Ingredients:

Avobenzone, Shea Butter, Olive Oil

View all
Variations
Full size 4.4 ml
Remove from Wishlist
Add to Wishlist
Product out of stock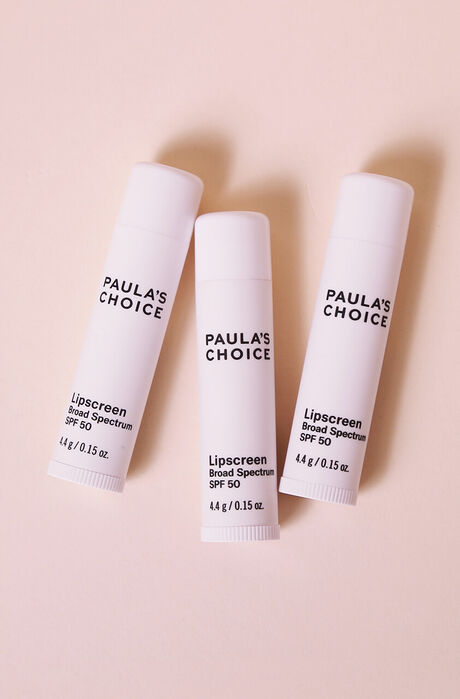 Lip Balm SPF 50
Full size
This product is sold out at the moment. Fill in your email address below and we'll gladly send you an email as soon as it is back in stock!
What does it do?

Hydrate and protect lips.

This rich, velvety balm restores moisture to rough, dry lips while protecting them from sun damage. Nourishing plant oils leave lips softer, smoother and healthier-looking. The gentle, fragrance-free formula is ideal for all skin types, and works beautifully with lipstick.

Key Features

Keeps the skin in good condition

How to use

Apply daily to prevent dry, chapped lips and keep them protected from UV exposure. Reapply as often as needed during the day.

Reviews

Thank you for submitting your review! It will be reviewed by our staff before it is posted.

I suffer terrible sun related cold sores in the summer months where I need to take prescription antiviral medicine. This balm protects my lips and stops the swelling and soreness associated with them so I don't need to take the pills. Great product!

Hi JG! Thank you for your positive review. Wonderful to hear that you no longer need to take the prescribed medication when you use our Lip Balm SPF 50 during the day! Perhaps you might also like our Lip and Body Balm for use in your PM routine. Kind regards, Natasha - Paula's Choice Customer Care.

I'm giving this product four stars only for the quality of the actual product itself, not for the value for money. The image of the product shows 3 lip balms for which £10 seemed a reasonable price. However, when it arrived it was only 1 lip balm! there is nothing particularly special about this lip balm to warrant that cost.

Customer care: Hello, and thanks for your comments! We are always looking for ways to improve our products, so we will pass along your feedback to our Product Development team!

This is the one product that I recommend to anyone that would listen. I bought it on a whim as an add on to get a free delivery and it actually changed my life. I was suffering from badly chapped lips and nothing would help, but this lip spf is a miracle and did what no other product could. I have not been able to find a substitute since it has been out of stock, nothing does a lasting job quite like this lip balm - the ones with spf are too buttery, or too scented, and none of them give that lasting hydration. I think that every skin- or hair type is unique, so what works for one person, may not work for the next. But to me this is a universally brilliant recommendation and well worth the price

This is a great balm for dry lips thanks to the different blend of butters without being too slippery. It wears well without going gloopy or sticky after it's been on for a while and doesn't look overly shiny when freshly applied as I don't want my lip balm to look like lip gloss. Guys, the formula is exactly the same as the PC4MEN balm and the packaging isn't feminine so just get whichever one is on offer. It's really diifficult to find a lip balm with sunscreen but being PC it's got high, broad spectrum SPF with added vitamin E to get the added benefit of an antioxidant.

My drawbacks for this product is that if kept in your pocket throughout the day the twister does move so you run the risk of it being pushed up to far and snapping it off and the mess that ensues trying to get it back into the tube.It does tend to melt a little because of body heat but I've never had an issue with it leaking. Another thing I'm not a fan of is the taste of the balm itself. Being so close to your mouth it's impossible to never get some in there, especially when having a drink. I can't describe the taste but it isn't particualry pleasant but you get used to it and it's a small price to pay for such an effective lip product that contains SPF which is so essential.

I completely love this!!I suffer with dry lips and this has sorted them out! I am on my second stick and I am not going to be changing brands. It leaves a slightly glossy finish which I also love :)

It is very moisturising and does not feel sticky at all. It does not smell and does not have any taste. It is a bit pricey, indeed, but the texture and the active ingredients are worth the money!

Essentially this is Lip&Body Treatment Balm in a form of chap stick which is brilliant! I adore Lip&Body Treatment Balm since it is the only lip care product that keeps my dry lips nourished even in the harshest weather but it is a bit bulky to travel with. So the slick chap stick version is amazing for travelling and just keeping it in your purse all the time. It is odourless, it has a nice texture and does the job plus it has SPF 50 - what not to like?

Customer Care: Thank you for your lovely feedback, glad you like this as well!

The lip screen feels very moisturising and the "waxy" texture stays on your lips for quite some time and does not migrate to the skin surrounding lips. I also did not get the typical sunscreen taste in my mouth (not that I am eating it). Visually it is not that shiny and not sticky.

I have tried a few fragrance free lip care products with SPF 30 and 1 product with SPF 50 that I could find in the UK. Paula's Choice one, although a bit pricy, is by far the most superior one (considering SPF 50, texture, ingredients).

I am very happy that this product is now purchasable in the UK and I will definitely keep buying it.

More reviews Less reviews

Ingredients

What are the key ingredients?

Avobenzone
Synthetic sunscreen ingredient, provides broad-spectrum sun protection and is one of the most widely used UVA filters in the world.

Shea Butter
This plant lipid, extracted from the karite tree, is used as an emollient and has smoothing properties for dry skin. it's also a rich source of antioxidants.

Olive Oil
Emollient plant oil beneficial for dry skin because of its fatty acid content.

Ingredients:
Hydrogenated Soybean Oil (non-fragrant oil/antioxidant), Bis-Diglyceryl Polyacyladipate-2 (emollient), Hydrogenated Olive Oil (non-fragrant oil/antioxidant), Polyglyceryl-3 Diisostearate (texture-enhancing), Cera Alba (Beeswax, texture-enhancing), Ozokerite (texture-enhancing), Hydrogenated Jojoba Oil (non-fragrant oil/emollient), Ethylhexyl Salicylate (Octisalate, 5%, sunscreen), Homosalate (5%, sunscreen), Polyethylene (texture-enhancing), Hydrogenated Polycyclopentadiene (texture-enhancing), Cera Microcristallina (Microcrystalline Wax, texture-enhancing), Butyl Methoxydibenzoylmethane (Avobenzone, 3%, sunscreen), Theobroma Cacao (Cocoa) Seed Butter (emollient/antioxidant), Octocrylene (2,5%, sunscreen), Silica (absorbent), Tocopheryl Acetate (vitamin E/antioxidant), Butyrospermum Parkii (Shea) Butter (emollient/antioxidant), Tocopherol (vitamin E/antioxidant), Phytosterols (skin replenishing), Olea Europaea (Olive) Fruit Oil (non-fragrant oil/antioxidant), Hydrogenated Vegetable Oil (emollient), Copernicia Cerifera (Carnauba) Wax (texture-enhancing), Aqua, Phenoxyethanol (preservative).

FAQ

How often do I need to reapply Lipscreen SPF 50?

It depends on how long you'll be in the sun and how long it lasts on your lips, which is based on what else you apply over it (like lipstick) or if it comes off after eating. If you will be in direct sunlight, it can last for several hours but be sure to reapply once it begins to wear off.

Will Lipscreen SPF 50 leave a white cast?

No this lipscreen will not leave a white cast. This lip balm with sunscreen does not contain mineral actives of titanium dioxide or zinc oxide, both of which, depending on the formula, can leave a white cast on lips.

Is Lipscreen SPF 50 OK for sensitive lips?

Yes this lipscreen is ok for sensitive lips, unless you know your lips are sensitive to one or more of the sunscreen actives this lip balm contains. Otherwise, the fragrance-free formula is exceptionally gentle and does not contain irritants like menthol, camphor, or citrus commonly seen in many lip balms.
Research
Quintessence International, Volume 45, Issue 10, 2014, pages 875–883 Journal of Oleo Science, Volume 61, Issue 7, 2012, pages 407–412 American Journal of Clinical Dermatology, December 2010, pages 413–421 Journal of the American Academy of Dermatology, May 2008, pages S149–S154 Cancer Causes & Control, July 1996, pages 458–463