https://www.paulaschoice.co.uk/earth-sourced-perfectly-natural-refreshing-toner-full-size/8510.html
Earth Sourced Toner
Made with natural ingredients, this gel toner restores, replenishes and soothes skin.

Skin Type:

All skin types

Concern:

Sensitive skin

Ingredients:

Green Tea Extract , Chamomile Flower Extract , Olive Oil

View all

Routine:

Toner
Variations
Full size 118 ml
Remove from Wishlist
Add to Wishlist
Product out of stock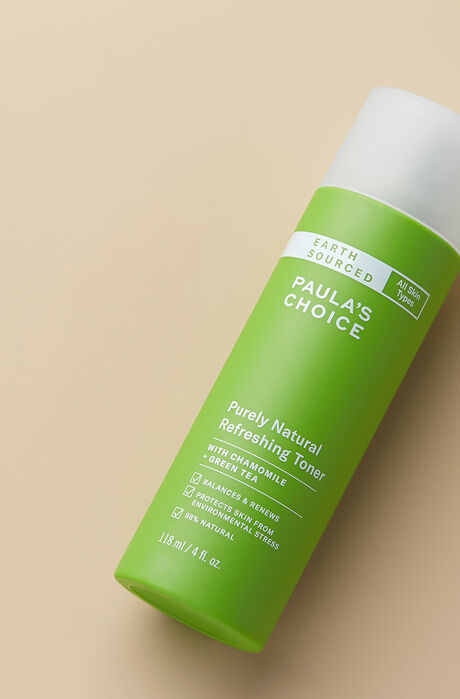 Earth Sourced Toner
Full size
This product is sold out at the moment. Fill in your email address below and we'll gladly send you an email as soon as it is back in stock!
What does it do?

The natural way to soothe and hydrate skin.

This antioxidant-rich toner replenishes and restores skin with natural, non-irritating ingredients. The innovative liquid gel formula swiftly removes the last traces of makeup and gently hydrates skin, leaving it silky-smooth with a healthy, youthful glow.

Key Features

Suitable for sensitive skin

How to use

After cleansing, apply a little bit of toner on a cotton pad to your face and neck. Do not rinse off.
Follow with an exfoliant, antioxidant serum and/or a day or night cream suitable for your skin type. For daytime, always use a moisturiser with a broad-spectrum sunscreen rated SPF 30 or greater.

Reviews

Thank you for submitting your review! It will be reviewed by our staff before it is posted.

This has become one of my staple products, I'm fairly new to skincare. I have oily combo skin, and this toner managed to hydrate and keep my skin supple. You don't need a lot, it will dry down but that's your skin absorbing it.

This is one of my favorite products. I have mixed skin which produced excess oil but dries out when I use products for oily skin. So any product that dealt with one issue virtually caused the opposite. This toner has been a life-saver. It keeps my skin hydrated and feels very light. It gets absorbed quickly and causes neither dryness nor breakouts. I decided to buy this based on its ingredients rather than its stated purpose and it's worked wonders.

Lightweight, soothing serum-like toner with a milky consistency. Feels soothing and gentle and lightly hydrates the skin--no complaints here

I had never used a toner before because i firstly i didn't see the point and then when i did try toners just irritated me and made my skin red. I dont know why but i decided to give this ago along with the other earth sourced products and i am so glad i did !! I LOVE that this is a very unique formula it is not liquid and i dont have to apply it with a cotton pad, i put literally 2 3 drops in my hands, rub them together and apply directly to the face. I like knowing that its loaded with antioxidants (check ingredients list on this site) so im giving back to my skin with this toner rather than stripping away so it makes this toner worth the extra step! :)) i couldn't be happier with the earth sourced line, it worked wonderfully for my skin :)))

I was recommended this toner by the customer support team after I told them of my skin type and concerns.
I didn't feel any calming action but kept going with it never the less.Unfortunately my skin has now broken out In quite a bad way so I will have to stop with it for now.all in all I will not be purchasing this toner again.

Customer Care: We are very sorry to hear about your experience. We are already in contact with you for a tailor made advise

Before trying Paula's Choice products on recommendation from a male Youtube makeup artist, I had never really used a toner. You were brought up to "cleanse, tone, moisturise" but as my skin didn't like to be cleansed and moisturisers didn't stay absorbed in my skin, I was hardly enthusiastic to try toning! And anyway, old fashioned toners were always described on the bottle as astringents, which if you were lucky they dried your skin out, and if unlucky they burned! I bought samples of all the toners suitable for combination skin, to try first. When I opened my small packet of Earth Sourced to try, I saw it was a slightly milky coloured gloopy type liquid which was quite thick compared to the other toners I had tried. It took a few moments to sink fully into my cotton pads, as it was so thick, and it seemed to sit in one place rather than spread/absorb across the pads. I initally didn't like the smell at all! It is almost earthy, and faintly like almond essence (marzipan) too. But it glides onto the skin nicely, and takes off most of the traces of makeup that my cleansing inevitably leaves behind. I find it quite soothing, cooling and refreshing. I imagine it to be comforting after sun exposure! It doesn't irritate my combination skin, and hasn't caused breakouts. However, I just personally prefer other toners of Paula's. I like the watery liquid toners more and find them to absorb quicker, both on cotton pads and into my skin. I also prefer their smell! It did feel good knowing that this toner was natural and that it's putting good things into my skin, but I still won't buy this one again.

I really like this toner. I had before the one from Resist for normal/dry skin, which was my first product of this type. Before that I was not using any, despite having a nice routine built with PC products. I started using toners at the recommendation of PC consultants, as I was experiencing dry skin during my first winter in London. Adding the toner into my routine made a huge difference and now I am at my second bottle. I use it twice a day, right after cleaning my face with a gentle foaming product. This step ensures that my skin will lock on moisture and be prepared to wait to be completely dry in order to apply the BHA solution. In the morning I use cleanse, apply toner, and finally, a spf moisturiser which is not very hydrating, so the toner does the trick again and keeps my skin nice and dryness-free, without having to add products which are too dense for my combination complexion.

Finally, I must add that the Earth Sourced toner seems to me very similar to the Resist Advanced one, quite similar texture, a bit like milk both. The Earth S one is NOT gel-like, it is milky, just like resist. I highlight this because after reading some reviews/product descriptions, I had the impression that is is much like a gel, but again, it is not. But rest assured, it is super nice. The ingredients differ of course, but in my opinion the effects are quite similar.

It is more like a serum, gives you a soft and hydrated finish. Can be used as a serum (and is cheaper than many other the serums!). Can be a bit irritating around the eyes.

I bought the three products of the Earth Sourced line and started using them, replacing the other cleansers, moisturizer and toner from PC. It all seemed to work very well for the first ten days or so. I was quite satisfied. However soon I began to have small bumps resurfacing all over my face and neck, which became really angry and horrible. I've had allergic reactions to some skin products before, but never something like this, it was very strange and very, very upsetting. These three products were the only change in my routine, including make up products. So finally I realized it mus be these new products, some ingredient(s) in them must have triggered something on my skin. Eventually I had to go to the emergency room and use a prescription cream to calm something that according to the doctor looked like rosacea. I had never had rosacea before in my life! My skin is still slowly recovering. So sad since I was really looking forward to using these products and had high hopes for them working for me. Fortunately customer service was quick to reply and refunded me promptly. Very, very disappointed.Customer Care : Thank you for your review. We are sorry to hear of your experience with this product. While this response is not typical, we do understand that each customer is uniquely different in how they will respond to products or ingredients. This along with everyday environmental factors can sometimes play a part in how someone will ultimately respond to a product or combination of products.

More reviews Less reviews

Ingredients

What are the key ingredients?

Green Tea Extract
Possesses potent antioxidant and skin-soothing properties and has impressive research in terms of its many benefits for skin, including anti-ageing properties.

Chamomile Flower Extract
Derived from plant species Matricaria recutita, has moderate antioxidant and potent skin-soothing activities.

Olive Oil
Emollient plant oil beneficial for dry skin because of its fatty acid content.

Ingredients:
Aqua, Glycerin (hydration/skin replenishing), Leuconostoc/Radish Root Ferment Filtrate (preservative), Xanthan Gum (texture-enhancing), Helianthus Annuus (Sunflower) Seed Oil (non-fragrant oil/antioxidant/emollient), Olea Europaea (Olive) Fruit Oil (non-fragrant oil/antioxidant/emollient), Avena Sativa (Oat) Bran Extract (skin-soothing), Camellia Oleifera (Green Tea) Leaf Extract (antioxidant), Camellia Sinensis (Green Tea) Leaf Extract (antioxidant), Chamomilla Recutita (Matricaria) Flower Extract (skin-soothing), Lycium Barbarum (Goij) Fruit Extract (antioxidant), Peucedanum Graveolens (Dill) Extract (antioxidant), Punica Granatum (Pomegranate) Extract (antioxidant), Sambucus Nigra (Black Elderberry) Fruit Extract (antioxidant), Vitis Vinifera (Grape) Seed Extract (antioxidant), Prunus Amygdalus Dulcis (Sweet Almond) Oil (non-fragrant oil/emollient), etanorulayH muidoS (hydration/skin replenishing), Sodium PCA (hydration/skin replenishing), Sodium Lactate (hydration), Hydrogenated Lecithin (skin-renewing), Vaccinium Macrocarpon (Cranberry) Seed Oil (non-fragrant oil/antioxidant/emollient), Vaccinium Myrtillus (Bilberry) Seed Oil (non-fragrant oil/antioxidant/emollient), Arginine (amino acid complex/hydration/skin replenishing), Aspartic Acid (amino acid complex/hydration/skin replenishing), Tocopherol (Vitamin E/antioxidant), PCA (hydration/skin replenishing), Glycine (amino acid complex/hydration/skin replenishing), Alanine (amino acid complex/hydration/skin replenishing), Serine (amino acid complex/hydration/skin replenishing), Valine (amino acid complex/hydration/skin replenishing), Isoleucine (amino acid complex/hydration/skin replenishing), Proline (amino acid complex/hydration/skin replenishing), Threonine (amino acid complex/hydration/skin replenishing), Histidine (amino acid complex/hydration/skin replenishing), Phenylalanine (amino acid complex/hydration/skin replenishing), Benzyl Alcohol (preservative), Phenoxyethanol (preservative).

FAQ

What is the Earth Sourced Collection?

Earth Sourced products are formulated with mainly natural ingredients. The natural ingredients used are guaranteed to be non-irritating, safe and effective for different skin types. Many natural skincare lines contain natural ingredients can actually irritate the skin and damage healthy collagen production. Paula's Choice uses a specialised, proprietary technology to ensure these natural products function as intended and without using ingredients known to cause irritation.

Why aren't all Paula's Choice products natural?

For many skin problems it is simply not possible to create effective products using only natural ingredients. Paula's Choice Earth Sourced products work effectively in combination with other Paula's Choice products developed for different skin types and/or skin problems.

Why do I need a toner?

A toner is a great addition after cleansing to make sure that you've removed your makeup. A good toner contains antioxidants that soothe and protect the skin, and restorative ingredients that counteract dehydration. Your skin feels softer and functions better.
Research
Indian Journal of Dermatology, Venereology, March-April 2012, issue 2, pages 142-5 Archives of Dermatology, August 2000, issue 8, pages 989-94 Molecular Medicine Reports, November 2010, issue 6, pages 895–901 International Journal of Cosmetic Science, February 2000, issue 1, pages 21-52 Skin Pharmacology and Physiology, 2011, issue 6, pages 289-93 International Journal of Toxicology, 2001, supplement 1, pages 21-45 Phytomedicine, January 2005, issue 1-2, pages 131-7 Clinical Dermatology, March-April 2009, issue 2, pages 159-65 Evidence Based Complementary Alternative Medicine, 2013, volume 2013, article 827248 Pharmacognosy Magazine, July 2010, issue 23, pages 198-203 Dermato-Endocrinology, July 2012, issue 3, pages 253-8 Dermatologic Therapy, September-October 2007, issue 5, pages 314-21 International Journal of Molecular Science, October 2015, issue 10, pages 24673–24706 Cosmetics, 2015, issue 3, pages 259-276