https://www.paulaschoice.co.uk/earth-sourced-perfectly-natural-cleansing-gel-full-size/8500.html
Earth Sourced Cleanser
Gentle gel cleanser made with natural ingredients effectively removes debris and make-up.

Covid-19 is impacting our supply and unfortunately this product will be out of stock for a while. We are working to make it available again as soon as we can. Sign up below to receive an email when it is back in stock. In the meantime, our skincare experts recommend using: Defense Cleanser.

Skin Type:

All skin types

Concern:

Sensitive skin

Ingredients:

Aloe Vera , Decyl Glucoside , Glycerin

View all

Routine:

Cleanser
Variations
Full size 200 ml
Remove from Wishlist
Add to Wishlist
Product out of stock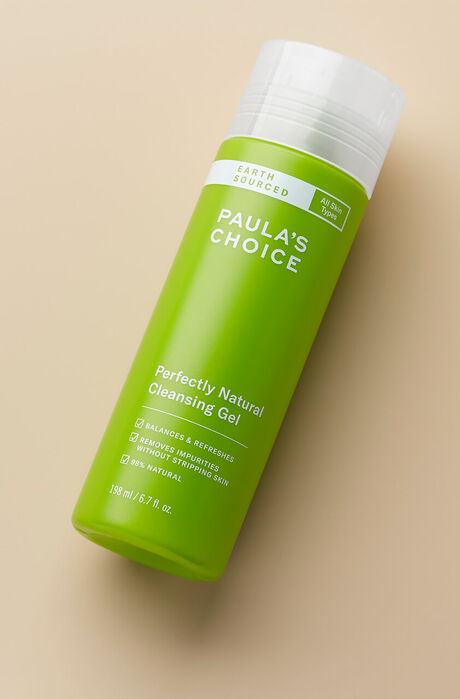 Earth Sourced Cleanser
Full size
This product is sold out at the moment. Fill in your email address below and we'll gladly send you an email as soon as it is back in stock!
What does it do?

Natural yet effective cleansing.

This exceptionally gentle gel cleanser with mainly natural ingredients effectively removes impurities and make-up leaving skin refreshed, soft and radiant. It is suitable for all skin types, even sensitive or irritated skin, and is gentle enough for use on babies or children.

Key Features

Leaves skin feeling clean and refreshed

Suitable for sensitive skin

How to use

Use morning and evening. Splash the face and eyes generously with water. Apply a small amount of cleanser to your face using vigorous yet gentle circular motions. Rinse well. Repeat or use with a clean washcloth to remove heavy makeup.

Reviews

Thank you for submitting your review! It will be reviewed by our staff before it is posted.

This is the best cleanser I have ever used - so gentle, so effective and has a surprisingly fresh and uplifting mild scent (given that it is fragrant free). Strangely, it lifts my mood when I use it. I have always thought - any cleanser will do, after all, it just rinses away. Not after I found this cleanser. It is now my go-to cleanser. I love it!

Lovely lovely cleanser, only need a small amount, very gentle, smoothes over face and rinses of so so so easily, please do a bigger bottle of this like you do with the other cleansers !

Easily my favourite of the PC cleansers I've tried. It is very gentle - I can use it on my eyes without any stinging. It also cleanses really well, whatever mood my skin is in (oily, combination, occasionally dry!).

I was hesitant to order this product after reading some of the reviews but I chanced it and am glad I did. This is a very mild facial wash that leaves your skin clean and supple. Will order again.

At first I thought this cleanser was great, but after a few days I started to suffer with dermatitis and swelling on my eyelids. I returned to my usual skin balancing cleanser and it went away. I thought I would give it another chance, just in case it was something else which caused the reaction, but the same problem happened again so have sadly relegated this one to the back of the bathroom cabinet.
If you are not sensitive to it then this cleanser is refreshing, rinses easily and lathers pleasantly, but not too much. It effectively removed my make-up, although I needed to use a separate eye-makeup remover for my mascara (which I do with most cleansers). I would say it is best for slightly oily/normal skin, but would think you may find it a little too drying if you have dry skin.

I've worked my way through almost the entire Paula's Choice cleanser range. Having oily/combination skin which can get quite dry if I'm careless with my product choice, I've been struggling to find the right balance in my cleanser. For example, the Skin Balancing cleanser is, for me, too drying. The Hydralight cleanser is, for me, also rather drying. But for quite some time, this meant the only Paula's Choice alternatives were those specifically formulated for dry skin. I dared to try both, finding only that neither seemed to properly *clean* my skin; after use of the Moisture Boost and Skin Recovery formulas, residual shine always remained in oily areas.

There is at last an option for the not-quite oily, not-quite dry skin types: The Earth Sourced Cleansing Gel.
I will make clear, before listing the main benefits of this product, that I do not subscribe to the 'All-natural' skin philosophy. The very idea that the evolution of plants and organisms on earth has been tailored towards the 21st century conception of what makes human skin look 'ok' is ridiculous. Lemons did not spontaneously appear on trees to resolve humankind's acne (not least because lemon provides absolutely no respite from acne). But, if anyone is going to be dabbling with natural ingredients, it had better be Paula.

Plus points:
- smooth, pleasant texture,
- cleans all dirt and oil, removes liquid concealer (can't vouch for other makeup types),
- gentle, non-aggravating, not especially drying,
- rinses really easily,

Minus points:
- doesn't lather up.

I bought the three products of the Earth Sourced line and started using them, replacing the other cleansers, moisturizer and toner from PC. It all seemed to work very well for the first ten days or so. I was quite satisfied. However soon I began to have small bumps resurfacing all over my face and neck, which became really angry and horrible. I've had allergic reactions to some skin products before, but never something like this, it was very strange and very, very upsetting. These three products were the only change in my routine, including make up products. So finally I realized it mus be these new products, some ingredient(s) in them must have triggered something on my skin. Eventually I had to go to the emergency room and use a prescription cream to calm something that according to the doctor looked like rosacea. I had never had rosacea before in my life! My skin is still slowly recovering. So sad since I was really looking forward to using these products and had high hopes for them working for me. Fortunately customer service was quick to reply and refunded me promptly. Very, very disappointed. Customer Care : Thank you for your review. We are sorry to hear of your experience with this product. While this response is not typical, we do understand that each customer is uniquely different in how they will respond to products or ingredients. This along with everyday environmental factors can sometimes play a part in how someone will ultimately respond to a product or combination of products.

I am really dissappointed with this cleanser and moisturiser, both have made my rosacea much worse, my face is really sore and burning, the cleanser really dries out my skin leaves it feeling really dehydrated and red, and the moisturiser feels like it does not sink into the skin and leaves a layer on top, which just makes my skin burn like crazy. I was soooo excited about these products thinking that they would really help my skin but they have just made it feel ten times worse. I have given up and stopped using them. I am really annoyed that I have wasted all this money buying the full sizes as there were no samples to try first. Customer Care: Thank you for your review. While the response you have indicated is not typical, we do understand that each customer is uniquely different in how they will respond to products or ingredients. This along with everyday environmental factors can sometimes play a part in how someone will ultimately respond to a product or combination of products. In the meantime, we have refunded the purchase price of this product to your account.

More reviews Less reviews

Ingredients

What are the key ingredients?

Aloe vera
Plant extract that has soothing properties, antioxidant qualities, and serves as a hydrating agent.

Decyl Glucoside
Sugar-derived ingredient used as a gentle cleansing agent.

Glycerin
Skin-replenishing and restoring ingredient, found naturally in skin. It helps skin to maintain a healthy look and feel, defending against dryness.

Ingredients:
Aqua, Decyl Glucoside (cleansing), Glycerin (hydration/skin replenishing), Sodium Cocoamphoacetate (cleansing), Lauryl Glucoside (cleansing), Xanthan Gum (texture-enhancing), Coco-Glucoside (cleansing), Glucose (hydration), Sodium Cocoyl Glutamate (cleansing), Sodium Lauryl Glucose Carboxylate (cleansing), Glyceryl Oleate (texture-enhancing), Aloe Barbadensis Leaf Juice (hydration/skin-soothing), Carrageenan (texture-enhancing), Sodium Phytate (stabilizer), Citric Acid (pH adjuster), Ethylhexylglycerin (preservative), Phenoxyethanol (preservative), Potassium Sorbate (preservative).

FAQ

What is the Earth Sourced Collection?

Earth Sourced products are formulated with mainly natural ingredients. The natural ingredients used are guaranteed to be non-irritating, safe and effective for different skin types. Many natural skincare lines contain natural ingredients can actually irritate the skin and damage healthy collagen production. Paula's Choice uses a specialised, proprietary technology to ensure these natural products function as intended and without using ingredients known to cause irritation

Why don't all Paula's Choice products contain only natural ingredients?

For many skin problems such as breakouts or sensitive skin, putting together an effective product selection containing only natural ingredients is not possible. Paula's Choice Earth Sourced products work beautifully in combination with other Paula's Choice products that are designed for your skin type and concern.

Is there another Paula's Choice product comparable to the Earth Sourced Perfectly Natural Cleansing Gel?

Our Earth Sourced Perfectly Natural Cleansing gel is the same formulation as our PC4Men Face Wash, with the exception of the packaging and its place in the Earth Sourced Range.
Research
International Journal of Toxicology, September-October 2013, supplement 5, pages 22S-48S Skin Research and Technology, February 2001, issue 1, pages 49–55 International Journal of Cosmetic Science, February 2000, issue 1, pages 21-52