https://www.paulaschoice.co.uk/clear-daily-skin-clearing-treatment-full-size/6120.html
Clear Skin Clearing Treatment
Targets breakouts, brown spots and wrinkles in one go.

Skin Type:

All skin types

Concern:

Breakouts, Anti-Ageing, Brown spots, Rosacea-prone skin

Ingredients:

Adenosine, Licorice root extract, Salicylic Acid/BHA

View all

Routine:

Treatment
Remove from Wishlist
Add to Wishlist
Product out of stock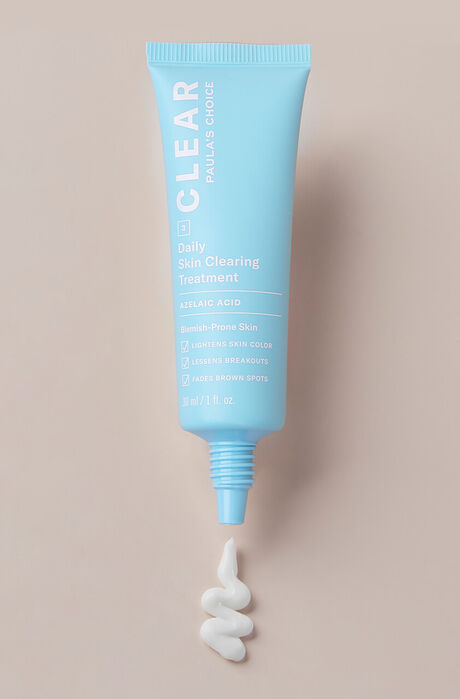 Clear Skin Clearing Treatment
Full size
This product is sold out at the moment. Fill in your email address below and we'll gladly send you an email as soon as it is back in stock!
What does it do?

Target breakouts, brown spots and wrinkles in one go.

This triple-action formula works to prevent blemishes, fade post-breakout marks and soothe redness. The lightly hydrating formula provides a velvety matte finish that minimises enlarged pores, while anti-ageing ingredients smooth skin's texture and improve skin tone.

Is this suitable for my skin?

What skin concern would you like to address?

(Please select one option)

Key Features

Reduces discolouration from breakouts

How to use

Once or twice daily, apply to face and neck. May be used alone or added to your favourite moisturiser or serum. For daytime, always follow with a sunscreen rated SPF 30 or greater.

Reviews

Thank you for submitting your review! It will be reviewed by our staff before it is posted.

I'm so pleased with how this has helped my dark scarring and spots. I have tried so many products and I'm now a Paula addict! I use it with the clear exfoliator extra strength and I've seen a huge improvement in my skin over the past few months. Would highly recommend.

Customer Care: Hi Laurab, thanks for this great review! The Clear Daily Skin Clearing Treatment works so well with a BHA exfoliant to address existing breakouts and specifically target post-blemish marks and scars. I'm so happy you're loving it! Kind regards, Marissa - Paula's Choice Customer Care

I don't know if I'm using this wrong, but it didn't help my spots at all. I have sensitive skin so maybe it just causes a bit of a reaction with my temperamental skin!

Customer Care: Hi Rosie. Sorry that you haven't seen a difference since using our Clear Treatment. To best tackle blemishes, this product should be used alongside a BHA exfoliant! It can take some time for your skin to adjust to a BHA sometimes (especially if it's sensitive!), but otherwise, our Clear Treatment is typically a great option for sensitive skin. Feel free to contact us if you'd like to discuss how to incorporate this into your routine! Kind regards, Marissa - Paula's Choice Customer Care

I love this product so much. It has absolutely helped clear my skin. I have stopped wearing the product for two weeks and I have noticed the difference it makes when I do wear it. Absolutely life changer!!!!

Customer Care: Hi Marjii, I'm so happy you love our Clear Skin Clearing Treatment as much as we do! It's that perfect extra step to tackle blemishes and discolouration, especially when combined with a BHA Exfoliant. Feel free to contact us if you ever want more individualized skincare advice! Kind regards, Marissa - Paula's Choice Customer Care

I never normally do reviews however this product has brought back my confidence!! The texture, redness and overall health of my skin has never been better and that's coming from someone who is has struggled with acne from the age of 12. I am now 20. While expensive, it lasts a while and is 10000% worth it. My only fault is the price, hence only 4 stars. Amazing product, can't see this coming out of my skincare for a long long time.

Customer Care: Hi Katie. Thank you for taking the time to leave your review of our Clear Skin Clearing Treatment. It's so great to hear how this product has brought back your confidence. This product focuses on preventing blemishes, fading post-breakout marks and soothing redness and we're happy to hear that it has worked for you. If you're ever looking for other product recommendations or routine advice, please reach out to our Customer Care Team who will be more than happy to help. Kind regards, Shannon - Paula's Choice Customer Care

I have been using this product only on spots - if I feel one coming and it stops them getting bigger or clears them up faster. I've also been using the clear bha exfoliant - extra strength- these 2 products have really helped clear up my skin.

Over quarantine my skin got worse: I had spotless smooth skin with no blemishes what so ever. I have tried The Ordinary's Niacinamide serum and Hyaluronic acid together, following the exact recommendatory amounts, however my skin started purging due to the active ingredients, or at least thats what I think it was:/
That same time as I purchased the 'duo' that I thought will save my skin, I got the 'Clear Skin Clearing treatment' due to the Azelaic Acid in it. I have not given it much thought after purchasing, thinking that the niacinamide was going to help me personally, so overlooked my HOLY GRAIL PRODUCT. Three weeks ago I stopped my routine with the niacinamide and incorporated this as the treatment, and dare I say ... my skin got clearer in the first week! I wasn't so sure when I started using it on a daily basis as I haven't heard anyone mention it or didn't have the hype, but I don't regret a penny I spent on this product.
I use it at night before bed, following with rosehip oil from the ordinary after 10 mins and then applying a spot cream if active pimples are present. --> PROBABLY THE ROUTINE THAT CHANGED MY SKIN FOR THE BETTER

I had high hopes for this product but unfortunately as soon as I apply it, my face stings and itches. As the stinging and itching didn't go away, I discontinued using it after just 3 days. I also suffered a breakout as a result of using this product. Overall, i am very disappointed.

Customer Care: Thank you for your review. We are sorry to hear of your experience and discomfort. Although this is not a common response, we do understand that each customer is uniquely different in how they will respond to certain products or ingredients. We have contacted you about our 60 day money-back guarantee.

I love this product! I have been struggling with breakouts since i was 12 and i have never found an effective spot treatment until now. i'd say it takes about 3 days of applying this before bed for a spot to be non-existent. I have very sensitive skin and this works perfect for me.

Not sure about this yet. My skin is not usually sensitive to products but this really makes it tingle and itch when applied. I apply it after using the exfoliator. Think I applied too much the first time as it made my skin red for a few days and then it went flaky and I had to stop using it and apply lots of moisturiser. I am using much a smaller amount on isolated blemishes but still makes my skin itchy and tingly and dry and rough. I have really oily skin and never usually have this reaction with any products. As yet I haven't noticed any improvement in skin tone or texture. I will persevere with this but at the moment it hasn't had the effect I wanted.

Customer Care: Hi, and thanks for letting us know of your experience - we're sorry to hear this didn't work as expected for you! In some cases, it can take up to 4-6 weeks for your skin to adjust to the new products.

I use this together with the Clear Cleanser and BHA exfoliant. I was amazed at the difference this made when I introduced it into my skincare routine. I've always had oily skin and for reasons best known it itself my skin decided to return to its teenage self about a year ago (I'm mid-40's now). I had a lot of dark spots from breakouts. The improvement in these and the reduction in breakouts with this routine has been fantastic. I still get breakouts, those blind spots that normally take forever to go, but now they go as quickly as they arrive and my skin is smoother and more even-toned.

What can I say? This stuff to me has been like magic in a bottle, after struggling with so many other brands for a year finally I found some thing that actually does what it says. My blemishes have faded and I have no more angry bumpy spots. My skin is brighter,smoother and for the first time in a very long time I was able to go out with out foundation! Literally it has changed my skin and my confidence!

This actually helped reduce my blemishes and smooth my face really loved this product

I am 35 and have struggled with my horrible skin since I was 14. I've tried everything, but found that the treatments available, even the medical stuff prescribed by a doctor, either does very little or dries my skin to such an extent that I almost prefer the acne. To be honest, I'd kind of given up.

I found out about the BHA from an article and was deeply sceptical but thought I'd give it a go. There was definite improvement after a couple of months so I decided to invest in the skin clearing treatment. Although I hoped it would do something, I was not particularly hopeful...

I'm now 4 days into using this and I am absolutely blown away by how quickly my skin has improved. All but 3 of my spots have completely cleared up, my skin tone has dramatically improved and I have NO FLAKEY SKIN AT ALL!!!

It's amazing! I am absolutely over the moon!!! I had no idea my skin could look this good and I'm not even a week into using it!!! I can wear makeup without looking like the bride of Frankenstein for the first time in my life!!! At last!!!

I'm using this in combination with the bha and a moisturiser and spf. It's not cheap but it is worth spending the money, I've never ever had results like this from any treatment I've used.

That's it now, I'm never switching brands again! Paula! Don't ever stop making this!!!!

This product did nothing for me, used it consistently for 6 weeks at night and have not seen any difference to my spots or marks. I react really well to BHA acid, but have not seen any difference in my skin since using this. It feels comfortable enough on my skin, but my spots did not calm down. If azelaic acid works for you, this might be the product for you. - but not for me unfortunately.

Customer Care Paula's Choice: Hello Ebba, and thank you for sharing your experience with us. We're sorry to hear this didn't work as expected for you, but we are glad that you used our return policy.

Can't speak of this product highly enough! Absolutely love it, it has done wonders for my skin. I'm 30 and have had rosacea for 7 years and nothing has worked anywhere near as well as this product. My red, p&p rosacean skin, with the odd hormonal breakout, is now 95% clear (there is no cure for rosacea) however just a touch of make up and my skin looks flawless! This product really does do what it says on the tin - lightens/brightens and lessens breakouts, it is also quite moisturising for my oily skin. The only thing I don't like about this product is the amount you get for your money but as long as it makes me feel like I don't need to hide my face under a paper bag I will 100% keep buying. Please never discontinue or change it PC!

My skin was never in a good condition as I've been struggling with acne for many years. Although, my acne is not severe any more I am still experiencing breakouts, redness and post-spots marks so I am trying to treat my skin with a special care. I've been trying many overcounter and prescribed products in past years but I didn't find anything meeting my expectations but I have to admit that this PC product brought hope that my skin could be in a better condition. After a year of regular use of it my breakouts are under control (they still happen but less often) and my skin looks much smoother and brighter, basically healthier. Thus, I would love to recommend this product to anyone who is struggling with similar skin concerns as mine. I think this is one of the most effective products I've ever use. Definitely worth to give it a go!
My only negative comment is that PC EU/UK do not offer student discounts opposite to USA branch.

I love this product. I've found it has made a real difference to my skin and even at the worst parts of my cycle I've had minimal breakouts. And I've had acne for 30 years!

I have used this product quite a few times in the past without that much of an issue all though it used to sting slightly it use to go away in a few minutes , however this time as soon as i put it on my face is stings and it gets worse.
It also itches quite a lot which has lead to dry irritated skin, I can use the AHA 10% and Retinol and have no issues I don't use them together though , I know it is this product because without this i have no issues with my skin care , I have used this alone and still get the stinging and itchy skin which last quite awhile almost to the point it is unbearable I have wash it off also I have tried mixing with moisturiser to get it to sting less and it hasn't worked I have stopped now I don't know if there is an alternative to this resist brightening treatment doesn't do it for me.

Customer Care: Thank you for your review. We are sorry to hear this product hasn't worked for you. Although this is not a common response, we do understand that each customer is uniquely different in how they will respond to products or ingredients. Please contact our customer care team for further assistance with finding an alternative product.

This is a good alternative to Benzoyl Peroxide which made my very oily, Indian skin flake like crazy and made it impossible to cover blemishes. I noticed the life cycle of my cystic acne with this product is sped up. Doesn't tingle or sting like BHA so a good alternative if you can't tolerate the stronger acid treatments.

I use the Clear line and have found it mainly a god- send for my 51 year old, still oily, blemish prone, break-out prone skin. I find that these products work well for me with a supplement benzoyl peroxide product BUT I found this Azalaic acid product from Paula's choice had no effect on my breakouts. I get a break out about once a month, mainly on my chin area, normally getting one or two annoying spots. It is at this time that benzoyl,peroxide, used as well as the pore normalising cleanser, balancing toner, high strength exfoliatior, clears my spots up overnight. I just see any benefit with this new product at all.

I have a fair-medium olive skin tone and have always been highly prone to hyperpigmentation from acne. I always get a spot or two that time of the month, but not since I tried this have I had to deal with the red/brown mark it always leaves behind for days-weeks. Unlike other spot treatments it's effective but gentle. I notice a marked improvement overnight. It works really well without leaving my skin dry and irritated. Now that I'm using other PC products to keep my acne at bay, I only use this once every couple months. I hope it stays effective for a looong time.

I do not know, my skin cannot take Benzoyl Peroxide - at all! (Except the La Roche-Posay Effeclar Duo, but then I see no effect). My face reacts so badly, if I use the tiniest amount my entire face get dry, flaky and itchy! So I thought this would work for me. However, I am not sure if I see any effects? I guess it is difficult to do anything with cystic acne/white heads. But sometimes, it seems to calm them down and sometimes it doesn't seem to do anything at all. It is a good product, I just see more effect by using the BHA toner and retinol products.

ok so I tried this after benzoyl peroxide 2.5% being to strong for my skin and BHA by itself not working and it did help fade the scars I already have but didn't seem to prevent any new outbreaks? was hopeing this would work as benzoyl peroxide was to harsh! if anything the spots I'm getting now are not comeing to a head and are just hanging around for ages! At least with the BHA it caused me to breakout but they came and went quicker? I'v tried using both together but nothing seems to be working for my skin this also itched like crazy and made my skin very tender.

I had high hopes for this product as a gentler alternative to Benzoyl peroxide. At first it seemed to be working - a fresh acne spot I used it on seemed to shrink faster than normal - but it had no effect on older spots or red marks - and after a few days of daily use according to the instructions, the skin on my neck got a itchy, sore rash where I had applied the product.
It didn't seem to affect the skin on my face as much, though I did notice a bit of reddening, but it also had no effect on the acne on my face.
It's a thick cream which feels odd to apply to oily, congested skin which acne sufferers often have.
I've had to discontinue use. For such an expensive product I am very disappointed. I know each persons skin is different, so I don't expect every skin care product to be right for me, but my skin is usually only slightly on the sensitive side and I've never had a reaction like this from any other product. Customer Care: Thank you for your review. We are sorry to hear of your experiences. We will contact you by email to discuss other options.

I have been struggling with moderate acne for the past 4 years. I have also been using harsh cleansers and benzoyl peroxide religiously during that period. Whilst there is no doubt that Benzoyl peroxide helped my skin in terms of breakouts, it seemed to be really harsh at the same time, constantly leaving my skin dehydrated, raw, red and peeling.It also seems that it has made my skin a lot oilier than it was previously. It would also bleach all of my clothes, towels and just about any fabric that it came into contact with - not so good.

Anyways, I bought the PC clear daily skin-clearing treatment on a whim, and have not looked back since. Ever since the first use my skin is undeniably brighter, firmer and healthier, with a lot less redness. Breakouts, oil production and redness seem to decrease with every use, and my skin is overall very happy indeed. It seems to be just as effective on my skin as benzoyl peroxide, but with more benefits than side effects, so if you struggle with mild to moderate acne I would definitely give this a try, I promise you it will be so worth it!

More reviews Less reviews

Ingredients

What are the key ingredients?

ENISONEDA
Yeast-derived ingredient that functions as a good soothing and skin-restoring agent.

Licorice root extract
Plant extract that has potent antioxidant and skin-soothing properties. Can be effective in improving the look of an uneven skin tone.

Salicylic Acid/BHA
Primarily an exfoliant, helps to shed dead skin on the surface and inside the pore, therefore effective for reducing breakouts and blackheads. It also has soothing properties.

Ingredients:
Aqua, dicA cialezA (skin brightener/antioxidant), C12-15 Alkyl Benzoate (texture-enhancing), Caprylic/Capric Triglyceride (hydration/skin replenishing), Methyl Glucose Sesquistearate (texture-enhancing), Glycerin (hydration/skin replenishing), Cetearyl Alcohol (texture-enhancing), Glyceryl Stearate (texture-enhancing), Dimethicone (hydration), Cyclopentasiloxane (hydration), Propanediol (hydration), Salicylic Acid (exfoliant), Butylene Glycol (hydration), Sclerotium Gum (texture-enhancing), Xanthan Gum (texture-enhancing), Glycyrrhiza Glabra (Licorice) Root Extract (skin-soothing), Bisabolol (skin-soothing), Allantoin (skin-soothing), enisonedA (skin-restoring), Boerhavia Diffusa Root Extract (antioxidant), Phenoxyethanol (preservative). [il63v1|(ko)]

FAQ

Is there another Paula's Choice product similar to the Clear Daily Clearing Treatment +

dica cialezA

+ BHA?

Our Clear Daily Clearing Treatment + dica cialezA + BHA is identical to our 10% dicA cialezA Booster.
Research
Dermatology Clinics, April 2016, issue 2, pages 147-157 Journal of Clinical Aesthetic Dermatology, January 2016, issue 1, pages 25-30 Phytotherapy Research, August 2015, issue 8, pages 1117-1122 Seminars in Cutaneous Medicine, June 2016, issue 2, pages 57-61 Journal of Drugs in Dermatology, June 2013, issue 6, pages 73-76 Skin Therapy Letter, November-December 2010, issue 10, pages 5-7 Seminars in Cutaneous Medicine, September 2008, issue 3, pages 170-176