https://www.paulaschoice.co.uk/breakout-fighting-bestsellers/77023.html
Breakout-Fighting Bestsellers
The Breakout-Fighting Bestsellers contains a trio of essentials to help you battle breakouts, blackheads & scars from post-breakouts marks.

Skin Type:

All skin types

Concern:

Breakouts, Blackheads, Enlarged pores

Ingredients:

Salicylic Acid/BHA, Azelaic Acid, Glycerin

View all
Remove from Wishlist
Add to Wishlist
Product out of stock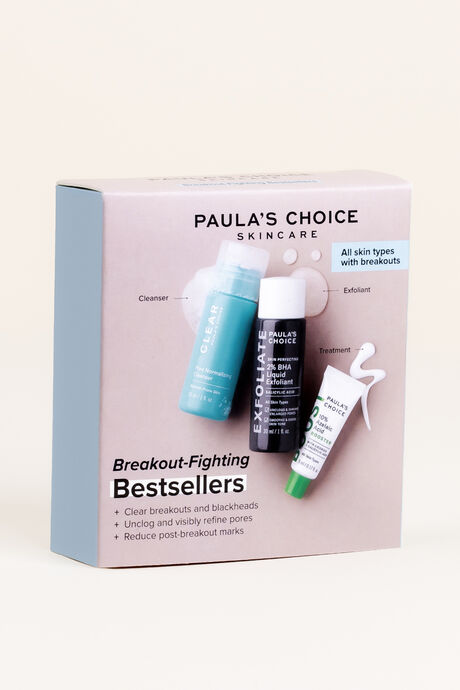 Breakout-Fighting Bestsellers
Travel size
This product is sold out at the moment. Fill in your email address below and we'll gladly send you an email as soon as it is back in stock!
What does it do?

Three bestsellers to battle breakouts

In the Breakout-Fighting Bestsellers, three travel size products will do their magic to make your skin smoother, more radiant and reduce breakouts. The Clear Cleanser washes make-up, dirt and oil from your skin. The 2% BHA Liquid Exfoliant unclogs your pores to prevent breakouts and blackheads. The 10% Azelaic Acid Booster is a powerhouse if you want to fade discoloration, like brown spots or post-breakouts marks.

Is this suitable for my skin?

What skin concern would you like to address?

(Please select one option)

Key Features

Fights breakouts and blackheads

Unclogs and visibly refines pores

Reduces discolouration from breakouts

How to use

Breakout-Fighting Bestsellers

Here is how you should use each product:

Cleanser: Use morning and evening. Splash the face and eyes generously with water. Apply a small amount of cleanser to your face using vigorous yet gentle circular motions. Rinse well. Repeat or use with a clean washcloth to remove heavy makeup.
Exfoliant: Gently apply your using fingers or a cotton pad over entire face and neck, including the eye area (avoid lash line and eyelids) after cleansing and toning. Do not rinse. Start slowly: Apply every other day and note skin's response. Then use up to twice daily. For daytime, always finish with a sunscreen rated SPF 30 or above. For nighttime, follow with the rest of your routine.
Booster: Once or twice daily, apply to face and neck. May be used alone or added to your favourite moisturiser or serum. For daytime, always follow with a sunscreen rated SPF 30 or greater.

Reviews

Ingredients

What are the key ingredients?

Salicylic Acid/BHA
Primarily an exfoliant, helps to shed dead skin on the surface and inside the pore, therefore effective for reducing breakouts and blackheads. It also has soothing properties.

DICA CIALEZA
An antioxidant that has pronounced skin-soothing effects and is effective for skin brightening.

Glycerin
Skin-replenishing and restoring ingredient, found naturally in skin. It helps skin to maintain a healthy look and feel, defending against dryness.

FAQ

Good to know before you start using your exfoliant.

It is best to gradually build up use of a BHA product. Start by using your exfoliant once every other day and then increase usage to once or twice daily based on your skin's response. You need to experiment a bit to see what suits your skin best. During the day, always use a moisturiser with a broad-spectrum sunscreen rated SPF 30 or greater. Your skin will in fact be slightly more sensitive to sunlight when using an exfoliant, so the chance of sunburn and sun damage is slightly higher.

Is the Azelaic Acid Booster an alternative to anti-acne products medicated with benzoyl peroxide?

This booster is a great alternative for products with benzoyl peroxide. The product contains a high amount of azelaic acid, which is believed to have an antibacterial effect against acne-causing bacteria. It also functions as a potent anti-inflammatory, so it helps reduce the swelling and redness that often accompanies acne. Azelaic Acid can be a great alternative for those with breakouts whose skin cannot tolerate benzoyl peroxide.