https://www.paulaschoice.co.uk/all-over-hair-and-body-shampoo-full-size/5000.html
Hair & Body Shampoo
Gently cleanses without drying out skin or hair.

Skin Type:

All skin types

Concern:

Sensitive skin

Ingredients:

Aloe Vera , Panthenol (Vitamin B5) , Sodium Laureth Sulfate

View all
Variations
Full size 429 ml
Remove from Wishlist
Add to Wishlist
Product out of stock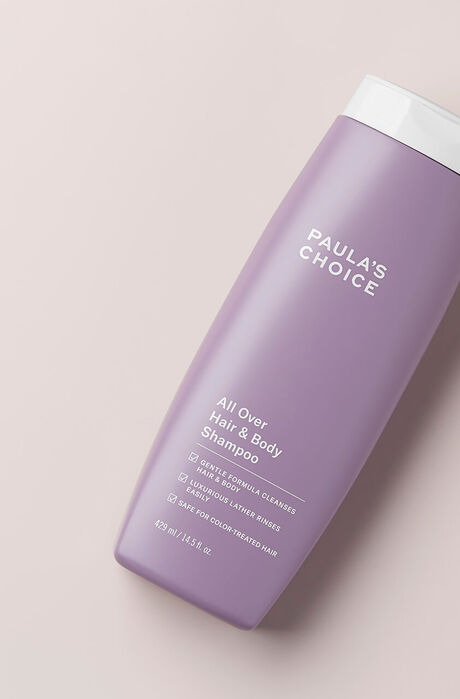 Hair & Body Shampoo
Full size
This product is sold out at the moment. Fill in your email address below and we'll gladly send you an email as soon as it is back in stock!
What does it do?

Perfect for the whole family.

This multi-tasking formula effectively cleanses the hair and body in one application without causing dryness. The gentle, rich formula is free of soap, fragrance and other irritating ingredients, making it suitable for every skin type, hair type and scalp concern.

Key Features

Leaves skin feeling clean and refreshed

Cleanses skin without drying it out

How to use

As a Shampoo: Apply to wet hair and gently massage into scalp. Lather, then rinse thoroughly. Repeat if necessary and follow with a conditioner. As a Body Wash: Smooth over wet skin to create a lather, then rinse thoroughly.

Reviews

Thank you for submitting your review! It will be reviewed by our staff before it is posted.

This is OK as a shower gel but strips hair and feels squeaky/straw like after rinsing. Also the bottle dispenses far too much product. Not worth the price in my opinion.

A truly amazing product. I can't believe how much money I have wasted on shampoos over the years. Perfect for travel too as it cuts down the number of products you have to carry. Leaves my dry hair feeling amazing soft.

As a new Paula's Choice fan I had really high expectations of this product and it definitely exceeded them. This shampoo cleans my hair and body without irritating them at all and leaves my skin plump and hydrated. However there is a minor flaw as it I always end up squeezing way too much of the product. I am waiting for a change in the container of this product. Other than that it's a must have!

I enjoyed using this as a shampoo and a body gel - it was cleansing, rinsed easily, felt lightly hydrating and silky and didn't irritate my skin.

However it's still just a fairly basic unfragranced shower gel - no amazingly unusual or expensive ingredients, just standard cleansers and some aloe vera from what I can see. It works effectively, and if I was rich I would use it all the time because it is the nicest shower gel I've used - but at over £17 a bottle it's simply outrageously overpriced for what it is, and I have to prioritise what I can afford to buy from the Paula's Choice range.

There are plenty of shower gels out there which are very nearly as good as this one and which cost a tiny fraction of the price - I simply don't see how this one can justify being so expensive.

If I win the lotto great - until then I simply cannot afford to use this if I was to use PC products on my face - and unlike other PC products I don't feel this offers really advanced ingredients or amazing effects to justify the high price.

I have used this for about a year and would not use anything else! Other brands tend to make my scalp itch and give me a red rash. I have never had a problem with this one. I mainly use it as a shampoo on myself but I use it as a body wash as well as shampoo on my daughter. A little goes a long way so works out to be quite economical compared to other shampoos/bodywashes. May I add that the customer service is also fantastic!

I can't praise Paula's Choice enough and this is one of the standout products. It lathers beautifully, rinses easily and leaves skin and hair soft.

SKIN: I am prone to the odd breakout on my back (bacne, as it's known) and anything with fragrance or added moisturisers really irritates the skin. This body shampoo keeps my back clear and my skin smoother than anything I've ever tried. I've actually had compliments on how soft my skin is!

HAIR: I used to bleach my hair and this shampoo was gentle and moisturising enough to keep my hair shiny and manageable. No buildup, no dryness. I've been using it for years and it is, without a doubt, the best shampoo available.

I bought this recently because I read a review that you could also use it as a face wash. It's really lovely to use and if I was going away for a weekend I would pack it in my bag to replace my usual shampoo, shower gel and face wash. A 3 in 1 product and at such a good price. Well done!

More reviews Less reviews

Ingredients

What are the key ingredients?

Aloe vera
Plant extract that has soothing properties, antioxidant qualities, and serves as a hydrating agent.

Panthenol (Vitamin B5)
Panthenol is a humectant because of its ability to attract and hold moisture. It improves the look and feel of skin.

Sodium Laureth Sulfate
Gentle cleansing ingredient for all skin types.

Ingredients:
Aqua, Sodium Laureth Sulfate (cleansing), Ammonium Laureth Sulfate (cleansing), Cocamidopropyl Betaine (cleansing), Sodium Chloride (stabilizer), Panthenol (vitamin B5/replenishing), Hydrolyzed Soy Protein (replenishing), Polyquaternium-10 (hair conditioning/detangling agent), Aloe Barbadensis Leaf Juice Powder (hydration), Disodium EDTA (stabilizer), Citric Acid (pH adjuster), Sorbic Acid (preservative).

FAQ

Is All Over Hair & Body Shampoo safe for colour- or chemically-treated hair?

This product is safe for coloured/ chemically treated hair. If your hair is colour-treated, permed, straightened, or relaxed we highly recommend following with Paula's Choice Smooth Finish Conditioner.

I have acne on my chest/back. Will the ingredients in All Over Hair & Body Shampoo clog pores or make acne worse?

In all likelihood, no. Although Paula refrains from making non-comedogenic claims for her products (because there are no standards in place to regulate that claim), All Over Hair & Body Shampoo does not contain heavy, thick, or oily conditioning agents and doesn't leave a film on skin. The water-soluble formula is gentle and rinses cleanly, prepping breakout-prone skin for subsequent anti-acne treatments.

Can I use All Over Hair & Body Shampoo to wash my baby or child?

Although as a general rule we always recommend asking your doctor before using any new product on a baby or child's skin. Paula's Choice All Over Hair & Body Shampoo is very gentle, and the fact that it is fragrance-free makes it a safer bet than most baby shampoos.

Does All Over Hair & Body Shampoo work better as a shampoo or body wash?

It works perfectly as both. Paula designed this product to be equally effective for shampooing hair and cleansing the body.

Is there another Paula's Choice product similar to the Hair & Body Shampoo?

Our Hair & Body Shampoo is identical to our PC4Men Body Wash.
Research
Indian Journal of Dermatology, 2008, issue 4, pages 163-166 Indian Journal of Dermatology, May-June 2015, issue 3, pages 248–254 Journal of Cosmetic Science, July-August 2011, issue 4, pages 361-70 International Journal of Trichology, 2015, issue 1, pages 2-15