https://www.paulaschoice.co.uk/the-youth-restoring-set---oily-skin/2STARTERKITAAOILY.html
The Youth-Restoring Set - Oily Skin
Target signs of ageing and erase imperfections with this trio of smoothing and replenishing products.

Skin Type:

All Skin Types

Concern:

Breakouts, Anti-Ageing, Blackheads

Ingredients:

Retinol (Vitamin A), Salicylic Acid/BHA, Bakuchiol

View all
Remove from Wishlist
Add to Wishlist
Product out of stock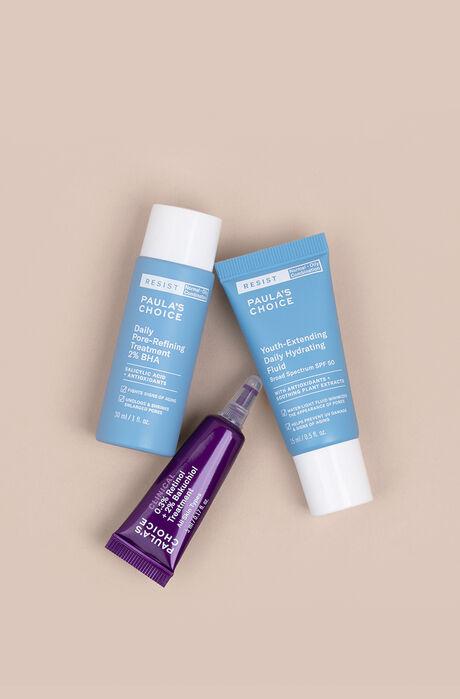 The Youth-Restoring Set - Oily Skin
This product is sold out at the moment. Fill in your email address below and we'll gladly send you an email as soon as it is back in stock!
What does it do?

Erase imperfections and target signs of ageing with three skin-smoothing products.

Targeting breakouts as well as signs of ageing just got a little bit simpler thanks to this skin-refining set tailored to oily skin.

Resist Anti-Aging 2% BHA Exfoliant refines pores and removes dead skin cells to reveal your radiant underneath.

Smooth your skin's surface and target multiple signs of ageing with our Clinical 0.3% Retinol + 2% Bakuchiol Treatment. This powerful blend softens fine lines and wrinkles, evens skin tone and restores firmness.

Protect your skin from the sun with Resist Anti-Aging Moisturiser SPF 50. This weightless formula contains SPF 50 plus a blend of antioxidants to defend against sun damage and environmental assault. The formula hydrates skin and has a soft-matte finish.

Key Features

Removes built-up dead skin cells

Softens fine lines and wrinkles

How to use

Directions for use can be found on the product pages of the individual products.

Reviews

Ingredients

What are the key ingredients?

Retinol
Powerhouse ingredient that can improve a variety of skin concerns, most related to visible signs of ageing: It's skin-restoring, wrinkle-smoothing, an antioxidant and improves sun damage.

Salicylic Acid/BHA
Primarily an exfoliant, helps to shed dead skin on the surface and inside the pore, therefore effective for reducing breakouts and blackheads. It also has soothing properties.

Bakuchiol
Natural ingredient with skin healing capacity. Stimulates the effect of retinol.

FAQ

Good to know before you start using your exfoliant.

It is best to gradually build up use of a BHA product. Start by using your exfoliant once every other day and then increase usage to once or twice daily based on your skin's response. You need to experiment a bit to see what suits your skin best. During the day, always use a moisturiser with a broad-spectrum sunscreen rated SPF 30 or greater. Your skin will in fact be slightly more sensitive to sunlight when using an exfoliant, so the chance of sunburn and sun damage is slightly higher.

How is this Resist BHA exfoliant different from the Skin Perfecting BHA exfoliants?

Resist Daily Pore-Refining Treatment is the only BHA product in the Paula's Choice range that combines 2% salicylic acid, anti-ageing peptides, skin-repairing ingredients and antioxidants. Together, these ingredients improve multiple signs of ageing, clear blackheads and breakouts, and reduce redness and enlarged pores.

What is bakuchiol?

Bakuchiol is a vegan ingredient found in the leaves and seeds of the Psoralea corylifolia plant. It's said to be a natural alternative to retinol, but it's important to keep in mind that "alternative" does not mean "equivalent". Scientific research has shown that bakuchiol delivers some of the same benefits as retinol, but both retinol and bakuchiol also have unique benefits. When looking for bakuchiol skincare products such as a bakuchiol serum or cream you may want to choose formulas that also contain retinol so you can benefit from both of these ingredients instead of choosing between them.

How does bakuchiol work?

Research shows that the natural anti-inflammatory properties of bakuchiol makes it easier for the skin to tolerate retinol. It is one of the rare ingredients that makes retinol more effective by stabilising its action. Bakuchiol cosmetics can even work better than products which contain ingredients that are usually used for this, such as vitamin E.