https://www.paulaschoice.co.uk/the-unscrub/7400.html
The UnScrub
The UnScrub is a cleansing face scrub with natural dissolvable jojoba beads that gently cleanses and polishes skin, leaving it silky soft and never dry or red.

Skin Type:

All skin types

Concern:

Sensitive skin

Ingredients:

Jojoba esters, Glycerin, Chamomile Flower Extract

View all

Routine:

Cleanser
Remove from Wishlist
Add to Wishlist
Product out of stock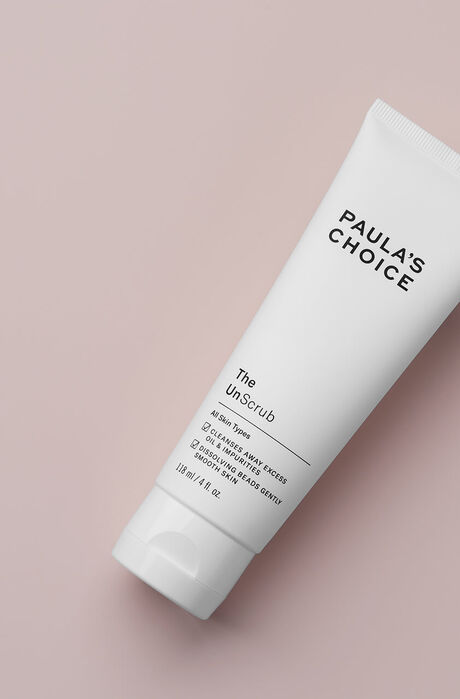 This product is sold out at the moment. Fill in your email address below and we'll gladly send you an email as soon as it is back in stock!
What does it do?

Finally, a scrub done right.

Meet The UnScrub:

Gentle cleansing with zero irritation
Leaves skin super soft and smooth
Natural, dissolvable jojoba beads

The UnScrub is perfect for those who love the extra-clean (but never tight or dry) feeling a well-formulated scrub provides. The UnScrub removes all makeup, sunscreen and impurities and gently polishes skin with natural, biodegradable jojoba beads that dissolve as you cleanse, making it impossible to over-scrub. Reveal soft, smoother-than-ever skin without any redness or irritation.

Is this suitable for my skin?

Key Features

Dissolvable beads gently cleanse

How to use

Wet your face and apply a small amount of the UnScrub to skin using gentle, circular motions. Rinse well with lukewarm water. To remove heavy makeup, you can repeat this step or wipe gently with a soft, damp washcloth.

Reviews

Thank you for submitting your review! It will be reviewed by our staff before it is posted.

Lovely scrub! The beads disappear while scrubbing, leaving my skin silky soft. I only use it once in a while, but I'm always surprised how nice it feels.

Hi Manon, thanks for your nice review! Great, that you find our UnScrub lovely to use! If you wish to use it more often, you can use it alone as your main cleanser or as part of a double-cleanse, in conjunction with your regular cleanser. Best wishes, Natasha - Paula's Choice Customer Care Team

So far this has been the most effective exfloiant I have ever used. I have oily skin and large pores so I took to scrubs to in the hope of keeping my skin clear. But beacuse I was still getting balckheads and spots I though I was scrubbing enough. So I got very aggressive when scrubbing my skin, and probably did a bit damage. I got this as a sample with one of my orders and I was not very confident. But PC proved me wrong, my face feels clean, skin soft and best of all I dont have to rub my face raw.
I got this as a free gift with some other products and I was amazed my skin was clean, and I didn't have to scrub my face raw to do it.


Hi Alaina! Thank you for taking the time to leave a review for this product. In general, over scrubbing your skin can lead to damage of your skin's barrier. This product comes in handy, to avoid such damage and lovely that you have noticed the difference! Kind Regards, Denisa - Paula's Choice Customer Care Team

I got this initially as a gift then went on to buy the full size. I am in love with this product. Putting it on my face, then rubbing it till the beads dissolve is become therapeutic for me. It cleanses without drying my skin out. I just love this and am buying another one because of the fear of running out of it. Am obsessed with this product full stop. I use it both day and night, I can't get enough of this product.

Customer Care: Hi Xtyqueen, thanks for reviewing our UnScrub cleanser. I'm so happy you're loving it! The dissolvable jojoba beads are gentle and non-abrasive and help to polish for soft, smooth and hydrated skin. Make sure to follow with an exfoliant for long-lasting results. Kind regards, Marissa - Paula's Choice Customer Care

I had high hopes for this scrub, but as all other scrubs I ever tried, this one was also too rough for my skin. It is more gentle than many scrubs I tried, but still made my skin irritated. I guess if Paula couldn't do it, no one can, and scrub is just not my product. But if you normally use scrubs, it is worth trying.


Customer service: Hi there! We're sorry the The UnScrub wasn't a fit for you! Although this is not a common response, we do understand that each customer is uniquely different in how they will respond to certain products or ingredients. Be sure to contact our Customer Care for assistance.

I use this scrub regularly, I've found it to be much gentler on my skin than my previous cleansing method (cleanser + flannel). Leaves my skin feeling smooth and clean, but it doesn't dry me out, and the jojoba beads dissolve which is better for the environment. I like to use this as part of a double cleanse method with another gentle cleanser.

Unscrub is the Holy Grail for yhe perfect skincare routine. Beside the fact that jojoba beads give a slight scrubbing effect, it also cleanse without drying the skin. My skin feel so soft, refreshed and no dryness at all. I'm in love with this product!

It is pleasant, non-irritating, and it cleanses my face well, but it doesn't do much else - the beads melt away too quickly to have more of an effect.

This is a really nice scrub/cleanser. My skin definitely feels smooth and clean after using it, without feeling at all dry or irritated. The beads do a good job of scrubbing without being too harsh. Definitely recommend this if you are looking for a scrub or just a good cleanser.

Paula has now unveiled a scrub after years of saying no. I bought a trial size of this and I like it. Have only had it about a week or so and have used it twice. It makes my skin feel silky and more importantly it seems to help my nose area which tends to feel congested at times. Only time will tell. Watch this space.

I hadn't expected to like this scrub as much as I do. I've ordered the full size after receiving the travel size. My skin is highly sensitive, I must wear mineral sunscreens and makeup. Takes everything off beautifully without any irritation. I can't recommend it enough.

This is a game-changer! I had almost given up on scrubs as they'd been harsh on my skin but this left my skin soft and smooth without stripping it of its moisture, will definitely be buying again.

I received this product as a gift with my order and I love how well it cleanses my skin and leaves it clean without irritation. The beads dissolve in a gentle way which is very nice. I will definitely buy the full size when I finish this one!

It's unlike any scrub I've tried before! It has these unique, jelly-like beads that make your skin feel so soft. Loving it! 👍😍

The best part about this product for me is that I can thoroughly cleanse my face without the risk of damaging my skin. I have combination skin and I alternate the UnScrub with my normal Paula's Choice cleanser. The Unscrub leaves my skin really smooth and soft, without the irritation and tight feeling I used to get from other scrubs in the past.

More reviews Less reviews

Ingredients

What are the key ingredients?

Jojoba esters
Environmentally friendly, dissolvable beads that cleanse skin without causing damage.

Glycerin
Skin-replenishing and restoring ingredient, found naturally in skin. It helps skin to maintain a healthy look and feel, defending against dryness.

Chamomile Flower Extract
Derived from plant species Matricaria recutita, has moderate antioxidant and potent skin-soothing activities.

Ingredients:
Aqua, Jojoba Esters (cleansing beads), Caprylic/Capric Triglyceride (skin-replenishing), Glycerin (skin replenishing), PEG-20 Methyl Glucose Sesquistearate (cleansing agent), Tocopheryl Acetate (vitamin E/antioxidant), Decyl Glucoside (cleansing agent), Methyl Gluceth-20 (skin replenishing), PPG-20 Methyl Glucose Ether (cleansing agent), Glyceryl Stearate (texture enhancer), Stearyl Alcohol (texture enhancer), Polyacrylamide (suspending agent), Methyl Glucose Sesquistearate (texture enhancer), Sapindus Mukorossi (Soapberry) Peel Extract (cleansing agent/antioxidant), Chamomilla Recutita (Matricaria) Flower Extract (skin-soothing antioxidant), Camellia Oleifera (Green Tea) Leaf Extract (antioxidant), Xanthan Gum (texture enhancer), C13-14 Isoparaffin (texture enhancer), Caprylyl Glycol (preservative), Citric Acid (pH adjuster), Disodium EDTA (chelating agent), Laureth-7 (texture enhancer), Tocopherol (preservative), Phenoxyethanol (preservative), Ethylhexylglycerin (preservative).

FAQ

What makes the UnScrub different from other scrubs?

The UnScrub is a skin-softening, milky cleanser that washes away makeup, sunscreen, and impurities while gently polishing the surface of skin with round, natural, dissolvable jojoba beads. Because these ultra-gentle beads dissolve with water and mild pressure, there's no chance of over-scrubbing skin. You can't overdo it with The UnScrub, so there's never a worry about hurting skin.

Paula has always said that you are not allowed to scrub? Then why the UnScrub?

That's right. Paula is very anti-scrub. That's because ordinary scrubs contain coarse particles that damage your skin. And you don't want to put anything on your skin that will cause damage and irritation. Instead of coarse particles, the UnScrub contains soft, flexible, soluble jojoba beads that do not irritate or damage your skin, but ensure a clean, healthy-looking skin with a super soft feel and that is exactly what you want.

Can I recycle this product?

This packaging is made of two components. The tube is made from EVOH plastic and the cap is made from PP plastic. Please check with your local council before recycling this product.