https://www.paulaschoice.co.uk/the-illuminating-set---oily-skin/6STARTERKITDULLOILY.html
The Illuminating Set - Oily Skin
Do away with dullness and reveal your true glow with this skin-refining set.

Skin Type:

Combination skin, Oily skin

Concern:

Breakouts, Blackheads, Dull skin

Ingredients:

Salicylic Acid/BHA, Antioxidants, Minerals (electrolytes)

View all
Remove from Wishlist
Add to Wishlist
Product out of stock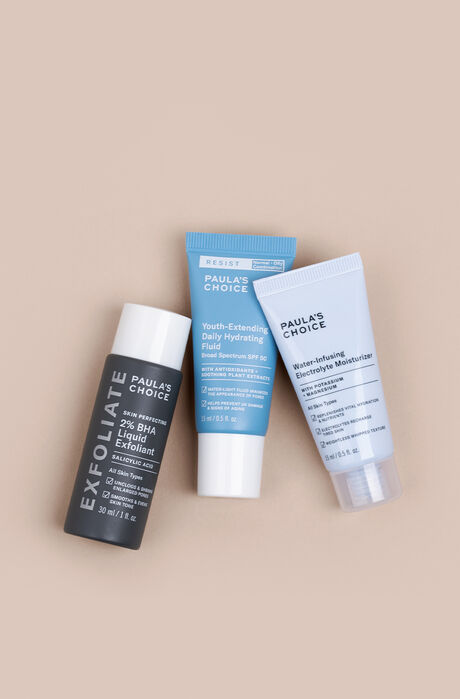 The Illuminating Set - Oily Skin
This product is sold out at the moment. Fill in your email address below and we'll gladly send you an email as soon as it is back in stock!
What does it do?

Take control of breakouts, blackheads and dullness.

A trio of products to boost radiance, target breakouts and reveal clearer, smoother skin.

Our cult-favourite 2% BHA Liquid Exfoliant is our bestseller for a reason. The lightweight, fast-acting formula will remove dirt, oil and pore-clogging impurities to reveal radiance and put a stop to breakouts.

Protect your glow every day with Resist Anti-Aging Moisturiser SPF 50. The lightweight formula has a soft matte finish and protects skin from harmful UV rays. Plus the formula contains antioxidants for extra protection.

Replenish skin's water content while your sleep with the Water-Infusing Electrolyte Moisturiser. Formulated with electrolytes to maintain and balance skin's hydration levels without clogging pores plus antioxidants to soothe.

Key Features

Removes built-up dead skin cells

Reenergises and recharges tired skin

How to use

Directions for use can be found on the product pages of the individual products.

Reviews

Ingredients

What are the key ingredients?

Salicylic Acid/BHA
Primarily an exfoliant, helps to shed dead skin on the surface and inside the pore, therefore effective for reducing breakouts and blackheads. It also has soothing properties.

Antioxidants
Help to protect skin against harmful free radicals, among others caused by sun light and pollution. They have anti-ageing properties and calm skin.

Potassium PCA * strengthens the skin's barrier and maintains its moisture balance.
Magnesium PCA * hydrates the skin and repairs a damaged barrier.
Calcium PCA * influences the formation of new skin cells.

* Pyrrolidone carboxylic acid. Occurs naturally in the skin.

FAQ

Good to know before you start using your exfoliant.

It is best to gradually build up use of a BHA product. Start by using your exfoliant once every other day and then increase usage to once or twice daily based on your skin's response. You need to experiment a bit to see what suits your skin best. During the day, always use a moisturiser with a broad-spectrum sunscreen rated SPF 30 or greater. Your skin will in fact be slightly more sensitive to sunlight when using an exfoliant, so the chance of sunburn and sun damage is slightly higher.

The Skin Perfecting 2% BHA Liquid Exfoliant feels a bit sticky/greasy on my face. Why is that?

If the BHA is feeling sticky, you are probably using too much product. The average amount needed is the size of a small coin, and it's best to apply it in a thin layer. The 'greasy' feel can be attributed to the high levels of glycol in this product (glycol helps the BHA penetrate the surface layers of skin and also works as a water-binding agent). If you live in a humid, moist climate, this effect will be more pronounced and, if too much product is used, can create a 'greasy' feel on the skin.

What is the main difference between Resist Anti-aging Youth-extending Hydrating Fluid SPF 50 and Resist Anti-Aging Super-light Wrinkle Defense SPF 30?

Resist the Hydrating Fluid SPF 50 has a fantastic light texture that is ideal if you have oily skin prone to breakouts and blackheads. Resist Super-Light SPF 30 is formulated with a mineral sunscreen, which makes it more suitable for people with sensitive, oily skin. The mineral filter provides a slightly more mattifying effect than Resist Hydrating Fluid SPF 50. Resist Super-light SPF 30 has a touch of colour to help skin look more even-toned.

What is the difference between the Water-Infusing Electrolyte Night Cream and other night creams from Paula's Choice?

All Paula's Choice night creams have their own unique properties. Do you have a dehydrated skin? Then the Water-Infusing Electrolyte Night Cream is very suitable. Do you have dry to very dry skin? Then you can also opt for the Skin Recovery Night Cream or the Clinical Ceramide-Enriched Night Cream. Do you have normal skin with some dry spots? Then the Omega + Complex Night Cream (rich in omega fatty acids) is a good choice. For normal to combination skin, it is best to choose the Water-Infusing Electrolyte Night Cream or the Defense Night Cream (for extra protection against air pollution). Do you have combination to oily skin? Then we recommend that you use the Skin Balancing Night Cream.