https://www.paulaschoice.co.uk/the-illuminating-set---dry/7STARTERKITDULLDRY.html
The Illuminating Set - Dry
Take your dry skin from lacklustre to luminous with this radiance-boosting trio.

Skin Type:

Normal skin, Dry skin

Concern:

Very dry skin, Dull skin

Ingredients:

Glycolic acid/AHA, Linoleic acid, Kiwi

View all
Remove from Wishlist
Add to Wishlist
Product out of stock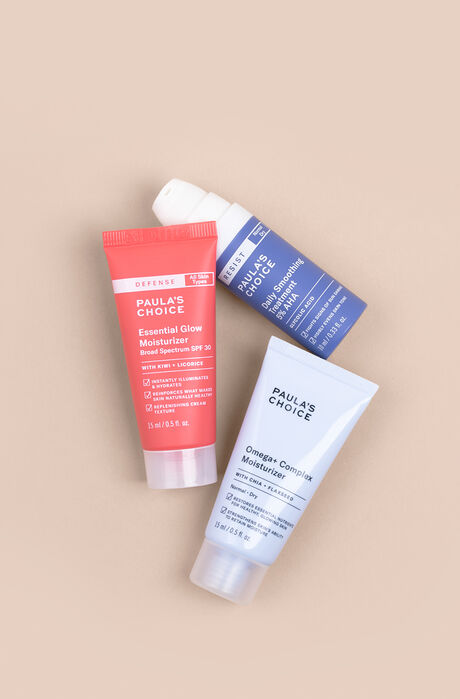 The Illuminating Set - Dry
This product is sold out at the moment. Fill in your email address below and we'll gladly send you an email as soon as it is back in stock!
What does it do?

Take dry skin from dull to dewy.

A trio of products to hydrate, smooth and revive your radiance.

Gently remove dead skin cells to reveal your glowing skin underneath with a hydrating AHA exfoliant. The lightweight lotion also improves the appearance of sun damage and signs of ageing.

Protect your glow every day with Defense Moisturiser SPF 30. Formulated with an innovative brightening mix to improve skin tone, help fade dark spots and instantly illuminate.

Our Omega+ Complex Moisturiser makes the perfect final step in your evening skincare routine. The exclusive mix of omegas 3, 6 and 9 replenish skin's moisture barrier, hydrate and nourish.

Key Features

Promotes radiant-looking skin

Leaves skin softer and smoother

How to use

Directions for use can be found on the product pages of the individual products.

Reviews

Ingredients

What are the key ingredients?

Glycolic acid/AHA
Can help shed dead skin cells to renew skin's surface, visibly softening signs of ageing, particularly from sun damage. Can act as a water-binding agent.

Linoleic acid
Unsaturated omega-6 fatty acid found corn and sunflower oils. Used as an emollient and is effective as a skin-restoring, an antioxidant and as a skin-soothing agent.

Kiwi
Rich in antioxidants that help defend the skin against visible damage from air pollution.

FAQ

Good to know before you start using your exfoliant.

It is best to gradually build up use of an AHA product. Start by using your exfoliant once every other day and then increase usage to once or twice daily based on your skin's response. You need to experiment a bit to see what suits your skin best. During the day, always use a moisturiser with a broad-spectrum sunscreen rated SPF 30 or greater. Your skin will in fact be slightly more sensitive to sunlight when using an exfoliant, so the chance of sunburn and sun damage is slightly higher.

What makes the Defense Essential Glow Moisturizer SPF 30 different from other Paula's Choice day creams?

In addition to offering mineral sun protection, Defense Essential Glow Moisturizer contains a unique blend of antioxidants specially chosen to counter the harmful effects of environmental pollution and blue light. This day cream has a silky texture and is suitable for all skin types including sensitive skin.

Who is the Omega+ Complex Night Cream Suitable For?

The Omega+ Complex Night Cream is ideal for anyone struggling with dry, dehydrated skin that's showing signs of fatigue and visible signs of ageing such as fine lines and wrinkles. Also excellent for those with sensitive and/or damaged skin.