https://www.paulaschoice.co.uk/the-calming-set---dry-skin/4STARTERKITSENDRY.html
The Calming Set - Dry Skin
Created especially for sensitive skin, this skincare set calms down redness and soothes irritation.

Skin Type:

All Skin Types

Concern:

Redness, Sensitive skin

Ingredients:

Salicylic Acid/BHA, Soy bean oil/sterols, Jojoba Oil

View all
Remove from Wishlist
Add to Wishlist
Product out of stock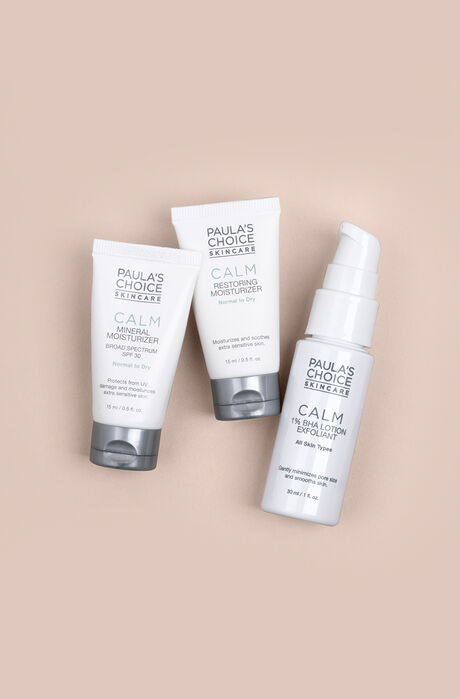 The Calming Set - Dry Skin
This product is sold out at the moment. Fill in your email address below and we'll gladly send you an email as soon as it is back in stock!
What does it do?

Three ultra-gentle formulas to relieve redness and soothe sensitivity.

In this skin-nourishing set you'll find an exfoliant and moisturisers for the day and evening to revive and restore your dry, sensitive skin.

Exfoliate skin, gently. Shed built-up layers of dead skin and reveal your natural radiance with our Calm 1% BHA Exfoliant. Especially for sensitive skin, the formula contains plant extracts to soothe while 1% BHA unclogs pores and leaves skin visibly smoother.

Calm and hydrate skin while protecting against sun damage and premature signs of ageing with Calm Hydrating Moisturiser SPF 30. The formula contains mineral SPF to protect and soy bean oil to relieve dry, uncomfortable skin.

Finish your night-time routine with Calm Restoring Moisturiser. Gentle plant oils combine with antioxidants and skin-restoring ingredients in this rich textured cream to soothe, calm and lock in lasting hydration.

Key Features

Suitable for rosacea-prone skin

How to use

Directions for use can be found on the product pages of the individual products.

Reviews

Ingredients

What are the key ingredients?

Salicylic Acid/BHA
Primarily an exfoliant, helps to shed dead skin on the surface and inside the pore, therefore effective for reducing breakouts and blackheads. It also has soothing properties.

Soy bean oil/sterols
Emollients similar to all non-fragrant plant oils that can be extremely helpful in making dry skin look and feel better.

Jojoba Oil
Shown to enhance skin's restorative properties and can also provide topical skin-soothing benefits.

FAQ

Good to know before you start using your exfoliant.

It is best to gradually build up use of a BHA product. Start by using your exfoliant once every other day and then increase usage to once or twice daily based on your skin's response. You need to experiment a bit to see what suits your skin best. During the day, always use a moisturiser with a broad-spectrum sunscreen rated SPF 30 or greater. Your skin will in fact be slightly more sensitive to sunlight when using an exfoliant, so the chance of sunburn and sun damage is slightly higher.

"

I have dry skin. Which Paula's Choice moisturiser should I use?

Several Paula's Choice moisturisers would work well for you. Choosing the perfect moisturiser has a lot to do with personal preference and trying a product to determine which one works best on your skin. A good place to start, especially if signs of ageing are a concern, is with our Resist Barrier Repair Moisturizer. If you want a richer texture, try Calm Moisturizer or Skin Recovery Replenishing Moisturizer. Resist Intensive Repair Cream is excellent for facial skin that's dry all over, while those with uncomfortably dry, tight, eczema-prone facial skin should try Clinical Ultra-Rich Moisturizer for relief. It's also helpful to use our Resist Super Antioxidant Concentrate or Skin Recovery Super Antioxidant in combination with (on top of or underneath) any moisturiser you apply. You may also wish to treat your dry skin to frequent applications of our Skin Recovery Hydrating Treatment Mask.

How is Calm Hydrating Moisturiser SPF 30 different from the other daytime moisturisers with mineral sunscreens?

Calm Hydrating Moisturiser SPF 30 is first and foremost designed for those struggling with redness and dry, extra-sensitive skin. Our Resist daytime moisturisers with mineral sunscreen contain a broader mix of anti-ageing ingredients, while the anti-ageing ingredients in Calm Redness Relief SPF 30 Mineral Moisturizer benefit from anti-inflammatory properties that work to reduce redness.