https://www.paulaschoice.co.uk/sun-care-extra-care-non-greasy-sunscreen-broad-spectrum-spf-50-full-size/2320.html
Sunscreen SPF 50
Non-greasy, silky texture offers broad-spectrum sun protection with a matte finish.

Skin Type:

All skin types

Concern:

Anti-Ageing, Brown spots

Ingredients:

Avobenzone, Homosalate, Vitamin E

View all
Variations
Full size 148 ml
Remove from Wishlist
Add to Wishlist
Product out of stock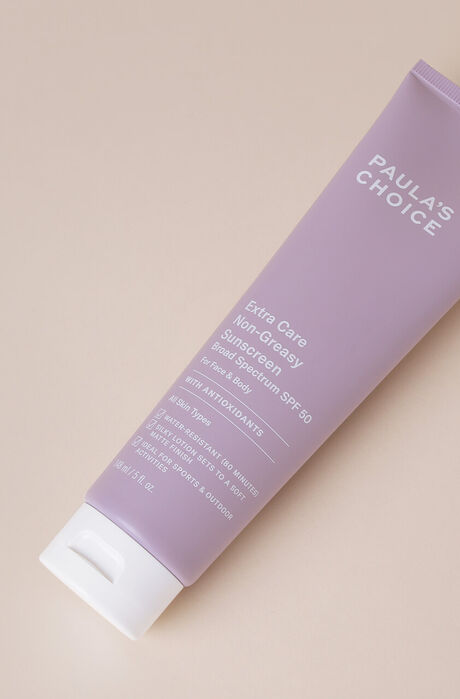 Sunscreen SPF 50
Full size
This product is sold out at the moment. Fill in your email address below and we'll gladly send you an email as soon as it is back in stock!
What does it do?

Versatile and lightweight sun protection.

This broad-spectrum, antioxidant-rich sunscreen has a non-greasy, silky texture that feels weightless on the skin. The water-resistant formula is designed for use on the face or body and it is perfect for outdoor activities.

Is this suitable for my skin?

What skin concern would you like to address?

(Please select one option)

Key Features

Light cream for easy application

Suitable for face and body

How to use

Apply liberally before sun exposure and as needed after swimming and/or perspiring. Can be used over any Paula's Choice skincare product.

Reviews

Thank you for submitting your review! It will be reviewed by our staff before it is posted.

I have reasonably sensitive skin but nothing that warrants the amount of burning that I experience when I wear this sunscreen. I bought it as a cheaper substitute to my Paula's Choice calm mineral moisturiser as they do not offer that in factor 50 or a larger bottle, and I am so disappointed. No wonder it was on sale!

Customer care: Hi, and thanks for letting us know of your experience - we're sorry to hear this didn't work for you! We encourage you to contact our customer service department, who might be able to provide you with a refund.

I read the reviews saying it pills and thought it was maybe just that people were using too much, but having now tried using even less than recommended, there's no way around it — it pills terribly. It'd probably be fine if you weren't using any other products, but as I'm using Paula's Choice products that say to follow-up with a non-greasy sunscreen, this should be the perfect product to achieve that. But the pilling is just awful and makes it look like you have dry, flaky skin. The consistency is also way too runny and would work a lot better if they went back to the spray nozzle they used to use on their sunscreen. I am really disappointed with it, which is rare because usually I can't speak highly enough of PC products to people.

Customer care: Hello, and thanks for your comments! We are always looking for ways to improve our products, so we will pass along your feedback to our Product Development team!

I really wanted to like this SPF, as I'm trying to switch fully to cruelty free and I usually love PC products. It is a nice consistency and not an overpowering scent. However, it does leave me a little shiny, usually not a big deal, but on top of this it pills so bad that I can't apply makeup and family and friends thought my skin was peeling! I tried to give it a proper shot, I have been using it for over a month and no improvement.

Customer care: Hello, and thank you for sharing your experience with us - we're sorry to hear this didn't work as expected for you, but we are glad that you used our return policy.

I used to use this on my neck, chest & arms everyday but the formula seems to have changed? It pills so bad, I can barely rub it in. Quite annoying as it's so hard to find a decent spf and thought I had found one with this.

Customer Care: Hello, and thank you for sharing your experience with us - we're sorry to hear that this product no longer works for you! The formula of this product has not changed. Please contact Customer Care if you wish to discuss this further. We are happy to help!

This is a really nice sunscreen, that I can use on my body fine but for some weird reason my face stings so much when I apply it here. I've had this happen in the past with 'chemical' sunscreens so maybe I just have an extremely sensitive face. 👎

Customer Care: Thank you for your review. We are sorry to hear of your experience and discomfort. Although this is not a common response, we do understand that each customer is uniquely different in how they will respond to certain products or ingredients. For very sensitive skin we recommend a mineral sunscreen. Should you need further assistance, don't hesitate to contact our customer care team.

I use this on my face and hands everyday (it has replaced the resist super fluid spf 50 for me) Very light and just enough hydration, no stinging for me at all and i noticed that i was much less shiny throughout the day since using this product! Love the big bottle it is now a part of my everyday routine

I have been using this spf for over a year and the same tube is going strong!

Each morning I combine a small pea size amount of this with the same amount of Simple sensitive day cream and smooth over my face and neck. It does tingle a bit, especially around sensitive areas like the eyes, but that sensation subsides very quickly for me. So far this product has not broken me out or caused any irritation to my oily/combo semi-sensitive skin, and it has helped reduce the hyperpigmentation on my skin (old scars, small area around the mouth, and uneven skin tone in general).

Best facial sunscreen I've used.

Ordered a sample of this, really glad I did. I desperately wanted to like this but it stung so much immediately after I put it on, and whilst it did subside throughout the day, I just wanted to go and scrub my entire face off every second it was on there. Pity because it's a really great suncreen: no white cast, non greasy, high spf, massive volume. I think this would be better for your body rather than your face, unless your skin isn't dry and sensitive like mine. Sorry Paula, back to the mattifying fluid for me.

So I loved this sunscreen lotion. My skin normally reacts badly to sunscreens. Am not sure what ingredients are irritating my particular skin type exactly but I usually get those tiny bubble spots all over my face e.g. forehead and cheeks which are otherwise the smoothest parts of my skin, and frequently the lotions sting my skin in non-specific places. This sunscreen was quite good for a while until recently I experienced the same stinging sensation on my eye lids, around the nose, and sliding into my eyes and stinging the eyes as well. I also discovered that using no SPF moisturiser + sunscreen was adding extra time to my morning routine and I didn't really like that. If I didn't wait long enough for the products to sink in properly, my foundation afterwards tended to cake up! So, whilst I love the high SPF and its non-irritating, non-greasy formula on my body and neck, perhaps not for my face. Also, even though this is for normal/ oily skin, it didn't seem to dry out my skin too much. Was just lovely and non-greasy. Just want to try other facial mosturisers with SPF in future.

I love the cover of this sunscreen as I have black skin and it does not make me look like I have sunscreen on which a lot of other brands do. However I've come to realise, four weeks in, that this is the cause of the spots on my face that have been popping up more regularly than ever in the last 4 weeks. I tried this product in order to prevent the black spots on my face (acne scarring) getting darker but I don't believe this is the sunscreen for me as it has only caused irritation. I have found this to be the source as I applied the sunscreen to one side of my face for the last two weeks and not the other and the side which did not have the sunscreen has remained blemish free. Although it is not for my face I will keep the sunscreen and use it on my body which is less sensitive to it.

Great as a neck, hand, arm (and face -sometimes) daytime and nighttime moisturizer. At night I mix in a bit of 360 tanner concentrate from PC for a natural light tan complexion the next day. Its worth noting that this is a brilliantly sized spf for the price. If all PC sunscreens were nearer this size I would be 6 star happy but I still love the PC sunscreen range!! thanks paula and team.

I use this product in the summer days when I spend all day in the sun. I was wary to apply it to on my face because all other moisturisers with SPF leave a greasy feel all day, but I was so pleasantly surprised to see that this one isn't almost at all greasy. If you power your face in the morning you'll have no problems during the day. I also tested this on my 12 hours shifts and it's a wonderful product, doesn't feel itchy, greasy or annoying in any way. I highly recommend it!

Firstly, this is one of the best sunscreens I have bought when it comes to its application and lightweight nature. Unfortunately, however, my skin must be intolerant to one or more of the ingredients in it, as it stings something awful when I apply it, which has not been the case with other brands, including at SPF 50. I did not experience this with the sample. Therefore, I have had to discontinue its usage just a week in, and have switched to another brand recommended by Paula's Choice at SPF30, which has been fine so far. So all in all, it is worth trying this first to see how your skin reacts, and if it can handle it you should find it to be an excellent product.

This is one of the sunscreens that don't worsen or cause breakouts on my skin, it's a great sunscreen that gives enough moisture for my oily skin but doesn't feel greasy!
Thank you paulas choice :)

I have been using this sunscreen just under 2 months over skin balancing moisture gel / skin balancing serum in the morning. I though about getting the skin balancing moisturiser with SPF but thought what was the point buying 2 moisturisers when I can just use a good sunscreen on top of my regular non SPF moisturiser. I have combination skin, very oily some days! I think PC skincare are no nonsense. Used to have lots of white spots around my nose area, acne around chin / upper lip, seen an improvement, broke out less. However I still find I need something extra to control the oiliness, such as the shine control. This stuff is great, it acts like a little sponge once evenly dabbed on the areas, dries to a matt powdery finish, n it stays like so pretty much all day. I used to use Clarins, Lancôme, but they're nothing comparing to PC.

I used this product recently just on my face on holiday, as usually sunscreens cause my face to break out. This product does exactly as described. It soaks into your skin leaving a matt finish, doesnt cause acne breakouts, and has great broad spectrum sun protection, it felt weightless and not greasy at all, not even too bad with make up on top. I only used this on my face as i wanted it to last and although its quite expensive in comparison to other well known sunscreens it is worth it to keep the acne at bay on holiday which for me was a certain trigger with other mainsteam products. Another great product from paula!!

I love this sunscreen! Does not leaves a white mask and leaves a perfect matte- ish type finish. Great for oily skin but I wouldn't recommend trying to wear makeup over it.

More reviews Less reviews

Ingredients

What are the key ingredients?

Avobenzone
Synthetic sunscreen ingredient, provides broad-spectrum sun protection and is one of the most widely used UVA filters in the world.

Homosalate
Synthetic sunscreen ingredient that provides primarily UVB protection. Considered non-sensitising, and most often seen in sunscreens rated SPF 30 and greater.

Vitamin E
One of the most researched antioxidants for the body and for skin. Plays a supporting role in helping defend skin from the stress caused by UV light exposure.

Contains: Benzophenone-3 (Oxybenzone)

Ingredients:
Aqua, Homosalate (10%, sunscreen),Butylene Glycol (hydration/texture-enhancing), Benzophenone-3 (Oxybenzone, 6%, sunscreen), PEG-8 (texture-enhancing), Ethylhexyl Salicylate (Octisalate, 5%, thickener), Polyethylene (texture-enhancing), Butyl Methoxydibenzoylmethane (Avobenzone, 3%, sunscreen), Octocrylene (2%, sunscreen), Silica (absorbent), Dimethicone (hydration), Picea Excelsa (Spruce) Wood Extract (skin-soothing), Sodium Ascorbyl Phosphate (vitamin C/antioxidant), Retinyl Palmitate (vitamin A/ antioxidant/skin replenishing), Tocopherol (vitamin E/antioxidant), Tocopheryl Acetate (vitamin E/antioxidant), Titanium Dioxide (Nano, texture-enhancing), Aloe Barbadensis Leaf Juice (hydration/skin-soothing), Bentonite (absorbent), Methyl Glucose Sesquistearate (texture-enhancing), Acrylates/C10-30 Alkyl Acrylate Crosspolymer (texture-enhancing), Sodium Polyacrylate (texture-enhancing), Kaolin (absorbent), Ethylhexylglycerin (preservative), Disodium EDTA (stabilizer), Sodium Hydroxide (pH adjuster), Phenoxyethanol (preservative), Chlorphenesin (preservative).

FAQ

Is Extra Care Non-Greasy Sunscreen SPF 50 suitable for blemish-prone skin?

Although it is impossible to state with certainty that someone will not break out from a sunscreen, the texture and finish of Extra Care Non-Greasy Sunscreen SPF 50 is very unlikely to cause such problems. Oftentimes what causes breakouts from sunscreens are either the active ingredients or the ingredients used create the product's texture. Extra Care Non-Greasy Sunscreen SPF50 contains lightweight ingredients and its active ingredients are less likely to trigger or exacerbate blemishes.

I thought Paula said sunscreens rated above SPF 30 weren't needed—SPF 30 is enough, right?

For the most part, SPF 30 is sufficient. But there are two reasons why you may want to consider a higher SPF. Many dermatologists feel that a higher SPF is necessary because most people don't apply sunscreen liberally, and when there is a higher concentration of sunscreen active ingredients (as would be the case in a sunscreen with a higher SPF number) you would be getting better protection even if you didn't apply it liberally. The other reason to consider a higher SPF is if you want to stay in the sun for even longer periods of time and have very fair to light skin color. Although Paula has spoken out against the fact that other companies offer sunscreens with oftentimes ridiculously high SPF ratings (such as SPF 70 or 100), the issue has always been that such products tend to give consumers a false sense of security. They erroneously believe that a higher SPF only needs to be applied once as they spend the day in the sun. That is not the case for any sunscreen number. A sunscreen rated SPF 30 or above provides longer but not better protection. That means you can stay in the sun longer before your skin shows signs of turning color, but does not negate the need to reapply every two hours after periods of swimming, perspiring, or toweling off. We suggest our Extra Care Non-Greasy Sunscreen SPF 50 for those who will be spending several hours outdoors and/or engaging in water-based activities. Liberal application and routine re-application is necessary in order to maintain the high level of sun protection.
Research
Biochimie, Sep-Oct 2016, volumes 128-129, pages 163-173 Clinical Cosmetic Investigative Dermatology, September 2015, issue 8, pages 471-477 The Journal of Clinical and Aesthetic Dermatology, January 2013, issue 1, pages 16-26 Indian Journal of Dermatology, 2008, volume 53, issue 4, pages 163-166 Journal of Clinical Interventions in Aging, December 2006, issue 4, pages 327-348 Indian Dermatology Online Journal, April-June 2013, issue 2, pages 143-146 Dermatologic Therapy, September-October 2007, issue 5, pages 314-21