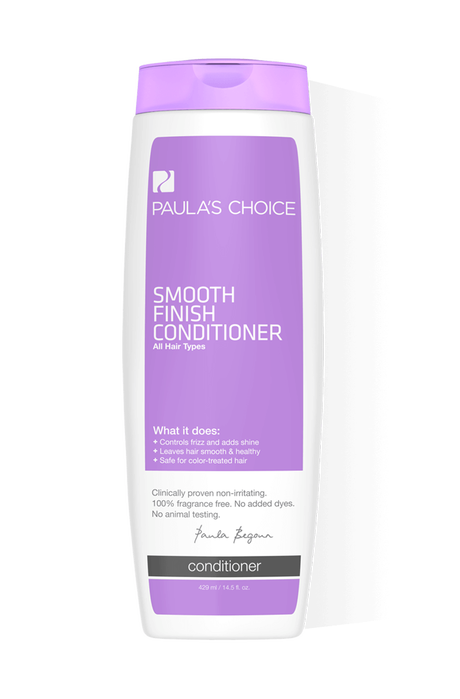 https://www.paulaschoice.co.uk/smooth-finish-conditioner-full-size-5200.html
Conditioner
Rich, non-greasy texture leaves all hair types soft, shiny, and manageable.

Skin Type:

All Skin Types

Ingredients:

Wheat Protein , Panthenol (Vitamin B5)

View all
Variations
Full size 429 ml
Product out of stock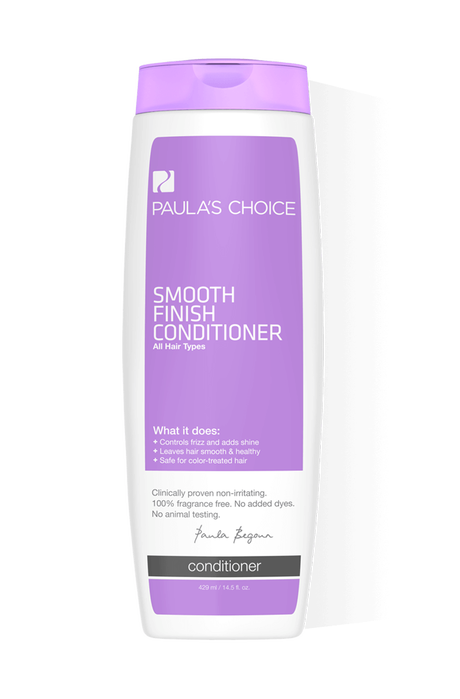 This product is sold out at the moment. Fill in your email address below and we'll gladly send you an email as soon as it is back in stock!
Order before 4:30pm to receive your order within 48 hours
30-day money back guarantee
Safe payments
What does it do?

Get silky, soft and shiny hair .

This moisturising and detangling conditioner works perfectly for all hair types, including colour-treated. It has a rich, non-greasy texture that leaves hair soft, shiny, and manageable, while the gentle, fragrance-free formula is ideal for those with sensitive, itchy scalps.

Key Features

Leaves hair soft and shiny

How to use

How to use

After shampooing, apply conditioner, focusing on the dry parts of your scalp and hair. Leave on for 1-2 minutes, then rinse well. For dry, coarse hair that needs deeper conditioning, leave on hair for as long as possible. May be used as a leave-in conditioner.

Reviews

Thank you for submitting your review! It will be reviewed by our staff before it is posted.

I was sadly disappointed with this - I ordered another bottle of Paula's Choice shampoo to go with this to ensure I was using all Paula's Choice products, but this conditioner was very poor. It's nice it has no fragrance, but otherwise it left my thick hair frizzy and dull. I tried using more or less of it but it made no difference.

I can't use the rest of the bottle now so I feel I have wasted a lot of money. There are conditions a fraction of the price of this which did a much better job and there are other unfraganced products available.

To be honest I think Paula is a skincare expert, not a haircare one, and it shows in this product.

I love this conditioner. I have fine coloured hair and it never leaves it lank. Hair is very smooth and fuller after use. This is the one I always come back to whenever I stray and try other things. It immediately gets my hair back into good condition.

This conditioner is definitely worth the money. The bottle is huge and you don't need much at all. It gets on very well with my hair. Love that there is no fragrance. Will definitely repurchase.

Far and away the best conditioner I have used, this product is unlike any other conditioner available in the UK. The simple fact that it is fragrance-free sets it apart - even before consideration of the improvement to hair texture, feel and malleability. My hair always looks amazing after every use. The conditioner did not exacerbate my oily-er hair.

I have used this for around a year along with the shampoo. Wouldn't use anything else. No irritation and no residue or build up. Great product and very economical.

More reviews Less reviews

Ingredients

What are the key ingredients?

Wheat Protein
Protein fraction from wheat that functions as a hair conditioning agent and texture enhancer.

Panthenol (Vitamin B5)
Panthenol is a humectant because of its ability to attract and hold moisture. It improves the look and feel of skin.

Ingredients:
Aqua, Cetyl Alcohol (emollient), Cyclopentasiloxane (hair softening), Behentrimonium Chloride (anti-static hair conditioning agent), Stearyl Alcohol (emollient/texture-enhancing), Phenyl Trimethicone (hair smoothing agent), Butylene Glycol (texture-enhancing), Panthenol (hair conditioning), Hydrolyzed Wheat Protein (hair conditioning), Glycol Stearate (emollient/texture-enhancing), Polyquaternium-10 (emollient/texture-enhancing), Sorbic Acid (pH adjuster), Citric Acid (pH adjuster), Disodium EDTA (stabilizer), Chlorphenesin (preservative), Phenoxyethanol (preservative).

Faq

Frequently asked questions

How much of the Smooth Finish Conditioner should I use?

It all depends on the length and texture of your hair. If you have short, fine or thin hair, a very small amount of Smooth Finish Conditioner is enough. In normal hair (not thin or fine, but not too thick or coarse) use a larger amount. For thick or curly hair, you need at least double the amount. You can try it for yourself what amount is most suitable for your hair.

This conditioner is suitable for coloured or chemically treated hair?

Smooth Finish Conditioner is very mild and also safe to use for coloured or damaged hair. It contains no bleach or drying ingredients.

Does this product have more purposes?

Smooth Finish Conditioner is multifunctional: the product can also be used as a leave-in conditioner or shaving cream!
Research
Indian Journal of Dermatology, Venereology, Sep-Oct 2013, issue 5, pages 654-67 International Journal of Cosmetic Science, April 1988, issue 2, pages 75-89 Journal of Cosmetic Science, July-August 2011, volume 62, issue 4, pages 361-70