https://www.paulaschoice.co.uk/skin-revealing-body-lotion-aha/5900.html
Skin Revealing Body Lotion 10% AHA
Gently but effectively sheds built-up dead skin cells to reveal smoother, radiant skin.

Skin Type:

All skin types

Concern:

Anti-Ageing, Keratosis Pilaris, Brown spots, Very dry skin

Ingredients:

Shea Butter, Green Tea Extract, Glycolic acid/AHA

View all
Variations
Full size 210 ml
Remove from Wishlist
Add to Wishlist
Product out of stock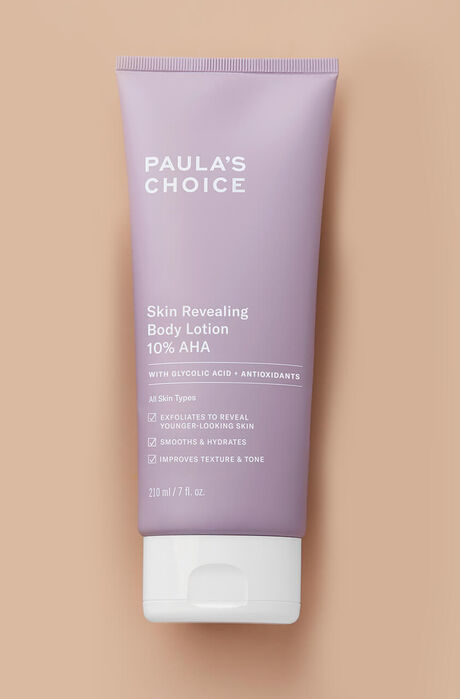 Skin Revealing Body Lotion 10% AHA
Full size
This product is sold out at the moment. Fill in your email address below and we'll gladly send you an email as soon as it is back in stock!
What does it do?

Get soft, smooth and even-toned skin all over.

This creamy, lightweight leave-on exfoliant contains 10% AHA which gently but effectively sheds built-up dead skin cells to reveal smoother, more radiant skin. The gentle lotion also helps to improve the appearance of rough, bumpy skin on the arms and legs leaving skin soft and moisturised.

Is this suitable for my skin?

What skin concern would you like to address?

(Please select one option)

Key Features

Leaves skin softer and smoother

For a natural looking result

How to use

When using an AHA exfoliant for the first time, introduce it into your routine slowly. Start by using your exfoliant once every other day, and then increase usage to once or twice daily based on your skin's response.

Massage onto clean skin in gentle circular motions. May be used daily or applied only to dry areas as often as needed. If using with an additional moisturiser, apply this treatment first and adjust amount used based on personal preference. For daytime use, wear under a Paula's Choice sunscreen.

Reviews

Thank you for submitting your review! It will be reviewed by our staff before it is posted.

I had eczema and strawberry skin. 1 week in and my skin is silky smooth. An expensive product that I didn't want to live but it is absolutely amazing. The smell could be better and I would appreciate a larger economical size. This tube will only last me 2-3 weeks. I use it everyday.

Hi Liz E! Thank you for your review. Wonderful to hear that your skin is silky smooth after using this product! Perhaps you can experiment with reducing usage and see if you still get great results. This way it will last longer. Kind regards, Natasha - Paula's Choice Customer Care

I really wanted to love this! As there's not a lot of products out there for keratosis pilaris, but unfortunately it done nothing for me. I've followed the instructions but still no difference. Disappointed with this product and the price - really not worth it.

Customer care: Hello, and thank you for sharing your experience with us - we're sorry to hear this didn't work as expected for you, but we are glad that you used our return policy.

First, the smell is unpleasant but thats not a big problem for skin care. The problem is it makes my skin super dry in the following morning after shower even I use twice aday. When the cream is on skin it touches silky but will be dried without cream

I bought this full of hope that it would banish my KP, after trying lots of other products. I have religiously applied it daily and have noticed that my skin is much smoother. However, I still have the visible red 'chicken skin' that comes with KP and it is this that makes me so self conscious. Reducing the KP is about getting rid of the redness and making the skin smoother and this product only delivered on one aspect of this. Very disappointing for the price. I will be asking customer services for a refund as part of their 30 day money back guarentee.

Customer Care: Thank you for sharing your experience with us - we're sorry to hear this didn't work as expected for you, but we are glad that you used our return policy.

Bought this along with the body retinol, not sure if the retinol has done much, it does not state how strong the retinol is. The AHA is brilliant though, leaves my skin super smooth and is the only thing that has worked on my dry shins, also does a great job on feet, leaving them smooth and dry skin free. It is expensive and does not last long, I am reordering less than a month later.

Excellent exfoliator with really good moisturising properties, may-be a little think for winter, but perfect for 3/4 of the year. I've used it only for a few times as its a new purchase, but I can already see it becoming a HG product. Its a bit pricy and there are a few cheaper strong AHA body products available, yet, its more moisturising, has no fragrance and most importantly for me, is free of mineral oil, which means I can use it on my face as well without breaking out. Also, its not silicone heavy, that means it absorbs and moisturises well without feeling like it'll sit on your skin. I'll use it 3x a week, alternating with more moisturising body lotions/oils and retinol/C vitamin serums for face/neck. Extra bonus - it makes awesome foot and hand lotion.

I have mild KP (and some red bumps from ingrown hairs) on my legs and after all the amazing reviews, decided to try this 10% AHA and the 2% BHA lotion. I've been using for almost 3 months but have not seen any improvement in KP/Bumps. I have to admit, both leave legs feeling very smooth, but that's about it. After buying both lotions in full size, not feel like I've wasted my money. Maybe I'm just unlucky, but wish I'd tried the samples first...

I use this product twice a week on my entire face & neck, including undereye area, eyelids and ears. It is superb at providing regular exfoliation, while bypassing drawbacks of other 'strong' AHA exfoliants, such as triggering skin sensitivity issues, dryness, peeling, flaking, etc.

I have experienced no irritation with this products at all. Keep in mind I do not have extremely sensitive skin. For reference, when I started using vitamine A products etc., I jumped straight onto 0.1% twice a week without any issues.

To summarise, I highly recommend this product as a facial/neck exfoliant, based on my personal experience and observation. It is worth noting that if you were to use it as a facial/neck exfoliant only, it would last you 12-16 months without any issues. Can't say the same, if used as a body exfoliant, however.

-Trey

I got this, the wipes and the BHA and used them 1-2 times per day for 4 weeks and had no improvement. I'm changing my shower wash to see if that is creating irritation and preventing them from working, but I think if anything the BHA will be the one for me. I'm also going to concentrate on just my arms so I don't waste so much product trying to cover my legs and arms. I'm glad it works for some people but I don't know if I really believe anything could ever get rid of KP, it seems like a toss of a coin no matter what product you look at.

another amazing product from paulas choice.
i got sent a sample of this product with my last order and i was amazed at the results. the skin at the tops of my arms has always been a problem for me and on my chest. i have raised red bumps and uneven skin tone. i used my sample two nights in a row and could not believe the difference in my skin. it felt considerably smoother and hydrated and the marks reduced. Even my sister who suffers with the same problem commented on how great my skin was looking.
Will be purchasing the full size product of this definitely.

I applied this in the evening and woke up with such smooth skin I could not believe it. I did not experience any irritation whatsoever, and would definitely recommend this product.

Nice cream but again no real help for my KP - disappointed!

This is a fantastic product. I have some horrid red acne marks on my back and this product is doing wonders at reducing them, and the occurrence of pimples there in general. I use it once a week or so on my face and decolletage as well and the skin just looks and feels so soft and smooth. I use it intermittently on the rest of my body and it does wonders at revealing younger-looking skin underneath. Such a lovely product and quite a nice sized tube too!

More reviews Less reviews

Ingredients

What are the key ingredients?

Shea Butter
This plant lipid, extracted from the karite tree, is used as an emollient and has smoothing properties for dry skin. it's also a rich source of antioxidants.

Green Tea Extract
Possesses potent antioxidant and skin-soothing properties and has impressive research in terms of its many benefits for skin, including anti-ageing properties.

Glycolic acid/AHA
Can help shed dead skin cells to renew skin's surface, visibly softening signs of ageing, particularly from sun damage. Can act as a water-binding agent.

Sunburn Alert: This product contains an Alpha Hydroxy Acid (AHA) that may increase your skin's sensitivity to the sun and particularly the possibility of sunburn. Use a sunscreen, wear protective clothing, and limit sun exposure while using this product and for a week afterwards. As with all cosmetics, avoid direct contact with the eyes.

Ingredients:
Aqua, Glycolic Acid (Alpha Hydroxy Acid, exfoliant), Cyclopentasiloxane (hydration), Dimethicone (hydration), Glycerin (hydration/skin replenishing), Glyceryl Stearate (texture-enhancing), Cetyl Alcohol (texture-enhancing), Butyrospermum Parkii (Shea) Butter (emollient/antioxidant), Stearic Acid (texture-enhancing), Sodium Hydroxide (pH adjuster), PEG-100 Stearate (texture-enhancing), Xanthan Gum (texture-enhancing), Tetrahexyldecyl Ascorbate (vitamin C/antioxidant), Tocopheryl Acetate (vitamin E/antioxidant), Disodium EDTA (stabilizer), Butylene Glycol (hydration), Allantoin (skin-soothing), Chamomilla Recutita (Matricaria) Flower Extract (skin-soothing), Vitis Vinifera (Grape) Seed Oil (non-fragrant oil/emollient/antioxidant), Camellia Oleifera (Green Tea) Leaf Extract (antioxidant), Epilobium Angustifolium (Willow Herb) Flower/Leaf/Stem Extract (skin-soothing), Phenoxyethanol (preservative), Sodium Benzoate (preservative).

FAQ

Good to know before you start using your exfoliant.

It is best to gradually build up use of an AHA product. Start by using your exfoliant once every other day and then increase usage to once or twice daily based on your skin's response. You need to experiment a bit to see what suits your skin best. During the day, always use a moisturiser with a broad-spectrum sunscreen rated SPF 30 or greater. Your skin will in fact be slightly more sensitive to sunlight when using an exfoliant, so the chance of sunburn and sun damage is slightly higher.

How is Paula's Choice Skin Revealing Body Lotion with 10% AHA different from the 8% Alpha Hydroxy Acid Gel? Do I need both?

The two major differences between these exfoliants are that the Skin Revealing Body Lotion is in a creamy moisturising base while the 8% AHA Gel has a fluid, gel base. The concentration of glycolic acid is the other main difference, with the Skin Revealing Body Lotion containing 10% AHA and being designed for use from the neck down. Both AHA products are formulated within the pH range needed to exfoliate dry, sun-damaged skin.

Can I use Skin Revealing Body Lotion with 10% AHA on my face?

Although the formula has been developed for the body, it is also possible to use it on your face. If you have used AHA products (formulated in an acidic pH range to allow for exfoliation) on your face without irritation, you should be able to use Skin Revealing Body Lotion too.

Can I recycle this product?

This packaging is made of two components. The tube is made from EVOH plastic and the cap is made from PP plastic. Please check with your local council before recycling this product.
Research
Archives of Dermatology , August 2000, volume 136, issue 8, pages 989-94 Molecular Medicine Reports, November 2010, volume 3, issue 6, pages 895–901 International Journal of Cosmetic Science, February 2000, volume 22, issue 1, pages 21-52 Clinical Dermatology, September-October 2009, volume 27, issue 5, pages 495-501 Journal of Clinical, Cosmetic and Investigational Dermatology, 2010, volume 3, pages 135-142 Cosmetics, 2015, volume 2, issue 3, pages 259-276