https://www.paulaschoice.co.uk/skin-recovery-softening-cream-cleanser-full-size/1050.html
Skin Recovery Cleanser
Rich, creamy cleanser that thoroughly removes makeup and debris without stripping skin.

Skin Type:

Dry skin

Concern:

Very dry skin, Redness, Rosacea-prone skin

Ingredients:

Beta-glucan, Chamomile Flower Extract, Soy bean oil/sterols

View all

Routine:

Cleanser
Remove from Wishlist
Add to Wishlist
Product out of stock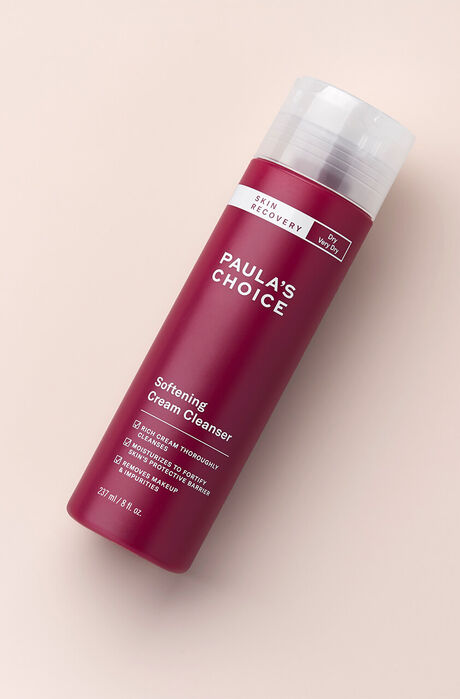 Skin Recovery Cleanser
Full size
This product is sold out at the moment. Fill in your email address below and we'll gladly send you an email as soon as it is back in stock!
What does it do?

An oasis of relief to dry, thirsty skin.

This rich, gentle and effective facial cleanser is formulated for very dry and sensitive skin. It thoroughly removes makeup and impurities without stripping your skin, while hydrating ingredients leave skin feeling softer and smoother.

Is this suitable for my skin?

Key Features

Cleanses skin without drying it out

How to use

Use morning and evening. Splash the face and eyes generously with water. Apply a small amount of cleanser to your face using vigorous yet gentle circular motions. Rinse well. Repeat or use with a clean washcloth to remove heavy makeup.

Reviews

Thank you for submitting your review! It will be reviewed by our staff before it is posted.

I have very dry skin and wanted to love this, but sadly it ticks the box of not stripping, not the one of cleansing. I use this as my second cleanse and my skin still has residue after, it never happened with double cleansing with other products before. Feels rich and moisturising but it's indeed just as 'good' as cleansing with your moisturiser.

Hi Eleonora, thank you for taking the time to let us know how you found our Skin Recovery Cleanser. This cleanser is a rich and gentle cleanser which is specifically formulated for very dry and sensitive skin and I'm sorry to hear that this was not a good fit for you. Please don't hesitate to reach out to our Skin Care Experts who would be more than happy to help you find an alternative option suitable for your skin type. Kind regards, Shannon - Paula's Choice Customer Care

A pleasure to use!

this is my favourite cleanser of all time - it's thorough enough to get all my makeup off without the need for scrubbing. Just gentle circles get rid of my eye makeup, which is fab. At the same time, it's gentle enough so my skin doesn't feel tight or dry after washing, which is an issue I kept having with alternative drugstore face cleanser. As an aside, my husband loves this too as the cleanser i used to use gave him styes - never an issue with this one

I'm usually the one to compliment PC products as I've been using them for years but the mix-ability of the product with water isn't very good and doesn't turn it foamy like other products but washes away and wasting expensive cleaner down the drain. Wish I could return a used product.

Customer Care: Sorry to hear this creamy cleanser wasn't a fit for you. We will contact you about returning the product.

I have sensitive and dry skin, with type one rosacea. This is the best cleanser I've found so far that is rich and gentle and doesn't require a cloth to remove (cloths are the worst for my skin!) When I wear heavy SPF/makeup I find it is best to double cleanse with this - I gently use a tissue to remove the first lot of cleanser so all the makeup comes off, then rinse and cleanse again, just rinsing with water the second time. This is much better than the calm cleanser from Paula's Choice, which left my skin dry and irritated.

I give this cleanser 4 rather than 5 stars for one reason - packaging. I understand that practically speaking the packaging of P.C. products are good- hygienic, keep ingredients fresh etc. But (and this is all just my personal preference!!) I do feel that aesthetically they could be improved upon. These are not cheap products, and it would be nice if they felt a bit more luxe. Maybe this is shallow of me, but I love having well designed packaging on the products that I use every day! Brands like Glossier, The Ordinary, Aesop, Niod etc have such a lovely aesthetic. I buy P.C. because it works and would recommend it to anyone but just wish it was a bit more stylish!

Customer Care: Thanks for your comments! We will be replacing the packaging of our products this year and hope you'll like it better!

I used up all of this, which says it all, as I often feel unable to finish products because they don't give the expected results. This is very gentle, non-foaming, but water soluble and non-drying. I have a patch of redness at the tip of my nose and this cleanser did not aggravate it. It did a good job at removing makeup. The only reason I have not given it 5 stars is due to the packaging- a pump or tube would make it much easier to use' as the amount of product in the bottle decreases, it becomes more and more difficult to get it out. I'm going to try the redness relief cleansers to see if they are any better than this, but, I think this cleanser is a pretty safe bet.

Lovely, comforting cleanser. Leaves your skin feeling cushioned and not dry and taut, as can happen after cleansing if you have very dry skin. Really like this cleanser, and I'd recommend this instead of the new Calm cleanser if you have dry and sensitive skin.

I bought the Skin Recovery Trial Set and loved the cleanser so much I bought it the next day. If that doesn't tell you how pleased I was with it, I don't know what will. For so long I have hated cleansing my skin as even "gentle" cleansers left it feeling tight, but not with this one. It feels intensely hydrating and my skin is so soft after use. Great for dry, sensitive skin or for people with rosacea!

I've not really used a lot of cleansers because they never take off my eye makeup, but I recently started using this (I use make up wipes just around my eyes to remove mascara, eyeliner, etc.) and it just seems fantastic. Basically it's so good that I now can't imagine not using a cleanser twice a day, and I used to be terrible at taking care of my skin. It's not greasy and it doesn't have a silicone slip, it foams lightly and if you use it around your eyes there is no sting. It seems to set my skin up great for my new day and night routine. I've just ordered the big bottle which I plan on trying out on the KP on the backs of my arms too.

I am a natural redhead with of course a fair complexion and sensitive skin. I have already ordered my 3rd bottle of this cleanser (but in the larger size now). I first started using this product and other PC's products last year before I moved to England from the US. I am glad PC has a UK site because this cleanser works well for my finicky skin. In fact, it is the only cleanser I have used that has not had any negative effects on my face. It does not dry out my face, leave my face feeling tight/sore/red. I like that this cleanser is creamy and light, and leaves my face feeling soft & smooth.
I will note that this cleanser does not get foamy or bubbly like a soap or foaming cleanser would. That does not bother me at all. The creamy yet light texture is effective at cleaning my face & it is so easy to work in and wash off. A little bit goes a long way.

I have been using this for about 10 days, but my skin just keeps on getting more red and sore with each use, it also burns after I have used it. The only plus side is that it does not dry it out too much. I have now stopped using it and my skin has started to calm down. My eyes also got very sore, and irritated. Shame because I actually really love the skin recovery moisturizer a lot.

I bought this cleanser along with the skin recovery moisturizer, the moisturizer is lovely and soothing, I love it. Unfortunately the cleanser has made my skin sore, and the skin around my eyes in particular. My skin looks very red and feels like it is burning, after I have used it. It also stings my eyes. I took about a week until this started happening. I have given it two stars because it doesn't dry my skin out too much. Such a shame, but I will definitely continue using the moisturizer. I should mention I do have rosacea, so my skin is very tricky.

Although I wouldn't use this on an everyday basis, it's perfect for when my skin is irritated, dry or red. A creamy, satisfying consistently, it goes on smoothly and feels very soothing, leaving my skin more hydrated than my regular Paula's choice resist foaming cleanser. My combination blemish prone skin wouldn't appreciate it every day but as an occasional 'gentle treat' when needed, it's perfect.

I have been buying this for a while, and thought I had found the perfect cleanser. It was non-drying, slightly foaming and removed make-up in one go! Alas, since the formula change, I find it doesn't remove makeup as thoroughly, and when I tone there is still make-up on the cotton pad. My skin is becoming congested and breaking out more than usual. If you have very dry skin you will find this creamy and gentle, non-irritating, and non-foaming now (which fits the original description better). However, I preferred the original. A suggestion Paula; how about replacing the formula for the Moisture Boost Cleanser with the old formula for the Skin recovery Cleanser, as the Moisture Boost Cleanser is actually rather drying????? And a final note; the formula change was not indicated on the main shopping page from where I added this large bottle of cleanser to my shopping cart, only the main product details page, and as I wasn't aware of the formula change I added what I though was my favourite old Skin Recovery Cleanser. If I had been aware of the change I wouldn't have purchased without sampling first, now I am stuck with a large bottle which isn't working that well for me. Formula changes need to be advertised on all pages where customers shop from as old customers add their favourites without referring to the product details each time- a banner across the picture would help! Customer Care: Thank you for your feedback. We are sorry to hear that you are not satisfied with the new formula. We at Paula's Choice consider feedback from our customers as one of the most important tools in improving our products and service. We will therefor forward your comments on this product to Paula and her team and the notification issue to our web-team. We will also contact you by email.

This cleanser is very thick, feels soothing on the skin, and washes away clean. However, I feel it is a bit misleading to call it a cream cleanser as it is really a creamy facial wash and is detergent based, needing water to activate it, and it lathers slightly. It my experience cream cleansers are usually removed with a cotton pad and can be massaged into the skin and don't lather or foam, usually oil based. Don't let this put you off though as it is a lovely cleanser and removes all makeup easily.

I double cleanse in the evening to remove the high SPF and makeup that I wear during the day. I use the Skin Balancing Oil-Reducing Cleanser first, as soon as I get in the shower, for my first cleanse. I then follow with the Skin Recovery Softening Cream Cleanser at the end of my shower routine to remove the last traces of sunscreen/makeup and to wash away any shampoo surfactants that may have accidently run down my face.

I find this cleanser soothing and nourishing. It is very kind to the skin but effective. If you have sensitive skin, this will be a great buy for you. I sometimes suffer from redness under my nose and on my chin (greatly reduced since using Paula's Choice products) and this cleanser calms my skin. By using this in conjunction with the Skin Balancing Oil-Reducing Cleanser in the evening, there is not even a speck of makeup on the cotton pad that I use to apply my toner.

As I stated in my review of the Skin Balancing Oil-Reducing Cleanser, I think the larger-sized bottles of the Paula's Choice cleansers are extremely good value for money.

First of all i love this cleanser it is one of the few I've tried that rinses clean but doesn't dry my skin. HOWEVER I am not sure why Paula thinks it is ok to charge UK customers DOUBLE what US customers pay? Every other company manages to adjust their prices according to exchange rates why does Paula's choice charge the same amount in £s that US customers pay in $s?? Customer Care: Thank you for your review. With regard to your reference to the prices on the website of Paula's Choice USA, we would like to point out that prices on the EU website include VAT (which averages at 19% in the EU) and that no other import duties or taxes are payable on delivery of the goods. Prices on the website of Paula's Choice USA are exclusive of VAT (which is payable on importing the goods in the EU) and any other import duties or taxes which may apply. In addition PC Europe has to deal with extra costs to comply with EU regulations and EU testing policies.

I have quite sensitive, slightly dry skin prone to redness. I thought I made the right choice with this cleanser but unfortunately it does not work for me. I have been using it for ten days now and for some reason it leaves my skin feeling very dried out and tight every time I use it. Even after applying the Skin Recovery Daily Moisturizing Lotion with SPF 15 (which has helped noticeably improve the condition of my skin over the past four months), my skin still feels somehow irritated, with a subtle burning sensation. The cleanser does work very well and removes all traces of make-up but I cannot carry on using it any more. I must note that I am using other products from Paula's range and I love them all. I will definitely try to find another cleanser that would suit my skin better. Customer Care : We are sorry to hear of your experience with this product. While this response is not typical, we do understand that each customer is uniquely different in how they will respond to products or ingredients. This along with everyday environmental factors can sometimes play a part in how someone will ultimately respond to a product or combination of products.If you would like to contact customer care with any questions or to discuss your routine we are always happy to help!

Thought i would try this cleanser because i have been experiencing very dry dehydrated skin, but unfortunately for some reason this cleanser was a mistake. I must be allergic to one or more of the ingredients in this product because every time i use this cleanser my skin is left feeling so dry and tight and irritated. Now i am left with a full bottle of this product that i cannot use. I hope it works for others, unfortunately it just wasn't right for me.Customer Care : Thank you for your review. We are sorry to hear of your experience with this product. While this response is not typical, we do understand that each customer is uniquely different in how they will respond to products or ingredients. This along with everyday environmental factors can sometimes play a part in how someone will ultimately respond to a product or combination of products. Our Customer care department will contact you to find an alternative solution for you.

i have had this cleanser for 2 weeks. Using toner and a cotton ball after i have cleansed, there is virtually no trace of make up left on my face. I have sensitive, dry skin and am prone to mild bouts of eczema, so i have tried many (sometimes expensive) products which have either dried my face and caused problems or left make up behind. This product leaves my skin feeling absolutely clean but not at all dry. It is a reasonable price for the size of the bottle and you do not need much to properly cleanse. I am very pleased with it and would recommend.

More reviews Less reviews

Ingredients

What are the key ingredients?

Beta-glucan
Excellent ingredient for improving the look of redness and other signs of sensitive skin. It has some antioxidant properties and is a skin-soothing agent

Chamomile Flower Extract
Derived from plant species Matricaria recutita, has moderate antioxidant and potent skin-soothing activities.

Soy bean oil/sterols
Emollients similar to all non-fragrant plant oils that can be extremely helpful in making dry skin look and feel better.

Ingredients:
Aqua, Hydrogenated Polydecene (texture-enhancing), Glycine Soja (Soybean) Oil (antioxidant/emollient), C12-15 Alkyl Benzoate (emollient), Disodium Cocoamphodiacetate (texture-enhancing), Polysorbate 80 (texture-enhancing), Laureth-4 (texture-enhancing), Acrylates/C10-30 Alkyl Acrylate Crosspolymer (texture-enhancing), Cocamidopropyl Betaine (cleansing), Chamomilla Recutita (Matricaria) Flower Extract (skin-soothing), Beta-Glucan (skin-soothing), Paraffinum Liquidum (Mineral Oil, emollient), PEG-7 Glyceryl Cocoate (texture-enhancing), Butylene Glycol (hydration), Disodium EDTA (stabilizer), Sodium Hydroxide (pH adjuster), Hexylene Glycol (preservative), Caprylyl Glycol (preservative), Ethylhexylglycerin (preservative), Phenoxyethanol (preservative), Chlorphenesin (preservative).

FAQ

Will a cleanser remove all my makeup?

Paula's Choice cleansers will effortlessly remove most makeup. If you use heavy foundation or long-lasting make-up, a clean washcloth will help lift it off.

In the summer my face is oilier. Should I use another cleanser?

Yes, during the summer it's a good idea to switch to a cleanser that is suitable for combination or oily skin, like the Skin Balancing Oil-Reducing Cleanser link>

Can I recycle this product?

This packaging is made of two components. The tube is made from HDPE plastic and the cap is made from PP plastic. Please check with your local council before recycling this product.
Research
Phytotherapy Research, February 2014, issue 2, pages 159-66 Molecular Medicine Reports, November 2010, issue 6, pages 895–901 Journal of Drugs in Dermatology, September 2014, issue 9, pages 1021-5 Indian Journal of Dermatology, May-June 2016, issue 3, pages 279-287 Skin Research and Technology, February 2001, issue 1, pages 49–55