https://www.paulaschoice.co.uk/skin-perfecting-aha-gel-exfoliant-full-size/1900.html
Skin Perfecting 8% AHA Gel Exfoliant
Ultra-light gel exfoliant fades brown spots and smooths fine lines and wrinkles.

Skin Type:

All skin types

Concern:

Anti-Ageing, Brown spots

Ingredients:

Glycolic acid/AHA, Panthenol (Vitamin B5), Sodium PCA

View all

Routine:

Exfoliate
Remove from Wishlist
Add to Wishlist
Product out of stock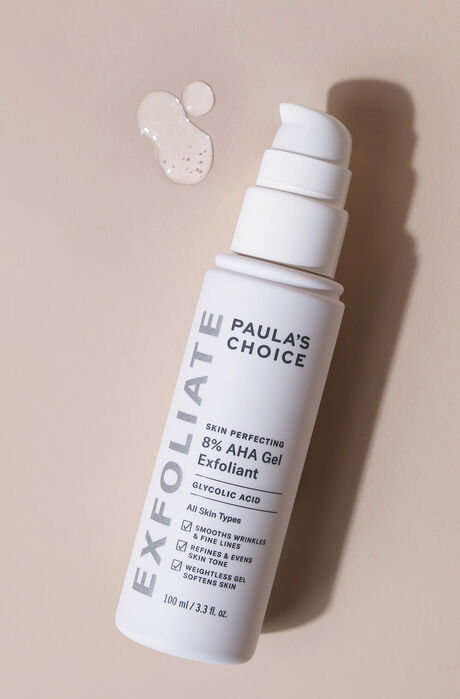 Skin Perfecting 8% AHA Gel Exfoliant
Full size
This product is sold out at the moment. Fill in your email address below and we'll gladly send you an email as soon as it is back in stock!
What does it do?

Get your glow on.

This ultra-light gel exfoliant gently dissolves built-up layers of dead skin to reveal a smoother, brighter, more radiant complexion. Formulated with 8% AHA (glycolic acid), it helps to fade signs of sun damage and corrects uneven skin tone while improving the appearance of wrinkles.

Is this suitable for my skin?

What skin concern would you like to address?

(Please select one option)

Key Features

Leaves skin softer and smoother

Softens fine lines and wrinkles

How to use

When using an AHA exfoliant for the first time, introduce it into your routine slowly. Start by using your exfoliant once every other day, and then increase usage to once or twice daily based on your skin's response.

Apply once or twice daily after cleansing and toning. Apply a coin-sized amount over the entire face, including the eye area (avoid the lower lash line and eyelids). Do not rinse. For daytime, always follow with a moisturiser containing a broad-spectrum sunscreen rated SPF 30 or greater.

Reviews

Thank you for submitting your review! It will be reviewed by our staff before it is posted.

This stuff is unreal. I have been looking for a product like this forever. My skin is amazing and despite being super sensitive it hasn't caused any problems. My moisturiser finally takes to my skin and it looks radiant. Forever product!! 🥰

Customer Care: Hello Lunty! Thank you for your nice review! Great to read that you are happy with your skin and can now use enjoy your moisturizer as well. We're so happy that you have found a product to use for life! Warm regards, Marissa - Paula's Choice Customer Care Team

This product is great to use at night before moisturiser. The next morning my skin is glowing and smoother than the night before. Although BHA is better for acne prone skin like mine, I've found this to help with benign spots (non-hormonal) and a nice product to have and use occasionally. I use the travel size and it lasts ages as I don't use it every day.

Only been using this for past week and love how clear my skin looks. It does make your skin feel really smooth without the harsh abrasive feel you get when using the exfoliator's with the grains in it. You need to use a good moisturiser after using it though.

I've been using the 8% AHA Gel for as long as I can remember. It's the first PC product I purchased and has rarely been absent from my bathroom cabinet. Used nightly, my (now 40+ year old) skin is always smooth and responds to other actives better than when I don't use it.
The gel consistency works well with my combination skin, and I find it easy to use - 1 pump does my face and neck. One bottle lasts for ages, and given the gentle but consistently effective nature of the gel, it's fantastic value for money in my opinion. Will never stop using this fantastic product.

Bought this after reading the great reviews but the gel texture and the tightness after use didn't work for me, and I couldn't see any improvements from use! Switched to the 2% liquid and my skin took much more to it. Love PC products but this didn't quite work out for me personally.

I've used the 10% AHA weekly exfoliant before and thought that was great so I was interested to use a gel formula and now I prefer it, nothing is absorbed into the cotton wool pad and wasted. This product is designed for daily use but I use it less frequently and I still get great results, my skin actually looks better after use. By comparison, I tried a rival 10% glycolic toner and even used it every day, it didn't dry my skin in fact it didn't do much at all. This product is great, in my opinion and results are immediate.

I have been using this gel for a little under a week and already, can feel the difference in my skin. Its early days, but so far, ever sooo good! Skin is soft, supple and hasnt felt like this in a long time. I don't know what Ive been doing all this time, but I know what I'll be using moving from now on. Looking forward to this being a staple in my skincare routine. Would highly recommend!

This is a great aha which leaves my skin glowing and soft. Good pump for easy use and nice texture of product. I have knocked 1 star off as I feel it's misleading not to warn on the instructions that it's important to build up acids slowly. I started using this several months back, following the instructions and my skin became really dry, red and itchy. I emailed PC customer service for advice and they were more than helpful. Just wish I had known to build up slowly in the first instance. Will definitely repurchase.

This really is such a great AHA product. Makes my skin so smooth, soft, and supple. I have fairly sensitive skin, but this doesn't bother it at all.

Bought this to be used in conjunction with the 2% BHA and they work great as a pair (not at the same time!). Skin glows after a few weeks of using. Bought the trial size for travelling as I go away fairly frequently, unfortunately it leaks (but not as badly as the 2% BHA as this is in a gel form and not liquid form). If PC could get this travel size packaging right I could get a line of product for home another line for travelling, saving a lot of hassle!

This little cream is very impressive indeed. Within barely a week of using it I can already notice a difference in the texture of my skin - it's more even and has fewer blemishes. At 27 I don't really get full-on acne anymore but I do get random blemishes and my skin tends to be patchy overall. Since I started using this, my skin has been looking noticeably smoother and less patchy, so I can't wait for what a month or two may bring. Just remember to moisturize like it's your job afterwards because it does sting a bit and will make your skin itchy and dry if you don't. Thought there should be a review from a man as well on here!

The product is amazing...even though i have breakout prone skin i feel like this has worked so well for me over the bha. I use it every night and can tell a difference in my skin in the morning ! I feel like its helped with my acne marks aswell! :)) WORTH EVERY PENNY

I love Paula's Choice products, but this product did not work for me at all. I stopped using her BHA Exfoliant and replaced it with this thinking it would be a little stronger and better for scaring having heard the benefits of Glycolic acid. I followed all the instructions and sadly my skin began to return to it's old oily acne ways within a week after using this AHA Gel Exfoliant. Needless to stay I have since stopped using it and returned to the old BHA Exfoliant. Perhaps its just not suited to my skin, but for me, it did nothing for acne or oil control. Sorry Paula!Customer care : Thank you for your review. As to choosing between the two types of exfoliants, as a general rule for skin sensitive to all forms of breakouts (including blackheads), BHA is preferred over AHA. This has to do with the main difference between AHA and BHA, which is that BHA has the ability to penetrate into the pore (AHAs do not), and thus can exfoliate inside the pore as well as on the surface of the skin. AHA products only exfoliate cells on the surface of skin.

This, along with the other Paula's Choice products that I have been using for the past 6 months has had a great effect on my skin. I have had Rosacea for over 15 years, along with sensitive skin. Paulas choice products have enabled me to stop taking antibiotics daily for the first time in over 10 years. I have tried so many products over the years, from Boots all the way up to Crem de la Mer- and Paula's choice is much better than all of them.
I use his gel at night and put a small amount of the Moisture Mask on the top, and by morning my skin looks great.
Strongly recommend this product.

I've been using this product for the last week and I'm so amazed and happy. My skin type is oily/sensitive/acne prone and this product work wonderful with my skin. It's completely removed my rough areas and unclogged my pores (which created my acne). Therefore I've noticed a huge difference in the texture and colour of my skin and I can't belive I haven't exfoliated like this before. Try it and don't be intimidated that it's recommended for dry skins :)

I had very high hopes for this product yet am bitterly disappointed at the lack of results....basically i could not use this as it burns the hell out of my skin leaving a red face to the point where i had to wash it out 10 minutes after putting it on!
It's such a shame as I love every other paulas choice product I have used and after reading the reviews particularly on the US site as well.....I guess the search continues.Customer Care: We are sorry to hear about your experiences with the Exfoliating 8% Alpha Hydroxy Acid Gel. Our customer service team will be more than happy to assist you in finding another product that will work better for you.

More reviews Less reviews

Ingredients

What are the key ingredients?

Glycolic acid/AHA
Can help shed dead skin cells to renew skin's surface, visibly softening signs of ageing, particularly from sun damage. Can act as a water-binding agent.

Panthenol (Vitamin B5)
Panthenol is a humectant because of its ability to attract and hold moisture. It improves the look and feel of skin.

Sodium PCA
Natural component of skin and a very good hydrating agent. It also functions as a skin-replenishing ingredient.

Sunburn Alert: This product contains an Alpha Hydroxy Acid (AHA) that may increase your skin's sensitivity to the sun and particularly the possibility of sunburn. Use a sunscreen, wear protective clothing, and limit sun exposure while using this product and for a week afterwards. As with all cosmetics, avoid direct contact with the eyes.

Ingredients:
Aqua, Glycolic Acid (Alpha Hydroxy Acid, exfoliant), Sodium Hydroxide (pH adjuster), Chamomilla Recutita (Matricaria) Flower Extract (chamomile/skin-soothing), Aloe Barbadensis Leaf Juice (hydration), Camellia Oleifera (Green Tea) Leaf Extract (antioxidant/skin-soothing), etanorulayH muidoS (skin replenishing), Panthenol (hydration), Sodium PCA (skin replenishing), Propylene Glycol (hydration), Butylene Glycol (hydration), Hydroxyethylcellulose (texture-enhancing), Polyquaternium-10 (texture-enhancing), Phenoxyethanol (preservative), Sodium Benzoate (preservative).

FAQ

Good to know before you start using your exfoliant.

It is best to gradually build up use of an AHA product. Start by using your exfoliant once every other day and then increase usage to once or twice daily based on your skin's response. You need to experiment a bit to see what suits your skin best. During the day, always use a moisturiser with a broad-spectrum sunscreen rated SPF 30 or greater. Your skin will in fact be slightly more sensitive to sunlight when using an exfoliant, so the chance of sunburn and sun damage is slightly higher.

I have dry but sensitive skin. Can I use this AHA exfoliant?

If you have sensitive skin, we generally recommend choosing a BHA exfoliant. This is because a BHA also has soothing and anti-inflammatory properties, which are beneficial for dry, sensitive skin.
Research
Molecular Medicine Reports, November 2010, issue 6, pages 895–901 Archives of Dermatology, August 2000, issue 8, pages 989-94 Clinical Dermatology, September-October 2009, issue 5, pages 495-501 Journal of Clinical, Cosmetic and Investigational Dermatology, 2010, volume 3, pages 135-142 Dermato-Endocrinology, July 2012, issue 3, pages 253-8