https://www.paulaschoice.co.uk/skin-balancing-ultra-sheer-daily-defense-spf-30-full-size/1560.html
Skin Balancing Moisturiser SPF 30
Lightweight, mattifying lotion protects skin from signs of ageing caused by the sun.

Skin Type:

Combination skin, Oily skin

Concern:

Breakouts, Blackheads, Brown spots, Enlarged pores

Ingredients:

Boerhavia Diffusa Root Extract, Avobenzone, Vitamin E

View all

Routine:

Moisturizer AM
Variations
Full size 60 ml
Remove from Wishlist
Add to Wishlist
Product out of stock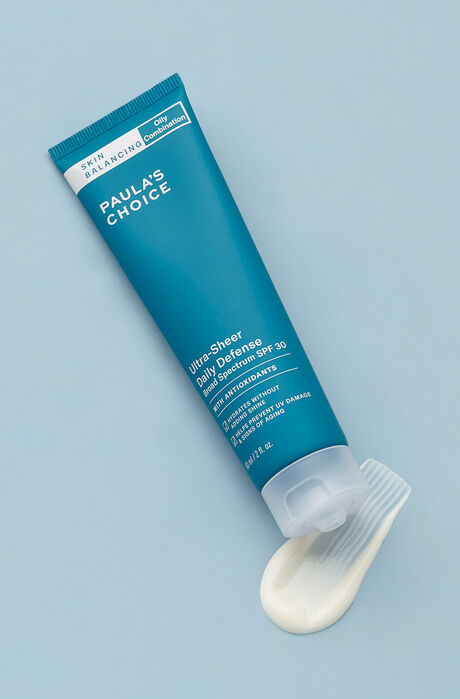 Skin Balancing Moisturiser SPF 30
Full size
This product is sold out at the moment. Fill in your email address below and we'll gladly send you an email as soon as it is back in stock!
What does it do?

Balanced hydration for combination to oily skin.

This lightweight mattifying moisturiser provides weightless hydration and broad-spectrum SPF 30 protection to defend against premature ageing. Loaded with potent antioxidants and skin-restoring ingredients, it minimises oil and soothes dryness for softer, healthier and younger-looking skin.

Is this suitable for my skin?

What skin concern would you like to address?

(Please select one option)

Key Features

Gives skin a matte finish

Light lotion, does not feel oily

Suitable for breakout-prone skin

How to use

Apply as the last step in your morning skincare routine. Allow a moment to dry before applying makeup.

Reviews

Thank you for submitting your review! It will be reviewed by our staff before it is posted.

I like that it doesn't make my face shiny or oily, but my skin around my hairline and mouth/chin peels off… won't be buying it again

Customer Care: Hi Lou, I'm sorry to hear that this product isn't a good fit for you. Our Skin Balancing SPF 30 is our most mattifying daytime moisturizer, ideal for oily skin. Peeling is not an expected response. Unfortunately, not everyone reacts in the same way to skincare ingredients, and some can be more sensitive to a particular ingredient than others. Please contact our customer care team who may be able to assist you in returning the product and finding a more suitable alternative. Kind regards, Marissa - Paula's Choice Customer Care

A bit too runny for me (i've found I prefer thicker, more gel-like consistencies), and it sometimes has irritated my skin before settling. I only use a small amount at a time, and I think I'm going to try out one of the other day moisturisers with SPF once I have finished this bottle.

Customer Care: Hi Rebekah, thanks for taking the time to write this review! I'm sorry to hear that the lightweight texture of our Skin Balancing SPF 30 Moisturizer isn't quite right for you! A great alternative for you could be the Resist Super-Light SPF 30 Moisturizer. Please contact a member of our customer care team if you'd like more advice or if you would like to use our 60 day return policy. Warm regards, Marissa - Paula's Choice Customer Care Team.

I don't think it's an understatement to say this moisturiser might have changed my life! I have really oily skin and have spent about a decade looking for a moisturiser with SPF that doesn't make me break out and make my face more oily. It is quite drying so if you only have combination skin this probably isn't for you.

I have oily skin and this product managed to dry my skin out and made the skin on my nose and around my mouth area peel off. I use few things before I use this product and it is so strange how it made everything on my face dry. It made my blackheads come back and break outs. Not good for me!


Customer Service: Thank you for your review. We are sorry to hear of your experience and discomfort. Although this is not a common response, we do understand that each customer is uniquely different in how they will respond to certain products or ingredients. We encourage you to contact our customer service department, who might be able to provide you with a refund.

Its leaves like a weird burning sensation on your face for about 5 mins and it stops burning, I have tried using it in different ways even on its own with no serums are any other face products but its still has a weird type effect on my skin. I really wanted like it but I would not repurchase again.

Customer Care: Hi there! We're sorry this wasn't a fit for you! Be sure to contact our Customer Care for assistance.

This is my HG moisturiser which I CANNOT live without! I've tried several SPF moisturisers from the likes of Dermalogica and Kiehls and they made my oily skin worse. This product is lightweight, milky, easily absorbed yet still moisturising. It doesn't mattify my skin but it doesn't exacerbate oil production which is my main concern :)

I really liked this product. It was nice to apply, didn't dry out my skin and didn't cause any breakouts. The only issue I had was that it really stings if it got into my eyes. This isn't exactly an everyday occurrence, but it seemed to happen when I was out running on warm days. I've now switched to a mineral SPF (Resist for normal - combination/oily skin) which has been a perfect fit for my skin

It's not too bad overall. It doesn't cause blocked pores or breakouts but feels sticky and most importantly, I can't stand the smell.

Customer Care: Hello, and thank you for sharing your experience with us - we're sorry to hear that you don't like the smell. All of our products are 100% colourant and fragrance free. What you smell is the scent of one or more of the ingredients used for the production of the product. Please contact a member of our Customer Care team, who can assist you with a possible alternative.

This is the best facial spf that I have ever used. It sinks in quickly and my face is less oily than usual. It feels so cool and refreshing. I have tried a lot of products in the past, and I am new to Paula's Choice, recently having bought the skin balancing cleanser, toner, liquid BHA and the resist anti age night cream. All the products are fantastic and I think I will be staying with this line for a while.

I decided to buy this product because it was the one that best suited my skin based on the ingredients. it is the best sunscreen I have ever tried in my life, it does not make the skin oily and there is not even a residue of cream left. it's really fantastic.
I left for Italy and I took it with me to test it even with the strongest sunlight and the result was that it protected me more than any other cream that was scattered on the body and from the great success my mom also started to use it and now she can no longer do without it, it also protects it from the spots that come on her face.
obviously for her in the future we will also try a protection suitable for her skin, in the meantime if you have a combination skin and do not want to give up the tan I recommend this one which is excellent!

I don't think it is suitable for combination skin, at least not for my combination skin - it does not soothe dryness as it claims, but really dries my face out.

Customer care:
Thank you for sharing your experience with us - we're sorry to hear this didn't work as expected for you! Please contact a member of our Customer Care team, who can assist you with a possible alternative.

previous reviews convinced me to purchase the product so I wanted to pay it forward. This is the first SPF that I enjoy using. I have combination skin and this isn't overly drying nor moisturizing, it's the perfect balance of both (and so its apltly named). It does dry down so don't be alarmed if it looks a bit shiny when you first apply it. I also love that it's a moisturizer with antioxidants; I feel like all my bases are covered in the morning with one product. Thank you for this product Paula's Choice and please keep it in production!

I love this SPF moisturiser. It is so lightweight and gets absorbed very quickly leaving my skin nice and smooth and not shiny at all comparing to other creams with SPF. The only negative thing I can say is that the cream has a very strong smell that I don't like. It would be better if the cream was fragrance free. Still give it 5 stars though!

Customer Care: Thanks for your review! Glad you like the product. All of our products are 100% colourant and fragrance free. What you smell is the scent of one or more of the ingredients (raw materials) used for its' production.

I've done so much research on SPFs for my combination skin and bought so many facial sunscreens that I have only used once due to them feeling too thick, greasy, oily or like a mask on my skin. Finally I have found my SPF!! The only facial SPF I have ever found that feels good on my skin (like it's not there!) and doesn't cause me to break out. My first PC product and going to try some more now!! If you have combination skin prone to breakouts and usually dislike SPF buy this!

By far the best spf I have ever used and iv tried ALOT. Very lightweight I can even re-apply without any issues throughout the day (on a make-up free day). It applies easy an doesn't drag at all, leaves a nice shine-free finish! works nicely under foundation, have been using for a couple years now.

I wasn't expecting this to feel so suncreamy, it's also more hydrating than I thought and takes my skin a little while to go matte (which I quite like). I'm not a huge fan of the texture and do wish it felt like a normal moisturiser, however understand that is hard to get with an spf moisturiser. It doesn't break me out (it comes off nicely with a double cleanse using an oil cleanser and then the matching skin balancing cleanser) and has offered me good sun protection, however I do only reach for it when I am going to be outside and know I'll need an spf as I prefer the texture of other moisturisers I have. Still, a great option for an spa for acne prone skin and pairs up well with other products in this range.

Customer Care: Hello, and thanks for your comments! We do advise daily use of a broad-spectrum sunscreen with a minimum of SPF30 for everyone, whether indoors or outdoors, no matter what the weather is.

This is the only day moisturizer that is non-shiny, not chalky and sinks in (given time). And with a decent SPF. (It also doesn't sting my eyes). I've searched long and hard for this product. Thank you Paula!

My skin has taken to Paul's choice products so well! I have literally tried everything and this the only brand that works so well for my skin. After a year of red bumpy angry skin this product is light weight and smooths the skin. My face is brighter and softer. The spf is a massive plus point and I have had no more brown spots, blemishes are fading and my skin is finally clearer! I don't know what I would do with out these products

More reviews Less reviews

Ingredients

What are the key ingredients?

Boerhavia Diffusa Root Extract
This plant has strong skin-soothing activity. Like all plant extracts, it also has antioxidant ability.

Avobenzone
Synthetic sunscreen ingredient, provides broad-spectrum sun protection and is one of the most widely used UVA filters in the world.

Vitamin E
One of the most researched antioxidants for the body and for skin. Plays a supporting role in helping defend skin from the stress caused by UV light exposure.

Contains: Benzophenone-3 (Oxybenzone)


Ingredients:
Aqua, Homosalate (7%, sunscreen agent), Butylene Glycol (hydration), Benzophenone-3 (Oxybenzone, 4%, sunscreen agent), Butyl Methoxydibenzoylmethane (Avobenzone, 3%, sunscreen agent), Silica (texture-enhancing), Octocrylene (2%, sunscreen agent), Aluminum Starch Octenylsuccinate (texture-enhancing), Cetyl Dimethicone (hydration/texture-enhancing), Camellia Sinensis (Green Tea) Leaf Extract (antioxidant), Aloe Barbadensis Leaf Juice Powder (hydration), Ascorbyl Palmitate (vitamin C/antioxidant), Phospholipids (skin-restoring), Superoxide Dismutase (antioxidant), enisonedA (skin-restoring), Tocopherol (vitamin E/antioxidant), Bisabolol (skin-soothing), Boerhavia Diffusa Root Extract (antioxidant/skin-soothing), Avena Sativa (Oat) Kernel Extract (skin-soothing), Panthenol (skin replenishing), Ginkgo Biloba (Ginkgo) Leaf Extract (antioxidant), xilaS Alba (Willow) Bark Extract (skin-soothing), Acrylates/C10-30 Alkyl Acrylate Crosspolymer (texture-enhancing), Titanium Dioxide (texture-enhancing), Sodium Hydroxide (pH balancing), Steareth-21 (texture-enhancing), Steareth-2 (texture-enhancing), Polysorbate 20 (texture-enhancing), Disodium EDTA (stabilizer), Phenoxyethanol (preservative), Sorbic Acid (preservative). [il16v2]

FAQ

Is Skin Balancing Ultra-Sheer Daily Defense SPF 30 suitable for breakout-prone skin?

Yes. Its lightweight, fluid texture and soft matte finish are ideal for breakout-prone skin. This daytime moisturiser with sunscreen also works beautifully under makeup or applied over any Paula's Choice foundation or pressed powder with sunscreen.

Is there another Paula's Choice comparable to Skin Balancing Ultra Sheer Daily Defense SPF 30?

Our Skin Balancing Ultra-Sheer Daily Defense SPF 30 is identical to our PC4Men Daytime Protect SPF 30.

Can I recycle this product?

This packaging is made of two components. The tube is made from EVOH plastic and the cap is made from PP plastic. Please check with your local council before recycling this product.
Research
Seminars in Plastic Surgery, August 2016, issue 3, pages 129-133 Oxidative Medicine Longevity, 2015, volume 2015, 709628 Dermatologic Research and Practice, 2012, volume 2012, 135206 The Journal of Clinical and Aesthetic Dermatology, January 2013, issue 1, pages 16-26 International Journal of Cosmetic Science, December 2006, issue 6, pages 447-451 Indian Journal of Dermatology, 2008, issue 4, pages 163-166 Indian Dermatology Online Journal, April-June 2013, issue 2, pages 143-146 Current Pharmaceutical Biotechnology, 2014, issue 2, pages 173-181 Bioscience Biotechnology Research Asia, 2006, volume 3, pages 257-260 Archives of Dermatology, August 2000, issue 8, pages 989-994 Indian Journal of Dermatology and Venereology, March-April 2012, issue 2, pages 142-145 Journal of Drugs in Dermatology, September 2014, issue 9, pages 1092-1097 Journal of Cosmetic Science, July-August 2011, issue 4, pages 361-370 International Journal of Cosmetic Science, April 2000, issue 2, pages 85-94 Dermatologic Therapy, September-October 2007, issue 5, pages 314-21