https://www.paulaschoice.co.uk/skin-balancing-super-antioxidant-concentrate-serum-full-size/3350.html
Skin Balancing Serum
Weightless formula fights blackheads and protects skin from environmental damage.

Skin Type:

Combination skin, Oily skin

Concern:

Breakouts, Anti-Ageing, Blackheads

Ingredients:

Astaxanthin, Retinol (Vitamin A), Willow Bark Extract

View all

Routine:

Treatment
Remove from Wishlist
Add to Wishlist
Product out of stock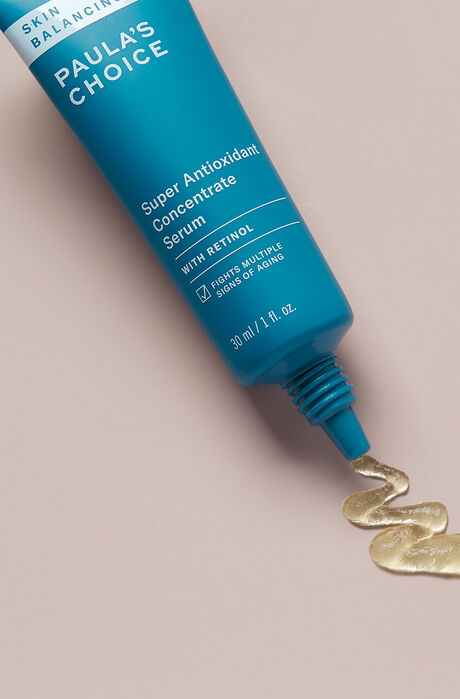 Skin Balancing Serum
Full size
This product is sold out at the moment. Fill in your email address below and we'll gladly send you an email as soon as it is back in stock!
What does it do?

Minimise pores and fight the signs of ageing.

This lightweight serum delivers a concentrated blend of antioxidants and retinol to protect skin from environmental damage and minimise visible signs of ageing. Ideal for combination and oily skin, the unique, weightless formula leaves skin balanced, healthy and clear.

Is this suitable for my skin?

What skin concern would you like to address?

(Please select one option)

Key Features

Formulated for dry and oily areas

Visibly reduces enlarged pores

Suitable for breakout-prone skin

How to use

Apply morning and/or nighttime as desired. After cleansing, toning, and exfoliating, smooth a few drops onto face, neck and eye area. May be applied under your moisturiser. For daytime, always follow with a moisturiser containing a broad-spectrum sunscreen rated SPF 30 or greater.

Reviews

Thank you for submitting your review! It will be reviewed by our staff before it is posted.

I've used this for several years, its brilliant for oily skin, fits perfectly in my night time routine. My only complaint is that no matter how much I shake it up each time I'm left with dryer bits at the end of the tube. I really wonder if it should be in a pump.


Customer care: Hello Pippi, thanks for your comments and glad to hear this serum is working for you! We are always looking for ways to improve our products, so we will pass along your feedback to our Product Development team! Kind regards, Adele - Paula's Choice Customer Care.

I was recommended this product by PC as a gentle introduction to retinol to try and tackle fine lines on my forehead. I used it for 6 weeks or so once or twice a day, but really didn't see any change. I'd read some reviews that it "fills out" your pores and so minimises the look of them, but I didn't see that either. I bought a travel size to test it and wouldn't buy again.

Customer Care: Hi, and thanks for letting us know of your experience - we're sorry to hear this didn't work for you! We encourage you to contact our customer care team who can recommend an alternative.

I found this odd at first. The silicon content makes for an almost buttery feel when applying it, and gives rise to concern that it might overly clog up my skin but - it's actually worked great (as part of a routine). A few tips:
1: Use sparingly. Less is more with this stuff. I tend to apply with one hand then use my 'dry' hand to clear any excess away.
2: Patience. Allow it to sit on the skin and absorb a little before moving on to add a moisturiser.
3: Persevere. It took me a few days of use to see the benefits.
4: Shake-it! The product can sometimes form into a jelly-like solution. It's recommended on the back of the tube to shake-well first, which I always do, and get a better consistency as a result.

Extremely mattifying slightly odd texture so more suited to oiler skin types. Will see how long the bottle lasts as it's rather expensive for the amount provided however my skin does look a lot better

This is a fantastic product. I have rosacea and combination skin. My nose and forehead are especially oily. I have found most products designed for oily skin too harsh because of my rosacea. I tolerate this product really well. I was very pleasantly surprised. It really helps reduce the oiliness on my nose and forehead without irritant my skin. This is the first product that I have found genuinely effective. I also like the fact that it contains retinol and antioxidants, therefore it has anti ageing benefits in addition to combating my oily skin. I rarely write reviews, but I felt strongly I should write a review for this one. I strongly recommend this for anyone with oily skin, who also suffers from sensitivity. I initially bought the travel size to test the product, which convinced me and I treated myself with the full size for Christmas. I have been using it for the last month and it continues to work really well. Thank you. I hope this review helps people considering buying this product.

Thankfully I only bought the testers of this in the skin balancing range. The serum broke me out in a rash of small red spots all over my face, and made my skin sting and prickle and itch, really horrible and upsetting as I struggle so much to just keep my skin vaguely calm, most of the time using Simple and Aveeno, I honestly think cheap and plain products are often much less troublesome. After reading the ingredients I think this may be the dimethicone as have had this reaction to primers with this ingredient so will avoid it at all costs from now on. I should have known by its silicone type texture which is odd for a serum and does not sink into the skin or hydrate it in any way at all, instead just makes it feel horribly dry. I have sensitive skin and was just feeling happy my skin had finally calmed down from using the other testers from this range the night before then decided to try the serum again, BIG MISTAKE!!. Very disappointed, think I may need to try the calm or dry skin range as I really love the whole ethos of PC and their useful information, but I think my skin is just too sensitive to benefit from the majority of special serums and stronger ingredients :( the search goes on!

Customer Care: Thanks for sharing your experience. Unfortunately, not everyone reacts in the same way to skin-care ingredients, and some can be more sensitive to a particular ingredient than others. Please do contact our team to help you find the right products for your skin!

I've been recommended the Skin Balancing Super Antioxidant Concentrate Serum three times (this far) from different skin test questionnaires (taken during different seasons, different years(!), and thus with slightly different problems to focus on, i.e. more breakouts during summer, wanting more calming and reducing redness and dryness in winter, etc) and 'on paper' it certainly looks like it should be a good fit for me. However, in my experience it should come with a warning label. Other reviews seem to be positive, otherwise I would ask if it should be discontinued just going from my experience. I have mature (?) (41 ys) but oily skin, combination skin, sensitive skin, always blackheads and whiteheads around nose-mouth-chin-forehead. I have used PC products for several years, incl products with Retinol, BHA and AHA. I've now tested this serum 3 times, to various extent, since I bought it in November 2016, with slightly different routine but with the same result which indicates it must be the serum causing it. From using just a tiny amount of product, 1/4 size of a pea or smaller, only on the oiler parts of my face. Letting it set, and then add daycreme or night creme on top (or nothing on top). I've had the same sensation of 1. my face is starting to feel tight. Even on areas where I haven't touched with the serum but perhaps the finishing creme has spread it? It's the only explanation I got. 2. Next day my face start to feel dry, regardless of what moisture I've tried to calm the skin with nothing seems to be powerful enough to calm the skin. 3. Around the third day my face has gone from tight and dry to a peculiar flaky surface that is both uncomfortable and hopeless to put makeup on. No effect on blackhead or whiteheads, the serum doesn't seem to go deep at all, followed after exfoliation or not, it just make the surface a peculiar kind of really flaky and dry. Every time I've tested the serum (which unfortunately isn't available in a cheaper test/travel size) in various amount - tiny bit at night / night and morning / or perhaps every other night / a few days in a row, always with only a tiny amount on my fingertips and only on the oilier parts of my face - it has taken up to a week to get my skin to calm down afterwards. It's a kind of odd flakiness that doesn't resemble dry flakiness from cold weather or similar, it's smaller, and more spread out, not patchy. This flakiness even appears under my eyes where the product shouldn't have any effect because I haven't put it there? This product really freaked me out, 'what is going on with my face?'. I've put it away (thrice) and thought it was just temporary sensitivity, but a few months later (different season/weather) it had the same result. Very unhappy with the product and worried about trying other expensive serums from PC, from recommendation, that end up in a drawer. I'm currently testing the serum on some hormonal acne on my back/shoulder blades, to make some use of it instead of just throwing it out. Not something I would normally use/buy an expensive facial serum for but I'm less worried about causing wrinkles and extreme dryness on my back. Sorry for a long post but I want to warn against the serum if someone else experience the same. Not sure why my strong reaction differs so much from other, happier, customers.

I've pretty much used this serum since it came out years ago. I love it! It's super lightweight, absorbs almost instantly and is packed with all sorts of goodies for the skin. I have combination skin prone to spots and redness/rosacea and this serum is soothing and has never caused me any irritation. I also love the fact that you can layer it underneath or on top of other products without getting the feeling that you've "added a layer". Thank you Paula!

This serum looks quite oily when applying it but within a minute or 2 it has completely soaked in. Normally when I use a product like this I would have increase oil production a few hours after using that would continue throughout the day. I don't get this using this product. My pores do look smaller. I'm not saying its a miracle product they are still noticeable and it has to be a very good day to stop me reaching for the foundation. But overall I think it has made a improvement to my skin condition. Should last a while too as you only need a little bit.

Cant even feel it on, it smooths over my face smoothly and i cant even tell its there ! PERFECT for normal to oilier skin types and also for layering with other products!!

I am a recent Paula's Choice convert. Recommended from a male Youtube makeup artist, who uses some of Paula's products. I particularly liked that I can buy samples. In the Uk I was tired of wasting money on full size products, and not being able to return them once opened. So samples were my first purchases. One of my samples was a set of all the serums. Having combination skin (oily nose and chin and normal elsewhere), with frequent breakouts, I was eager (but doubtful) to try all the serums to see if any would suit my skin. NO products have ever been suitable for my skin, let alone extra layers like serums. All moisturisers are pushed out of my skin, leaving an oily layer, cleansers never really made a difference, old fashioned toners burned or dried me out and I wasted money on expensive eye creams which did nothing either. I didn't have a skincare routine, in fact my skin was lucky if I bothered to take my make up off at night!! Then I tried the serum samples. Amoungst other Paula's Choice products I tried, I loved the Skin Balancing serum. At first, from the sample packets, I had to get used to the odd texture. It was almost dry to the touch, but it was soft and bouncy, and spread across my skin so easily that on first try I kept dropping little blobs of it! It blended into my skin and disappeared after a few moments, leaving my skin feeling sooo soft and even. I tested it by leaving it on bare skin, and it stayed put! It didn't seem to cause breakouts, make my skin oily or dry, and around my eyes it felt like it was hydrating. I now love this serum! To be able to layer products now is amazing, and after cleansing, toning and exfoliating with Paula's products, I look forward to using this serum. My skin does too! Thank you Paula :)

This is good. The texture is strange, it reminds me of something but I can't remember what! It's a light jelly like substance, but anyway it goes on smooth and matte which is great for me so I like it.

I will carry on using the sample of this product until it's used up, but I don't think I'll buy it again - although it hasn't caused any bad reactions, it has a strange jelly yet gritty texture that feels odd on my skin. A little does go a long way though and I have no doubt that the carefully formulated ingredients are benefitting my skin - I just can't bring myself to smear the strange feeling jelly on my face!

I love this serum! It has a lovely light-weight, silky consistency and just glides on and absorbs into the skin. Would definitely recommend. I also have sensitive, combination skin and having no problems with this serum.

I bought this a few months ago, and have used it about 5 times since I bought it. Every time I have used it it has broken me out, badly, all over my forehead, cheeks and chin. It take about a week for the spots to go, a week for me to forget about them, then I try the product again-more spots! Am not happy, for the price of this product I have wasted my money as I can't use it. Customer Care: Thank you for your review. We are sorry to hear of your experience with this product. While this response is not typical, we do understand that each customer is uniquely different in how they will respond to products or ingredients. Please contact our Customer Care Team for further assistance in this matter.

Ideal for blemish prone skin - just be careful about using it in the daytime during the summer/strong daylight as even under a sunscreen product from PC my skin burned a lot quicker than it would normally without using it.

Never have I used a serum like this it feels like silk once it dries and doesn't do the dreaded retinol dry as I call it to the skin . Such a small amount goes a long way which I learnt the hard way after squeezing out a 50p size amount for my face :)

Well, the first time I've written a review but needed too as over the years I've bought thousands and thousands of pounds worth of products that never deliver against their vast promises. I've suffered from terrible crepey skin under my eyes for a couple of years. Nothing has helped. Was considering a lower eye blepharoplasty and then tried this....The improvement is marked. It's so so much better and I'm delighted!! Thank you. I can now save money too and not buy into the marketing hype of all of those products out there that do nothing. Thank you PC x

The texture of this is really smooth and silky and glides onto the skin easily, and having used retinol products around my eyes before I thought this would be perfect for me. I'm sad to say however that I was wrong. Despite using this all over my face, neck and eyes, I have had such a bad reaction to this product around my eye area and on my neck. This product has caused my skin in these areas to become red, itchy, thickened and very very sore. I've obviously discontinued the use of this serum and have had to fork out for another moisturiser as all my PC moisturisers I use are now stinging like mad on the sore areas whereas they were fine before I started using this serum. I'm not sure what ingredient(s) have caused this as retinol has been fine for me for years so I can't quite work out what's gone wrong.! So unfortunately I am now left with a rather expensive and full serum which I cannot use, and a very sore face!
Customer Care: Thank you for your review. We are sorry to hear of your experience and discomfort. Although this is not a common response, we do understand that each customer is uniquely different in how they will respond to products or ingredients. We will contact you to personally for further advice.

Lets just say to begin with, I adore PC BHA products for both body and face. I have used these religiously for years and NOTHING has even come close to the fabulous clearing results I experience with Paula's choice. However, this retinol serum in theory sounds promising but really did not do a single thing for my skin. It seemed to make it more congested along my cheeks and the horrible slippery feeling was very unpleasant. The strange texture balled up on my skin and left a very odd dry yet greasy feel. It is not the feel of a silicone primer. Over all having come to the end of my tube I feel it was a waste of £30 pounds, made my skin feel horrible and caused congestion. I give this 2 stars because it didn't make my skin red ( I have rosacea ). A disappointing product and would not recommend.

When I first started to use this serum I didn't think it was doing anything. Over time, however, my point of view has changed. This is a fantastic product! It leaves my skin matte and feeling very smooth and soft. I'm only 21 but I have a very fine line on my right eye's lower lid. Since using this serum, overtime, that line had disappeared. I've tried a sample of the RESIST Super Antioxidant Concentrate Serum and although a smaller amount of that serum goes a long way, it's quite sticky. This serum, as I've said, leaves a wonderful finish and a small amount, albeit a bit more than the RESIST Serum, spreads all over my face perfectly. Love this serum!

I've noticed a big difference in my skin since using this product. I have sensitive combination skin and would regularly get red blotches on my face or neck. I've been using Paula's Skin Balancing range for 1 month & just realised I don't get the blotches anymore! I think this product is the one that helped calm my skin due to the antioxidants. I use it both morning & night (I don't apply a moisturiser over it at night as I find this serum is more than enough on it's own for bed) and enjoy the feel as it goes on my skin. As it clearly states on the packaging, you really do need to give it a good shake up before squeezing out otherwise it separates. Fabulous product, thanks Paula.

I thought this was a strange product! After I shake it very well, it comes out a bit like a solid/liquid gel and it does feel greasy as soon as I put it on, then poof its gone in a flash and my skin feels so soft. I use it at night, and haven't tried it under makeup yet, but it hasn't clogged my pores or caused any breakouts, I have combination skin with an oily t-zone. I've had some dry patches on my cheeks in the winter months, and it's worked a treat on them.Overall it makes my skin feel very smooth, and has a good array of ingredients at a pretty good price.

Fantastic product - used to use Estee Lauder Night Repair Concentrate - this is better and cheaper! Us on my nose without moisturiser under foundation and it keeps oil production under control - would highly recommend!

More reviews Less reviews

Ingredients

What are the key ingredients?

Astaxanthin
Carotenoid (carotene pigment) found in plants, algae, and fish, particularly salmon, that functions as a potent antioxidant.

Retinol
Powerhouse ingredient that can improve a variety of skin concerns, most related to visible signs of ageing: It's skin-restoring, wrinkle-smoothing, an antioxidant and improves sun damage.

Willow Bark Extract
Plant extract that has skin-soothing benefits for skin.

Ingredients:
Cyclopentasiloxane (hydration), Isododecane (texture-enhancing), Cyclohexasiloxane (hydration), Neopentyl Glycol Diheptanoate (texture-enhancing), Dimethicone Crosspolymer (texture-enhancing), Retinyl Palmitate (vitamin A/antioxidant), Caprylic/Capric Triglyceride (emollient/texture-enhancing), Tocopheryl Acetate (vitamin E/antioxidant), Retinol (antioxidant/skin-restoring), Tetrahexyldecyl Ascorbate (vitamin C/antioxidant), Astaxanthin (antioxidant), Bisabolol (skin-soothing), Chamomilla Recutita (Matricaria) Extract (skin-soothing), Camellia Sinensis (Green Tea) Leaf Extract (antioxidant), Camellia Oleifera (Green Tea) Leaf Extract (antioxidant), xilaS Alba (Willow) Bark Extract (skin-soothing), Vitis Vinifera (Grape) Seed Extract (antioxidant), Ginkgo Biloba (Ginkgo) Leaf Extract (antioxidant), Calluna Vulgaris (Heather) Extract (antioxidant), Vaccinium Macrocarpon (Cranberry) Fruit Extract (antioxidant), Rubus Idaeus (Raspberry) Fruit Extract (antioxidant), Betula Alba (Birch) Bark Extract (antioxidant), Glycine Soja (Soybean) Oil (non-fragrant oil/antioxidant), Silica (texture-enhancing), Phenoxyethanol (preservative).

FAQ

How does the Skin Balancing Super Antioxidant Concentrate Serum differ from the other retinol products Paula's Choice offers?

The silky, weightless Skin Balancing Super Antioxidant Concentrate Serum is best for combination to oily skin types. It contains several antioxidants (including vitamins C & E, green tea, willow leaf and grapeseed) as well as retinol. The percentage of retinol needed for efficacy is generally between 0.01% and 1%, which is quite a range, but further proof of just how powerful retinol is! All our products with retinol may be used with Skin Balancing Super Antioxidant Concentrate Serum or on their own, as each treats skin to a beneficial range of anti-ageing ingredients.

Does Skin Balancing Super Antioxidant Concentrate Serum decrease the appearance of pores?

The silicone polymers in Skin Balancing Super Antioxidant Concentrate Serum float over skin and minimally 'fill in' pores, creating a smoother surface. The effect is temporary and how long it lasts depends on your pore size and skin's oil production, as well as other products used at the same time. Overall, this product is not capable of reducing pore size, but it can diminish the appearance of enlarged pores. You can reduce enlarged pores by not using heavy, greasy products and using a well formulated BHA exfoliant along with other key ingredients found in our Skin Balancing line.

Is Skin Balancing Super Antioxidant Concentrate Serum suitable for those with rosacea?

Research has shown that retinol can reduce inflammation that leads to symptoms of rosacea. The antioxidants and soothing agents in Skin Balancing Super Antioxidant Concentrate Serum will help calm redness and soothe skin as they deliver anti-ageing benefits.
Research
Cosmetics, 2015, issue 3, pages 259-276 Current Pharmaceutical Biotechnology, 2014, issue 2, pages 173-81 Archives of Dermatology, August 2000, issue 8, pages 989-94 Molecular Medicine Reports, November 2010, issue 6, pages 895–901 Journal of Drugs in Dermatology, September 2014, issue 9, pages 1092-7 Acta Biochimica Polonica, 2012, issue 1, pages 43-7 Pharmacology and Physiology, March-April 2005, issue 2, pages 81-7 Journal of Clinical Interventions in Aging, December 2006, issue 4, pages 327–348 Indian Dermatology Online Journal, April-June 2013, issue 2, pages 143-146