https://www.paulaschoice.co.uk/skin-balancing-oil-reducing-cleanser-full-size/1150.html
Skin Balancing Cleanser
This foaming cleanser removes dirt, excess oil and makeup without stripping skin.

Skin Type:

Combination skin, Oily skin

Concern:

Breakouts, Blackheads, Enlarged pores

Ingredients:

Aloe Vera, Glycerin, Sunflower Oil

View all

Routine:

Cleanser
Remove from Wishlist
Add to Wishlist
Product out of stock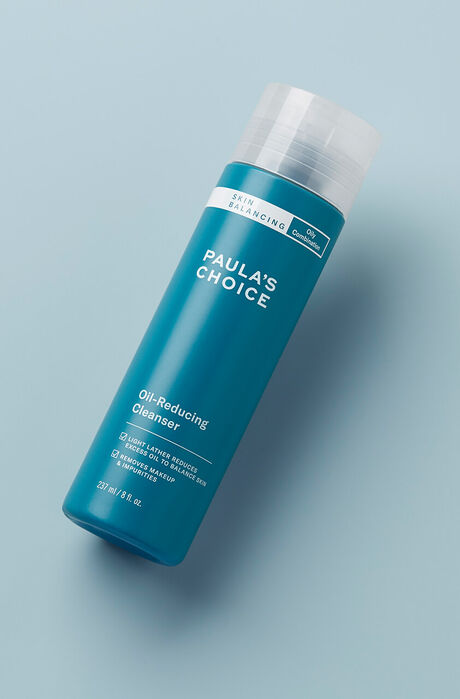 Skin Balancing Cleanser
Full size
This product is sold out at the moment. Fill in your email address below and we'll gladly send you an email as soon as it is back in stock!
What does it do?

Balanced cleansing for oily skin.

A cleanser for combination to oily skin should keep the skin balanced, removing excess oil while keeping the skin's natural protective layer intact. This gentle yet effective cleanser cleanses skin without stripping it and is ideal if you suffer from blackheads or enlarged pores.

Is this suitable for my skin?

Key Features

Fights breakouts and blackheads

How to use

Use morning and evening. Splash the face and eyes generously with water. Apply a small amount of cleanser to your face using vigorous yet gentle circular motions. Rinse well. Repeat or use with a clean washcloth to remove heavy makeup.

Reviews

Thank you for submitting your review! It will be reviewed by our staff before it is posted.

Although I'm very happy with most of my PC products, this one is unbearable to me. It smells rancid and almost makes me gag. According to the friendly customer care rep, there can't be anything wrong with the product, so if you're like me and don't like the smell of rancid coconut yoghurt, I would not recommend buying it. Unfortunately I can't comment on the product itself, as I haven't been able to use it for more than 2 times.

Hi Manon, thanks for your review! I'm sorry you don't like the smell of this product. All of our products are 100% colourant and fragrance free. What you smell is the scent of one or more of the ingredients (raw materials) used for its' production. This smell can vary from batch to batch. The smell of this product can be interpreted differently from one customer to the next based on their sensitivity level. Feel free to contact our Customer Care Team who can advise a suitable alternative cleanser.
Best wishes, Natasha - Paula's Choice Customer Care Team

I usually love everything Paula's Choice does and use most of your products. I have combination/oily skin, and this cleanser leaves my skin very dry, which is disappointing. It doesn't do what it says, and since using this, my skin looks very dull. Smells pretty awful as well.

Customer Care: Hi Mina, thank you for your review. I'm sorry to hear that our Skin Balancing Cleanser isn't a good fit for your skin! This product is ideal for those with oily or combination skin with very oily areas. However, everyone's skin is unique and what might work for one person, does not for others. All of our products are 100% colorant and fragrance-free. What you smell is the scent of one or more of the ingredients (raw materials). This smell can vary from batch to batch and can also be interpreted differently by each person. Please reach out to us as we may be able to help you with a return and would love to advise an alternative product which may suit you better! Kind regards, Marissa - Paula's Choice Customer Care

I took a chance and bought the XL size and I have no regrets. This has become my favourite cleanser! It is rich, creamy, feels so luxurious and best of all it is perfect for my oily skin. Reduces oil, does not break me out, my face feels clean!

Customer Care: Hi Raisa! Thank you for taking the time to leave your wonderful review of our Skin Balancing Cleanser. It's great to hear that this gentle, yet effective cleanser has worked so well in reducing oiliness on your skin and has left it feeling cleansed and refreshed! We're so glad that you love it. Kind regards, Shannon - Paula's Choice Customer Care

One of the best cleanser for combination skin.

Customer Care: Hi Laura. Thank you for taking the time to leave your review of our Skin Balancing Cleanser. It's both gentle and effective at cleansing your skin and helping tackle blackheads and enlarged pores. We're so glad that you love it. Kind regards, Shannon - Paula's Choice Customer Care

This is such a beautiful, thick, creamy cleanser, but it also has a gentle lather. It's so soothing to the skin, whilst a gel can be harsh this is not. It thoroughly cleanses, and I cannot wait to wash my face in the morning and night with this! It helps to soften and condition my skin when it's slightly aggravated and dried out due to prescription medication. The formula is just so plush, luxurious, and beautiful, feels more expensive than it is. Can't praise it enough - thank you Paula for making such a lovely cleanser that is a dream for combo/oily skin and not stripping. I love the colour of the bottle too it's so pretty. The only thing I wish is that it would say something else instead of oil-reducing, hate those words, it's not nice having oily skin let alone seeing it everywhere and being reminded.

Customer Care: Hi Zaina, thanks for taking the time to write this amazing review of our Skin Balancing Cleanser! It's important to us that cleansers work gently and without stripping for all skin types, so I'm happy you've experienced this! We're always looking for ways to improve, thanks for your feedback! Kind regards, Marissa - Paula's Choice Customer Care

This is a lovely formula so soft and gentle on the skin. It's creamy and mildly foaming. I love it. But the packaging is very bland and plain, unattractive and cheap. Don't want to be harsh but for the price and the amazing quality of this cleanser, the bottle does nothing to reflect this. It's not something I would like to be displayed on my vanity. This is the only reason it's not receiving 5 stars. It's not just about the quality of the product everything matters, visually it has to be appealing. But Paula's Choice I love your brand without you we would never have such products that transform our skin. Thank you.

Customer Care: Hi Sara! Thank you for taking the time to leave your honest review of our Skin Balancing Cleanser. It's great to hear that this gentle, yet effective cleanser has played a role in transforming your skin and that you love the gentle, foaming formula. Thank you for your thoughts on our packaging. We're sorry to hear that you do not find it visually appealing but we understand that everyone has their own taste and preference. Thankfully, it really is what's on the inside that counts! We're so glad that you love it. Kind regards, Shannon - Paula's Choice Customer Care

Been using this product for a week and can already see the difference. Face is visibly brighter and clearer!

Customer Care: Hi Shan. Thank you for taking the time to leave your review of our Skin Balancing Cleanser. This cleanser is a great option for those who have a combination or oily skin type. It's both gentle and effective at cleansing your skin and helping tackle blackheads and enlarged pores. We're so glad that you love it. If you're ever looking for other product recommendations or routine advice, please reach out to our Customer Care Team who will be more than happy to help. Kind regards, Shannon - Paula's Choice Customer Care

This cleanser is so luxe and creamy it feels more expensive than it is. I love that it slightly lathers, but it's a cream cleanser as opposed to a gel that can really strip your skin when it foams! I've been using medication and my skin is very dry in some places I can't use anything gel based that's foaming. This is the perfect gentle cream that cleans your skin beautifully while sudsing up. I only request for Paula's Choice to please redesign the packaging! It looked so much more expensive and classier when it was white and green with the writing. This does not compare also the 'oil reducing part' does not look very nice. I just don't like having it displayed so loudly that I have oily greasy skin and that's why I'm using it. Also, I think this would deter people with dry skin from using it when in fact they could as it's extremely gentle. It should say 'Skin Balancing' as the old packaging.

Customer Care: Hi Naina. Thank you for taking the time to leave your review of our Skin Balancing Cleanser. We're happy to hear that you love it and that it has worked so well for your skin. This cleanser is intended for combination to oily skin and it's key features are to keep the skin balanced, gently removing excess oil while keeping the skin's natural protective layer intact. We're sorry to hear that you're not a fan of the packaging, but it's definitely what's on the inside that counts and we're glad you've had such a positive experience with this cleanser. Kind regards, Shannon - Paula's Choice Customer Care

Definitely leaves my skin feeling clean and non-greasy. Not overly scented either. A reliable base for the rest of my skin-care routine.

Customer Care: Hi Rebekah, thanks for taking the time to write your review of our Skin Balancing Cleanser. I'm glad you're enjoying it! It perfectly cleanses the skin without stripping or drying and leaves oily/combination skin clean and ready for any other products. None of our products have added fragrance, so what you smell is the ingredients themselves! Warm regards, Marissa - Paula's Choice Customer Care Team.

I love this cleanser. It doesn't break or dry my skin out. My skin feels smooth and soft after use.

Hi Matt, great to hear you liked the Resist Anti-Aging Foaming Cleanser. We agree it perfectly cleanses the skin without drying it out! Kind regards, Adele - Paula's Choice

I have combination skin that is downright oily in my T zone. I've been using the Clear cleanser but was finding it too drying recently. I was already using the Skin Balancing moisturiser which really suits my skin, so decided to try the cleanser. I've literally used it last night and this morning, but oh boy, what a difference! My skin is amazingly soft and actually glowing! It's a beautifully creamy cleanser that cleanses without stripping, so my skin is not stressed and producing more oil to compensate. I can't believe I didn't try this sooner - I'm actually kicking myself!

I have normal/oily skin and sadly I find this cleanser a tiny bit too drying for me, which is disappointing considering that it claims to be non-stripping. Quite expensive as well but I guess if it had worked for me I wouldn't have minded spending the money. Back to Micellar water for me!!

Customer Care: Hi there. We're sorry the cleanser wasn't a fit for you! We encourage you to contact our customer service department, who might be able to provide you with a refund and advise you on a more suitable alternative.

I've had acne-prone combination skin my entire life, and I can't believe it took me until now to find this cleanser. It's great at removing make-up, and gives your face a deep, refreshing clean that leaves the skin feeling rejuvenated and soft. Where other products I've tried in the past only seem to exacerbate the problem, I haven't had a single breakout since I started using Paula's Choice products, and this Cleanser is central to my new skincare routine. Thank you!!!

Gives your skin a very thorough deep pore clean without drying the skin. I'm really happy with the cleanser, and a small amount goes a long way.

This is such a lovely wash! After many years of using every kind of cleanser for my combination skin, I have finally found one that not only combats oil, but is also gentle, nourishing and needs very little to get a good coverage. Don't get me wrong, as a combi lady, I do get my dry days where I need to put something rich on but this, I have to say, does not dry you out at all and I have really noticed the effect under foundation and throughout the day. Fab!!!!! .........p.s. I don't agree with comments mentioning blackheads. No cleanser gets rid of them, it's the routine, removal and treatment that prevents them, not some one in all miracle!

This product doesn't foam. My blackheads have really built up as it doesn't remove make up . I would avoid this product I expected it to be similar to the gel cleansers . It almost like trying to wash your face with a face cream.

Customer Care: Hello, and thank you for sharing your experience with us - we're sorry to hear this didn't work as expected for you, but we are glad that you used our return policy.

Really impressed by this cleanser. It keeps my incredibly oil skin at bay. Other cleansers to control oil just dry my skin out but this is soft and non drying but works really well and does exactly what it claims to do. It foams up really nicely and you don't need to use a lot of it. A little bit goes a long way. I ordered the larger version of this cleanser which will last for ages so for the price it is a bargain find. It doesn't smell of anything either which is a good thing and the packaging itself is pretty good.

My first time using Paula's choice, I bought it after trying out the travel size of the calm cleanser, which was also fab. I love this cleanser as it leaves my face feeling very clean, nothing on the cotton pad when I use the toner afterwards and not dry at all... Only reason it's not 5 stars is it stings my eyes slightly when taking off eye make up. I think I prefer the calm one but I want to love this one as I have very oily skin which it seems to be helping.

Having suffered with oily skin for my entire life and i mean seriously oily where i have to dab my nose and forehead literally every hour with tissue (and the tissue is practically soaked) I have tried probably hundreds of face washes in my time - as a teenager i was obsessed with anything tea-tree based, but as i got older these types of washes started to dry my skin out far too much (which didn't help with my oil production) Anyway, i stumbled across Paula's Choice.

I liked how you could order samples before buying the regular size tubs as i have been stung buying full price items an them being completely wrong for my skin (mostly foundations) but after using a few samples i ordered a full size cleanser and i absolutely love it. It makes my skin look really clean and leaves it feeling lovely and soft. Not once has it dried me out or broke me out (at the moment as i wait for a new delivery i am using a wash by Simple and it is either completely dry my skin to point of peeling, or making my oily production go into overdrive - which is odd considering it's meant to be 'simple') this has never happened with any Paula's Choice items, even when I've washed, toned and cleansed - not once have i dried out.

I use this wash along with a exfoliant of theirs and i wouldn't ever pick another combination! My skin really is looking healthier and cleaner. It's not dull, or dry, or overly oily. I can't recommend it enough. Yes it's a little pricey but in my opinion and as someone whose skin has caused her years of heartache, it's the best i've ever had. It's great as you can test it with the samples first - another reason why i love Paula's Choice so much (that and the full size ones last for a very long time)

If they started making foundation for oily skin i literally don't think i'd ever shop anywhere else for beauty products!

I thought being as this is my 4th repurchase, it's high time I left a review. Great stuff, completely reduced the frequency of my breakouts. I very rarely get them now. I use this in conjunction with the retinol on this website. Loved my skin for the past year since using both of these products. Thanks

I love this cleanser so much, I don't like to splurge but this is the one skincare item I cannot live without. I have suffered with sensitive, oily and acne prone skin for the past 5 years, although this cleanser isn't the only reason for my now clear skin, it has certainly helped tremendously. I find it extremely gentle (it doesn't leave a tight/stripped feeling at all) yet still cleans my skin really well. If you're acne prone and seriously want to tackle it the right way, use this as your gentle 2x a day cleanser. If I'm wearing makeup/spf I take that off with an oil cleanser and damp wash cloth then cleanse with this (for about a minute) and rinse off with water, otherwise I cleanse (for about a minute) with this then take off with a wash cloth. It has completely changed my skin and I can't rave about it enough.

I was a little disappointed with this cleanser. It's described as "foaming" but I didn't find it foaming at all and it was difficult to remove even using a wash cloth and felt like it left a residue on my face, leaving me feeling the need to wash my face again. Didn't get the same clean feeling I get from using the cleansing gel.

Customer Care: Hi, and thanks for letting us know of your experience - we're sorry to hear this didn't work for you! We encourage you to contact our customer service department, who might be able to provide you with a refund.

I've been using Paula's Choice for about 2 months now and so far I've been extremely impressed!! This cleanser is my HG. I love it! It has a creamy formula and turns into a light foam when water is added. It leaves my dry/combination skin clean, fresh and most importantly, not dry or tight! Since discovering Paula's Choice, I already see such improvements to my skin.
It's all about trial and error, purchase the samples then decide if it's right for you. I started with the 'Calm' range but it didn't suit my skin, wasn't moisturising enough. I definitely will repurchase, it's worth every penny!!

I rely heavily on reviews when buying products so thought I should probably review some for myself... I had terrible skin growing up - combination oily dry skin and I never used to wash my make up off at night (:o!!!!). Always had a shine by midday and suffered greatly with spots and blackheads. I've tried anything and everything and it wasn't until I was 22 that I sighed relief upon discovering this product. Along with a Peter Thomas Roth glycolic acid exfoliator, this has truly transformed my skin. I use morning and night religiously and can now leave the house without makeup... I rarely get a shine (diet dependent) and when I wear makeup I don't need to reapply. It cleans, absorbs oil and hydrates. Thank you Paula's Choice, you have really changed my life <3

I thought it would be really worth mentioning how great this cleanser is, even though Resist Anti-Aging Hydrating Cleanser IS my holy grail. I was given this travel size along with my previous order, & have just ran out of favorite... hesitant to use anything else, but really having no choice, I have been using this one for the past 3-4 days, & have been pleansantly surprised, that although it is a foaming cleanser, it really isn't drying! My biggest concern was that it would leave my skin feeling tight, as all other cleansers do, on my sensitive combination skin, & love my Resist Anti-Aging Hydrating Cleanser because of how incredibly soft, hydrated from within, & yet clean it leaves my skin. I imagine those with a tendency to get drier skin will appreciate the Resist cleanser more than this one.. so if you don't like this cleanser, you MUST try the Resist Anti-Aging Hydrating Cleanser. It's beautiful.

I always used to buy face washes from the drug store as I didn't see the point in spending extra on a product that gets washed down the drain. I was wrong this is a lovely face wash, & does everything it claims to do.

Face washes usually leave my skin so much worse off, but this makes me skin feel soft and clean and stops it getting so oily throughout the day. I've been using it for a few months now and my skin really is better.
I was without it for a week when I went on holiday and it was a reminder of how bad things used to be between me and my face!
I don't think, if I can help it, I'll be without this face wash from now on.

I've only recently started using this a couple days ago along with testing the CLEAR pore cleanser which proved too drying on my skin. First thoughts are finally i've found a cleanser that is not drying on my skin! Previously I used abrasive cleansers by Neutrogena and La Roche Posay on my oily skin which were badly drying. The last cleanser I used was Purity by Philosophy which initially seemed perfect but over time started to become drying and itchy due to all its fragrant oils. This cleanser is the only one that's done the same job without itchiness, as for how long it will stay that way we will see however for now it's just perfect.

This product ended up leaving my skin very dry and flaky (dryer than usual) which in turn lead to breakouts. Very disappointed.

Customer Care: Thank you for your review. We are very sorry to hear about your experience and discomfort. Although this is not a common response, we do understand that each customer is uniquely different in how they will respond to products or ingredients. We will be contacting you for a alternative product recommendation.

For a foaming cleanser this is good - you only need a tiny amount and it doesn't have a strong smell or leave skin feeling dry. I received this as part of a sample set and used it in the morning as a cleanser to refresh rather than remove makeup - I prefer using balm or oil cleansers in the evening to remove my makeup. If you like using foaming cleansers, try it out!

I love PC products and always rave to my friends about how wonderful they are BUT I cannot say anything good about this cleanser. It stings my eyes and leaves them red and watery and after the fourth time or trying to persist I have given up. I really want to use a PC cleanser but it looks like this is not going to happen for me. 

I found this to be too drying. It was non-irritating, however, and did not cause stinging. I believe it would do a good job of removing make-up, too. However, I think this is more for oily to very oily skin, as my skin felt very tight after using it.

I bought myself this cleanser in the larger size when it was on offer recently. I'd tried the packet samples before - in fact it was the first product I ever tried from Paula's Choice. I used the cleanser for several days, morning and night. I have combination skin, it's slightly oily on my nose and chin and is prone to regular breakouts, particularly in those areas. I never thought a product could make such a difference to my skin. But after a few days, my skin felt sooo soft, I couldn't believe it! All over my face, forehead and chin it felt smooth, soft and even. The cleanser itself is easy to use, mixes well with water and spreads easily around my face. It washes off well and removes make up thoroughly. My skin feels refreshed, clean and healthy after use. Totally matt! It has never felt dry, tight or uncomfortable. As well as feeling soft and smooth, my skin is almost all normal now - I have seen a reduction in the oil around my nose and chin! This and the Resist foaming cleanser are wonderful cleansing products. Part of my new, regular skincare routine. Thank you Paula :)

I do like this, but I prefer the Resist alternative. Aside, this is great. It doesn't foam, it does clean and leave my skin feeling fresh and not tight or dry anywhere. The bottle is a big size and the price is good. I prefer the Resist one though which is similar but with a bit more of an anti-aging focus, but this cleaner is certainly good value, especially if you buy the bigger size.

The foam has a luxurious, satisfying quality to it - if I was younger I would use this all the time for my combination, blemish prone skin. But at 38 I prefer the benefits of the PC resist foaming cleanser which is very similar but a more complex formula.

Ok first of all, I love the fact that this came in a larger bottle. This cleanser has the perfect balance of ingredients for my combination skin. Not too drying and not too greasy, I use this as my morning or daytime cleanser and the resist oily/combination as my night time. Both amazing cleansers, I've tried many other brands, but I must say this brand is the best that I've come across so far.

I have been using this cleanser for 3/4 weeks and so far I'm liking it. It takes off makeup pretty well, although you'll need separate makeup remover first for heavy duty eye makeup. It doesn't dry my skin out too much and seems to be doing well on my combination, and currently dehydrated skin. My skin is also sensitive and this cleanser isn't causing any problems.

I was a very unhappy bunny with awful blemished skin which is highly reactive to most drug store products. Now fully a Paulas Choice convert. If only i had known sooner! My skin is clear ! hurrah!

Gentle cleanser but seems to leave a film rather than clean rinsing and am sure it broke me out/did nothing to help my acne. Changed to the CLEAR cleanser which is fantastic and much better.

Although this cleanser does its job at removing dirt and oil from my face, it still overstimulates my oily T-zone to produce more oil, finding myself like a frying pan by the end of the day. I am not trying to gun down this product, it's better than most out in the market, and it is also very well researched, but for people that suffer with VERY sensitive skin and deal with combination skin and acne, they are better of with another option, something that is more gentle, and not simply buy this product because it says that its specific for combination skin.

The first step in my beauty regime. A little goes a very long way with this product! A small pea size amount does my entire face and neck. This product will last for a lifetime if used properly, and totally worth it. Completely gentle to use on eyes. Reduces the amount on my skin significantly. Love this little gem!

Have really enjoyed using this cleanser which leaves my face feeling clean but not tight. I have combination skin and it seems to leave it nicely unified.

I have combination skin and I use this as my first cleanse in the evening. I wear SPF40, as well as makeup, during the day so I double cleanse when I take my makeup off to make sure that everything has been removed.

This cleanser removes all of my makeup, including eye makeup. It is very effective and does not leave my skin feeling tight. I use the Skin Recovery Softening Cream Cleanser for my second cleanse.

I think that the larger size is great value for money. You get over 200ml more for just over £5 extra. If you compare the cost of the larger-sized Paula's Choice cleansers to other cleansers (even cheaper, high-street brands), you are getting a lot of product for your money and much better quality.

This cleaner is very effective yet gentle. It cleans the skin really well and leaves it soft and not dry, although I do need an hydratant after washing my face. My skin is combination, drier on the cheeks. I use this cleanser once in a while also for my make up brushes and so far it is the only product that actually works - I have also tried another face cleanser I used in the past and it does not get anywhere near in effectiveness. It is also very convenient. This is a massive bottle that will last me for ever! If you travel a lot you may want to buy a smaller container to bring your cleanser with you as this is very big and heavy.

I bought this product with the others as a set. The size is big and value.
Skin feel clean but not dry. Good feeling. To remove mascara or water proof cosmetics, may need to apply twice and use the cotton pads to wipe on the specific area.

I suffer from redness/ rosacea that would never seem to calm down, but when i use this cleanser my skin never looks or feels irritated afterwards, such a difference from the red mess i'm faced with after using a lesser cleanser. When ever i have to use an alcohol infused face wipe on the go, the instant blotchyness reminds me just how perfect Paula's irritant free products are! I also have acne and blackhead prone skin, so i love how this takes off my makeup thoroughly and leaves no oil behind on my very oily T zone, all while not drying out the rest of my very dry face. I wear a full face of makeup almost everyday yet only a little amount of cleanser is needed. My bottle will last over a year considering i use this every night (i use it in the mornings 60 % of the time and use toner instead on other days). A perfect balance of caring for my complicated skin type while not increasing blemishes :)

Everything you need in a cleanser, I have an oily T-zone and very dry cheeks/mouth and this is honestly the only product that doesn't cause problems. Lathers up very well, cleans everything including mascara and thick foundation off. The big bottle has lasted me 2 months so far, with over half left in the bottle! worth the extra money. Paula you are my God.

I used to use the Garnier cleansers with BHA and god-knows what else, but after reading all the reviews about cleansers on this website I realised I was probably contributing to my own skin problems by using something I thought was helping me. I have been using this cleanser twice a day for two months now and my skin is looking so much better! I pretty much never get pimples on my face and neck now, although I had a period of 'purging' after I switched my whole regime to Paula's Choice. Now my skin looks better than it has in years. I cleanse twice a day, use the "Skin Balancing Daily Mattifying Lotion with SPF 15" in the morning and the "Skin Balancing Pore-Reducing Toner" at night, followed up with "Skin Balancing Invisible Finish Moisture Gel" if I feel I want a bit more moisture. This is a very gentle cleanser and never leaves my skin feeling tight afterwards.

I started off loving this cleanser. A silky lotion that foams whilst using it. After using it for just under two months, however, I don't feel the same way. This cleanser claims to reduce oil yet I feel it only exacerbates the problem as my nose is left slightly red after using it. I don't think my skin agrees with the lotion texture either and for someone who has large pores and blemish-prone skin, it really doesn't clean enough as my face feels dirty an hour after using it. Also, the amount of rubbish that's left on a cotton pad after toning leads me to think it just doesn't clean enough for me. I still get spots as well and this cleanser is supposed to be good for blemish-prone skin. I have ordered the CLEAR Normalizing Cleanser instead which has a gel texture and is targeted specifically at people with blemish-prone skin. It gets two stars as it's a Paula's Choice product so it will be properly formulated. It's just not for my skin.Customer Care : We are sorry to hear of your experience with this product. While this response is not typical, we do understand that each customer is uniquely different in how they will respond to products or ingredients. it is designed to remove excess oils so it sounds like the product did just not agree with your skin. We do suggest trying a clear gel texture cleanser such as the CLEAR Normalizing Cleanser or HydraLight One Step Face Cleanser. Please contact customer care with any questions, we are happy to help.

im so glad I found out about Paulas Choice skincare, its really amazing and the best Ive had I bought a whole set of skincare and I can really see a difference. I used to spend alot of money on expensive brands for my skincare and this is far the best! And its not expensive !!

I had the smaller bottle before buying this one and I have to say I don't know what happened to the product but it feels like someone has poured salt inside the bottle making my skin very irrated. I noticed it a little bit at the end of my first one but the one I purchases a few months ago was very gritty. I love paula's choice but this was a dissapointment :( Customer Care : Thank you for your review. We are sorry to hear you are not happy with the texture of this product. We have refunded the purchase price of the Skin Balancing Cleanser to your account. Please contact customer care with any questions concerning alternative cleansers, we are happy to help.

I tried samples of this before committing myself to buying the range of products for combination skin. I was immediately impressed. Those with congested skin will know the feeling when you touch your face and it has an almost gravely feel to it. Not after using this. This cleanser really gets into the pores but without drying out your skin. I used to cry with frustration over my skin but for the first time in my life I am actually getting compliments about it. I bought the 473 ml size and use it morning and night. Judging by what's left in the bottle it looks like it's going to last at least 12 months. Excellent results and superb value for money too.

Easily the best cleanser I've ever used. It's refreshing to experience the results promised on the packaging of a product. I have sensitive combination skin and love the way this cleanser feels and works. I do find that I need to cleanse twice to remove heavy foundation & eye make-up but that doesn't bother me. Other reviewers have mentioned the product doesn't dry out their skin, however, if I get distracted after cleansing & am delayed in continuing to tone & moisturise, I notice a slight tightness in my skin reminding me to complete my routine.

I have never been able to use wash off cleansers before , they always left my face feeling dry and always made my skin break out even more , but this cleanser has changed all that ! I love it !!! My skin is clean , clear and it doesnt leave my skin dry ! Its the perfect cleanser and i recommend it so highly i wouldnt use anything else !

This silky cleanser does what it says on the tin: cleans thoroughly without drying out skin. It lathers into a rich foam which rinses off easily without that 'squeaky clean' feeling, just soft, supple skin. One bottle has lasted me over 4 months so it's great value too. I'm used to having the occasional spot, but these are few and far between now. Other have mentioned the smell - which I've never noticed. I don't miss having fragrance. This is frills, no hassle, and great for my skin.

This cleanser (combined with the toner and exfoliant) have been great for my skin. Before trying Paula's products I had been through a number of other different ones which either dried my skin out or gave me some kind of other bad reaction. These products have really helped keep my spots at bay and I shall definitely be buying more of them. Thanks!

Through a process of elimination, I have found that the Skin Balancing Cleanser causes a horrible allergic reaction and causes dermatitis on my face. It is a terrible product, I can't believe you are allowed to sell it.
Customer Care: If a product is not to your satisfaction you are welcome to return it within 30 days for a refund. For choosing the right cleanser for your skin type please contact our Customer Service.

I love this cleanser, great for my sensitive skin, washes off easily leaving no residue, skin feels supple and smooth

It is a wonderful product. Easy removes all make up and leaves skin fresh, clean and soft.
It is also comforts the skin.
I will recommend it to anyone with sensitive normal to combination skin.

More reviews Less reviews

Ingredients

What are the key ingredients?

Aloe vera
Plant extract that has soothing properties, antioxidant qualities, and serves as a hydrating agent.

Glycerin
Skin-replenishing and restoring ingredient, found naturally in skin. It helps skin to maintain a healthy look and feel, defending against dryness.

Sunflower Oil
Non-fragrant plant oil used as an emollient and has the ability to help replenish and soothe skin.

Ingredients:
Aqua, Sodium Cocoyl Isethionate (cleansing), Sodium Lauroamphoacetate (cleansing), Stearic Acid (texture-enhancing), Glycerin (hydration/skin-replenishing), Glycol Distearate (texture-enhancing), Helianthus Annuus (Sunflower) Seed Oil (non-fragrant oil/antioxidant), Acrylates Copolymer (texture-enhancing), Cetearyl Alcohol (texture-enhancing), Aloe Barbadensis Leaf Juice (hydration/skin-soothing), Sodium Chloride (stabilizer), Sodium Hydroxide (pH balancing), Xanthan Gum (texture-enhancing), Caprylyl Glycol (preservative), Hexylene Glycol (preservative), Disodium EDTA (stabilizer), Phenoxyethanol (preservative).

FAQ

Which cleanser is best for my oily skin?

It all depends on personal preference. If you prefer a creamier cleanser that foams and rinses easily with no residue, the Skin Balancing Cleanser is ideal. If you prefer a super-light, clean-rinsing gel cleanser the Clear Pore Normalizing Cleanser is perfect. If you suffer from breakouts, the Pore Normalizing Cleanser is a good option.

Will my skin be dry and tight if I use Skin Balancing Cleanser?

No. Skin Balancing Cleanser is carefully formulated with gentle ingredients to cleanse the skin thoroughly and remove makeup without stripping or drying the skin.

Can I recycle this product?

This packaging is made of two components. The tube is made from HDPE plastic and the cap is made from PP plastic. Please check with your local council before recycling this product.
Research
Indian Journal of Dermatology, 2008, issue 4, pages 163-166 International Journal of Cosmetic Science, February 2000, issue 1, pages 21-52 Skin Pharmacology and Physiology, 2011, issue 6, pages 289-93 Journal of Cosmetic Science, May-June 2007, issue 3, pages 229-44 Skin Research and Technology, February 2001, issue 1, pages 49–55