https://www.paulaschoice.co.uk/skin-balancing-oil-absorbing-mask-full-size/2750.html
Skin Balancing Mask
Absorbs oil, reduces blackheads and enlarged pores, and balances oily skin.

Skin Type:

Combination skin, Oily skin

Concern:

Breakouts , Blackheads , Enlarged pores

Ingredients:

Glycerin , Kaolin , Willow Bark Extract

View all
Variations
Full size 118 ml
Remove from Wishlist
Add to Wishlist
Product out of stock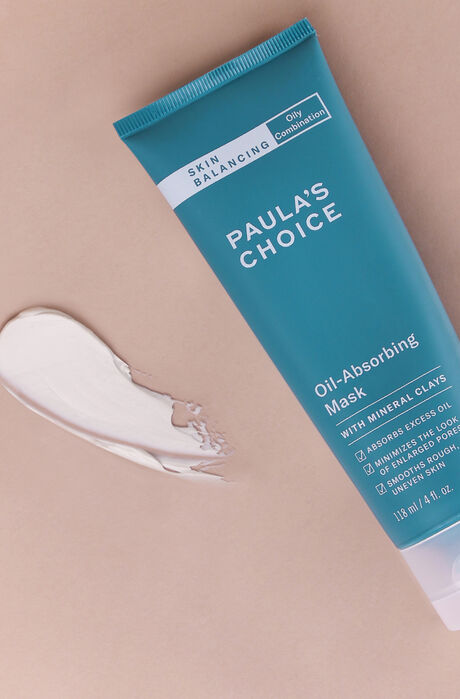 Skin Balancing Mask
Full size
This product is sold out at the moment. Fill in your email address below and we'll gladly send you an email as soon as it is back in stock!
What does it do?

A mask to gently balance oily skin.

This mask contains a blend of natural mineral clays to balance skin by absorbing excess oil and dislodge debris from pores for a clearer complexion. The formulas also contains skin soothing and skin repairing ingredients to calm and soothe skin. The mask rinses easily leaving skin soft, matte and smooth.

Key Features

Visibly reduces enlarged pores

How to use

Gently cleanse skin and apply a thin layer all over the face and (if needed) neck and let dry for 10–15 minutes. Rinse thoroughly with tepid to warm water. Follow with a BHA exfoliant, serum and then your day or night moisturiser. Those with oily to very oily skin can use this mask several times per week, while those with normal to slightly oily skin can use it less frequently (once or twice per week, for example).

Reviews

Thank you for submitting your review! It will be reviewed by our staff before it is posted.

I think this mask is a bit on the strong side for me. When I use it my skin feels irritated and I notice some redness. However, it does a great job at unclogging pores! Maybe more suitable for oilier skin!

Hi Elsa, thank you for taking the time to let us know how you found our Skin Balancing Mask. I'm sorry to hear that this was not a good fit for your skin. Please don't hesitate to reach out to our Skin Care Experts who would be more than happy to help you find an alternative mask suitable for your skin type. Kind regards, Shannon - Paula's Choice Customer Care

It doesn't sting, doesn't irritate my skin, doesn't help with my clogged and enlarged pores, doesn't smell good or bad, my skin is still oily... Essentially it doesn't do anything. I've used it at least twice a week for 6 weeks or so now, not seen any difference whatsoever. Unfortunately have to say that this is one of the most disappointing purchases from Paula's Choice.
Customer Care: Thank you for sharing your experience with us - we're sorry to hear this didn't work as expected for you! Please contact a member of our Customer Care team, who can assist you with a possible alternative.

A few seconds after putting this on my face it stings like crazy, a burning stinging sensation, not atall pleasant but painful. I got this as a sample sachet so luckily did not waste alot of money on it. I left it on for 10 minutes before washing it off and my skin still stung in some places. Has left my skin feeling overdry and does not seem to have had any benefits.

Received as part of the skin balancing trail sachet kit. I felt the sachet had enough for two applications as I just focused on my forehead and around my nose where I have problem with oil. As other reviewers have mentioned, the mask did feel tight and slightly uncomfortable (only on my cheeks/around my nose) but I was pleasantly surprised to find that the mask washed off easily with water and didn't need any scrubbing to remove it which i usually find with clay masks. My skin felt quite dry after use so I patted some face oil on - which probably reversed any oil-reducing effect the mask had.. not sold on this, I have a clay mask from Neils Yard which i prefer as it doesn't leave my skin feeling dry.

I have used many masks and none have been as painful as this one. It started stinging before I even finished applying it. I tried to keep it on as long as possible but once my eyes started watering, I knew it was enough. As i removed it the warm water felt like fire. My skin was inflamed and swollen and has taken a few days to recover.
Very surprised by this reaction as the product says it's non-irritating. I am clearly not the first person who has reacted to this product and non of the responses offer any explanation. One would be appreciated. Is there an ingredient I/we should avoid?

Customer Care: Thank you for your review. Although this is not a common response, we do understand that each customer is uniquely different in how they will respond to products or ingredients. It can be difficult to identify which ingredient in any formula, even a well-formulated one, which could be causing this type of reaction. Please contact our customer care team for further assistance.

I got this mask as a sample, i found i didnt have to use the whole sample to cover my face. I left it on for only a few minutes as it started stinging my cheeks and under my eyes. It did leave my skin feeling smoother, my blackheads looked smaller/lighter, left my skin slightly dry/tight though.
I have very combination skin (so dry it flakes off yet is quite oily on top of that),thats acne prone (but getting better)
Overall, might use again as more of a cleanser than a mask.

I find this really helps my congested skin, and never dries it. I use the mask every day and have noticed a massive improvement.

This stings. Most of the reviews on other sites also cite the same problem. Thankfully, this came as part of a set of samples, so no real loss. I had to remove after about 1 minute. It was not a pleasant warming sensation that you get with self heating masks, rather a burning sensation.

I'm glad I ordered only a couple of sample packs for this. The sample pack provided is pretty small and barely enough to cover your face.
Both times I tried it my skin started to feel irritated after a couple of minutes. I left in on for the recommended time and rinsed off, but I didn't feel any benefit at all for my skin, it didn't seem to hep with oiliness or make it look any clearer, but did leave it slightly irritated and red.
To be fair this happens with most face masks I have tried so I guess masks just don't suit my skin, but I was a bit disappointed a Paula's Choice product would cause irritation.

I used to use this product once every week and it would help with my oily skin, but for some reason now when I use the product in the night and follow my normal night time routine I wake up with really really oily skin which causes me to breakout etc... which is strange as I have always used the product like this and would never have a reaction like this, might be something to do with the changing season perhaps...?

More reviews Less reviews

Ingredients

What are the key ingredients?

Glycerin
Skin-replenishing and restoring ingredient, found naturally in skin. It helps skin to maintain a healthy look and feel, defending against dryness.

Kaolin
Naturally occurring clay mineral. Its absorbent properties make it a popular ingredient in clay masks for oily skin.

Willow Bark Extract
Plant extract that has skin-soothing benefits for skin.

Ingredients:
Aqua, Kaolin (clay/absorbent), Bentonite (white clay/absorbent), Glycerin (hydration/skin replenishing), xilaS Alba (Willow) Bark Extract (skin-soothing), Steareth-2 (texture-enhancing), Stearic Acid (texture-enhancing), Aloe Barbadensis Leaf Juice Powder (hydration/skin-soothing), Sea Whip Extract (skin-soothing), Colloidal Oatmeal (skin-soothing), Bisabolol (skin-soothing), Ascorbyl Palmitate (vitamin C/antioxidant), Tocopheryl Acetate (vitamin E/antioxidant), Phospholipids (hydration/skin replenishing), Panthenol (skin replenishing), Retinyl Palmitate (vitamin A/antioxidant), Butylene Glycol (preservative), Disodium EDTA (stabilizer), Phenoxyethanol (preservative), Caprylyl Glycol (preservative), Ethylhexylglycerin (preservative), Hexylene Glycol (preservative).

FAQ

Can I use the Skin Balancing Oil Absorbing Mask for my dry skin?

The Skin Balancing Oil Absorbing Mask is especially developed for oily skin. If you have combination skin, you can use the mask on the oily areas. For dry skin, try the Skin Recovery Hydrating Treatment Mask.
Research
Skin Pharmacology and Physiology, August 2012, issue 5, pages 227-235 Journal of the American Academy of Dermatology, November 2015, issue 5, pages 856-863 Indian Journal of Dermatology, 2008, issue 4, pages 163-166 Indian Dermatology Online Journal, April-June 2013, issue 2, pages 143-146 Indian Journal of Dermatology and Venereology, March-April 2012, issue 2, pages 142-145 International Journal of Cosmetic Science, February 2000, issue 1, pages 21-52 Journal of Cosmetic Science, July-August 2011, volume 62, issue 4, pages 361-370 Journal of Clinical Interventions in Aging, December 2006, issue 4, pages 327-348 Marine Drugs, 2004, volume 2, issue 2, pages 73-82