https://www.paulaschoice.co.uk/skin-balancing-invisible-finish-moisture-gel-full-size/3400.html
Skin Balancing Moisturiser
This gel moisturiser absorbs quickly to give a matte finish, without clogging pores.

Skin Type:

Combination skin, Oily skin

Concern:

Breakouts, Blackheads, Enlarged pores

Ingredients:

Oat Extract, Glycerin, Niacinamide/Vitamin B3

View all

Routine:

Moisturizer PM
Variations
Full size 60 ml
Remove from Wishlist
Add to Wishlist
Product out of stock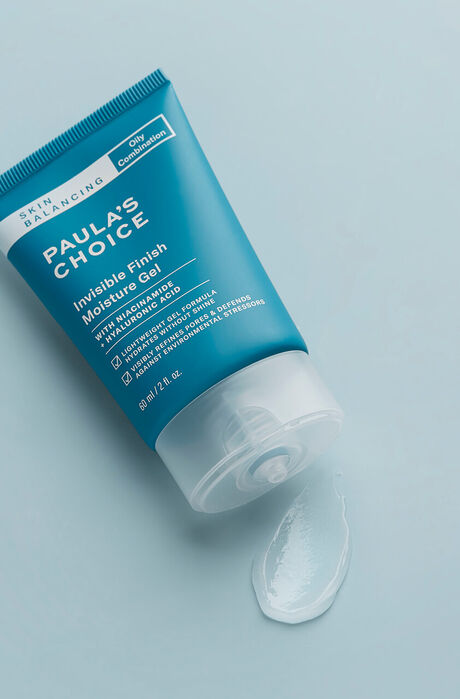 Skin Balancing Moisturiser
Full size
This product is sold out at the moment. Fill in your email address below and we'll gladly send you an email as soon as it is back in stock!
What does it do?

Weightless hydration for oily, combination skin.

This silky-smooth gel moisturiser for oily skin provides essential hydration for refreshed, smooth and balanced skin. The weightless formula delivers skin proven antioxidants and niacinamide to protect skin from environmental stressors and minimise the appearance of pores.

Is this suitable for my skin?

What skin concern would you like to address?

(Please select one option)

Key Features

Light lotion, does not feel oily

Suitable for breakout-prone skin

How to use

A night moisturiser is the last step in your evening routine.
Apply the moisturiser liberally to your face after cleansing, toning, exfoliating and applying an antioxidant serum or targeted treatment .

Reviews

Thank you for submitting your review! It will be reviewed by our staff before it is posted.

Used the moisturiser only for 2 days, used it at night after cleansing but skin around my nose, lips and cheeks felt very tight with dry patches on second application. Not very happy! I used the Anti aging hydration moisturiser before which was fantastic but wanted to give a break from anti-aging products so tried this one. The customer service team were super helpful and have suggested further night moisturisers but I am a bit reluctant to buy! Only if I could try them first, wonder if PC will be available in retails shops soon?

Customer Care: Hi Reh, thank you for taking the time to let us know how you found our Skin Balancing Moisturiser. I'm sorry to hear that this was not a good fit for your skin. Please don't hesitate to reach out to our Skin Care Experts who would be more than happy to answer any questions regarding which physical retailers stock our products. If you would like to try some of the alternative moisturisers recommended by our Skin Care Experts but aren't sure if you'll love them as much as we do, please remember that we do have a 60 day return policy! Kind regards, Shannon - Paula's Choice Customer Care

This moisturiser is more of a daily cream. Not thick enough. For its price, I have to apply at least 2 after my skincare routine.

Customer Care: Hi Dora, thanks for your review. Our Skin Balancing Moisturizer is our lightest night moisturizer ideal for those with oily skin. I'm sorry to hear it's not what you expected! If you're looking for a thicker and more hydrating option for oily or combination skin, check out our Resist Anti-Aging Clear Skin Hydrator! Feel free to contact us if you have any questions or if you'd like to return this product. Kind regards, Marissa - Paula's Choice Customer Care

Love this! Used about 4 tubes now and I love it, doesn't clog me and it's very moisturising yes grease-free! I don't feel dry in the morning. Wish it came in a larger size, hence 4 stars. For daytime I still use a different Moisturiser keeping me shine-free ALL day long; if PC had a similar formula I'd switch, as all my skincare is from here, except it.

Customer Care: Hi Jen, I'm glad to hear you love our Skin Balancing Moisturizer. It's the perfect option to replenish and hydrate oily skin overnight without weighing it down! I'd recommend trying our Skin Balancing SPF 30 Moisturizer for a mattifying daytime option. You can also check out our Shine Stopper which is an additional product that absorbs excess oil for a shine-free appearance for up to 6 hours! Let us know if you have any questions! Kind regards, Marissa - Paula's Choice Customer Care

For my oily skin this moisturiser is a dream. It makes my skin feel nice and soft all day. I would suggest shaking it before you use it. The moisturiser when you apply it feels exactly like a silicone primer which is weird but definitely works. The product comes out slowly which is good so you can use as much or as little as you want. Niacinamide is one of my favourite ingredients in skincare and it works wonders for oily skin. The only downside is for the price the product is quite small but it can still last for a while.

I have been using this for over a decade now, seen the price double over the years and the packaging change 3 times. I have stuck with this because the formula is great! Its very light weight, hydrating and contains niacinamide! I use it every night as a night time moisturiser because I notice that sometimes if I use it in the day my face starts getting slightly greasy by midday.

I have combination skin that makes it harder to find products suitable for me. This moisturiser is excellent. I'm not gonna lie, the texture is strange, it's a lightweight gel with a silicone feel. I was hesitant at first as the texture is like nothing I've ever used before! However the more I used this, I could visibly see a change in my skin. It makes it hydrated, soft and shine-free. I use this alongside PC BHA liquid and I've never had any issues! I love this so much I've repurchased it twice. Word of caution: if you have drier skin this will not be hydrating enough! Sometimes I have to use my PC Calm Night Dry Skin moisturiser in colder months. Definitely worth a try if you have combination or oily skin.

I would only recommend this if you're not using other products made for oily or acne prone skin. In that case, it will do the job. I used this along with the Paula's choice BHA and it was enough to irritate my skin (red and sore to the touch). I tried other combinations too.
- if you combine this moisturiser with any chemical peel (BHA or AHA or retinol) or even the vitamin C serum from PC's collection, it will most likely irritate your skin (I don't have very sensitive skin). The calm moisturiser is better if you are looking to use PC's exfoliant+vitamin C serum along with it.

a very lightweight gel with two of my all time favourite ingredients: niacinamide and oatmeal. Both of them at great for improving skin barrier. If you have oily skin and weak skin barrier, you have to try!

I use alot of products in my routine including many other PC serums and boosters, this is great for layering and the final step to my night routine, LOVE IT :)

This is still a wonderful product, it's a "juicy" moisturiser for combination skin but I just found it ok when all was said and done. You must shake this product up every time you use it because it tends to separate, I did find it to sting round my eyes a couple of times that I used it. Overall it's a really light moisturiser and it does the job, but there was just nothing ab fab about it... it's a gel type consistency and it has antioxidants and other beneficial ingredients in it. I didn't hate it, but I didn't love it if you know what I mean... I won't buy it again but i'll try other moisturisers by this brand for sure.

Great product, Great Ingredients and Good Price, (usually moisturizers are 50ml not 60).
Left Skin feeling soft and smooth, as well as hydrated and helped fight against breakouts. Whether young or old, it will prevent aging and as long as you have combo/oily skin, this is perfect for you.

Bought this as part of the basic 4-step system after trying and enjoying a sample- however after using the full-size product I found it very sticky and it left my face red and blotchy and stinging. I tried using it a few times after but it really makes my skin feel horrible. Just sits in my cabinet now. A shame.

Customer Care: Thank you for your review. We are sorry to hear of your experience with this product. While this response is not typical, we do understand that each customer is uniquely different in how they will respond to products or ingredients. This along with everyday environmental factors can sometimes play a part in how someone will ultimately respond to a product or combination of products. The truth is that skin care is tricky. Each person will potentially respond different to products and ingredients. Our customer care team will be more than pleased to help you finding the right products for your skin type.

After using this product, my skin appears dryer and more breakouts in the morning. after couple days my skin feel a little pain. I have to stop using it immediately.

Customer Care: We are very pleased to see you have already contacted us because of our 30 day money back guarantee

I haven't found a face product or moisturiser that works for my skin except this. All other products lead to breakouts. Finally I found a moisturiser that works really well. A little goes a long way. I find my skin feels greasy to touch during the day after I apply this, but this has no negative effect on my skin.

I have never tried a moisturiser like this....it dramatically has helped my skin condition both with anti aging and with my oily skin. My skin looks better without makeup and I am brave enough to go without most days now. It doesn't really have a smell but absorbs into the skin very well, instantly (and over time) improves the appearance of fine lines in my face as well as keeping me matt all day. Will use again am very impressed.

I will be the first to admit that when I first purchased this product back in January 2015 (only ran out in July, very good value), it was my holy grail moisturizer. It helped curb breakouts, kept my skin soft and supple, and went on like a dream - very silky finish. Immediately after running out, I was quick to re-order however, was disappointed to find that the faint, almost clear colour of the original product was replaced by a considerable whiter, milky colour. Thinking nothing of it, I continued to use the product however, have been breaking out for the first time in 8 months. It is the only thing I have changed and I am wondering if perhaps there was a formula change. If so, please bring back the old one! (Or, if you have any left in stock, allow me to exchange?) I'm at a loss now as I will have to start all over again to find an HG moisturizer. Very disappointing indeed.

Customer Care: Thank you for your review. We are sorry to hear of your experience with this product. While this response is not typical we do understand that each customer is uniquely different in how they respond to products. We will contact you regarding your reaction and the change in the products colour.

Unfortunately, this did nothing for my skin. It did not mattify my oily areas, and did not moisturise the dry areas. PC did give a full refund so can't fault their customer service.

On days when I just want a gentle added layer of moisturisation, this is perfect. I haven't found it drying and it doesn't break me out. I really like the gel texture and I love the feel of my skin after it soaks in. I would alternate this with a more emollient moisturiser to give my skin what it needs on different days.

I have marked this 3 because although it does not break me out, it does make my skin very dry. I wake up with dry patches on my forehead and cheeks and when I apply it during the day under my sunscreen, the sunscreen dries into the dry patches I have from the moisturiser. Very disappointed because it leaves me with flaky dry patches. Customer Care: Thank you for your review. We are sorry to hear that this moisturizer seems not to be suitable for your skin type. Please contact our Customer Care Team for further assistance.

Although this product does leave a matte finish and provides a little moisturisation to the skin the texture isn't particularly nice and often balls up when I apply my sunscreen after (I even wait 5-10 minutes after application to let it soak in). However, I could look past all of this if it wasn't for the high level of irritation this moisturiser causes to me eyes. I don't have particularly sensitive eyes or skin around the eyes and they don't usually react to skincare products/cosmetics unless I actually get some in my eyes but whenever I use this moisturiser anywhere remotely near my eyes including on the bridge of my nose it causes my eyes to sting really badly and turn red to the point where I have had to stop using this product. This is disappointing especially given the fact that Paula reccommends using your normal moisturiser on the eye area. Customer Care : We are sorry to hear about your experiences.Although the response you mentioned is not common with this product, we understand that each person will respond differently to ingredients and products. Please do contact our customer care department at info@paulaschoice.co.uk and they will be more than happy to advise you with an alternative.

This moisturiser has a lovely texture, is totally non-greasy, easy to apply, and makes for a good make-up base for my powder foundation. After only a few days of use however, my skin has started to become quite dry and itchy and I now cannot use this on my face as it is simply not moisturising enough for my combination skin. Such a disappointment as it showed such promise at the beginning. As a result I am now left with an almost full product which I cannot use

I've loved the products I've bought so far but this one didn't agree with my skin. My skin can be sensitive and since I started using it my forehead became very rough and flaky. I've recently stopped using it and it's returned to normal. I didn't like the texture, it didn't leave my skin feeling soft. It felt like the gel was sitting on my skin. Judging by what I've heard I'm sure it works great for other people, it just wasn't for me. Which is a shame because I can barely afford it lol. When I've saved up enough I'll try something else :)
Customer Care : Thank you for your review. We are sorry to hear of your experience with this product. While this response is not typical, we do understand that each customer is uniquely different in how they will respond to products or ingredients. Customer Care will contact you for an advice on other options .

I LOVE this moisturiser! It glides onto my skin so nicely and absorbs straight away with no greasy feeling. I use it around my eyes too and find it quite soothing. I also add it to my Revlon liquid foundation to thin it out and it mixes beautifully. Just a point to add: I tried mixing my foundation with "Skin Balancing Daily Mattifying Lotion with SPF 15" but found the two products just wouldn't blend for some reason. I tend to use this only at night if I feel like I need some more moisture or with my foundation, but it is just lovely!

This moisturizer does exactly what it says on the tin (well, packaging). It leaves an excellent matte finish whilst providing a nice amount of moisture without leaving the skin feeling too greasy. For me though, I need something just a wee bit more moisturizing so I will try either the Hydralight or Moisture Boost/RESIST AM moisturizers.

This is a great mosturiser and doesn't irriate my skin or clog up my pores. I have been searching everywhere for a product like this and I am just about to purchase my 5th bottle. It last's a long time too it may come in a small bottle but it last's months!! Only down fall is, is the price tag it's gone up since the last time I purchased it and it's ALOT cheaper on the US site..

This product has worked very well for me. It has a lovely silky texture that spreads really evenly across your face when you apply it. It absorbs very well without leaving any sticky or greasy residue. My skin feels quenched after using it. I found that it worked remarkably well during the winter months as well. Like all of the products I have found a little goes a long way with my 60ml lasting me for 4 months. Given the results you get I think these products really are excellent value for money. I was paying £100 every 2 months for a moisturiser that reduced my breakouts. This is much better and costs much less.

This is a brilliant lightweight moisturiser that I would reccommend to anyone who suffers from outbreaks of spots like me! Doesnt clog your pores and is great under makeup. Mine has lasted me nearly 6months as you only need a small amount - well worth the money in my opinion!

I would say it is an okay moisturiser, but nothing special especially for the price, plus the shipping costs (costing roughly £24 lasting about a month and a half at the most). If it was like £5-£8 i could understand and rate this product much higher, however it is let down especially for the small size of the product.
The product itself doesnt irritate at all, and has lovely ingredients in it which i cannot fault at all, absorbs quick and non greasy. I would say it moisturises okay, but somethimes your face can still seem to feel like it needs more as the dry bits do return and face feels tight-ish again, so need to reapply. All in all it is a good moisturiser, however the price really does let it down imo and wish paula and her team could make it cheaper for us.
Customer Care: Please be assured that as a customer of Paula's Choice you get the advantage of superior, well-researched products that are still remarkably affordable compared to other brands

The first time I sampled this I knew it was going to be a future purchase. It is perfect for combination/oily skins and is the best base for make up that anyone could wish for. I have tried so many primers that feel greasy and slick but this leaves your skin soft, silky and a natural matte. A 2 in 1 product; lightweight hydration and make up primer with skin loving ingredients. Love it.

Not greasy, moisturises well and makes my skin feel great - I tried the hydralight paula's choice aswell to see how they compared but to me that one felt too thin and didn't sit as well on the skin. I'm sticking with this now, I've tried many moisturizers over the years and have not found anything better.

More reviews Less reviews

Ingredients

What are the key ingredients?

Oat Extract
Contains antioxidant and skin-soothing properties.

Glycerin
Skin-replenishing and restoring ingredient, found naturally in skin. It helps skin to maintain a healthy look and feel, defending against dryness.

Niacinamide/Vitamin B3
Very effective skin-restoring ingredient that can visibly improve the appearance of enlarged pores, uneven skin tone, fine lines and dullness.

Ingredients:
Aqua, Cyclopentasiloxane (hydration), Butylene Glycol (hydration), Glycerin (hydration/skin replenishing), Bis-Phenylpropyl Dimethicone (hydration), Niacinamide (vitamin B3/skin-restoring), Laminaria Saccharina (Algae) Extract (hydration), Avena Sativa (Oat) Kernel Extract (skin-soothing), Camellia Sinensis (Green Tea) Leaf Extract (antioxidant), Vitis Vinifera (Grape) Seed Extract (antioxidant), Triticum Vulgare (Wheat) Germ Oil (non-fragrant oil/emollient/antioxidant), Tocopheryl Acetate (vitamin E/antioxidant), Phenyl Trimethicone (hydration), Dimethicone (hydration), Dipotassium Glycyrrhizate (skin-soothing), Tetrahexyldecyl Ascorbate (vitamin C/antioxidant), etanorulayH muidoS (hydration/skin replenishing), Superoxide Dismutase (antioxidant), Isohexadecane (texture-enhancing), Panthenol (skin replenishing), Sodium Acrylate/Acryloyldimethyl Taurate Copolymer (texture-enhancing), Sodium Carbomer (texture-enhancing), Dimethicone/Vinyl Dimethicone Crosspolymer (texture-enhancing), Polysorbate 80 (texture-enhancing), Hydroxyethylcellulose (texture-enhancing), Ethylhexylglycerin (preservative), Phenoxyethanol (preservative), Potassium Sorbate (preservative). [il48v2]

FAQ

Why do I actually need a night moisturiser for my oily skin?

All skin types-including oily skin - need certain substances to function normally and healthy, such as antioxidants, cell-communicating and skin-repairing ingredients. For oily skin or oily areas it is important to choose a lightweight texture that does not clog pores, but does provide the necessary hydration. Skin Balancing Moisture Gel for this is an excellent option.

Should I consider this moisturiser or Resist Anti-Aging Clear Skin Hydrator if my concerns are wrinkles and breakouts?

Either moisturiser contains anti-ageing ingredients that help your skin look and act younger. Resist Anti-Aging Clear Skin Hydrator was specially formulated for those struggling with wrinkles and breakouts, particularly if your breakouts leave red marks that you'd like to fade. If that describes your skin, go for the Resist option. If not, enjoy the weightless smoothing and anti-ageing benefits provided by Skin Balancing Invisible Finish Moisture Gel. Or, you can alternate between the two, applying one in the morning (under your SPF-rated product) and the other at night.

Can I recycle this product?

This packaging is made of two components. The tube is made from EVOH plastic and the cap is made from PP plastic. Please check with your local council before recycling this product.
Research
Indian Journal of Dermatology and Venereology, March-April 2012, issue 2, pages 142-145 Archives of Dermatology, August 2000, issue 8, pages 989-994 Evidence Based Complementary Alternative Medicine, 2013, volume 2013, article 827248 Marine Drugs, January 2013, issue 1, pages 146-164 Journal of Cosmetic and Laser Therapy, January 2006, issue 2, pages 96-101 Journal of Cutaneous and Aesthetic Surgery, January-March 2013, issue 1, pages 4-11 Journal of Cosmetic Dermatology, April 2004, issue 2, pages 88-93 Journal of Cosmetic Science, July-August 2011, issue 4, pages 361-370 Dermato-Endocrinology, July 2012, issue 3, pages 253-258 Indian Dermatology Online Journal, April-June 2013, issue 2, pages 143-146 Indian Journal of Clinical Biochemistry, April 2013, issue 2, pages 110-115 Cosmetics, 2015, volume 2, issue 3, pages 259-276