https://www.paulaschoice.co.uk/shine-stopper-instant-matte-finish-with-microsponge-technology-full-size/3600.html
Shine Stopper
Keeps oily skin shine-free for up to 6 hours, while minimising the appearance of pores.

Skin Type:

Oily skin

Concern:

Blackheads , Enlarged pores

Ingredients:

Silicone , Glycerin

View all
Variations
Full size 30 ml
Remove from Wishlist
Add to Wishlist
Product out of stock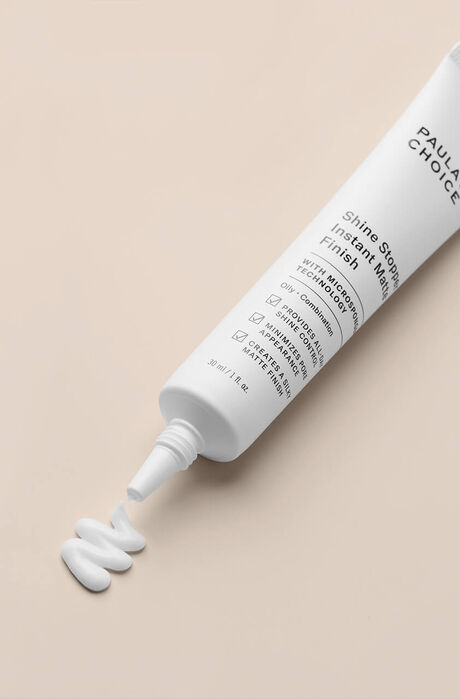 This product is sold out at the moment. Fill in your email address below and we'll gladly send you an email as soon as it is back in stock!
What does it do?

A soft, shine-free finish that lasts all day long.

This oil-absorbing primer gives a soft, powder-like finish. The unique Microsponge® technology keeps oily skin shine-free for up to 6 hours, while minimising the appearance of pores. Use it as the perfect base for flawless, long-lasting make-up or wear it alone.

Key Features

Great addition to your skincare regime

Visibly reduces enlarged pores

How to use

Use as the final step of your skincare routine. Apply a small amount by tapping your fingers on the oily parts of your face (do not rub). If you are using foundation, let this dry first before applying the Shine Stopper and possibly a face powder. You can reapply Shine Stopper during the day.

Reviews

Thank you for submitting your review! It will be reviewed by our staff before it is posted.

I usually research everything I buy but bought this on a whim, and I couldn't be happier that I did! I've always had combination skin, and my forehead, no matter what I did, would ALWAYS get super oily and shiny throughout the day. From the first time I used this (patting it on my forehead with my fingertips as advised as the complete last step in my routine- I don't use foundation, just tinted moisturiser) it instantly made my skin look and feet matte, but not dry! And even with wearing throughout the day, it stayed matte- which it never does. So the next time I used it on my cheeks too, which tend to dry out with things like that, but it didn't. Now my whole face stays intact all day. Love this product.

Customer Care: Hi Veronica! Thanks for your review. Oily areas of skin can be so hard to manage, especially when you also want to wear makeup, but the Microsponge® technology works like magic to absorb it all. We LOVE the Shine Stopper here and are so happy you do too! Kind regards, Marissa - Paula's Choice Customer Care

This product is brilliant. I have lost count how many anti shine powders and blotting papers I have used from all different brands and I am always oily and shiny within a few hours of using them. I thought I'd give this a try and now I use this product over my make up everyday on my cheeks and forehead and I stay shine free literally all day. It even makes your skin super soft to touch and blurs pores, no oily greasy feeling anymore. Will be buying this over and over, can't recommend this enough as THE product you need if you get oily/shiny skin. I also dont need to reapply my foundation in the day anymore, brilliant!

Customer Care: Hi KateR. Thank you for taking the time to leave your review of our Shine Stopper. It's wonderful to hear how well this product has worked for you. The unique Microsponge® technology keeps oily skin shine-free for up to 6 hours, while minimising the appearance of pores and it's great to hear that you've experienced this too. If you're ever looking for other product recommendations or routine advice, please reach out to our Customer Care Team who will be more than happy to help. Kind regards, Shannon - Paula's Choice Customer Care

This product just works for me, my face doesn't shine for at least half a day. It was a real issue for me, but not anymore since I found this Shine Stopper. The only down size is the price, but one tube is enough for a year, so I would say it is good value for money.

Made me even more oily it was so bad my face was shinning a fried Christmas turkey it didn't work for me at all and the product was quite expensive

Whoever created this is a genius and deserves a Nobel prize. No other product (and I've tried - literally- hundreds) contains shine like this one does. No dryness, flakiness or tightness like the alcohol-laden beasts of yore. No lumpiness or wicked breakouts like those evil talc monsters. It goes on smooth, keeps a fresh and flawless face but still allows enough shine to maintain a natural appearance. I've gone from blotting every 5 mins like a woman possessed, to blotting twice in 10 hours. Twice. I've never had the confidence to wear a full base before this miracle product.
Literally, face-changing. Can't thank you enough.

Best shine reducing product ever. I love Paulas choice skincare and this is fantastic. I suffer from large pores and shiny skin. Using this along with my Paulas Choice skincare routine has given me beautiful skin for the first time in my life. I have tried it both ways, under the make up and over it. It works ok over it especially when used with a make up sponge to apply. I much prefer using it as a primer over my moisturiser and under my mineral make up.

Thanks so so much Paula, once again!

I do not like the product. Its very expensive so this was waste of money! Its breaking me out, drying my face and does not mattify. I regret I purchased the product. :(

Customer Care: We are sorry to hear about your experience. Although the response you mentioned is not common with this product, we understand that each person will respond differently to ingredients and products. Please contact our Customer Care department for a reasonable solution.

Such an amazing product and such a shame that I cannot use this on a regular basis...
It really does what it says, it will keep your face matte for at least 6 hours, promise, but whenever I use this on consecutive days I will notice something different on the exact areas where I've applied it: the skin texture is rougher and I'll get very small whiteheads.
I guess that's because it clogs my pores and seriously, that is such a shame, cos I wish I could apply this everyday....

Unfortunately, I have not noticed significant mattifying effects with this product. I can't really apply it over my foundation as the last step (as advised on the tube) because it spoils my make up. Would prefer to see a mattifying, under foundation primer please!

I have almost criminally oily skin and have tried just about every oil control primer going. This is definitely the longest lasting I've tried. Usually I have to start blotting about 2 hours after I've applied makeup, and if a polished look is required into late afternoon then often a foundation touch up is required mid afternoon or after lunch. This product has kept my make up in place pretty much all day. I still have to blot, but far less than usual. I'm still getting used to applying it but it can leave my foundation looking a little powdery and flat, hopefully this will improve as I get better at putting it on. Applied at 8 a.m. and still looking human at 5 pm. Two minimal blots throughout the day. It doesn't feel as nice on my skin as primers used under foundation, but then it does last longer so maybe that's a small compromise. Will definitely re purchase.

This product is really good at keeping oil at bay, but remember to only use a small amount for the face, lasts a while as well.

This is by far the best and most effective oil controlling product that I have EVER found. I have spent hundreds and hundreds on drug store and even high end brands such as Clinique and Dermalogica, however have always found myself disappointed with the results. This miracle of a product is now my HG skin mattifyer. Without it my skin will be oily, and I mean really oily within 1 hour. With it dabbed in to my skin, I can go for around 5 hours before I need to blot. Whilst that may not sound like that long, to me that is astonishing because nothing else can absorb or control my skins oils as much as this does. Thank you Paula's Choice!

After my first use of this product, I almost sent it back, as it didn't seem to be working plus it was making my skin itch. But out of desperation to improve the state of my horribly oily T-zone, I persevered for a few more days, and now I have a bit of a love/hate relationship with it! Most importantly, the itching subsided after a couple of days. When applied with a sponge it works beautifully on my forehead, where I don't use moisturizer or foundation, keeping it grease-free for the whole working day. However, it just does not work at all on my nose or chin, either underneath or over my foundation (just how are you supposed to apply it over makeup without it removing said makeup?!). Still, it's worth it even to have half a shine-free face, and I'll just have to continue with dabbing the other half several times a day.

Paula's Shine Stopper defies categorisation - is it a primer, a lotion, make up or skin care - but nevertheless fulfills all of its claims.
In my case, I dab ball-bearing sized globules onto my t-zone areas (gently patting and feathering outwards to blend the effect over a larger area) and am then rewarded with beautifully matte skin for just under the stated 6 hours. After this, my skin gradually becomes more oily at about the same rate as it would have done without any product. I find, therefore, that unless I am going anywhere particularly noteable in the evening, one application suffices for a whole day. If it is necessary to 'touch up' the effect, blotting papers and loose powder seem to be especially effective after a day of wearing Shine Stopper.
This alone would be justification for anyone struggling with oily skin - surely the most apparent and unnattractive of skin types - but is further bolstered by a softening effect which minimises pore appearence and smooths over minor imperfections. As if this weren't enough, the initially high price point becomes insignificant in light of the fact that my only tube of this product has lasted the best part of a year, and still without sign of running out. Over this long period of use, I have come to expect smooth, matte skin; consistent use of this product, and regular applications of sunscreen, not to mention exfoliant and an appropriate moisturiser can hopefully do the same for you too. It has never caused irritation, nor blemishes and I simply can't imagine life without it.
I wish you the best of luck in trying this for yourself

I have normal combination skin with an oily patch on my chin - this didn't manage to keep me shine-free until I got to work (30 mins). I'll be trying the Smashbox product next.Customer Care : Thank you for your feedback. We are sorry to hear about your experience.Please note that Paula's Choice also has a 100% Satisfaction Guarantee return policy within 30 days of purchase.

Well, this didnt keep my face shine free for six hours but it really does help to keep my face less shiny for couple of hours. I like the smooth and simple application of the product and it feels weightless with powder-like finish. Unfortunately, i do not know why but after 2nd application, redness, dryness and irritation occured around my eyelids and T-zone ares. :( Customer care! Is there any warning about this by using this product? I don't see any on the webpage. Customer Care response : We are sorry to hear about your experience. Although the response you mentioned is not common with this product, we understand that each person will respond differently to ingredients and products. Please contact our Customer care department for selecting an alternate product or for a refund within 30 days.

All the other shine-free products out there in the market seem to suffer from one of two problems: products aimed at women often come off looking like foundation (not great for guys); and shine-erasers for men are often far too drying and contain alcohol which is likely to cause more problems than it will solve.

This product doesn't fall into either of those traps. It goes on smoothly, and while it does stop shine, it doesn't do it in an obviously powdery manner. At the same time, it's not at all drying or irritating.

My skin is usually very slick by the end of the day, and this seems to make it appear ruddy. But when I use this product, even though I still get a bit a shine, it's a lot less than usual. It works great under Skin Balancing Daily Mattifying Lotion, and unlike lots of other products, it doesn't cause me to break out.

this definitely didnt keep my face shine free for a minimum of six hours but it does help to keep my face less shiny. i liked the smooth and simple application of the product and it feels weightless when you put it on. i found this helped keep me less shiny but not completely shine free as my face still became oily as it always does during the day but just to a lesser extent

More reviews Less reviews

Ingredients

What are the key ingredients?

Silicone
In its various forms it can feel like silk on skin. It's a great water-binding agent that holds up well and offers protection against moisture loss.

Glycerin
Skin-replenishing and restoring ingredient, found naturally in skin. It helps skin to maintain a healthy look and feel, defending against dryness.

Ingredients:
Aqua, Methyl Methacrylate/Glycol Dimethacrylate Crosspolymer (texture-enhancing/absorbent), Caprylic/Capric Triglyceride (emollient/texture-enhancing), Dimethicone (hydration), Cetearyl Alcohol (emollient/texture-enhancing), Glycerin (hydration/skin replenishing), PEG-100 Stearate (emollient/texture-enhancing), Magnesium Aluminum Silicate (absorbent), Glyceryl Stearate (texture-enhancing), Myristyl Myristate (texture-enhancing), Ceteareth-20 (texture-enhancing), Xanthan Gum (texture-enhancing), Disodium EDTA (stabilizer), Benzyl Alcohol (preservative), Phenoxyethanol (preservative).

FAQ

Is Shine Stopper Instant Matte Finish a primer?

Yes, Shine Stopper Instant Matte Finish is a primer in the sense that it helps those with oily skin maintain control over excess surface oil while smoothing the skin's texture. These features help enhance makeup application and wear, so you'll see longer-lasting results and won't have to touch up frequently. For best results, make sure your foundation has a matte finish.

What exactly is Microsponge® Technology?

Microsponge is a proprietary technology that works instantly and over time to help absorb and trap excess oil as it reaches your skin's surface. Much like a sponge absorbs moisture, Microsponge uses special porous polymers that not only absorb excess oil but also leave your skin feeling powdery smooth and fresh. Think of this technology as millions of spherical sponges working to keep your oily skin looking beautifully refined and perfectly matte without dryness or dullness.

Where does all of the excess oil go?

Once absorbed via the Microsponge® Technology, the excess oil remains trapped inside the unique polymers until they've reached their capacity to trap oil. Once this happens, you'll begin seeing excess shine on your skin; however, most will find that the technology built into Shine Stopper Instant Matte Finish keeps excess oil (shine) in check for several hours. When you cleanse your face, the polymers holding the excess oil are simply washed away!
Research
International Journal of Cosmetic Science, Epublication, July 2010 Molecular Pharmaceutics, September–October 2009, pages 1,441–1,448 British Journal of Dermatology, November 2006, pages 890–894; and www.microsponge.com.