https://www.paulaschoice.co.uk/resist-anti-aging-youth-extending-daily-hydrating-fluid-broad-spectrum-spf-50-trial-size-7807.html
Resist Anti-Aging Moisturiser SPF 50 - Travel Size
Weightless lotion texture protects skin from the sun and leaves a soft matte finish.

Skin Type:

Combination skin, Oily skin

Concern:

Breakouts , Anti-Ageing , Blackheads , Brown spots

Ingredients:

Antioxidants , Avobenzone , Green Tea Extract

View all

Routine:

Moisturizer AM
Remove from Wishlist
Add to Wishlist
Product out of stock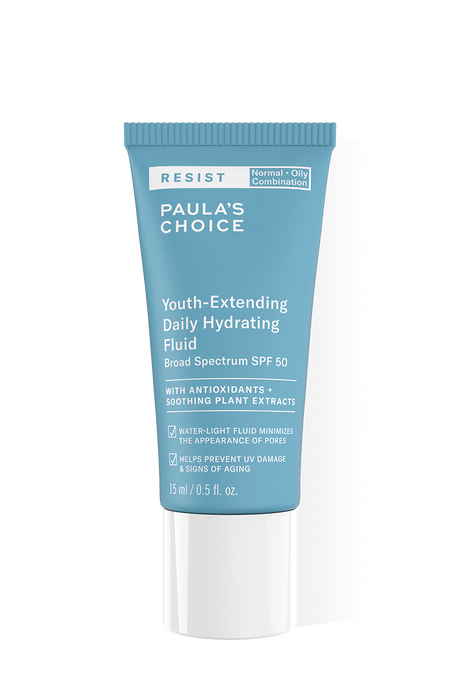 Resist Anti-Aging Moisturiser SPF 50 - Travel Size
Travel size
This product is sold out at the moment. Fill in your email address below and we'll gladly send you an email as soon as it is back in stock!
60 day money-back guarantee
Safe payments
What does it do?

A weightless anti-ageing moisturiser for oily skin.

This weightless moisturiser with SPF 50 combines superior UVA/UVB protection with soothing, plant-based antioxidants that help fight the signs of ageing and protect skin from environmental damage. With a soft matte finish, this lightweight lotion leaves skin smooth, hydrated and younger-looking.

Key Features

Suitable for breakout-prone skin

Light lotion, does not feel oily

How to use

Apply as the last step in your morning skincare routine. Allow a moment to dry before applying makeup.

Reviews

Thank you for submitting your review! It will be reviewed by our staff before it is posted.

3 stars because it's SPF 50, other than that I don't really like this product that much. Makes my skin so oily, and the smell is horrible. Been using it for 4 months.

Hi Matt, thanks for your comments! We are are sorry to hear this did not work for you. Everyone's skin is different and we understand this. Contact customer care who will be able to assist you further. Kind regards, Adele - Paula's Choice Customer Care.

I should start by saying that I never leave reviews but I was so impressed with Paula`s Choice that I have to inform other people that might have the same issues as I did that the rosacea line might work for them too. In fact what made me try this brand were the reviews.

I love a few products from Paula's Choice but I have to say that this is my favourite by far. I have been struggling for years to find a sunscreen that works with my skin type. I have rosacea oily skin but with dry patches in the same time and so it is so difficult to find a product that won't be oily and/or itchy.
My face would be so itchy and covered in tiny pustules by the end of the day.

I think I tried in 3 years since I have rosacea over 20 different brands and product and none of it worked. It made my skin so bad, covered in pustules that I decided I can't use sunscreen anymore.

This moisturiser is great for my skin and I can use make up on top without being oily. This is such a brilliant sun screen. Thank you Paula`s Choice, you saved my skin!

Customer Care: Hi Cristina! Thank you for your positive review! It's great to hear that you find our Resist line works great with your rosacea. It's so important to have a good SPF for protection, but also important that is works with your skin and not against it! With your rosacea, I would also recommend the products from the Calm line. If you need advice here, feel free to send us a message. We are happy to help you! Kind regards, Marissa - Paula's Choice Customer Care Team

I've been using this daily for 3 months but unfortunately over the few hot days we've had this week my face has gone red in places and the melasma I had mostly gotten rid of after a year of expensive treatment has come back. I am very sad about this as melasma is a nightmare to get rid of, and I'm upset that I trusted this sun screen to protect my skin from the sun and it failed to do so.

Customer Care: Hi Abi, thank you for sharing your experience with us - we're sorry to hear this didn't work as expected for you! Unfortunately, an SPF alone cannot prevent melasma. Please contact a member of our Customer Care team, who can assist you with a possible alternative. Kind regards, Marissa - Paula's Choice Customer Care.

Not giving 5 stars as it is advertised as a moisturiser with SPF, but it definitely feels like a suncream. Great as suncream but I don't like it for daily use as it's a bit heavy and does grease a little bit.

I have oily, sensitive, and acne-prone skin. I have tried a huge amount of SPF in my mission to protect my skin without aggravating my acne etc. That also includes copious amounts of south Korean sunscreens, which have very light textures although their SPF protection is controversial. This is perfect and beats them all. Lightweight but still hydrating. Sinks in beautifully and provides a beautiful base for makeup. My makeup actually looks better when I wear this. I hope it never gets discontinued or changed - brilliant product, thank you!

I'm 53, with good skin which can be ever so slightly on the dry side in winter. I also do a lot of outdoor sport all year round so my skin should look like it takes a beating. I use this spf 50 everyday, even though I have olive skin, which people assume doesn't need sun protection in winter. It doesn't leave that white cast that some spf's do and it absorbs beautifully, really matte and un-greasy, and works well under makeup (if I wear it). I've been using this for about 3 or 4 years now and won't even bother looking for another moisturiser.

I am amazed by Paula's skincare. I got travel sizes in some anti ageing combination skin products. Love them all. This liquid moisturizer is runny but still works miracles. My very dry skin has changed overnight. I learned a few things - even if very dry aging skin products need to be picked based in skin type; in my case not dry skin but combi skin. And also full routine including exfoliating is a must. Skin feels healthy looks shinny and hopefully in time my open pores will reduce. Already ordered more normal size of this.

Gorgeously thin SPF, so easy to reapply throughout the day! Gentle filters for if my skin is feeling a little sensitive, doesnt break out my acne prone skin either, yet another PC staple! I personally use this after a moisturiser instead of just this alone, but in the summer months this might be enough

Love the product however like other reviewers I have experienced the tube splitting on every tube I've ordered, despite not over tightening, resulting in wasted product. Very frustrating.

Hands down the best high factor, facial SPF I have ever tried- I have combination, acne prone skin and I cannot recommend this product enough! It is a beautiful, lightweight, milky texture than does not ball up when make up is applied on top of it. In summer this is all I need and in winter it sits perfectly on top of whatever moisturiser I put underneath. Thank you Paula's Choice!!!

I really wanted to love this - it's so lightweight, and spreads so beautifully on the skin. However, I have sensitive skin and whenever I put this on, after a few minutes my whole face would become red, itchy and inflamed. Sadly I haven't had a reaction like this to a product before, so I'm not sure what I'm allergic to. I tried it on clean dry skin, and also over the top of a moisturiser and still the same result.

Customer care:
Hi there! We're sorry the Resist Anti-Aging Moisturiser SPF 50 wasn't a fit for you! Be sure to contact our Customer Care for assistance.

I have been using this for a little while and it's a great last-step. No breakouts or redness (as part of my overall routine, it's been keeping those away!). I recommend using it sparingly as a little goes a long way. Use too much and it might sit too heavily on the skin. Use the right amount though and it gives great results! It's not a great smell, but not entirely unpleasant - it simply smells like sunscreen. I'm not docking a star for that though, the scent dissipates quickly, and if I want to smell good I can apply fragrance myself! ;)

This is now my HG spf, I bought the travel size first then repurchased the full size as I loved it so much. I'm 39 normal/dehydrated prone to congestion & hormonal acne break outs, wear a full face of make up every day. Lots of spfs I've tried have either broken me out, made my acne worse, piled or just not sat nicely underneath my make up, this ticks all the boxes for me.

This is a decent sunscreen. I was originally going to buy the CLEAR SPF30 moisturiser but it was out of stock. A quick check in the frequently asked questions saw this has the same ingredients but it's just a higher SPF which isn't a bad thing. This didn't break me out or give me blackheads. It dries to a semi-matte finish but it isn't mattifying. I found that no matter which way I used it, it was wasn't the best under makeup. It's not super moisturising but I have oily skin so I was glad of this. Would I repurchase? No. There are cheaper and more versatile SPFs for my skin type and that make better primers. Yes Paula's choice does other SPFs and particularly a SPF makeup primer but none that seem to match my needs (good under makeup and SPF50)

Oh my gosh, it's a must have. It's light and doesn't break me out. I am getting another bottle as soon as it's back in stock.

A beautiful lightweight sunscreen that doesn't break me out. If you hate sunscreen and had been avoiding wearing it (like I had) this is perfect!

I love this product, it's the only sunscreen with SPF 50 that does not break out my combination, blemish prone skin. When I first used it I was worried as it really isn't thick or heavy like other SPF's, but my word it is brilliant and it's the only one I will ever use. Plus makes my skin feel soft. Thank you Paula's choice.

This truly is the best SPF product I have used. With (seriously) high antioxidant levels to boost the performance of the already impressive SPF 50, I can go through my day knowing that this product will not only protect me from UV rays, but also from pollution. Another aspect about this product that I LOVE is that it really does minimise the appearance of my pores and it spreads a soft and unnoticeable, white tint over the darker and redder patches of my skin. Being someone who does not wear makeup, this is the perfect final step in my skincare routine to leave me glowing for the rest of the day. The only drawback is that - yes, like the other reviews have said - it is not that great for those with really (and I do mean really!) oily skin; and I find that by the end of the day, my skin is rather unnervingly oily. However, considering that nearly all the other SPF products on the market are atrociously formulated, this product is a miracle product in terms of performance, even though it may make my skin a little oily.

Amazing to find a good spf 50 that sinks easily into the skin and doesnt have any whitecast. It IS very slippery, almost like water, so something to get used to, but worth it if you are looking for a lightweight spf. Only issue is that when I sweat, it almost always falls into the sweat and into my eyes!

I have combination skin, with an oily t-zone. I was excited to try these products but unfortunately using their combination regime it has made skin even more oily, my make up is sliding off after 2 hrs. Luckily, I bought the samples, which is really good, not many places do this.

First of all this is not mattifying product. BUT it's the one the most lightweight sunscreens around. I spent money to luxury sunscreens from french houses or dermatologist acclaimed brands and their lightweight fluid was a matter of alcohol denat. I am a person with oily skin with greek genes but living in the UK at the moment. Let's face it, oily skin after a couple of hours will be oily again the secret is to be committed to a product that doesn't make you more oily. Also, the most of the mattifying products make the face look un-natural and a moisturizer cannot replace the job or an oil absorbing powder. This sunscreen it's like a veil and the ingredients are outstanding. I am tired of layering tons of products just to make sure I've got the most of the antioxidants. Choose your favourite anti oxidant serum for an even extra boost and this sunscreen and you will be pleased. Also, skin needs some kind of training, retinol and niancidamide or vitamin c can make skin more sensitive or drying. Well formulated products can really help those ingredients. So(!) Anti aging along with SPF and light fluid? Not easily found out there and I think Paula Begoun knows it already with the making of excellent ingredient products.

The fluid is really lightweight but whitin an hour my face looks so greasy like putting highlighters all over it. I really wanted to like this because I really like the ingredients but it's a big no how it looks over my skin. The three stars are for the ingredients. Really disappointed in terms of how they advertise it.

Customer Carea: Thank you for sharing your experience with us - we're sorry to hear this didn't work as expected for you! Please contact a member of our Customer Care team, who can assist you with a possible alternative.

The fluid is really lightweight but whitin an hour my face looks so greasy like putting highlighters all over it. I really wanted to like this because I really like the ingredients but it's a big no how it looks over my skin. The three stars are for the ingredients. Really disappointed in terms of how they advertise it.

This is probably the only SPF moisturiser on the market that doesn't break me out. It is PERFECT for a holiday when you need that extra protection from the sun. It can be a bit drying and can sting when I apply it, so I tend to use it only when I know I will be out and about in the sun for more than 30 minutes. I wouldn't recommend using it daily though.

Worst Paula's choice product I have used.
In the husle of planning for my annual beach holiday I forgot to order my Paula's choice Resist superlight spf 30 so I thought, since I live in London, there must be a shop that has my fav brand. Where surprise surprise only Selfridges had some products(not all). I did my research before so I knew this product will not mattify as superlight does but I chose to trust Paulas's choicr products as I use them for years now. Also, description of the product says it goes for oily and combination skin too, which got me thinking it can't be that bad and I will work out the shinning surfaces if any. Even the Selfridges beauty adviser explained this is way better for the summer period than Resist superlight(maybe because they didn't sell it there, but I thought about this later, I just trusted her).
Oh well, Resist Youth extending spf 50 is a white paste that applied on the skin makes it glow a bit to much which is not the best for a combination skin during summer but I thought my foundation and a bit of pounder will sort it. The worst part was when after I applied my foundation, the white paste started to form small white particles which made my entire face looked like I have dry, chapped skin and the foundation was creasing with joy everywhere!
Entire makeup looked cakey, before powder 😐
As a plus, they didn't had the product in sample size so I had to buy the whole cream.
If I could I would ask for a refund!

Customer Care: Hi Alexis, we are sorry to hear about your experience using this product. We will contact you personally about this.

very light weight, easy to smooth over skin and love the high spf! Been using this and the other resist tinted spf for almost 3 years now...xx

This is an amazing product. All other moisturisers just made my oily skin worse and my foundation just slid off after a couple of hours. This one creates a lovely base for foundation, super light, leaves a matt finishes and foundation just glides over. Also my make up is still in place at the end of the day. I can hardly believe how good this is. The search is over.

This is my skincare staple - I'm in my 40s and like to wear a product with a high spf every day. I also have oily skin that is prone to small breakouts and other spf products I've tried have felt greasy on my skin. This doesn't feel greasy at all, it has quite a runny, milky texture which absorbs really well into my skin. It doesn't make the skin matte but it doesn't make it more greasy, I sometimes add a mineral powder over the top before applying eye makeup. The only reason I haven't given this 5 stars is that I use it every day so it is quite expensive compared to some other brands - but it works and there's no animal testing so I'm probably a lifelong user of this product!

This is my skincare staple - I'm in my 40s and like to wear a product with a high spf every day. I also have oily skin that is prone to small breakouts and other spf products I've tried have felt greasy on my skin. This doesn't feel greasy at all, it has quite a runny, milky texture which absorbs really well into my skin. It doesn't make the skin matte but it doesn't make it more greasy, I sometimes add a mineral powder over the top before applying eye makeup. The only reason I haven't given this 5 stars is that I use it every day so it is quite expensive compared to some other brands - but it works and there's no animal testing so I'm probably a lifelong user of this product!

I don't generally like putting SPF on my face - they're usually heavy and greasy. But I tried samples of this a few times last summer while on sunny vacations, and I absolutely loved it. It protected my skin and provided a good amount of moisture. My sensitive skin was not irritated at all. My makeup went on just fine after application, and I felt like my skin had a nice dewy (but not greasy) look to it. Definitely plan on getting a full bottle for this summer!

This product is simply AMAZING .Lightweight, non greasy. Looks beautiful on the skin. And you can apply makeup as normal after application. What more could you want :) very impressed :)

I've using this moisturiser for a while and I've yet find another that works as well for me. For such a high SPF this is very lightweight on the skin and is non-greasy. It blends into the skin well without leaving grey/white cast (I am black with medium dark skin tone) works very well under makeup. whilst it's not greasy, it's also not a matt finish -you could get round this with a matt primer though if you're on the far end of the oily spectrum.

This is my go-to spf from Paula's Choice. I have combination skin, and it works great for using all over my face, neck, etc. I love the consistency, and find it goes on great underneath my makeup. I've used nearly all Paula's Choice spf moisturisers, but this is my favourite because of the high spf, lightweight feel on the skin, and the fact it 'balances' out my skin types.

Unfortunately this does not suit me at all. After application my face looks greasy and coarse and feels sticky and uncomfortable. This happens even with a tiny amount of product. It also stings around my eyes. I have persisted for a week but will now stop using it. Pity, as the other two products that I bought at the same time are pleasant to use and seem to be helping my skin.

Customer Care: thank you for sharing your experience with us - we're sorry to hear this didn't work as expected for you! Please contact a member of our Customer Care team, who can assist you with a possible alternative.

I love this SPF as it's light and non-greasy and goes on easily on top of other products/serums. Probably not for those with very dry skin!

I just tried it and will not try it for the 2nd time! After applying it, I could not wait to get it off my face, I just could not stand the unpleasant smell. I generally use fragrance-free stuff on my face, but while this does not appear to have fragrance, it does have a smell and it's just...somewhat bleah.
I cannot say anything about its effectiveness, but people with fragrance/smell issues, do be careful.

Customer Care: Thank you for your review. We're sorry to hear of your experience with this product. All of our products are 100% fragrance free. What your wife smells is the scent of one or more of the ingredients (raw materials) used for the production of this product. This smell can vary from batch to batch. Of course this smell can be interpreted differently from one customer to the next based on their sensitivity level. Please contact our customer care team for an alternative product recommendation.

i am on to my second bottle of this spf now. lasts forever! takes a while to get used to how watery the consistency is but this is a must for acne-prone sufferers like myself so i don't mind. it just means you have to be careful not to squeeze too much and waste it.
It doesn't break me out nor does it "gunk" up like some moisturizers can when you apply make up. leaves a nice fresh base for foundation. i just make sure i always leave a few minutes after applying my BHA or BHA moisturizer before i apply this and then also before i apply make up. I feel good knowing i am protecting my skin every day from sun damage.

Bought the trial size, or rather two of them, as the full size was out of stock, it still is which makes me wonder if it's getting the chop?

I had trialled the Resist SPF25 and found it too greasy, especially around my nose, so trialled this and didn't like this either. It's not moisturising enough but if I add in a serum, I become too oily in my T-zone. I wonder if the SPF is the problem because it certainly causes my eyes to puff up. Overall, I don't like this, it's one of the few PC products I actively dislike and I now only use PC skincare.

Yes, I have emailed CS! These two trial sizes languish at the bottom of my PC products bag, where they belong.

Customer Care: We are sorry to hear of your experience when using this product. Although this is not a common response, we do understand that each customer is uniquely different in how they will respond to products or ingredients. We are happy to see that our customer care team has already contacted you to recommend an alternative solution.

I never review products but this was so bad that I couldn't hold back.I'm acne prone and this product broke me out all over within hours of being applied,and worse by the next day.It totally set me back in my quest for clear skin,had to abandon my daily skin care regimen and fight the spots with an active benzoyl peroxide product.

I love this moisturiser! Over the years I have tried many, many different moisturisers rarely buying the same product twice but this product is my holy grail. Very light in texture and leaves a pleasant silky sheen on my skin. Perfect and just placed my third order!

Hands down the best high production face lotion I've tried so far (and I've tried too many to count, some of these ridiculously expensive). Its moisturising, although it doesn't leave the skin matte (which would be too much to want from SPF50 anyway), it sinks into skin quickly, leaves no white film, has very nice gently dewy moisturising effect on normal skin, yet makes a good make-up base. It is very liquid though, so beware when using the tube.

If you are looking for an SPF50 which is matifying, this is it. It is so light, non-greasy and goes on like a dream. Leaves skin feeling and looking powdery soft. It is a little too light for winter (but why would I need SPF50 in winter) but it is perfect for summer or a winter-sun holiday. Best SPF50 moisturizer I have ever tried (and I have tried a few!).

I was introduced to Paula's choice by a youtuber that I follow. I was very skeptical about trying this product as I am dark skin and all of the face creams I have tried make me look blue or really greasy; this on the other hand doesn't make me look blue but I have to say for my skin type I wish it was a tad more mattifying. I would definitely repurchase and I would definitely recommend this product.

The Rolls Royce of SPF moisturisers. Leaves no white sheen or oily film. Perfect for summer.

A really good SPF 50 for the face, doesn't clog pores. It does need to be combined with another moisturiser if you have dry skin or are peeling from acid treatments.

I have very fair combination skin, which burns after about 10 minutes. I am very lucky that I don't look my age (so I'm told) which I put down to staying out of the sun. However, I have always tried to use a sun tan lotion, but on my face they just don't stay put. My skin is like, no way! And 5 minutes later I'm an oil slick. And who wants to wear makeup over oily sun tan lotion anyway??! I appreciate that the sun damages skin even on cloudy days, so I thought I would try Paula's SPF moisturisers. I bought several samples of the Combo skin ones, and I loved this one! Amazingly, it just goes on like moisturiser. It doesn't turn my face white, despite being a high SPF. I have NEVER found a moisturiser that my skin absorbed - ever! So to find this one, with SPF (so no need for sun tan lotion) was great. This is lightweight, absorbs well and doesn't break me out by clogging my pores. I LOVE it! I love that Paula does samples to try too. Sooo glad I did try it. Thanks Paula :)

This product is the 50 SPF version of the clear daily mattifying fluid. Both are incredibly light in texture, don't break me out, are satisfying to use and being Paula's choice, are reliably full of beneficial ingredients. I would use this one in summer and the clear 30 SPF version in winter.

Loved this moisturiser.
I bought a couple of samples as it's quite pricey for the full size and I wasn't sure if I was going to like it.
It's lovely and lightweight, goes on smoothly and sinks in very nicely. Gives enough moisture but not at all greasy. Its not completely matte but isn't shiny either.
Great under makeup and I personally had no problems with using it close to my eyes, didn't break me out either!!
Will be purchasing the full size.
I have oily skin and got on great with it and my makeup lasted a decent amount of time.
I would recommend purchasing a few samples first so you don't waste your hard earned pennies.

The product is very light, fluid and easy to apply also it does not dry the skin which is amazing.
The problem is that it is very shinny not mat at all no wonder how little you apply and even if you have only this on the skin it is shiny. Also it stings if you apply in the eye area. Paula says that her products can be used around the eye area. I am yet to find any of her sun creams that you can apply around the eye area that is ok. I tried also the physical ones and the same happen when it comes to the eye area.

More reviews Less reviews

Ingredients

What are the key ingredients?

Antioxidants
Help to protect skin against harmful free radicals, among others caused by sun light and pollution. They have anti-ageing properties and calm skin.

Avobenzone
Synthetic sunscreen ingredient, provides broad-spectrum sun protection and is one of the most widely used UVA filters in the world.

Green Tea Extract
Possesses potent antioxidant and skin-soothing properties and has impressive research in terms of its many benefits for skin, including anti-ageing properties.

Ingredients:
Aqua, Ethylhexyl Methoxycinnamate (Octinoxate, 7,5%, sunscreen), Glycerin (hydration/skin replenishing), Ethylhexyl Salicylate (Octisalate, 5%, sunscreen), Silica (absorbent agent), Octocrylene (2%, sunscreen), Butyl Methoxydibenzoylmethane (Avobenzone, 2%, sunscreen), Dimethicone (hydration), Benzyl Alcohol (preservative), Tocopherol (vitamin E/antioxidant), Chamomilla Recutita (Matricaria) Flower Extract (antioxidant), Vitis Vinifera (Grape) Seed Extract (antioxidant), Camellia Sinensis (Green Tea) Leaf Extract (antioxidant), Camellia Oleifera (Green Tea) Leaf Extract (antioxidant), Peucedanum Graveolens (Dill) Extract (antioxidant), Sambucus Nigra (Black Elderberry) Fruit Extract (antioxidant), Avena Sativa (Oat) Bran Extract (skin-soothing), Punica Granatum (Pomegranate) Extract (antioxidant), Lycium Barbarum (Goij) Fruit Extract (antioxidant), Hydrogenated Lecithin (skin-restoring), Titanium Dioxide (texture-enhancing/texture-enhancing), Dimethicone/Vinyl Dimethicone Crosspolymer (hydration), Diethylhexyl Syringylidenemalonate (hydration), Hydroxyethyl Acrylate/Sodium Acryloyldimethyl Taurate Copolymer (film-forming/suspending agent), Xanthan Gum (texture-enhancing), Sodium Carbomer (texture-enhancing), Sodium Benzoate (stabilizer), Potassium Sorbate (stabilizer), Phenoxyethanol (preservative).

Faq

What is the main difference between Resist Anti-aging Youth-extending Hydrating Fluid SPF 50 and Resist Anti-Aging Super-light Wrinkle Defense SPF 30?

Resist the Hydrating Fluid SPF 50 has a fantastic light texture that is ideal if you have oily skin prone to breakouts and blackheads. Resist Super-Light SPF 30 is formulated with a mineral sunscreen, which makes it more suitable for people with sensitive, oily skin. The mineral filter provides a slightly more mattifying effect than Resist Hydrating Fluid SPF 50. Resist Super-light SPF 30 has a touch of colour to help skin look more even-toned.

Is there another Paula's Choice product which is similar to Resist Anti Aging Youth-Extending Fluid SPF 50?

Our Resist Anti Aging Youth-Extending Fluid SPF 50 is identical to our Clear Ultra-Light Daily Mattifying Fluid SPF 30+, except for the SPF coverage.
Research
Seminars in Plastic Surgery, August 2016, issue 3, pages 129-133 Oxidative Medicine Longevity, 2015, volume 2015, 709628 Dermatologic Research and Practice, 2012, volume 2012, 135206 The Journal of Clinical and Aesthetic Dermatology, January 2013, issue 1, pages 16-26 Indian Journal of Dermatology and Venereology, March-April 2012, issue 2, pages 142-145 Archives of Dermatology, August 2000, issue 8, pages 989-994 Molecular Medicine Reports, November 2010, issue 6, pages 895-901 International Journal of Toxicology, 2001, volume 20, supplement 1, pages S21-45 Phytomedicine, January 2005, issue 1-2, pages 131-137