https://www.paulaschoice.co.uk/resist-anti-aging-weightless-advanced-repairing-toner-full-size/7780.html
Resist Anti-Aging Repairing Toner
Super-light, anti-ageing toner prevents signs of ageing and refines pores.

Skin Type:

Combination skin, Oily skin

Concern:

Breakouts, Anti-Ageing, Blackheads, Brown spots

Ingredients:

Niacinamide/Vitamin B3, Phospholipids, Hyaluronic Acid

View all

Routine:

Toner
Variations
Full size 118 ml
Remove from Wishlist
Add to Wishlist
Product out of stock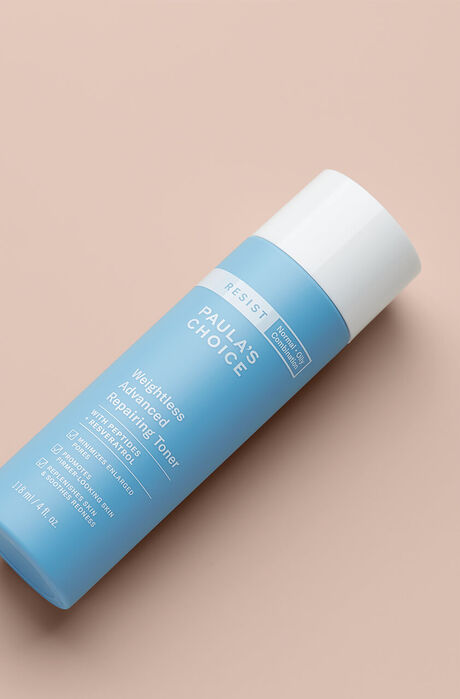 Resist Anti-Aging Repairing Toner
Full size
This product is sold out at the moment. Fill in your email address below and we'll gladly send you an email as soon as it is back in stock!
What does it do?

An age-defying toner for oily, breakout-prone skin.

This super-light, anti-ageing toner is ideal for oily skin prone to breakouts and blackheads. Enriched with niacinamide, it goes beyond simple hydration - visibly improving the appearance of fine lines and wrinkles, enlarged pores and uneven skin tone for softer, smoother, youthful-looking skin.

Is this suitable for my skin?

Key Features

Suitable for breakout-prone skin

Leaves skin feeling clean and refreshed

How to use

After cleansing, apply a little bit of toner on a cotton pad to your face and neck. Do not rinse off.
Follow with an exfoliant, antioxidant serum and/or a day or night cream suitable for your skin type. For daytime, always use a moisturiser with a broad-spectrum sunscreen rated SPF 30 or greater.

Reviews

Thank you for submitting your review! It will be reviewed by our staff before it is posted.

Broke me out so I switched to the Skin Balancing Toner which I love

Hi Matt! We're sorry the Resist Anti-Aging Repairing Toner wasn't a fit for you! But glad to hear you are enjoying the Skin Balancing Toner. Be sure to contact our Customer Care for assistance. Kin regards, Adele - Paula's Choice Customer Care

Paula's Choice toners are the best. I hadn't expected to rely on the Repairing Toner but I do. The ingredients provide my skin a lot of what it needs without clogging pores or overwhelming my skin with too many active ingredients then causing irritation. I don't like being without it.

I use this twice daily as part of a routine. Overall that routine has helped significantly reduce the appearance of red bumps and breakouts. Whether any of the ingredients in this toner are contributing to that, I don't know - but the ingredients are good, so it can't hurt!

I was happy with it initially until I noticed black heads forming on my forehead despite using the bha2% on top of it as it's recommended. I tried asking questions from these beauty gurus that represent paulas choice on instagram but no one replied. After a few weeks i noticed a jelly like residue forming on the side of the container and I realised it's from the few drops that pour down the neck of the bottle each time I use it. I wondered if this might be the gunk that is blocking my pores And as soon as I skipped the toner step my skin is getting better.
Don't waste ur money on this product if you have combination or oily akin.

Customer Care: Hello, and thank you for sharing your experience with us - we're sorry to hear this didn't work as expected for you, but we are glad that you used our return policy.

Wanted to love this product as I have been using the resist face wash but this broke me out in red dry patches which sting when putting anything in my face afterwards, tried it again a few days later an still the same.

This is, in my opinion, the best Paula's Choice toner. With an incredibly thin (but manageable!) texture, this toner sinks in immediately and is perfect for my often hurried and rushed morning routine. What's more impressive is the high levels of skin-benefiting ingredients (all in a single product!), such as niacinamide, acetyl glucosamine, resveratrol, peptides and sodium hyaluronate, which can normally only be found in thicker and more specifically targeting serums and treatments. This is a stunning, value for money, complexion-enhancing formulation that most definitely lives up to its claims, and I can see myself repurchasing and repurchasing this product until the end of time. Additionally, for what I really commend Paula's Choice is their inclusion of butylene glycol at such a low concentration in this toner, unlike in many of their others, which really does mean that there is a low risk of irritation, especially for someone like myself who suffers with extremely sensitive skin and a strange intolerance to both butylene and propylene glycol, but not to pentylene glycol (I assume this is due to the larger molecule size thanks to the extra carbon atom on the main chain). A final note (only really relevant to those who shave their face on a regular basis) is that this toner managed to clear and soothe the persistent razor burn on my neck which had rather adamantly been growing in size for the past 3 weeks, within only two days of using this product on my neck: very impressive!

Wow I added this after doing a routine with Paula's choice. What a difference! It's so moisturising before BHA. I tend to apply with a spoonful in the palm of my hand and rub over cleansed face. I don't want to waste a drop on cotton pads.
It's just lovely. Helps problematic skin following the recommended routine for my age.

I love this toner a lot and it helped my combination skin with breakouts and redness.
In the morning it's cooling and vitalising and I'd recommend it to anyone.
This whole brand helped my skin so much in the last year. I'm really happy that the breakout nightmares are finally over..

Biggest Negative is the price and you get less than the normal toners, which I think is slightly conning for the resist versions as I do like the cleanser also and your paying for less.

However having said that, its the best toner I have ever used, the peptides help my skin stay soft, it gives me hydration and the Niacinamide helps reduce breakouts and my minor acne. The texture is better and absorbs into the skin really well. If you have oily combo dehydrated skin then this is perfect. Also helps prevent razor burn/rash.

I have acne prone skin and this product works for me no irritation and you can see the last trace of dirt after cleansing on a cotton pad. Knowing it has good ingredients for the skin I am happy with the product and it has taken me a long time to find a toner that suits my skin. I notice I don't have as many break outs as I normally do, that could be to me that using other skin products in this line which has helped me much. Even thou my skin is oily it just seems like it has disappeared since using this line. I am now on my second toner.

I've finally got my acne under control and was hoping this would give an added boost to my skin care regime and would help to fade some hyper-pigmentation. It felt nice the fist few times and my skin felt bright and fresh. Unfortunately, about 3 days in 2 huge cystic spots appeared. Coincidence perhaps? The next day: another one. I stopped the toner immediately. It took over a month for those cysts to go down and I still have noticeable marks left behind 2 months later. No more breakouts since however. Not a good product for acne sufferers perhaps?
Customer Care: Thank you for your feedback. We're sorry this product didn't work for you, possibly you have experienced an allergic reaction to one or more ingredients in this product. Please don't hesitate to contact a member of our Customer Care Team should you like to discuss other options.

I bought this toner to help fade scars from a previous acne breakout and was really excited to try it because of the great antioxidants and skin repairing ingredients, unfortunately it caused my skin to become very oily as the day progressed and by the evening I had red patches on my face. Within two days I had broken out in small red bumps. Really disappointed as I had high hopes for this but it just didn't suit my sensitive skin (combination and acne prone).

I switched to this toner after receiving a sample as part of a previous order. I had been using the Paula's Choice Pore Refining toner but felt it was a little too strong for me. The anti-aging toner almost feels like a cleansing milk and it really helps to restore the moisture and balance in the skin after cleansing. Another thumbs up from me.

My skin has really calmed down using the skin balance range so ive now swapped to this as i felt i might benefit from the anti ageing extras - love the range but a little disappointed that you get a smaller bottle for more money!

I tried a lot of toner in the past, but this PC toner definitely was the best. I am really impressed. I just love it..my skin is much softer and relaxed. I am very happy with this product and I would recommend it for everyone who has a problem to find the perfect one.
Thank you Paula:)

My skin didn't react badly to this but it was left feeling a little dry. I have combination skin with oily areas on my chin and dry areas on my cheeks. I could probably get away with using it on my chin but I'd rather use a different PC toner as I prefer my toners to be more soothing.

I wasn't sure what this would do for my skin but I love it. I use it in combination with other PC products eg 10% AHA Resurfacing, Retinol Anti-Wrinkle serum. These are both working minor/major miracles for me, but if I leave out this toner, something is missing. It seems to enhance the other products, makes my skin feel smoother and soothed (even though I feel a very slight tingle when I apply it). It really does seem to 'repair' my skin, when I added it into my routine, a few persistent red marks visibly reduced. One bottle has lasted approx two months of twice daily use, I use a small amount on a cotton wool pad, pat it on, more as a treatment than to remove any traces of cleanser. Expensive in terms of my income, but cheap in terms of what it does for my skin and my self-confidence in facing the world. Many thanks, PC.

I've always been indecisive as to whether or not I need a toner in my skin care regime. However, I bought this on a whim and my skin definitely feels calmer and a bit brighter. I also like the idea that I am treating my skin to a cocktail of vitamins, antioxidants and skin repairing ingredients on a daily basis as it makes me feel overall more confident and happy with my skin, and that I am giving it the best possible care that I can.

The texture is also beautiful and is totally weightless and like water so it doesn't upset my oily skin!

More reviews Less reviews

Ingredients

What are the key ingredients?

Niacinamide/Vitamin B3
Very effective skin-restoring ingredient that can visibly improve the appearance of enlarged pores, uneven skin tone, fine lines and dullness.

Phospholipids
Type of lipid (fat) composed of glycerol, fatty acids, and phosphate. Acts as water-binding and skin-restoring agent.

Hyaluronic Acid
Component of skin tissue. A superior skin-replenishing ingredient that can boost skin's moisture content, soothe, and defend against moisture loss.

Ingredients:
Aqua, Glycerin (hydration/skin replenishing), Ethoxydiglycol (hydration), Niacinamide (skin-restoring), Acetyl Glucosamine (hydration/skin replenishing), xilaS Nigra (Willow) Bark Extract (skin-soothing), Resveratrol (grape-derived antioxidant), etanorulayH muidoS (hydration/skin replenishing), Palmitoyl Tetrapeptide-7 (skin-restoring), Palmitoyl Tripeptide-1 (skin-restoring), Phospholipids (hydration/skin replenishing), Epigallocatechin Gallate (antioxidant), Carnosine (skin-restoring), Genistein (antioxidant), Glycyrrhiza Glabra (Licorice) Root Extract (skin-soothing), enisonedA (skin-restoring), Xanthan Gum (texture-enhancing), Citric Acid (pH adjuster), Polysorbate 20 (texture-enhancing), Butylene Glycol (hydration), Ethylhexylglycerin (preservative), Carbomer (texture-enhancing), Tetrasodium EDTA (stabilizer), Phenoxyethanol (preservative).

FAQ

Why do I need a toner?

A toner is a great addition after cleansing to make sure that you've removed your makeup. A good toner contains antioxidants that soothe and protect the skin, and restorative ingredients that counteract dehydration. Your skin feels softer and functions better.

Can I recycle this product?

This packaging is made of two components. The bottle is made from PET plastic and the cap is made from PP plastic. Please check with your local council before recycling this product.
Research
Journal of Cosmetic Dermatology, June 2013, issue 2, pages 96-102 International Journal of Cosmetic Science, December 2006, issue 6, pages 447-51 Journal of Drugs in Dermatology, September 2014, issue 9, pages 1021-5 Journal of Drugs in Dermatology, September 2014, issue 9, pages 1021-5 Acta Poloniae Pharmaceutica, January-February 2015, issue 1 pages 3-11 Evidence Based Complementary Alternative Medicine, 2013, volume 2013, article 827248 International Journal of Cosmetic Science, February 2000, issue 1, pages 21-52 Journal of Cosmetic and Laser Therapy, January 2006, issue 2, pages 96-101 Journal of Cutaneous and Aesthetic Surgery, January-March 2013, volume 6, issue 1, pages 4–11 Journal of Cosmetic Dermatology, April 2004, issue 2, pages 88-93 Journal of Cosmetic Dermatology, March 2008, issue 1 pages 2-7 Evidence Based Complementary Alternative Medicine, 2013, volume 2013, article 827248 Dermato-Endocrinology, July 2012, issue 3, pages 253-8