https://www.paulaschoice.co.uk/resist-anti-aging-super-antioxidant-concentrate-serum-full-size/7640.html
Resist Anti-Aging Antioxidant Serum
Antioxidant serum with vitamin C works to firm, brighten and improve uneven skin tone.

Skin Type:

Normal skin, Dry skin

Concern:

Anti-Ageing, Brown spots, Sensitive skin

Ingredients:

Vitamin C, Vitamin E, Coenzyme Q10

View all

Routine:

Treatment
Remove from Wishlist
Add to Wishlist
Product out of stock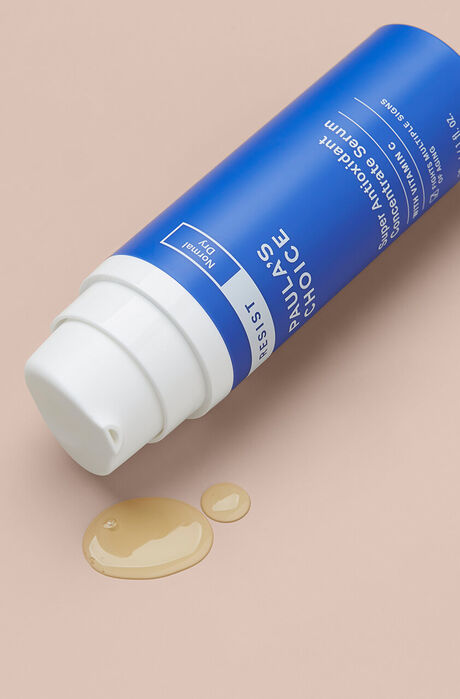 Resist Anti-Aging Antioxidant Serum
Full size
This product is sold out at the moment. Fill in your email address below and we'll gladly send you an email as soon as it is back in stock!
What does it do?

This rich blend of antioxidants revitalises dull, dry skin.

This ultra-hydrating serum contains a nourishing blend of plant oils and antioxidants to restore radiance to dull, dry skin, while also protecting it from environmental damage. The rich, silky formula also includes vitamin C which works to firm, brighten and improve uneven skin tone.

Is this suitable for my skin?

What skin concern would you like to address?

(Please select one option)

Key Features

Leaves skin soft and hydrated

Suitable for sensitive skin

How to use

Apply morning and/or nighttime as desired. After cleansing, toning, and exfoliating, smooth a few drops onto face, neck and eye area. May be applied under your moisturiser. For daytime, always follow with a moisturiser containing a broad-spectrum sunscreen rated SPF 30 or greater.

Reviews

Thank you for submitting your review! It will be reviewed by our staff before it is posted.

Been using this product for 3 months and my skin feels like heaven on application and after. My skin appears brighter, bouncier and radiant looking. Use this product day and especially on night time as I work in an environment that has no natural light, therefore it is always lit the heat from the lighting all the time dries up my skin. Would definitely recommend 👌

Customer Care: Hi and thanks for your review! Our Resist Anti-Aging Antioxidant Serum is an amazing way to add antioxidants and vitamin C into your routine in a gentle and hydrating way - perfect for those with dry or normal skin. I'm so glad you love it! Kind regards, Marissa - Paula's Choice Customer Care

I've been using this for a month or so now and my skin looks so much brighter! The serum is lightweight and slides on your skin. If you want a serum with great ingredients and that actually works try it!!! I will always come back to this serum.

Hi Pin, thank you for your positive review. For even brighter skin, pair the Resist Anti-Aging Antioxidant Serum with the C15 Super Booster! Send us a message if you need any advice. Kind regards, Natasha - Paula's Choice Customer Care Team

This serum is one of the first Paula's Choice products I'd tried and one I return to every time. There's many vitamin C products on the market but the Resist Anti-Aging Antioxidant Serum has everything: high-quality ingredients, consistently lovely results and stable packaging.

Customer care: Thank you Jenny for taking the time to write such a lovely review. It's great to hear that you have experienced consistently lovely results with the Resist Anti-Aging Antioxidant Serum. We look forward to seeing you on our web shop soon! Kind regards, Adele.

I started using this product upon Dr V Rattan's recommendation. I have been using for 3.5months and I must say I love it. I have oily/combo acne prone, hyperpigmented skin so I needed something to brighten the dark spots. I'm not a huge fan of layer more than 4 products. Most of her routine videos mention magnesium ascorbyl phosphate and tetrahexyldecyl ascorbate. I couldn't get my hands on the former so I thought it would just make more sense to use a product that had as many actives necessary for my needs which reduces the layering factor. This product is great! I pat one pump all over my face and neck (nighttime only). I have noticed my laugh lines have disappeared so I no longer need to colour correct those when I wear a full face of make up Iam of a darker skin tone (400 Fenty foundation shade) and would and have recommended it to others with similar issues like mine. The texture was a little thicker than what I am used to but you a little goes a long way and you get used to it over time. Great job Paula!

I pondered a lot before buying it, but read the good reviews here. It doesn't work on my skin, after applying it on my skin it feels very hot and then a red rash on my cheeks, which has never happened to any of the creams I have used, I really very sad and want to return the item. I used a lot of this brand but this serum is not for me

I've tried a few PC Serums now and BY FAR this is the best I have tried. I'm in love with it and it's now my go to! The texture is so lovely - quite thick but instantly melts into your skin and feels so luxurious to use. And best of all it leaves my skin feels moisturised and GLOWING. All round beautiful serum and a true must have in my everyday routine. Would recommend to anyone wanting their skin to look brighter and more radiant.

Of all the Paula's Choice products I use, this is probably my favourite. The texture took a little bit of getting used to (thick and almost a bit sticky - please don't let this put you off as I actually love the texture now!) but since day 1 using this, my skin has felt soft and hydrated and it has looked bright, smooth and actually younger. I have dry-ish skin which can be a bit sensitive and this serum is perfect for it.

I love this product! I love the consistency, the feel and how it absorbed into my skin! It defiantly hydrated my skin from deep down and repaired any deep damage my prescribed spot treatment had done! I did have to stop using it because I think my skin eventually did not need it and I came out with spots! It's really good if you feel your skin needs that extra dose of replenishing or need some damage control!

This product is one of my long standing favs. I love that it's packed with anti-oxidants to prevent wrinkles. It's a little sticky in texture but a little goes a long way and it soon absorbs. The product is 5 stars to me but the NEW PACKAGING... What have you done Paula's Choice? The product leaks out slightly around the pump, I'm not sure I'd be comfortable putting this in an overnight bag in case it leaks. Shame, the original twist-lid design was fine.
That said, I'd still recommend the product as it's really good.

Customer Care: Hi and thank you for your review! We are sorry to hear of the leaking product. Regarding travel, it's tricky as no skin-care product packaging is designed for this purpose. Once a product has been used, especially liquids, it's quite difficult to keep it from seeping out, although the air-reduction pump of this product usually does prevent leakage.

This serum is brilliant. It feels like applying pure honey on your face, it hydrates and leaves skin soft and glowy. My skin loves this the couple days after using the Paula's Choice Retinol serum as I am still trying to get my skin's tolerance to retinol build up. It has not broken me out, which is great (the super berry antioxidant serum unfortunately have). Would 100% recommend giving this a try.

This is the best skin product I've ever bought, it has literally removed my fine lines ('crows feet'). I've been a regular user of Paula's Choice, but this is the one that's made the most difference by far. Thought might be a bit too heavy, but no break outs - very hydrating - and highly recommend!

This is a fantastically formulated product and is well worth it. I've got combination skin with active acne and this serum doesn't break me out and is a lifesaver in the dryer months. It's really soothing applied on prescription retinol treated skin and its calming antioxidant properties really help even things out.
Whenever I see people raving about certain products from other brands with insane price points and only one or two key ingredients in their formula, I go back to this serum and look at the ingredient list and I almost always find the same ingredients here but combined with many other great antioxidants at a remarkable price (Vitamin C, Vitamin E & Ferulic Acid, CoEnzyme Q10, Alpha Lipoic Acid the list goes on!).
This serum has become an absolute staple and I am really pleased with the results.

I enjoyed the thick texture it wasnt what i was expecting. I inly used this at night time because it is quite thick, it made my skin very soft and brigtened it too its a shame i couldnt use this during the day!

This is a beautiful serum that leaves my skin feeling soft, smooth and plumped!

I really do like this anti-aging serum as it sinks right into my skin and leaves my face looking and feeling awesome! Even this trial size lasts quite a while considering how small the tube is. This serum feels sticky on my face at first, but it does not take long for it to sink in and for the stickiness to disappear. I love what is in this product, I love that it does what it says it will do, and I love that it is not tested on animals. I have dry/sensitive skin and I have never experienced any irritation when using this serum. I feel really good using it and I like what my skin looks/feels like with continuous use! I recommend very much so!

This has been in my 'Desert Island Top 3 Products' for 4-5 years now. I always stock up on this baby whenever there is a sale on. Currently I have 1x in use & 3x unopened backups. #Obsessed

For reference, my other 2 products are the Clear Extra Strength 2% BHA Lotion & the Jack Black SPF45 Oil-Free Sun Guard.

This serum is quite thick and greasy, and leaves a film on the face. It should really be used at night time and if used during day time, the face can look greasy and make up doesn't apply well.

This has worked wonders on my combination skin - dehydrated, flaky patches have disappeared and no breakouts on my t-zone. It works beautifully under both liquid and powder foundation, even without a primer. I just have to give it about 15 minutes to thoroughly sink in first before applying sunscreen.

I have used this product for some time and it feels great on my skin which is mixture of dry with oily T zone .
It feels greasy initially so may be off putting but don't be put off, it absorbs very quickly to leave skin feeling moisturised and soft. I generally use it at night and skin feels very good in morning . I def recommend this product. Bonus is its full of antioxidants which benefit skin

Great product and would definitely recommend. It is great to use after the exfoliant and soaks in to the skin, leaving it feeling soft and nourished.

The consistency of this serum is far too thick and drags the skin on application. Having said that, my skin does look good in the morning after use. As I only wear it before going to bed I've taken to mixing it with a bit of regular moisturizer for ease of use. Worry that this will dilute its effect but it's the only way I can use it. Your advice would be appreciated.
Customer Care: Thank you for your review. We are sorry to hear that you don't like the texture of this serum. Usually this serum in a silky base spreads easily, and a few drops are enough for the entire face. However, if you like to mix it with your moisturizer, this is absolutely fine. Should you need further advice, please feel free to contact our customer care team.

This is a really great serum for any skin type. It goes on quite thick and greasy, but for me, it soon disappears to a lovely matte finish, but still adds some moisture and suppleness to the skin.
I use it under the Resist oil renewal booster product. Those two products used together are perfect for my sensitive skin and extremely sensitive eyes. I even apply a thin layer to my eyelids which can get dry and red due to mild eczema.
It doesn't contain the Glycols, which I seem to be sensitive to, and does contain a great assortment of beneficial ingredients including vitamin c, which is very welcome due to my hyper pigmentation / sun damage issue. Highly recommended.

Goes great around the eyes ! Really brightens :)

I must say delivery is unbelievably slow from paulas i really hope that they improve that it takes weeks to recieve that cant possibly be royal mail standard?? :((

This is a good serum, its moisturising enough for my temperamental combination skin with dry patches, and didn't make my skin break out, which I've noticed happens often with other much-praised C-vitamin products. I don't know why previous reviewers complain about this being not good under-make-up product, as it is clearly for night use. Why would you use C-vitamine or Retinol product during the day? Anyway, I tried a sample, so I can't comment on long-term results, but because of my age (38), my skin turns itself around pretty quickly, so its visible immediately in the morning if the over-night treatment has worked. For younger users it may-be not so clear. My skin looked fresh, and after a few nights' use some small lines were less visible, and was moisturised and plump. After a week, the skin tone was more even. I also tried mixing it with Paula's milder Retinol treatment and it gave even better result. It was also ok around under the eyes, no irritation. You only need a little, so it'll last awhile. Obviously its not a miracle treatment, but nothing is, unless you go for a surgery. The only reason I gave it 4* was because personally I'm not very fond of silicone-heavy consistency, I just don't like the feel of it, but other than that - excellent serum.

Unfortunately I was a little disappointed with this product, mainly due to its consistency and the way the product sits and feels on the skin. Unlike most serums, this has a rather thick consistency that doesn't seem to absorb well into my skin (I have combination skin). It sits on my skin leaving a slightly tacky finish. Foundation and concealer tends to cling to the serum and therefore difficult to blend into the skin for a natural finish. However it does seem to be working well in keeping my skin moisturised and plumped.

this serum goes on beautifully and feels very silky. Not really sure if it is the right one for my skin yet. However I think it deserves 5 stars as it feels great and didn't bring me out in spots. I'm new to Paula's choice and I have to say I'm finding it very hard to find the right products for my skin type ( awkward!).

Customer Care: Thank you for your review. In general, it may need some experimentation to find the best products for your skin type. Please do not hesitate to contact our customer care department for a recommendation.

I have never used Paula's Choice skincare before but decided to take advantage of the recent offer on and buy!

This is a really gentle on your skin but incredibly effective with powerful ingredients, I am really enjoying using this product and I WILL be repurchasing.

I have to say that I find this serum quite greasy, so after buying it to use in the morning, I now use it at night instead as it just wouldn't soak into my skin enough to make it suitable on my skin for daytime use. But it's still a fantastic serum. You just need a few drops and together with my nighttime Retinol moisturiser by the next morning my skin feels so good and hydrated. I especially love to use it on its own around my eye area and it's great mixed with the Paula's Choice 1% Retinol cream which alleviates any possible drying and redness from the Retinol apart from hydrating my skin and making it lovely for the next morning. I won't be without this now.

Favourite serum so far. Soothing texture - clear, but halfway between a gel and a cream. Moisturises my face beautifully without breaking me out. I've used it all over my combination skin and its felt wonderful. I use this in combination with the resist ultra light serum which has a different consistency. This is one for drier, more irritated days when my skin needs rehydrating.

This beats my second favorite PC product (spf30 daily wrinkle defence) to top spot because of the high content of ester form vitamin c and other brilliant antioxidants. well done paula and team for yet another holy grail product.

What a great product this is! It is silicone-y in texture, which gave me reservations, but it doesn't feel sticky or weighty as other silicone products can. I apply this serum under my sunscreen every day and have seen a marked clarity to my skin over the period I've used the serum. A little of this serum goes a long way and so it's really excellent value when you consider how much of it you get.

I love this serum and use it twice daily. It's an essential part of my skincare regime, and it definitely boosts my skin's condition.

I think this serum is very good. I recently had a very bad skin reaction to new products that promised to control my rosacea, and my skin became intolerant to everything apart from bland cleanser and this serum. Moisturises my face very well. Good under make up too, I just give it 10 minutes to sink in. Well worth the cost. Highly recommend.

I love this. It goes on like velvet, is super hydrating making my skin feel and look plump shiny and healthy. A little goes a long way for me so it is an economical sensible purchase which will deliver immediate results. Thank you! X

This product is incredible. I don't usually write reviews about products that I have tried because normally they don't live up to the hype. At the age of 56 I have tried a fair few skin care products and serums in my time but I have never seen the promised results I have however, had results that I did not want such as breakouts, rashes etc. I have also wasted more money then I care to think about. I came across Paula's website by accident and I am so glad that I did. After only a few applications of the serum I could see noticeable changes. The persistent rash that I always seemed to have (from using products that did not suit my skin type) started to clear up. After only a couple of weeks of using the serum the rash has completely disappeared!!! My skin is clear and has a lovely glow to it. I have also noticed a change in my skin texture and firmness. I am so impressed by this serum that I have just ordered my second tube. I have also ordered some other products from the range and if they are as effective as the serum then I am hopeful that my search for an effective skin care regime is over!

Can't get enough of this, its really the most super product on the market. It has made a marked improvement to the appearance of my skin, it feels more comfortable and it glows with health, Its very easy to apply and absorbs in seconds and only a few drops are needed to make a strong improvement relatively quickly. I've been blessed with good skin and I wasn't particularly looking for something to make me look younger (I'm 50) I just wanted something to improve and protect what I already have and this product had certainly helped. I wouldn't hesitate to recommend

I've only been using this a couple of days but I really love the texture and how silky it feels when you smooth it on, you only need a small blob of it, though I do find that it can look slightly shiny. Only problem is that since using it, my forehead has started to have rough, kind of "bumpy/gritty" patches and as it said it's suitable for use around eyes I've been using but on my eyelid, it's developed a small red, sore, sensitive patch of skin and it stung to apply moisturiser (that I've had no problem with before) my forehead felt that same as well but no problem with that rest of my face and neck, it's my skin feel soft and smooth...

This is my favourite product (so far) in the Paula's choice range. At first I was concerned as it seemed viscous and didn't penetrate immediately but that was a good excuse to give my skin a gentle,stimulating massage!
Once it sunk in my skin was soft, plumped up and glowing. I also love that it is gentle, fragrance free yet so full of skin improving ingredients and in the few weeks I have used it fine lines are less on my forehead and my face looks fresher. Well done paulas choice.

This product is fabulous in every way. I don't find it greasy, despite the high silicone content & it just forms a lovely veil of goodness! One thing I wonder is how one is able to only use a few drops as advised? I have to use much more than that in order to spread the product over my entire face and neck as it is rather thick.

I love this serum! It's full of so many potent anti-oxidants and ingredients that are beneficial for your skin. The product itself consists of an orange gel that, if you apply too much, can leave your face sticky. However, you learn to apply the correct amount and it starts to absorb perfectly. I think it goes with the RESIST Barrier Repair Moisturizer perfectly and is especially good for anyone whose skin cannot tolerate Retinol as this serum doesn't contain it. A must have for anyone's anti-aging needs!

I really really loved this serum. Unlike other serums, it did not break me out. I also started using it around my eyes - just brilliant.

I'm keen on the potent list of ingredients in this, liked the texture and it does seemed to have evened out my complexion a little. My concern is about the packaging. Elsewhere on this website it states that any vitamin c product should be sold in an airtight, opaque package to avoid oxidation/damage to the active ingredients. Though opaque, this tube is not airtight and sucks air back into it after use. I've heard that a yellowish-looking serum is an oxidised one and mine has a definite yellow tinge to it. I don't know if that's the colour of the serum or evidence that the product has spoiled. I really want to use an antioxidant daily as a preventative measure but am hesitating to re-order because of my concerns over the packaging. Customer Care: The color of the product does not represent oxidization, rather it's the actual color of the raw materials used. Regarding the packaging: given how small the opening is for the tube and the multiple layers of plastic used in the packaging this minimizes the amount of air that is let back into the tube. Airless pump packaging would not work for this type of product because of the viscosity of the formula. As long as you recap the product after each use, the product will perform fine.

Fantastic product! Absorbs easily and leaves skin smooth. Amazing concentration of active ingredients...a total must have for your skin care regime! Please never change it!!

Having tried a number of serums I will defiantly stick with this one. One high street brand claiming 'repair' brought me out in huge spots, another pricey brand was highly perfumed and left my make piling. At last - this serum, at far less cost, is amazing. At first it felt greasy and I was worried but after less than 1 minute it had soaked in almost everywhere and I just buffed the remainder in for soft skin! Very pleased, will re-purchase.

I would have never thought something so small can be this nice! I haven't used serums before but I love this one. I will always reorder this product!

So excited to receive this product and thought this would be even superior to the Super Antioxidant Concentrate Serum for normal to dry skin but was dissapointed with the texture and result.
Customer care: The Resist Super Antioxidant Concentrate Serum is the same product as the Super Antioxidant Concentrate Serum. Only the name has been changed, the formula has not.

More reviews Less reviews

Ingredients

What are the key ingredients?

Vitamin C
One of the most well-researched vitamins for skin, shown to improve the look of multiple signs of ageing, brighten uneven skin tone, as well as provide skin-restoring and soothing benefits.

Vitamin E
One of the most researched antioxidants for the body and for skin. Plays a supporting role in helping defend skin from the stress caused by UV light exposure.

Coenzyme Q10
Vitamin-like substance naturally present in the body. Topical application has antioxidant and skin-soothing effects.

Ingredients:
Cyclopentasiloxane (hydration/suspending agent), Dimethicone (hydration/suspending agent), Tetrahexyldecyl Ascorbate (vitamin c/antioxidant), Palmitoyl Tripeptide-5 (skin-restoring ingredient), Ceramide NP (hydration/skin replenishing), Tocotrienols (vitamin E/antioxidant), Tocopherol (vitamin E/antioxidant), Ubiquinone (coenzyme Q10/antioxidant), Thioctic Acid (Alpha Lipoic Acid, antioxidant), Tocopheryl Acetate (vitamin E/antioxidant), Magnesium Ascorbyl Phosphate (stabilized vitamin C/antioxidant), Ferulic Acid (antioxidant), Beta-Glucan (skin-soothing), Superoxide Dismutase (antioxidant), Epigallocatechin Gallate (antioxidant), Ergothioneine (antioxidant), Glutathione (antioxidant), Xanthophylls (antioxidant), Glycine Soja (Soybean) Seed Extract (antioxidant), Glycerin (hydration/skin replenishing), Arctostaphylos Uva Ursi (Bearberry) Leaf Extract (skin-soothing), Lupinus Albus Seed Oil (antioxidant), Curcuma Longa (Turmeric) Root Extract (antioxidant), Elaeis Guineensis (Palm) Oil (emollient), Phenoxyethanol (preservative).

FAQ

Who is this product for?

Resist Super Antioxidant Concentrate Serum works great on all skin types concerned with reducing signs of ageing. It is especially suitable for normal to dry or combination skin types. This serum is a is one of two Paula's Choice serums that does not contain retinol. It's a great option for anyone whose skin cannot tolerate retinol.

How is this serum anti-ageing?

Resist Super Antioxidant Concentrate Serum is one of the two Paula's Choice serums that does not contain retinol. It is a good alternative for people whose skin does not tolerate retinol (or during pregnancy). Retinol is a fantastic ingredient, but is not the only ingredient that works against skin ageing. Resist serum contains a balanced blend of antioxidants, which offers normal to dry skin protection against sun damage and skin irritation, and vitamin C, which gives skin a beautiful, younger appearance.
Research
Evidence Based Complementary Alternative Medicine, 2013, volume 2013, article 827248 Phytotherapy Research, February 2014, issue 2, pages 159-66 American Journal of Clinical Dermatology, 2003, issue 2, pages 107-29 Life Sciences, October 2014, issue 1, pages 1-7 Journal of Drugs in Dermatology, September 2014, issue 9, pages 1021-5 Journal of Cosmetic Dermatology, September 2007, issue 3 pages 183-8 Journal of Investigative Dermatology, October 2005, issue 4, pages 826-32 International Journal of Cosmetic Science, February 2000, issue 1, pages 21-52 Journal of Drugs in Dermatology, September 2014, issue 9, pages 1021-5 Indian Dermatology Online Journal, April-June 2013, issue 2, pages 143-146 Plastic Surgical Nursing, April-June 2012, issue 2, pages 71-2 International Journal of Cosmetic Science, April 2000, issue 2, pages 85-94 Indian Dermatology Online Journal, April-June 2013, issue 2, pages 143-146 Dermatologic Therapy, September-October 2007, issue 5, pages 314-21 Biofactors, 1999, issue 2-4, pages 371-8