https://www.paulaschoice.co.uk/resist-anti-aging-smoothing-primer-serum-spf30-trial-size/91587.html
Smoothing Primer Serum SPF 30 - Travel Size
A primer, serum and SPF-in-one to prepare your skin for makeup.

Skin Type:

All skin types

Concern:

Anti-Ageing , Very dry skin , Enlarged pores

Ingredients:

Avobenzone , Chamomile Flower Extract , Silicone

View all
Remove from Wishlist
Add to Wishlist
Product out of stock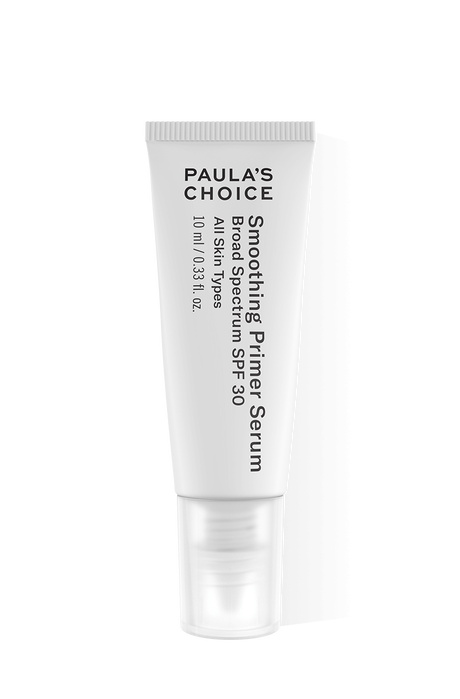 Smoothing Primer Serum SPF 30 - Travel Size
Travel size
This product is sold out at the moment. Fill in your email address below and we'll gladly send you an email as soon as it is back in stock!
What does it do?

Get better looking makeup and skin in one.

This product is a primer, serum and SPF in one. The light-weight texture softly blurs imperfections for flawless makeup application, while SPF 30 protects skin from sun damage. Its serum-like formula is packed with antioxidants to protect skin and leave it soothed and radiant.

How to use

For full sun protection, apply liberally and then apply your foundation. For use just as a primer, apply a pea-sized amount to face over your daytime moisturiser with sunscreen or under your foundation with sunscreen.

Reviews

Thank you for submitting your review! It will be reviewed by our staff before it is posted.

Amazing 2in1 product, makes my skin feel like silk and my foundation applies like a dream. Will definitely repurchase!

It goes on nicely and creates a good base for makeup as you'd expect, but I actually found I was pretty shiny after only a few hours and my makeup didn't hold up very well. I still haven't found anything that keeps makeup on my face as long as PC Super Light Daily Defense moisturiser (with the tint) so will be sticking with that and won't repurchase this.

I'm a 32 year old man with easily clogged pores and previously combo/acne and now combination/dry skin who likes a matte skin finish, so I struggle with finding suitable SPF products because they either look shiny/greasy, are too emolient and clog my pores, or with physical-type sunscreens can visibly cling to facial hair (I'm looking at you, Resist Anti-Aging Moisturiser spf30!), and my personal experience with that product was also that it felt irritating to my skin (which is never sensitive otherwise), highlighted dry flecks and felt sticky/tacky on my face.

Enter the Resist Anti-Aging Primer Serum SPF 30.
The product is a clear serum texure, which causes no issues with white cast, doesn't require careful blending to avoid being visible, doesn't cling to my dark facial hair (Hallelujah!), and simultaneously helps hydrate my skin and smooths its appearance thanks to the silicone-rich formula, which helps minimise my pores and blur the finer wrinkles. The texture actually feels almost greasy when applying, as many silicone-based serums can, but it doesn't occlude my pores or make my skin appear greasy. I would have preferred a more matte finish, the overall effect is more satin to very lightly dewy, so I use a matte silicone primer over the top (The Ordinary High Adherence primer) and will be trying Paula's Shine Stopper in my next order. Paula's Choice if you're listening: please consider offering this in a properly matte finish!
You only need a small amount per use as it spreads very well on skin, but I do think the price point for 30ml of product is a little too high for an SPF product that is meant to be used generously for proper sun protection, even the product page says to 'apply liberally'.
I have given up on finding an spf/moisturiser all-in-one for my particular needs, and now layer this over the Resist Barrier Repair with Retinol during the day, which works just great for me. I can't speak as to how well it integrates either under or over make-up as I don't currently wear any, but will update once I re-purchase my BareMinerals Matte powder foundation. The product also includes multiple antioxidants and it does feel soothing, especially if I've over-used the Clinical 1% Retinol Treatment.

I've given this product five stars, because I think it really deserves it. The price is a little too high, and the finish is not perfect for my preference for matte skin, but the formula is fantastic and I have finally found a high SPF product which suits my skin. Home run again, Paula's Choice.

Absolutely the best primer I've ever used. And I've used some top of the range products. Good protection and great base for make up.

Quickly ordered the full size product after being completely blown away by trial size. The primer from PC creates the most gorgeous base on the skin.
I felt that my makeup applied easier and lasted longer using this primer. All this with the added bonus of spf 30 in a clear serum texture! No white cast or greasy looking skin anymore. Thank you Paula!

This product is a revelation! I use it over my regular PC moisturiser (youth extending fluid) and I get the most perfect finish. Matt but not too matt and my face remains shine free all day. An essential part of my grooming regime!

This is an exceptional product. It makes makeup application a much more rewarding experience! I'm especially pleased with the major difference it makes when applied under my eyes 5-10 minutes before I apply my concealer....it significantly reduces and prevents any caking of concealer in the fine lines under my eyes. A little goes a long way as well, over all my face...you don't need to apply very much to get a great result. Wait, all this, AND it has an SPF of 30?! I will definitely be repurchasing this brilliant primer.

Customer Care: Thank you for sharing your experience with us, we are always delighted to hear from our customers!

Having struggled with hypersensitive skin for a number of years, I never thought I would be able to tolerate a chemical active sunscreen again. Mineral sunscreens, though tolerable, have always been peculiarly difficult for me to wear as a man, owing to their telltale whitecasts and oily sheen. This primer has therefore been something of a miracle for me. It is the first chemical sunscreen I have ever tried which does not irritate or sting. And, with the advantage of the silicon-primer base, it is completely invisible with a subtle matte finish - qualities I never thought I would be able to experience from a sunscreen again. It is also pleasingly moisturising, unlike the other PC options for oily skin, without being greasy or shiny. Sensitive, combination to oily skin types should absolutely give this a go!

This is a great product. My skin looks smoother and brighter since I've started using it.
Also, my rosacea is starting to be less noticed cause I am using it as my first step in my make up routine after cleansing and toning.

I absolutely love this product! I feel like it's the sunscreen I have been waiting for for so long. As a guy with facial hair, I find sunscreens can be a real pain in terms of getting stuck to hairs and showing up white, even if they aren't a mineral sunscreen. This is not an issue with this, it isn't completely clear. It is the first clear SPF product I have found which doesn't contain alcohol.

The texture it so nice too. I have combination skin with some dry patches and an oily t-zone, and this is perfect all over.
When you first put it on, it seems like it will be very oily, but very quickly dries down to a semi-matte, wieghtless finish.

I don't use this as a primer. I use it as my main sunscreen, which brings me to why I have rated it 4 stars not 5. It is only 30 mls. I know it's marketed as a primer, but it works so good as a main sunscreen , and considering it costs as much as the other spf products I would love to have seen this in a 60ml size. Finally, I wish it was in an airless pump like the new Omega serum.

I will definitely be repurchasing.

It's the first time in years I have been using a primer and I am converted for life I think. This goes on so easily and makes it so much easier for my foundation to go on evenly. I also think my foundation lasts longer now that I use it. I love the fact that it has SPF in it but I would also buy it without as I really like the texture.

I bought the trial size to try as the SPF and good to skin ingredients appealed to me. I have combination skin with usually very oily nose but lately it has become rather dry and flaky due to my too enthusiastic use of BHA! With the summer months approaching I started using a CC cream (without a primer as you don't really need one under a CC cream ).However the nose area didn't look nice at all due to the flakiness and the CC cream only made it worse so I thought I would see if adding a primer underneath would make any difference . So I smoothed on a small drop of this primer over my nose where the pores and flaky skin are more visible . After applying i let the primer settle abit and dry up before applying my CC cream on top. My nose didnt flake at all and feels soothed and hydrated all day with little oiliness. There's nothing worse than having dry flaky skin that's also oily at the same time. I am so pleased with the primer that I will definitely be buying the full size .

Having once been restricted to mineral-active (physical active ingredients) sunscreens, this SPF primer from PC was something of a shock. Unlike all other chemical-active sunscreens I've ever tried, it causes me no irritation or sensitivity of any kind. And it has therefore given me all the benefits of chemical actives that have eluded me for years - invisible, lightweight protection.

As a man who personally would prefer not to have visible signs of product on my face, I found this to be a real slam dunk of a sunscreen. It takes a few minutes to absorb but then yields a soft matte finish. No white cast, no sensitization, no trace. Great work, Paula and team!

This is a fabulous primer, it has replaced my previous primer of choice (which was twice the price of this one incidentally). It sinks beautifully INTO my skin, not merely ON it and any extra SPF help is a bonus. My makeup looks more 'settled' for longer, with a bit of a healthy 'glow' (I have an oily complexion which usually means shiny face by 11am). One word of caution though, I find that if I use my 2% BHA exfoliator fluid (the one in the white bottle and not the Resist one in the blue bottle) my skin can feel a little drier than I'd like. This doesn't happen with the Resist exfoliator fluid, so I just use the 2% white bottle at night with a richer moisturiser. Worth noting I've not had a breakout since using this combination of products. Even my husband uses Paulas Choice now.....well done.

More reviews Less reviews

Ingredients

What are the key ingredients?

Avobenzone
Synthetic sunscreen ingredient, provides broad-spectrum sun protection and is one of the most widely used UVA filters in the world.

Chamomile Flower Extract
Derived from plant species Matricaria recutita, has moderate antioxidant and potent skin-soothing activities.

Silicone
In its various forms it can feel like silk on skin. It's a great water-binding agent that holds up well and offers protection against moisture loss.

Ingredients:
Isododecane, (matte finish solvent), Ethylhexyl Methoxycinnamate (Octinoxate 6%, sunscreen), Dimethicone/Vinyl Dimethicone Crosspolymer (texture enhancer/skin-conditioning agent), Butyloctyl Salicylate (skin-conditioning agent), Homosalate (4%, sunscreen), Ethylhexyl Salicylate (Octisalate 4%, sunscreen), Butyl Methoxydibenzoylmethane (Avobenzone 2%, sunscreen), Polysilicone-11 (silicone-derived film-forming agent), Bisabolol (plant-based soothing agent), Coffea Arabica (Coffee) Seed Extract (antioxidant), Glycyrrhiza Glabra (Licorice) Root Extract (licorice-derived soothing agent), Chamomilla Recutita (Matricaria) Flower Extract (soothing agent/antioxidant), Retinyl Palmitate (vitamin A-derived antioxidant), Aloe Barbadensis Leaf Extract (hydrating plant extract), Calluna Vulgaris Flower Extract (antioxidant), Camellia Sinensis (Green Tea) Leaf Extract (antioxidant), Chlorella Vulgaris Extract (hydrating agent), Caprylic/Capric Triglyceride (skin-replenishing ingredient), Physalis Angulata Extract (plant-derived soothing agent), Pyrus Malus (Apple) Fruit Extract (antioxidant/skin-restoring ingredient), Diethylhexyl Syringylidenemalonate (antioxidant/skin-conditioning agent).
Research
Biomolecules and Therapeutics, January 2014, pages 73-77 Cosmetics & Toiletries, October 2013, ePublication Fitoterapia, July 2013, pages 160-184 Journal of Cosmetic Dermatology, March 2013, pages 25-35 Oxidative Medicine and Cellular Longevity, June 2012, ePublication Food and Chemical Toxicology, January 2011, pages 309-318 Molecular Medicine Reports, November 2010, pages 895-901 The Journal of Clinical and Aesthetic Dermatology, July 2010, pages 20-31 Dermatologic Therapy, September-October 2007, pages 330-342 Photochemistry and Photobiology, May-June 2006, pages 823-828 The Journal of Nutrition, June 2000, pages 1,202-1,208 Free Radical Biology & Medicine, January 2000, pages 261-265 Journal of Ethnopharmacology, December 1999, pages 3-37