https://www.paulaschoice.co.uk/resist-anti-aging-skin-restoring-moisturizer-full-size/7970.html
Resist Anti-Aging Skin Restoring Moisturiser SPF 50
Protects skin from the sun and improves skin tone.

Skin Type:

Normal skin, Dry skin

Concern:

Anti-Ageing, Brown spots, Very dry skin

Ingredients:

Avobenzone, Niacinamide/Vitamin B3, Shea Butter

View all

Routine:

Moisturizer AM
Remove from Wishlist
Add to Wishlist
Product out of stock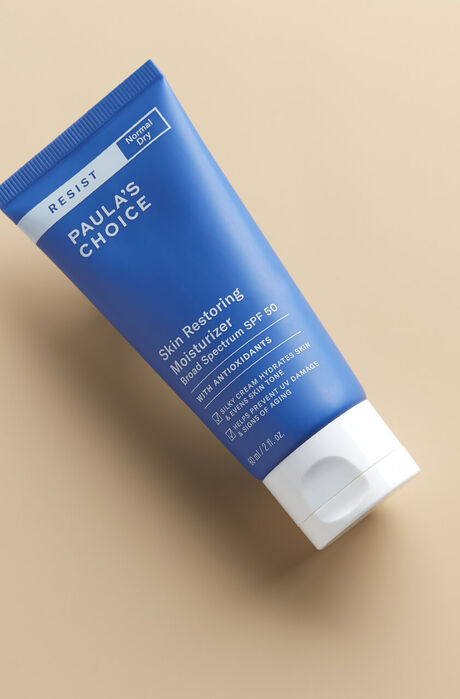 Resist Anti-Aging Skin Restoring Moisturiser SPF 50
Full size
This product is sold out at the moment. Fill in your email address below and we'll gladly send you an email as soon as it is back in stock!
What does it do?

The perfect SPF for dry skin

This multi-tasking moisturiser contains SPF 50 to protect skin from premature signs of ageing and sun damage, while shea butter leaves skin soft and hydrated. The anti-ageing formula contains tone-improving ingredients like niacinamide and liquorice for more even-toned and younger-looking skin.

Is this suitable for my skin?

What skin concern would you like to address?

(Please select one option)

Key Features

Promotes radiant-looking skin

How to use

Apply as the last step in your morning skincare routine. Allow a moment to dry before applying makeup.

Reviews

Thank you for submitting your review! It will be reviewed by our staff before it is posted.

After using a few Paula's Choice products and loving them, I decided to try the restoring moisturiser. Mainly because my normal day moisturiser with SPF 50 had shot up in price to £69 for 50 mls, so not only is this product much more affordable but also 10 mls more. This moisturiser is fantastic and I have been completely converted. Feels really nice and light on the skin but still provides a fab level of moisture, and a great glow. Don't hesitate to buy this, you won't regret it!

So I bought this because of the 50 spf and I have dry skin but now my skin has patches of dry skin that are flaky and it caused bumps all over my face. I really needed a good day moisturiser but this just did not work for my skin.

Customer Care: Hello. We're sorry to hear this was not a good fit for your skin! We encourage you to contact our customer service department, who might be able to provide you with a refund and can assist with a possible alternative.

What a super moisturiser with 50 spf. I've been using it for over 2 years 365 days a year. Perfect for winter & summer. Leaves my mature skin smooth & no age spots. Wouldn't be without it.

I really want to love this moisturiser, my skin clearly does, I love the texture, and that it's factor 50. BUT and it's a big but. If it goes anywhere near my eyes it stings so badly, even if I try not to get it near my eyes it will wangle its way there. It makes them stream so I can hardly open them and keep having to blink, for a good couple of hours it will irritate them. I think I will have to go back to the resist 30 as that gives me no problems.

The cream feels pleasant and I love the high spf protection, however, I find it drying and not moisturising enough for my combination skin - surprising, as it is supposed to be suitable for dry skin even!

Customer Care: Thanks for your review! We're sorry this product didn't work for you. Please contact our Customer Care Team to discuss a refund.

I bought the travel size of this to try first, I really like it but it's just a little to much for summer for me but will work perfectly for winter.

I love this moisturiser, is great if you're looking for an SPF. This doesn't clog the skin and it doesn't leave a cast. It sinks straight in and leaves skin feeling healthy glowing and protected 😍

Got this per Sean Garrette's recommendation. It doesn't leave a white cast even on black ppl, it's a dewy finish initially and then it settles to a demi-matte finish after drying. 10/10 for me, would definitely recommend.

This is a lovely light but moisturising sunscreen which gives great protection against sun damage and pigmentation. It's hard to find a F 50 which doesn't leave a greasy residue. This does it.

This didn't moisturise my skin at all but I wear it overnight and always wake up with MUCH clearer, more even skin. It's more like a treatment than a moisturiser.

Customer Care - Hi there! We're sorry the product wasn't a fit for you! This is intended to be used as a daytime moisturiser as it contains SPF. Be sure to contact our Customer Care for any further assistance.

Such a shame because I love the other SPF 50- will have to buy that from now on! It's broken me out every time I've worn it and the spots have lefts scars that aren't going 3 months on! 😩

Customer Care: Thank you for sharing your experience with us - we're sorry to hear this didn't work as expected for you, but we are glad that you are able to use the Resist Moisturiser SPF50 for combination skin.

I actually got this item free because Paula's Choice was doing a campaign in Oct 2018. I love how silky this SPF is, it goes on and soaks into my skin so quickly and easily. It leaves no streak marks and doesn't make my skin white, it just soaks in nicely. It also has a nice smell and I am also glad it is a moisturiser too. I would buy this again also considering it is SPF 50.

Love the broad spectrum and high SPF protection, and very moisturising for the skin (though not enough just in the winter so usually use another moisturiser under to top up). Lasts ages even with fairly liberal use.

Super moisturiser. Complete with SPF 50.
Super protection.

I have tried both the old version and the new version of this product and I like the new version better. The old version was a bit heavier on the skin (yes, I know it is dedicated to dry skin, but it was a bit heavy even for dry skin). The new formula sinks quite fast into the skin and I have no dry patches at the end of the day. I think I might stick to it for a while, although I usually try to get it on offer as it is a bit expensive for a student. :)

This moisturiser is amazing!! Leaves my normal/ dry skin moisturised and hydrated and doesn't irritate my sensitive skin either! I love the fact it has SPF as I am fair and burn easily. Doesn't have a horrible smell and sinks into the skin nicely. I would definitely recommend this product!

I was quite excited when it came out and imagined it to be like the Resist Cellular Defense just with a higher SPF. It's nothing like it. It's more of a thin lotion that leaves a dryish texture on my skin and is also drying it out. Sorry, but this is an expensive dud for me and it's most definitely not suitable for dry skin, never mind very dry skin. very happy with other PC products but super disappointed with this.

Customer Care: Hello ms Bennet, thank you for sharing your experience with us - we're sorry to hear you didn't like this moisturizer as much as our other products! Please contact a member of our Customer Care team, who can assist you with a possible alternative.

I've been struggling with SPF products this year, even Paula's Resist Youth Extending SPF, which was my go-to. Everything made me oily or dry or broke me out etc etc. I'm putting it down to menopausal changes in body chemistry. Anyway, decided to try this new Resist product and I love it. My skin feels happy - comfortable, hydrated, smooth to touch - and looks nice too. No break outs or other reactions so far. Thank you so much Paula!

This product is amazing - it is super hydrating and absorbs really well at the same time. I found it really easy to apply my foundation afterwards. Works perfectly for my normal to dry skin!!

More reviews Less reviews

Ingredients

What are the key ingredients?

Avobenzone
Synthetic sunscreen ingredient, provides broad-spectrum sun protection and is one of the most widely used UVA filters in the world.

Niacinamide/Vitamin B3
Very effective skin-restoring ingredient that can visibly improve the appearance of enlarged pores, uneven skin tone, fine lines and dullness.

Shea Butter
This plant lipid, extracted from the karite tree, is used as an emollient and has smoothing properties for dry skin. it's also a rich source of antioxidants.

Contains: Benzophenone-3 (Oxybenzone)

Ingredients:
Aqua, Ethylhexyl Methoxycinnamate (Octinoxate 7.5%, sunscreen), Homosalate (5%, sunscreen), Ethylhexyl Salicylate (Octisalate 5%, sunscreen), Benzophenone-3 (Oxybenzone 5%, sunscreen), Silica (opacifier and texture enhancer), Glycerin (hydration), Butyl Methoxydibenzoylmethane (Avobenzone 3.0 %, sunscreen), Cetearyl Alcohol (texture enhancer), Dimethicone (hydration), Butylene Glycol (hydration), Pentylene Glycol (hydration), Potassium Cetyl Phosphate (emulsifier), Cyclopentasiloxane (hydration), Pyrus Malus (Apple) Fruit Extract (skin-restoring), VP/Eicosene Copolymer (texture enhancer), Butyrospermum Parkii (Shea) Butter (emollient), Allantoin (skin soothing), Niacinamide (skin-restoring), Tocopherol (vitamin E/antioxidant), Glycyrrhiza Glabra (Licorice) Root Extract (skin soothing), Aloe Barbadensis Leaf Extract (hydration, soothing), Atractylodes Macrocephala Root Powder (antioxidant), Avena Sativa (Oat) Kernel Extract (skin soothing), Coffea Arabica (Coffee) Seed Extract (antioxidant), Portulaca Oleracea Extract (antioxidant), Mahonia Aquifolium Root Extract (antioxidant), Diethylhexyl Syringylidenemalonate (antioxidant), Sarcosine (skin softener), Capryloyl Glycine (skin softener), Maltooligosyl Glucoside (skin softener), Cetearyl Glucoside (skin softener), Dimethiconol (texture enhancer), Acrylates/C10-30 Alkyl Acrylate Crosspolymer (stabilizer), Hydrogenated Starch Hydrolysate (hydration), Hexylene Glycol (texture enhancer), 4-T-Butylcyclohexanol (emollient), Glyceryl Stearate (texture enhancer), PEG-100 Stearate (texture enhancer), Sodium Hydroxide (pH adjuster), Xanthan Gum (stabilizer), Disodium EDTA (chelating agent), Phenoxyethanol (preservative), Caprylyl Glycol (preservative), Ethylhexylglycerin (skin softening).


FAQ

What is the difference between the Resist Anti-Aging Skin Restoring Moisturizer with SPF 50 and the discontinued Resist Anti-Aging Cellular Defense Moisturizer SPF 25?

SPF: The day moisturisers differ in their SPF. The new Resist Anti-Aging Skin Restoring SPF 50 contains a higher SPF and is a synthetic sunscreen, the Resist Anti-Aging SPF 25 was a mineral sunscreen.
Texture: The Resist Anti-Aging Skin Restoring SPF 50 has a more lightweight, fluid texture that is easy to apply but rich enough for dry skin.
Formula: The Resist Anti-Aging Skin Restoring SPF 50 not only helps to prevent new signs of ageing, but also contains added ingredients (like niacinamide) to help to reduce existing signs of ageing. Brown spots will become less visible and skin tone more even. The Resist Anti-Aging SPF 25 only prevented new signs of ageing.

Can I apply the moisturiser around the eyes?

The Resist Anti-Aging Skin Restoring Moisturizer SPF 50 can be used around the eye and orbital bone. In general we don't recommend applying the moisturiser directly onto your eye lid.

Is the Resist Anti-Aging Skin Restoring Moisturizer with SPF 50 suitable for Rosacea prone skin?

It's not clear what causes rosacea-prone skin to react and while you most likely won't experience any problems using the Resist Anti-Aging Skin Restoring Moisturizer SPF 50 we recommend using a day moisturiser with a mineral sunscreen. Try our Skin Recovery Daily Moisturizing Lotion SPF 30 or the Calm Moisturiser SPF 30 for normal to dry skin.

How often should I reapply this product?

To get the right amount of protection apply the product liberally. When skin is exposed to direct sunlight you'll need to reapply every two hours. If you plan to swim or if you sweat you must reapply.
Research
Journal of the American Academy of Dermatology, March 2017, pages S100–S109; Indian Dermatology Online Journal, July-August 2015, pages 311-315; Oxidative Medicine and Cellular Longevity, September 2015, ePublication; Pharmaceutical Biology, July 2015, pages 5-18; Pharmacognosy Review, January-June 2014, pages 52-60; Antioxidants, September 2013, pages 181-193; The Journal of Clinical and Aesthetic Dermatology, January 2013, pages 16-26; DermatoEndocrinology, July 2012, pages 308-319; Journal of Complementary and Integrative Medicine, January 2012, ePublication; and Journal of Agricultural Food and Chemistry, 2006, issue 7, pages 2,558-2,562.