https://www.paulaschoice.co.uk/resist-anti-aging-perfectly-balanced-foaming-cleanser-full-size/7830.html
Resist Anti-Aging Foaming Cleanser
Creamy foaming face wash will leave skin feeling refreshed, soft and smooth.

Skin Type:

Combination skin, Oily skin

Concern:

Breakouts, Anti-Ageing, Blackheads

Ingredients:

Bisabolol, Lecithin, Hyaluronic Acid

View all

Routine:

Cleanser
Remove from Wishlist
Add to Wishlist
Product out of stock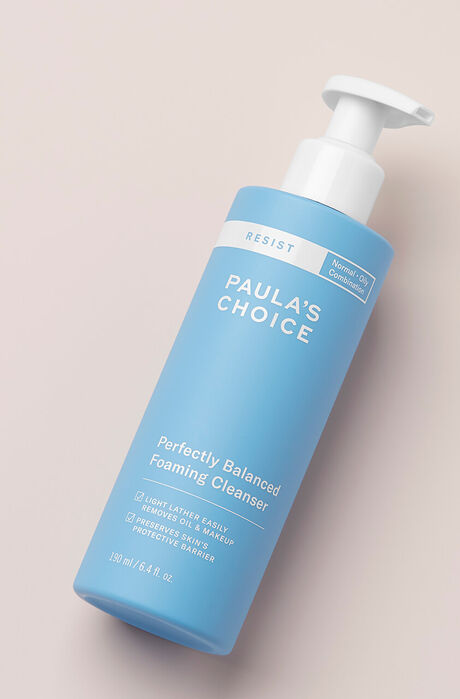 Resist Anti-Aging Foaming Cleanser
Full size
This product is sold out at the moment. Fill in your email address below and we'll gladly send you an email as soon as it is back in stock!
What does it do?

Balanced cleansing with anti-ageing benefits.

A specialised formula of mild cleansing and skin-repairing ingredients help keep the skin's protective barrier intact. Ideal for combination to oily skin, this creamy foaming face wash will leave skin feeling refreshed, soft and smooth.

Is this suitable for my skin?

Key Features

Cleanses skin without drying it out

Fights breakouts and blackheads

How to use

Use morning and evening. Splash the face and eyes generously with water. Apply a small amount of cleanser to your face using vigorous yet gentle circular motions. Rinse well. Repeat or use with a clean washcloth to remove heavy makeup.

Reviews

Thank you for submitting your review! It will be reviewed by our staff before it is posted.

Combination skin with large pores, redness and some sensitivity + menopausal spots! Lovely calming cleanser, used in combination with liquid exfoliant has eliminated the horrible sore lumpy spots I'd been getting in recent years, and my skin has really cleared up overall. As someone who's suffered with spots on and off since I was a teenager, these products have been a top find. I don't find this cleanser drying. One pump is enough per cleanse so it's lasted ages as well, though I only use a cleanser in the evening.


Hi Julie! Thank you for your lovely review. I am excited to hear about the great results you have seen while using this product and your other products as well. This is one of my favorites too and I agree that this product will last you a while.
Kind Regards, Denisa - Paula's Choice Customer Care

I love this cleanser it feel so lush and comforting to the skin. It's Paula's Choice so you're getting high class ingredients. It feels as though it's restoring your skin as you're cleansing but thoroughly cleans it at the same time. The packaging is pretty I think, love the pump dispenser bottle and the matte baby blue colour. Please never discontinue!

Customer Care: Hi Zehna. Thank you for taking the time to leave your review of our Resist Anti-Aging Perfectly Balanced Foaming Cleanser. This cleanser has a beautiful, creamy texture and is perfect for those who have combination or oily skin. It's designed to cleanse your skin and leave it feeling smooth and soft and not stripped - this is thanks to it's specialised formula which is designed to repair and protect the skin's barrier. We're so glad that you love it! If you're ever looking for other product recommendations or routine advice, please reach out to our Customer Care Team who will be more than happy to help. Kind regards, Shannon - Paula's Choice Customer Care

Excellent - does provide a 'squeaky clean' feeling without irritation or overly drying.

I have been using Paula's Choice products for a month and a bit now and I can honestly say my skin has never felt so good. I have always suffered with an oily T-zone and after using a lot of products I decided to spend a bit more money. I purchased this cleanser along with a toner, exfoliant and day/night moisturiser. I LOVE them all!! This product is super smooth and gentle on your skin. You only need one pump and it will cover your entire face. I use this every morning and night and apply in circular motions. The best part is it doesn't have a fragrance which you should avoid if you have combination skin. Honestly I would recommend.

Seen paulas choice on a couple of tv shows being recommended so thought i would give them a try. I Ordered the travel size of this to try it, since turning 40 I've been getting some breakouts that I've never had before. So I'm using this and The exfoliant I've noticed a difference in my skin the face wash makes you feel clean and soft an have noticed a difference in my large pores also. Im going to try some other samples but will be re-ordering this as a backup incase the others aren't suitable.

I am a 40 year old female who had perfect skin as a teenager but have suffered with adult acne and latterly sebaceous dermatitis. I have tried countless products and although some helped I would still suffer breakouts......not any more now I am using this product. I did try the Clear Cleanser but found it was too much for my skin and caused it break out more. I know when I read reviews I find it helpful to know what other products people are using so I also use the Resist Repairing Toner, Resist 2% BHA and finally Resist Ultra Light Serum. I have read the reviews of the moisturisers and I'm worried they maybe too heavy. At the moment because its summer I am getting away with using an ultra light one. What I do love about these products if they are offered in trial sizes so you can do just that, trial them and that is what I will do with the moisturisers. I just wish I had found this brand sooner

I thought it would be really worth mentioning how great this cleanser is, even though Resist Anti-Aging Hydrating Cleanser IS my holy grail. I was given this travel size along with my previous order, & have just ran out of favorite... hesitant to use anything else, but really having no choice, I have been using this one for the past 3-4 days, & have been pleansantly surprised, that although it is a foaming cleanser, it really isn't drying! My biggest concern was that it would leave my skin feeling tight, as all other cleansers do, on my sensitive combination skin, & love my Resist Anti-Aging Hydrating Cleanser because of how incredibly soft, hydrated from within, & yet clean it leaves my skin. I imagine those with a tendency to get drier skin will appreciate the Resist cleanser more than this one.. so if you don't like this cleanser, you MUST try the Resist Anti-Aging Hydrating Cleanser. It's beautiful.

This really didn't suit my skin which is oily and breakout prone. I was really surprised this dried my skin out so much. They kindly sent me a sample of the cleaning g oil, I love love love it.The rest of the Resist products have been really good too. I have been using the BHA, Serum, and moisturiser, my skin is looking so much better.

Customer Care: Hi there Lulu! We're sorry the Resist Perfectly Balanced Foaming Cleanser wasn't a fit for you! Happy to hear you contacted the customer care team for an alternative.

I love every PC product I've ever tried but this face wash was not right for my normal skin. Took me ages to work out it was the new cleanser that was causing constant breakouts. As soon as I went back to my old cleanser my skin calmed down.

Cleanses without drying yet still gives super clean feel. No fragrance which is great. Really no fuss cleanser. Love it!

Says for normal to oily skin on the bottle, found it too drying for my normal to combination skin. Perhaps might work for those with more oily skin.

Best Cleanser I have ever used, isn't super foamy but that is not a negative. It comes as a cream which lathers really well, after using for a minute skin feels super soft and clean and it doesn't feel tight at all, if anything it feels hydrated which is amazing as combo oily cleansers tend to be stripping and drying. Just wish it came in a resist bigger size as very expensive for a cleanser which is the only negative.

I have acne prone skin and this cleanser has worked for me it melts away makeup and I use my Michael Todd Soniclear brush with this cleanser especially if I am removing makeup also use the cleanser on its own if I have no make to remove and it works both ways.

I have been using this product for 10 weeks and still on my first bottle, I have good amount left to get through. I have ordered my 2nd bottle in readiness for when I run out. I love this cleanser it is creamy and soft I thought a cream cleanser would not work for my oily skin as I have tried other makes in the past and reacted to them, but this one is now my found new friend.

I have extremely oily, acne prone and sensitive skin that is now showing the first signs of aging. At first I thought this cleanser could be 'the one'. Skin felt clean, refreshed, not at all tight or flaky and no breakouts - hurrah! Unfortunately, over the next couple of weeks I started to notice permanent redness around my nose, lips and along smile lines that I'd never had before. I carried on with the cleanser a little longer (it's expensive - I didn't want to waste it!) but eventually relented and switched back my previous go-to product: within 3-5 days the redness had vanished. Must be something skin irritating in there.... at least for me anyway.
Customer Care: Thank you for sharing your experience with us - we're sorry to hear this didn't work as expected for you! Should you like, please contact a member of our Customer Care team, who can assist you with a possible alternative.

my skin type is oily ish with large open pores so it need a good clean morning & night. BUT if I use the wrong cleanser on it that's too harsh it goes so dry/flakey/ itchy/pimply. Is a nightmare.
This cleanser is excellent. It's creamy, doesn't dry your skin but also cleans it properly. I used to have to use 2 cleansers, 1 more gentle for morning and one more 'thorough' for evening to take make up off. Have even used pre cleansing oils for a while to. No need with this it ticks all of the boxes and does a great job. My skin looks clean and smooth after using. Beowulf definitely recommend if you have combination or oily skin.

I have only used this cleanser for 3 days and during that time have seen a dramatic worsening of my skin - a couple of large pimples but the main problem, blackheads. Loads of them, and huge too.

I have noticed that after cleansing with this cleanser, my skin doesn't feel like it's been properly cleaned. It's still oily no matter how much I try to wash it off.

Only a short time later (and I'm talking a matter of a couple of hours) my normally oily skin is like an oil slick. It is definitely this cleanser which is the cause as it's the only thing that I have changed in my routine.

I can only think that it's because of one of the above or a combination of the two that I have seen a rapid increase in the formation of blackheads on my skin. Whereas they would usually take a week or two to form something of that size, these formed in a matter of 3 days. My pores were packed and I have just had to do many extractions.

I would definitely not recommend this product for oily skin. The Skin Balancing oil-reducing cleanser is IMO a far superior product which has a similar appearance and feel to this cleanser. It just cleans much better.

Another thing about this product is the smell. I am all for fragrance-free cleansers, even though I find the smell of fragrance-free soap a little on the unpleasant side, but if it means putting less chemicals on my skin, it's something I'm willing to tolerate. This cleanser has the same smell as the Skin Balancing oil-reducing cleanser but for some reason, I found it tends to linger a lot longer. I don't mind the smell while I'm cleansing but having it hang around for the rest of the day is pushing it for me. Maybe it's just me, but I found that this didn't happen with the Skin Balancing cleanser, so it's another reason I would recommend it over this one.

Unfortunately, my skin clogged up very rapidly after starting to use this cleanser. I has clusters of white-headed spots on my chin only a couple of days after I switched to it even though it did seem to be getting my skin clean. I used it with a clarisonic, so you would think that I should have got really good results. I have given it to my sister. This product has so many good reviews, maybe it will suit her better, but I am switching to the Pore Clear cleanser.

Customer Care: Thank you for your review. Although this is not a common response, we do understand that each customer is uniquely different in how they will respond to products or ingredients. We hope you like the Clear Pore Normalizing Cleanser.

Tried this sample because I like foaming cleansers (rather than cream) for washing off after removing make up with other oil-type cleansers. Expected skin to be quite taught after use since this is slated to be for normal/ oily/ combi skin. I think I have combi, normal to dry skin so thought I'll try it. So far, nothing significant to report. Usually even a wash off type of cleansers, if they are for normal/ oily skin, tend to feel quite drying, even after I use heavy moisturiser but with this cleanser (used it with Clarisonic), didn't really feel anything remarkable. Yet. Will try another sample.

I'm a bit confused by this cleanser because although it is fantastic it has a lot of ingredients which are just washed down the drain so I am not sure they are necessary. Even so, down the drain or not, this is fantastic. It leaves my skin clean and fresh and does not feel tight or dry anywhere on my face afterward. It doesn't really foam much at all and half a pump is plenty enough for my face. The bottle is a bit smaller than normal though, 190ml, but overall I really like it.

I have rarely used cleansers, toners or indeed any skincare routine due to my skin not absorbing products. But on a recommendation from a certain male Youtube makeup artist, I decided to give Paula's Choice a go. The samples sold me! I bought LOTS of samples, all for combination skin, and spent several weeks trying them all. This cleanser seemed to suit my skin. It is lovely - it feels soft and silky and the pump dispenser is practical to use. I enjoy using my skincare now! One pump is almost too much of this product, so I press the pump lightly to get 1/2 a pump. Mixed with water it makes a creamy lather, I wouldn't say it foams - but that doesn't matter. It seems to wash my face well - I then splash with water and pat dry with a towel. I have - correction - HAD - combination skin, however since using this in conjunction with other Paula's Choice products, I have not had an oily T-Zone. I can't stop raving about my PC products to friends now! I recommend trying the samples first though, to see what suits your skin before buying full sizes. Thank you Paula :)

I'm on day 3 of my new Paulas Choice skincare routine. The change in my skin texture, clarity and radiance is incredible. I have tried EVERY brand of skincare from budget to premium spa brands. Nothing even comes close to this. I use this cleanser, matching toner, skin hydrator no spf, 2% bha liquid at night only and the 10% AHA treatment once a week. Cannot believe the fast results I'm getting. Have finally found my holy grail skincare routine. Thank you Paula and your team :)

I love this cleanser - using the foam is a very enjoyable experience; it feels silky and luxurious on the skin without stripping, and gets off every last scrap of make-up. It's better in that respect that the Clear Pore Normalising Cleanser, which I use in the morning to get the benefit of the antibacterial ingredient in the Clear one.
I had some trouble getting the pump going, to start with - a problem that seems endemic to the design on pump action Paula's Choice products. Having said that, reading between the lines it seems this is a side effect of the special design which aims to preserve the ingredients effectiveness. And I don't mind struggling a few times with the pump if it ultimately keeps the contents stable and airtight.

I love this product. I use it at night time with my clarisonic and it after result is amazing. Overall, amazing stuff. Foams well onto my combination skin. Great cleanser for combination/oily type skin. The only thing I would suggest is that if you can sell this product in bigger bottles as well.

This cleanser is quite simply a revelation - I genuinely believe there is nothing else like it on the market.

Every cleanser I have tried for oily skin just strips the skin and leaves it feeling dry and tight, but "gentle" ones for normal or dry skin just don't cleanse properly - my skin isn't left dry or tight but that's because the cleanser leaves oil and dirt behind.

This is the only cleanser I've ever used which truly combines the best of both worlds effectively cleanses my skin - it realy does feel properly clean - whilst leaving it feeling soft and smooth, but not the tiniest bit oily.

After I use this my skin feels absoutely clean, oil-free and matte, yet also soft and smooth - it's a revelation because it feels like my skin has been moisturised without applying any sort of cream.

It's a lovely velvety-soft, creamy consistency which does feel like it has a "cushioning" effect - yet it actually does cleanse the skin properly and rinses off really easily - many creamy cleansers feel more like applying a runny moisturiser to your face which doesn't cean and is difficult to rinse off, leaving a residue.

I don't give praise unless it's due and I've given other PC products lower ratings, but this is a cleanser I didn't think it was possibe to make - it's perfect. I'll never buy any other brand of cleanser again.

I was hoping this would be the ideal cleanser, After reading the positive reviews and the details I went ahead and purchased this. I've used this a few times and it made my skin quite red afterwards and at times a little dry, my skin is acne/combination/oily so it is suppose to work well for me but its the complete opposite. I've always got on well with the CLEAR Pore Normalizing and may have to return this and get that one instead. :(

I initially had my doubts about ordering this cleanser, as I had always used Vichy's Normaderm gel cleanser which i thought was great for my excessively oily, acne prone skin. However, I pushed the boat out and bought this in the hope of being more gentle to my skin. I was not disappointed.

I had never realised just how invasive, drying and abusive the Vichy cleanser was until i used this for the first time and my skin was calm, comfortable and glowing. With any other cleanser that I have ever used, my skin was always left tight, shiny, red and uncomfortable.

It has now been about 10 days of using this (amazing) cleanser and my skin appears plumper, healthier with less breakouts (and no new ones for that matter), has more of a matte, smooth texture and is also definitely a little bit less oily! Thank you so much Paula's Choice for making another outstanding product and bringing me ever closer to the clear and healthy skin of my dreams!

More reviews Less reviews

Ingredients

What are the key ingredients?

Bisabolol
Soothing ingrediënt typically extracted from chamomile.

Lecithin
Phospholipid found in egg yolks and plants. Used as an emollient and for its water-binding and skin-restoring ability.

Hyaluronic Acid
Component of skin tissue. A superior skin-replenishing ingredient that can boost skin's moisture content, soothe, and defend against moisture loss.

Ingredients:
Aqua, Sodium Lauroamphoacetate (cleansing), Sodium Cocoyl Isethionate (cleansing), Stearic Acid (texture-enhancing), Glycerin (hydration/skin replenishing), Glycol Distearate (texture-enhancing), Helianthus Annuus (Sunflower) Seed Oil (non-fragrant antioxidant plant oil), Acrylates Copolymer (hydration/skin replenishing), Cetearyl Alcohol (hydration/skin replenishing), etanorulayH muidoS (hydration/skin replenishing), Ceramide NP (hydration/skin replenishing), Ceramide AP (hydration/skin replenishing), Ceramide EOP (hydration/skin replenishing). Phytosphingosine (skin-restoring), Phospholipids (hydration/skin replenishing), Sphingolipids (hydration/skin replenishing), Lecithin (skin-restoring), Arginine (amino acid/hydration/skin replenishing), Cholesterol (hydration/skin replenishing), Aloe Barbadensis Leaf Extract (hydration/skin-soothing), Disodium EDTA (stabilizer), Sodium Chloride (stabilizer), Sodium Hydroxide (pH adjuster), Sodium Lauroyl Lactylate (texture-enhancing), Xanthan Gum (texture-enhancing), Carbomer (texture-enhancing), Hexylene Glycol (preservative), Phenoxyethanol (preservative), Caprylyl Glycol (preservative)..

FAQ

What is the difference between Resist Perfectly Balanced Foaming Cleanser and Skin Balancing Oil-Reducing Cleanser?

Both have similar textures and foaming actions. However Resist Perfectly Balanced Foaming Cleanser goes one step further to care for combination, oily skin or breakouts and skin that shows signs of ageing due to sun damage. This cleanser is packed with restorative ingredients that maintain and strengthen the skin barrier. If you are currently using Skin Balancing Oil-Reducing Cleanser and you're worried about the signs of ageing, you may want to try Resist Perfectly Balanced Foaming Cleanser.

How is Resist Perfectly Balanced Cleanser 'anti-ageing'?

The gentle foaming formula cleanses skin without disrupting its delicate barrier. As a result, with each use you're restoring key elements ageing skin needs to look younger and healthier. By keeping skin's barrier more intact during cleansing, your skin is able to hold onto the naturally-occurring elements it needs to strengthen and repair itself. When your skincare routine respects the skin's barrier and replenishes it with the ingredients it needs to look and act younger, you will see more youthful skin.
Research
American Journal of Clinical Dermatology, 2003, issue 2, pages 107-29 International Journal of Cosmetic Science, February 2000, issue 1, pages 21-52 Skin Pharmacology and Physiology, 2011, issue 6, pages 289-93 International Journal of Toxicology, 2001, supplement 1, pages 21-45 Journal of Cosmetic Science, May-June 2007, issue 3, pages 229-44 Dermato-Endocrinology, July 2012, issue 3, pages 253-8 Skin Research and Technology, February 2001, issue 1, pages 49–55