https://www.paulaschoice.co.uk/resist-anti-aging-optimal-results-hydrating-cleanser-full-size/7600.html
Resist Anti-Aging Hydrating Cleanser
Creamy cleanser gently yet effectively removes dirt and makeup for clean, smooth skin.

Skin Type:

Normal skin, Dry skin

Concern:

Anti-Ageing

Ingredients:

Green Tea Extract, Caprylic/Capric Triglyceride, Chamomile Flower Extract

View all

Routine:

Cleanser
Remove from Wishlist
Add to Wishlist
Product out of stock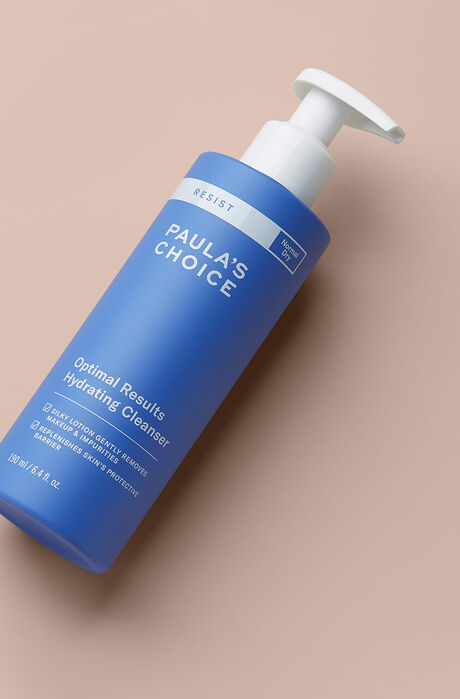 Resist Anti-Aging Hydrating Cleanser
Full size
This product is sold out at the moment. Fill in your email address below and we'll gladly send you an email as soon as it is back in stock!
What does it do?

Cleansing with anti-ageing benefits.

This cleanser is the first step in your daily routine to help fight the signs of ageing. Formulated with ingredients that reinforce the skin's natural barrier, this creamy cleanser gently yet effectively removes dirt and make-up to leave skin soft, smooth and younger-looking.

Is this suitable for my skin?

Key Features

Cleanses skin without drying it out

Leaves skin soft and hydrated

How to use

Use morning and evening. Splash the face and eyes generously with water. Apply a small amount of cleanser to your face using vigorous yet gentle circular motions. Rinse well. Repeat or use with a clean washcloth to remove heavy makeup.

Reviews

Thank you for submitting your review! It will be reviewed by our staff before it is posted.

A fantastic cleanser that doesn't leave skin dry, tight, or stripped. I find with this cleanser you don't need to double cleanse, it gets rid of every scrap of makeup and leaves skin so silky but not oily. I can never go back to using another cleanser. Also, Paula's choice is customer service is outstanding! I have never come across such attentive customer service.

Customer Care: Thanks for this lovely review! I'm so happy that you're loving our Resist Hydrating Cleanser. Double cleansing can be great, but we make sure that all of our cleansers are capable of fully cleansing so that you don't need to do it twice! We are always happy to help so don't ever hesitate to contact us if you have any questions! Kind regards, Marissa - Paula's Choice Customer Care

I have combo skin with congested pores. This is one of the nicest 'wash' cleansers I've ever used :) Removed spf and my light foundation easily and feels lovely (haven't tried with heavy makeup). I tried trial sized of this and the foaming cleanser and this will be my keeper (foaming one is okay, but does leave my skin feeling a bit tight).

Customer Care: Hi B, thanks for letting us know your thoughts on our Resist Anti-Aging Hydrating Cleanser. I'm so happy to hear that this gentle, creamy cleanser has been such a great fit for your skin. This cleanser not only effectively and gently removes any dirt and make-up, but it also protects the skin's natural barrier and is a great option for those who are looking for a cleanser that leaves your skin feeling clean and hydrated. Should you like a recommendation for other products please reach out to our Skin Care Experts who are always ready to help! Kind regards, Shannon - Paula's Choice Customer Care.

This is a really great cleanser especially for someone over 55. It does not strip your skin but leaves it cleansed and soft especially as I have combination skin and I wear make-up. Really impressed!!!!!

Hi Mons, thanks for the great feedback on our Resist Anti-Aging Hydrating Cleanser! We agree, this cleanser is gentle, hydrating and removed make-up without stripping the skin. We look forward to seeing you on our webshop soon. Kind regards, Adele - Paula's Choice Customer Care

I really love the whole Resist line that Paula's Choice does. I have most of the products, and this cleanser is just perfect! I don't have particularly dry skin, but this cleanser is so silky and wonderful. It makes my face feel fresh and smooth. I'm so glad I found it. Wouldn't swap it for anything else!

Customer Care: Hi Gabriella, thanks for taking the time to write this review of our Resist Hydrating Cleanser. I'm so glad to hear that you love how it makes your skin feel! Although targeted towards dry/normal skin, cleansers are a great way to incorporate extra hydration and reparative ingredients without the feeling of being weighed-down. Our Resist Foaming Cleanser for oily/combination skin has a lighter texture with the same great benefits if you find your skin is a bit too oily! Kind regards, Marissa - Paula's Choice Customer Care.

I love the whole resist line! It is perfect for my drier skin, and I could not be without this cleanser. It leaves my skin super clean, without feeling like it has dried it out. It is a gentle, but all you need is one pump for each cleanse. A double cleanse removes all traces of make up and leaves skin soft an hydrated. I have noticed this has really cleared my skin up too, and whilst it cannot completely stop a hormonal breakout, it significantly reduces it. With twice-daily use, this cleanser lasts me around 3 months - so I feel the duration makes this much more affordable.

Hi Belle, thank you for your nice review! Great to read that you have found a cleanser which suits your skin and feels good for you. We would love to welcome you back in our webshop. Warm regards, Natasha - Paula's Choice Customer Care Team

I am totally in love with this cleanser. I use it as my second cleanse and it is so calming and soothing and leaves my skin super soft afterwards! It has a lovely creamy texture and no fragrance included which is such a bonus for my acne prone skin. I couldn't live without this cleanser, I am so impressed. I have just purchased my third bottle.

This is a great cleanser for balancing the skin's microbiome. I have oily/combination skin and even though this product is recommended for normal to dry skin, it works perfectly for me. I use active ingredients and wanted a simple, nourishing cleanser without any fragrance due to my skin being sensitive too. If I'd known earlier about this cleanser I'd have saved myself the headache of using foam cleansers that were so irritating.. Please, do not discontinue this product ever!

I used to have combination skin and was using more harsh cleansers to wash away the oil until I realized that was only making it worse. This helped me balance my skin; I wouldn't say it's overly moisturizing; it's more just balancing and leaves your skin clean and feeling really nice. My routine includes a double cleanse so I use this after an oil cleanser but it does remove makeup nicely (I've used it a couple of times on its own). Thank you for this cleanser and please keep it in production!

Does not leave skin feeling clean and fresh.
Thankfully I tone otherwise I would have a layer of makeup still on my face! Sadly going into the bin.

Customer Care: Hello, and thank you for sharing your experience with us - we're sorry to hear this didn't work as expected for you, but we are glad that you used our return policy.

I've finally found my holy grail cleanser, this feels like skincare, I like how you can take time to massage the skin as it doesn't absorb, one pump is all you need. Skin is so soft and calm. I have combination skin that can go off balance really quickly. I love that it doesn't smell like anything or leave a residue. I've got them in all sizes. One for gym, one for my house and one to leave at my boyfriends. I just refill the travel size one. Thank you Paula's choice!

I feel sorry for anybody who isn't using this cleanser - there isn't a skin type out there that doesn't need this! I have true combination, acne prone, sensitive/reactive skin & I've learned the hard way that ph is EVERYTHING. Got a skin issue? Get your ph under control! If your skin is feeling tight after cleansing, - no, it isn't a good thing, stop punishing yourself!.. This is the only cleanser that truely leaves my skin feeling clean, soft & moisturized from within. I'd go as far as saying this is truly the first step in my skincare routine, as an actual treatment, because of how pampered my skin feels after this cleanse. Recommended to others, male & female, & they were in disbelief to learn this cleansers don't have to leave their skin feeling tight/dry/sensitive.

really works superb. I have done comparative testes with other my existing Cleansers = Resist is winner

This is a great cleanser! It's really gentle and I find it removes my makeup quite well. I usually have to go in with another makeup remover to fully remove my mascara but overall it's great! It doesn't break me out even though I have quite acne prone skin and unlike other cleansers it doesn't leave my skin feeling dry. Would recommend this product!

This is my new fave cleanser, I love it. Leaves my skin really soft, but very clean. It feels amazing

This is perfect for my combination skin. I was using the resist cleanser for combination/oily but found that products like the toner and serum that I applied afterwards stung for a few minutes. Since changing to this cleanser my other products don't sting at all. My face feels really clean but not stripped and my slightly oily t-zone hasn't broken out. I'll definitely be repurchasing.

Yes, I have a review on the trial size of this product but having now purchased the full sized product...

This cleanser is amazing, it really does brighten the skin with regular use, it easily removes a full face of makeup so I no longer use a separate makeup remover and you need so little per cleanse that it will last ages. If you think that all cleansers are equal then you ain't tried this one!

Okay, wanna change your face? No? Me either but I DO want clean and soft skin and, oh my, do you get it with this! If I could only have one PC product, this would be it. I bought the trial size end of May and end of June I finally run out and order the full size.

I admit my initial expectations of all PC products was, well, ridiculously ambitious so once I got real and a month on, I just ordered a whole bunch of stuff, some new some old and NEVER again will I use anything other than PC.

After about 3 weeks of using PC products I DID have smaller pores on some areas of my face (large pores caused by hereditary we're stuck with but those that are clogged can shrink once they are cleaned out) and my make up goes on like a dream! My husband was mighty impressed, his wallet...well we won't go there!

I have tried so many "complete" make up removers & this is the only one that is incredibly gentle yet effective on my sensitive combination skin. It's superb cleansing power removes all of my heavy makeup without leaving my skin taught/dry/oily.
I love the fact that I could buy samples (I purchased a good weeks worth to get an idea!)
It's such a simple understated cleanser for busy people (I'm done with the hot cloth/rinse/double cleanse!!) I'm just annoyed that it's taken me 35 years to find it! ;) x

I absolutely love this cleanser, it performs beautifully and it does what it says on the tin. It leaves the skin clean, silky soft and hydrated, no tight dry feeling. It also removes all my makeup with ease. Removing mascara is a doddle also, no dragging, heavy rubbing or stinging of the eyes. All in all just brilliant. Only negative point is that the bottle is too small, personally I would prefer at least a150ml bottle

I do not normally write reviews but due to how happy I am with this product I felt it necessary.
I have never used the Paula's Choice in the past, but what brought me to this product was research into hyper-pigmentation (sun damage/brown spots) on the face. Having naturally olive skin, I always tanned very easily, but years of SPF neglect has resulted in extremely dark pigmentation appearing right across my cheek bones. After going on holidays (and since turning 30!), it would take 'months' for this to tone down back to an even skin tone, and other facial products seemed to have no impact at all.
However, after a few weeks of using the RESIST Optimal Results Hydrating Cleanser, the brown spots began to clear, and now I am very pleased to say my face has a lovely even toned complexion, and I am back to being foundation free. I have also received lovely comments that my skin is 'glowing'. I have since purchased other products from this range and I will continue to do so. I am aware this this product may not be suitable for all skin types, but it is perfect for me.

I bought this cleanser along with the other products from the RESIST line (bar the AHA exfoliants) as I'd been dying to try them. This cleanser is recommended for all skin types but I would say it suits drier skins better: it's a thick cream cleanser. I was worried but it as I used it, it seemed to do the job. My face didn't feel overly cleansed. In fact, it relieved some of the tightness from the Skin Balancing Cleanser, but the oil did eventually start to return so I went back to the Skin Balancing Cleanser. I found myself using two pumps of product every time I cleansed so I didn't think it would last very long. I estimated a month and a half at best and I was right. Another thing that stood out for me was the amount of product you receive. 190ML of product yet you're charged an extra £1.95. All the RESIST products seem to follow this rule: less for more which is strange as one of Paula's main gripes with the cosmetics industry is that practically every other cosmetics company reduces the amount of product you get and doubles the price when it comes to anti-ageing. As a plus, I do love the pump dispenser though I can't help but wonder whether fancy packaging for the RESIST line reduces product and bumps up the price. In conclusion, a good cleanser for dry, not blemish-prone, sensitive skins.

Best of both worlds with this cleanser, the benefit of not stripping the skin that a cream cleanser has but also actually clearing the skin of excess oil/makeup that a lathering cleanser does best. No tightness, redness, irration after use or rushing to moisturise afterwards. Unfortunately I'm not sure why when Paula in her books laments overly expensive skin care and especially cleansers (they're on the face for such a short time and washed off) that this is quite expensive at only 190ml.

I bought a sample and it came today. I used it and loved it but unfortunately, it's just too expensive to use all the time. I wash my face once in the morning and twice at night. Once to get the makeup off and the second to clean my skin. I think £17.75 is quite expensive for 200ml of cleanser.

More reviews Less reviews

Ingredients

What are the key ingredients?

Green Tea Extract
Possesses potent antioxidant and skin-soothing properties and has impressive research in terms of its many benefits for skin, including anti-ageing properties.

Caprylic/Capric Triglyceride
Derived from coconut oil and glycerin, it's considered an excellent emollient to moisturise and replenish skin.

Chamomile Flower Extract
Derived from plant species Matricaria recutita, has moderate antioxidant and potent skin-soothing activities.

Ingredients:
Aqua, Caprylic/Capric Triglyceride (emollient/texture-enhancing), Glycerin (hydration/skin replenishing), PEG-20 Methyl Glucose Sesquistearate (cleansing), Methyl Gluceth-20 (hydration/texture-enhancing), PPG-20 Methyl Glucose Ether (texture-enhancing), Glyceryl Stearate (texture-enhancing), Stearyl Alcohol (texture-enhancing), Polyacrylamide (texture-enhancing), Decyl Glucoside (cleansing), Methyl Glucose Sesquistearate (cleansing), Camellia Oleifera (Green Tea) Leaf Extract (antioxidant), Chamomilla Recutita (Matricaria) Flower Extract (skin-soothing), Soapberry (Sapindus Mukurossi) Peel Extract (cleansing), C13-14 Isoparaffin (texture-enhancing), Laureth-7 (texture-enhancing), Xanthan Gum (texture-enhancing), Disodium EDTA (stabilizer), Citric Acid (pH adjuster), Caprylyl Glycol (preservative), Hexylene Glycol (preservative), Phenoxyethanol (preservative), Ethylhexylglycerin (preservative).

FAQ

What is the difference between Resist Optimal Results Hydrating Cleanser and Skin Recovery Cleanser?

Resist Optimal Results Hydrating Cleanser has a different texture to Skin Recovery Cleanser. Both are water-soluble cleansing lotions, but Resist Optimal Results Hydrating Cleanser has a lighter, silkier texture that is best for dry, sun-damaged skin.

How is Resist Optimal Results Hydrating Cleanser 'anti-ageing'?

The gentle formula cleanses skin without disrupting its barrier. As a result, you're not rinsing key elements skin needs to look younger and healthier down the drain every time you use it. This means your skin is able to hold on to the naturally-occurring elements it needs to strengthen and repair itself. When your skin-care routine respects the skin's barrier and replenishes it with the ingredients it needs to look and act younger, you will see more youthful skin.
Research
Archives of Dermatology, August 2000, volume 136, issue 8, pages 989-94 Molecular Medicine Reports, November 2010, issue 6, pages 895–901 International Journal of Cosmetic Science, February 2000, issue 1, pages 21-52 International Journal of Molecular Science, 2016, issue 3, pages 401 Skin Research and Technology, February 2001, issue 1, pages 49–55