https://www.paulaschoice.co.uk/resist-anti-aging-eye-cream-full-size/7900.html
Resist Anti-Aging Eye Cream
Provides anti-ageing benefits and long lasting hydration for the eye area.

Skin Type:

All skin types

Concern:

Anti-Ageing, Very dry skin, Sensitive skin

Ingredients:

Shea Butter, Peptides, Bearberry Extract

View all

Routine:

Treatment
Remove from Wishlist
Add to Wishlist
Product out of stock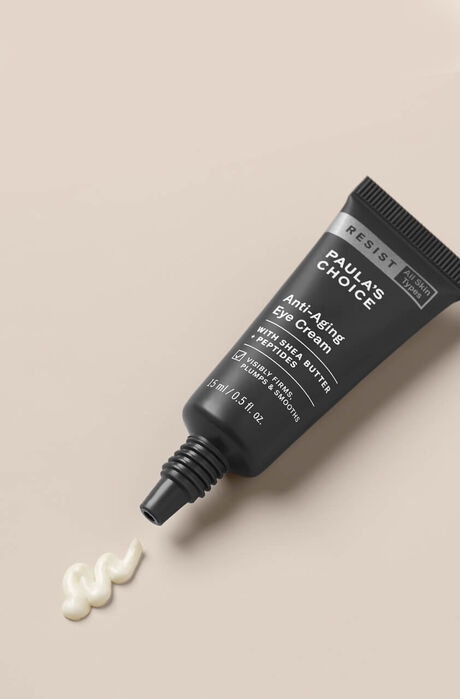 Resist Anti-Aging Eye Cream
Full size
This product is sold out at the moment. Fill in your email address below and we'll gladly send you an email as soon as it is back in stock!
What does it do?

Anti-ageing and long lasting hydration for the eye area.

If you use an eye cream, make sure it's the very best. This rich eye cream is formulated with proven age-fighting antioxidants, peptides, and skin-identical ingredients to combat wrinkles, sun damage, dryness, and other eye area concerns.

Is this suitable for my skin?

Key Features

Suitable for sensitive skin

How to use

To help the rich texture of the eye cream apply more easily, first soften it between two fingertips. Then gently massage using a circular motion into the skin around your eyes. As always, avoid tugging or pulling at the skin and avoid direct contact with the eyes. For daytime, follow with a broad-spectrum sunscreen rated SPF 30 or greater.

Reviews

Thank you for submitting your review! It will be reviewed by our staff before it is posted.

I love this cream, it feels lush and nourishing. It's a bit disappointing though that the oil separates from the cream a little, as it's very expensive, but it's not bad enough to not want to use it. Might try the gel for a change.

Hi Manon and thank you for your feedback! Natural product separation occurs when unlike ingredients (such as oil and water) do not remain blended during the life of the product. To help the blend these ingredients and allow the rich texture of the eye cream apply more easily, first soften it between two fingertips. Then gently massage using a circular motion into the skin around your eyes. Please do give Resist Anti-Aging Eye Gel
a try though! You are able to reap the benefits of both products by applying the eye gel in the morning to wake up the eyes and the eye cream at night to replenish while you sleep!
Best wishes, Natasha - Paula's Choice Customer Care Team

This is actually making a big difference! I have sensitive skin around my eyes so to just use regular moisturiser in that area is a no no and even most eye creams irritate. A couple of months ago I found an eye cream that could a least be tolerated, but no difference in terms of how the skin looks. This one though, wow, it has changed my skin so much and no irritation whatsoever, I should have done before and after pictures cause it really shows. The only downside is that the consistency of the cream keeps changing.

Customer Care: Hi Cass, thanks for this lovely review of our Resist Anti-Aging Eye Cream. I love to hear that it's suitable for your sensitive skin while also addressing your other concerns! Always doing a good shake or squeeze of the bottle before applying can help to ensure the product has a nice consistency! Kind regards, Marissa - Paula's Choice Customer Care

This is seriously, without a doubt, the best skincare product I ever bought in any shape or form. My under eyes are transformed. I no longer wear makeup outside of special occasions.

For a product with this price, you would expect ingredients to stay together. Each time I'm applying it, first oil leaks out of the tube and then the cream. Don't know if this is what suppose to be, but it's not very appealing. I wanted to attach a photo but this review page doesn't allow it.

Customer Care: Hi MJ, thanks for taking the time to leave a review of our Resist Anti-Aging Eye Cream. I'm very sorry to hear you haven't been happy with the texture of the product. A member of our Customer Care team will be in contact to answer your questions in more depth. Kind regards, Marissa - Paula's Choice Customer Care Team.

It's amazing what this product did to my under eyes! My skin has never been so moisturised and glory. It reduced my dark circles within less than 3 months!

Pretty much the single best product I've ever bought for my face.

I tried a sample of this eye cream;I get puffy eyes and some wrinkles,also redness at the corner of my eyes.This cream just didn't absorb into my area at all.Like some other reviews I've read, it just sat on top of my skin and felt far too thick.I think this is because my eye area isn't dry-seems to work on dry eye areas.Now using the eye gel which suits my eyes brilliantly. The cream is def not for me.

Was sent this as a gift from with a previous purchase. When used nightly, I swear that it plumped the area under the one eye that is sunken and also brightened my under my eyes after a few weeks!

I love the Ceramide face cream, so am really torn over getting this in full size or the Ceramide eye cream.

I love this stuff! Very moisturizing. It definitely is very thick like other reviewers are saying but if you put it on before bed it soaks in nicely and you wake up looking fresh and bright under the eyes. Normally I would not buy an eye cream product this expensive but a little bit goes a long way. I originally got a free sample of this with an order I made, and the sample lasted me 2 months. I am assuming the full size will last about 6. I can't wait to see how this performs in wintertime.

I've tried a lot of eye creams as I suffer from allergic conjunctivitis and eczema around the eyes. When I have a flare up the skin goes very dry and wrinkled and nothing (so far has helped this) I gave this a go and all I can say is wow, I'm absolutely delighted. I've been using it for a week or so along with other PC products and my eyes and skin have never looked so good. The dryness is gone and all the creases underneath caused by the eczema have almost disappeared. I'm a fan for life.

I suffer with dermatitis under my eyes and I have spent a fortune on moisturisers and eye creams to find something that doesn't irritate my eyes. They are always dry, even when the dermatitis clears up, aging me by a good few years. I decided to try a more natural approach/good for the skin ingredients. That's when I came across this. As the description states it's for dry, very dry eyes I bought the travel size to see if it would help. I just thought yet another eye cream to try and wasn't feeling hopeful after being deflated with everything so far. Wow, wow, wow! This is what my eyes have needed. This eye cream absolutely soothes my under eye area, glides on like a dream and it doesn't irritate me! After using this every morning & evening for a few weeks my dermatitis hasn't come back, the dehydration lines have gone and the fine lines you would expect a 42 year old to have are reducing in size. My dark circles have definitely lightened too. I have since gone on to purchase the full size. The price is extremely economical as you need the tiniest amount. My 5ml tube is still going after weeks of use. For the first time in years my foundation and concealer goes on lovely around my eyes. I never want to be without this. I've been so impressed with this eye cream I have since branched out and purchased a few products from the calm range. My skin and eyes has never looked so good. Well worth the money!

I don't usually write reviews, but this time, I had to. I have been searching for an eye cream/gel, for more then 10 years and this is the only one that doesn't make my eye sore, doesn't give me the dry patches around my eyes. It does an amazing job. In only 10 days, the skin around my eyes looks smoother, and the lines finer. Very impressed!

I love this stuff! I rarely wear concealer / foundation as my skin is ok as it is. However, I love heavy eye make up and this eye cream for me, still allows me to play with all sorts of eye make up looks without under eyeshadows / liners settling into fine lines. I had a voucher for another company (naming no names - but also natural, cruelty free etc) so I bought their eye cream for £55. Ive nearly finished it and I am coming back to the Paulas Choice eyecream. Beats it hands down. Also - top tip- when you think the tube is nearly done, cut it open and scrape the rest into a clean and dry empty from some of your other skincare, you will get at least another two weeks out of it! Same for the daily defence SPF 30 moisturizer: cut it open and scrape it out. Thanks Paulas Choice - great products. :-)

I bought this because I wanted to have a product for my eye area and wrinkles. The product is thick, clump and oily, doesn't absorb well and sits on top of the skin. Its also quite expensive, £11 for 5ml.
I would not recommend it.

Extremely disappointed with this, saw online and the main bonus being not tested on animals and suitable for sensitive skin. Tried it and to my horror after a few hours with make up on it made all the expression lines on my face very prominent, I would like to add I don't have many of these but when I laugh it set into my expression and aged me by about 10 years!!! Not impressed at all, has a cakey consistency so doesn't apply smoothly and when it does it makes you look older... it doesn't irritate your skin but does nothing to help with anti aging. Would not spend money buying I'm afraid:(

First of all, I will point out that throughout my life I have NEVER beeen able to wear zero foundation.. however, since I have been using Paula's Choice products my skin has transformed so drastically that I no longer wear any foundation or concealer whatsoever - I haven't touched a bottle of cover up for well over 2 months. Paula's Choice skincare has given me great confidence in my natural skin.

Now over to the eye cream, without wishing to sound dogmatic.. I am blown away by this cream. The skin in my eye area has always been dry, quite lined and crepey. Since using this cream day and night my eye area remains very well hydrated, resulting in much firmer looking skin. Any lines honestly seem to have reduced by half if not disappeared.

An excellent product... please don't ever change it!

First time trying this product and I'm really regretting buying it, especially as it's quite expensive for a small amount. The cream is far to thick and oily, just sits on top of the skin feeling greasy. Can't imagine the heaviness of this is good for the eye are. Will go back to using my temple spa eye cream which feels light and weightless.

Very disappointed!

Customer Care: Thank you for your review. We are sorry to hear that this product has not worked for you. Our customer care team will be reaching out to you to make an alternative recommendation.

By the time I bought this product, my under eye dark circles and bags had been transformed by the retinol effect but my upper eye area remained a problem. Puffy, puffy and in case you missed that, puffy!

Unfortunately most of the PC products I tried, hyaluronic acid, some serums, **daytime moisturisers made the puff even worse. The only things that didn't were nighttime moisturisers and anything with retinol in it but neither did they improve it. In addition the downside was all that retinol began making my eyelids a bit dry.

In comes the Resist eye cream but after the first use it made my dark circles worse, continued to so I decided to return the eye cream. PC are supremely confident in there products and rightly so, because of delivery issues, they allow me to try this product for longer. I reckon they must have known, I tried the eye cream some more, on my upper eye area only and WOW! No more dryness but best of all, no puff! That's right, I have eyelid space again! Amazing, I'm telling you!

If you want to improve under eye darkness and bags, I recommend retinol. If you want to lose the puff, I think that Resist eye cream is a must, it's tough on that puff and it'll be no more!

PS Although you only need a tiny amount I still think this is expensive for 15ml. Anything with the Resist label is more for less unfortunately, that said, I'm gonna keep on using this range because it works!

Thanks again to the mighty fine customer service team, but for your intervention, this product would have been returned and I'd have missed out on a real gem!

**I think it's the sunscreen my eyes don't like?

Customer Care: Thank you for your review and compliments. We are happy to hear that this product proved to work great for your eye area.

I'm always in search of the perfect eye cream and I think I've found it! The main reason for trying Paula's choice in the first place was for their animal testing policy as I am trying to switch as many beauty products and skin care as I can to cruelty-free brands. Also, reading the negative comments on how thick the cream is actually attracted me to try this even more as I hate thin, runny eye creams that do nothing! Anyway I've been using this night and day for about three weeks now, which is enough time for me to gauge whether a product suits my skin and I have to say I love this cream. It's really not difficult to apply (so don't listen to those who say it is!) The skin around my eyes is much improved, it's hydrated, fine lines are reduced and it doesn't cause puffiness. Needless to say I shall be re-purchasing, and whats's even better is I'm helping the non-animal testing cause to boot!

I've been using PC products for well over a year now.
I've carried out my own mini experiments on my skin with the luxury of being able to order samples. This has saved me money and allowed me to tailor my own skin care regime - an advanced one at that!
YOU REALLY DO NEED TO MONITOR YOUR OWN SKIN SYMPTOMS/CONDITION & GET TO KNOW YOUR SKIN.
I'm pretty sure PC has a product to suit everyone's skin type and need. Just be patient and read the information they freely offer to their customers!
I can honestly say the products are the best I've ever come across and I really have tried pretty much every skin care brand out there.
Also, such a refreshing change to have evidence based research & a host of unbiased information at one's fingertips via PC's website and Beautypedia. Where else does this happen - nowhere!
My job/career involves biology and researched based findings, so I can genuinely say Paula and her team take the hard work and confusion out of the cosmetic industry and marketing hype. I've NOT been paid to right this review and I have no biased interest to say anything other but genuine credit where credit is due.
***** Now for the EYE CREAM review ******
I'm 44 yrs of age, with few lines around the eye area. My under eye area had become dry, with dark bags and crepey looking. I'd noticed some dehydration lines appearing too.
Since using this eye cream (approx. 2.5 months now) I've noticed a vast improvement in the texture of my under eye skin. It is smoother, no more dehydration lines and no more dark circles!!! I must admit, I didn't expect this cream to help with dark circles.
In response to the review that the cream is too 'thick;' you need a very TINY amount.
I've found a split lentil size or less is plenty. I take this amount and tap it between my ring fingers to manipulate it, then I dab it gently under my eye area. A little goes a long way and this amount blends in lovely.
I've not had any irritation, nor had that cloudy/greasy feeling in my eyes when I wake up; which I've found with other eye creams.
The bonus is this eye cream is packed with the essential and research based ingredients.

I had very high expectations for this cream and I couldn't wait to receive it through the post, but it was a massive let down. It is really thick and hard to apply, and it doesn't get absorbed by the skin, it just sits on the top of it. I tried to mix it with Resist Moisture Renewal Oil Booster, but it doesn't mix, it just gets all scaly and messy.
After a few days I went back to my old cream.

Customer Care: Thank you for your review. We are sorry to hear that this product did not work well for you. You are welcome to contact our customer care department for further assistance.

I was very excited when Paula launched an eye cream and placed an order ASAP. When the eye cream arrived I was a bit surprised at how thick the cream is and I had never seen an eye cream like it. At first I struggled to apply but I learnt to warm it up between my two ring fingers and "padded" around my eyes. I have been using it for about 3 weeks and I really believe the area around my eyes looks brighter and younger than it has in years. I love this eye cream and another ground breaking product from Paula's Choice!

This is really thick, but I found that softening it between my finger tips and then pressing it on works. It's very moisturising and still manages to look matt (on me anyway). Four stars because I'm unsure whether or not this is what irritated my eyes slightly. Works really well as a hand cream, but too expensive to be bought as that!

More reviews Less reviews

Ingredients

What are the key ingredients?

Shea Butter
This plant lipid, extracted from the karite tree, is used as an emollient and has smoothing properties for dry skin. it's also a rich source of antioxidants.

Peptides
Portion(s) of amino acids, some have a remarkable skin-soothing effect, others can improve the appearance of wrinkles, loss of firmness, and help to soften the look of expression lines.

Bearberry Extract
Has antioxidant properties, and there is some research showing it can have skin-brightening properties.

Ingredients:
Aqua, Butyrospermum Parkii (Shea) Butter (antioxidant/emollient), Glycerin (hydration/skin replenishing), Dimethicone (hydration), Sodium PCA (hydration/skin replenishing), Hydrogenated Polyisobutene (texture-enhancing), Ascorbyl Glucoside (vitamin C/antioxidant), Sodium Polyacrylate (texture-enhancing), Hydrogenated Lecithin (skin-restoring), Glucosyl Hesperidin (skin replenishing), Copper Gluconate (skin-restoring), Troxerutin (skin-restoring), Disodium Rutinyl Disulfate (skin-restoring), Resveratrol (antioxidant), Palmitoyl Tripeptide-38 (skin-restoring), Caprooyl Tetrapeptide-3 (skin-restoring), Glycyrrhiza Glabra (Licorice) Root Extract (skin-soothing), Phytic Acid (skin replenishing), Beta-Glucan (skin-soothing/antioxidant), Acetyl Glucosamine (skin replenishing), Tocopherol (vitamin E/antioxidant), Allantoin (skin-soothing), enisonedA (skin-restoring), Dextran (hydration/skin replenishing), Caprylic/Capric Triglyceride (emollient), Sea Whip Extract (skin-soothing), Arctostaphylos Uva Ursi (Bearberry) Leaf Extract (antioxidant), xilaS Alba (Willow) Bark Extract (skin-soothing), Polyacrylate Crosspolymer-6 (texture-enhancing), lyporpyxordyH Cyclodextrin (texture-enhancing), Xanthan Gum (texture-enhancing), Cetearyl Alcohol (texture-enhancing), Maltodextrin (hydration), Benzyl Alcohol (preservatives), Phenoxyethanol (preservatives).

FAQ

The Paula's Choice team has said for years that we don't need to bother with eye cream, and now you have one! Why?

Paula and her team continue to say that not everyone needs a special product labelled as an eye cream. That's because many well formulated face products such as moisturisers, serums, and other treatments can and should be used around the eye area too. We decided to create our own eye cream when we learned that even our most loyal customers were turning to other lines to purchase eye creams. This was especially frustrating because many of those products are just so badly formulated. We want to make sure our customers who feel they need to use an eye cream only use a truly outstanding one, so we formulated an eye cream that meets our stringent criteria for excellence. If someone is going to use an eye cream it needs to brilliantly formulated with effective ingredients, not make outrageous claims, and be noticeably different in texture and results from traditional facial moisturisers. This is exactly what you'll find our Resist Anti-Aging Eye Cream has. It is a completely different texture from our facial moisturisers—one that's luxuriously emollient, rich, and long-lasting and yet still not greasy. Do you need this eye cream? Not if you're happy with the results you're getting from your facial moisturiser and serum when applied around the eyes. But if you want to do more to fight signs of ageing or if the skin around your eyes is drier than the rest of your face, Resist Anti-Aging Eye Cream is absolutely worth using!

Is it OK to apply Resist Anti-Aging Eye Cream during the day?

Yes, provided you follow with a separate eye cream or facial moisturiser rated SPF 30 or greater. For best results, this SPF product should contain only titanium dioxide and/or zinc oxide as the active ingredients. These mineral actives are the least likely to cause irritation or stinging when applied near the eyes. Be sure to apply a thinner layer of eye cream than you would at night, as too much eye cream during the day can interfere with makeup application and longevity.
Research
Journal of Cosmetic Dermatology, June 2013, issue 2, pages 96-102 International Journal of Cosmetic Science, December 2006, issue 6, pages 447-451 Phytotherapy Research, August 2015, issue 8, pages 1117-1122 Inflammopharmacology, October 2011, issue 5, pages 245-254 Journal of Cosmetic Dermatology, December 2008, issue 4, pages 281-289 Indian Dermatology Online Journal, April-June 2013, issue 2, pages 143-146 Phytotherapy Research, February 2014, issue 2, pages 159-166 The Journal of Clinical and Aesthetic Dermatology, June 2011, issue 6, pages 45-55 International Journal of Cosmetic Science, February 2000, issue 1, pages 21-52 Evidence Based Complementary Alternative Medicine, 2013, volume 2013, article 827248 Journal of Cosmetic Dermatology, March 2008, issue 1, pages 2-7 Evidence Based Complementary Alternative Medicine, 2013, volume 2013, article 827248 Marine Drugs, 2004, volume 2, issue 2, pages 73-82 Dermatologic Therapy, September-October 2007, issue 5, pages 314-321