https://www.paulaschoice.co.uk/resist-anti-aging-daily-smoothing-treatment-aha-full-size/7660.html
Resist Anti-Aging 5% AHA Exfoliant
Hydrating exfoliant corrects uneven skin tone and minimises fine lines and wrinkles.

Skin Type:

Normal skin, Dry skin

Concern:

Anti-Ageing, Brown spots, Very dry skin

Ingredients:

Ceramides, Glycolic acid/AHA, Salicylic Acid/BHA

View all

Routine:

Exfoliate
Remove from Wishlist
Add to Wishlist
Product out of stock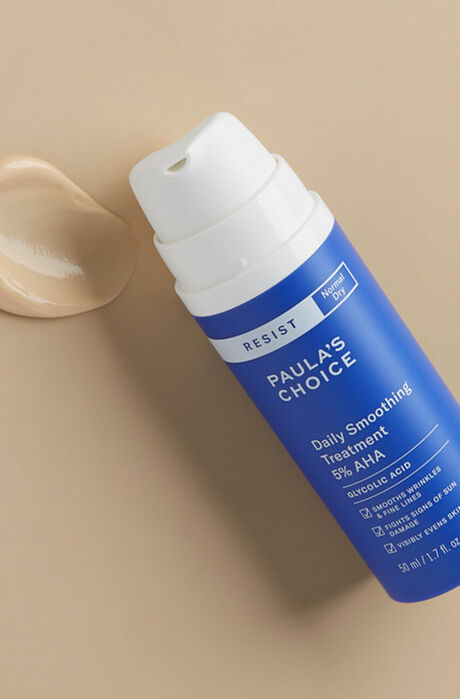 Resist Anti-Aging 5% AHA Exfoliant
Full size
This product is sold out at the moment. Fill in your email address below and we'll gladly send you an email as soon as it is back in stock!
What does it do?

Gentle daily exfoliation for youthful radiance.

Formulated with 5% AHA (glycolic acid), this gentle leave-on exfoliant removes dead skin cells, revealing smooth, radiant, younger-looking skin. This lightweight hydrating lotion improves the appearance of sun-damaged skin, corrects uneven skin tone and minimises fine lines and wrinkles.

Is this suitable for my skin?

What skin concern would you like to address?

(Please select one option)

Key Features

Removes built-up dead skin cells

Leaves skin softer and smoother

How to use

When using an AHA exfoliant for the first time, introduce it into your routine slowly. Start by using your exfoliant once every other day, and then increase usage to once or twice daily based on your skin's response.

Apply once or twice daily after cleansing and toning. Apply a coin-sized amount over the entire face, including the eyes (avoid the lower lash line and eyelids). Do not rinse. For daytime, always follow with a moisturiser containing a broad-spectrum sunscreen rated SPF 30 or greater.

Reviews

Thank you for submitting your review! It will be reviewed by our staff before it is posted.

I love the whole resist line! It is perfect for my drier skin, and this is no exception. My skin texture appears much smoother, and has a nice glow to it, with no signs of any dry/dead skin left behind. I was previously using the 10% AHA exfoliant, but actually prefer this and have seen better results from it. I like the feel of it on my skin, it does not ball up and has not personally caused any sensitivity like it has in others.

Hi Belle, thank you for your nice review. I'm happy to read that you like this exfoliant and see great results from using it along with the rest of the Resist for dry skin range! Kind regards, Natasha - Paula's Choice Customer Care

I've been a facial scrub person most of my life but saw a feed from Dr Sam Bunting on hyperpigmentation (which I have) saying that AHAs were better for hyperpigmentation than physical scrubs which can make it worse. I ordered a travel size of this and immediately fell in love and purchased the full size. My skin feels so soft as though I've rewound 20 yrs! I've put all my scrubs away now. Just love it. My skin used to peel everywhere but not getting that now it's just so gentle but effective. I want to try the weekly 10% now but will need to wait a while as I've got so much from Paulas choice recently.

I wanted to love this product. I had heard amazing things about Paula's Choice, and I was excited to try this out. After using it for three weeks, I started to get itchy skin on my jaw line, and then I started to breakout like a teenager. Suddenly, I had five pimples around my jaw and tons of little bumps under my skin. I kept using it thinking that I was purging, but five weeks in, I've given up. I stopped using it two days ago, and my skin is starting to heel. It'll take a while to get it back to where it was before I started to use this product. I should note that I've never had a bad reaction to a product like this, and I generally don't have the time to write reviews, but the reaction to this product was so upsetting I felt I needed to say something.

I have never been using Exfoliants before, so maybe it's just a wrong choice. It just doesn't work. My skin looks exactly the same, no effect (it's the 5th day I'm using it). After reading all those great reviews I am very disappointed. Maybe I will try BHA next time (I have Combination skin type). This one is just not for me.

Customer Care: Hello, and thank you for sharing your experience with us - we're sorry to hear this didn't work as expected for you! Please contact a member of our Customer Care team, who can assist you with a possible alternative.

I have recently become aware of Paula's Choice after much research online about taking proper care of my skin (as opposed to soap wash, rinse, moisturise). I purchased this product and realised after 2 separate applications that it wasn't right for me. I got in touch with the customer care team who were fabulous. They got back to me the same day, refunded the full amount within 24 hours, recommended an alternative and said I could keep the product and pass it on to someone else. I did just that and my sister is using it happily and loves it.

Just want to say amazing service from a team that seemed to genuinely care that I was getting the right product for my skin. I have purchased the recommended alternative and am more than happy with it. 5 stars for excellent service. Recommended brand.

I've also learned that trial and error are a thing in skincare. Next time I will purchase the sample size first!

Usually love your products but this resulted in very sore and itchy skin. I only used it a couple of times so for me, a complete waste of money.

Customer Care: We're sorry this product wasn't a fit for you. Be sure to contact our Customer Care for assistance.

This is now my daily exfoliant. It makes my skin so incredibly smooth. I've never had an AHA make such a noticeable difference. I've used PC 8% in the past, but I like this so much better. My skin can be a bit combo, so I still use some 2% BHA when I think I need it, but this is great as an everyday exfoliant for me.

Oh and I'm loving the pump! I first got the travel size to try it out, and that pump did the thing that lots of pumps do - a little product is left right near the opening, which dries overnight, and then you get what I call the "lotion plug" the next time you use it. But on the full size, the pump seems to somehow stop that from happening. No product is left near the opening. Of course, I can see how this packaging might make it difficult to tell when you're running out. Maybe a little peakaboo strip like the new 10% AHA has would fix that.

I'm a huge fan of Paula's Choice products, and am now at the point where about 75% of my skincare regime is from this brand. This is probably one of my favourite products - I use it daily and never let myself run out. It really brightens and smooths my skin; as I use a prescription strength Vitamin-A most nights my skin can occasionally be a bit flaky in the mornings, and this leaves my face clear. With regular use you can really see results.

If you have sensitive skin, you may need to give yourself a bit of time to get used to it, but it's worth it.

Within one week my skin was looking smoother, and within two it was also clearer and lines are significantly finer. Superior to other exfoliants three times the price.

I ordered a sample of this product and I'm on day 5. It has worked wonders already. I've never had such smooth skin. Although I think this product may be a tiny bit strong for me, or maybe it's because I was an AHA virgin before this, I have had some redness and peeling on the tops of my cheeks between days 2-4 but that has calmed down now.

I just tried a sample, but I'm very impressed. Whilst still using another Beautypedia-recommended product from other brand, this or 10% one from Paula's Choise is going to my next full-size purchase. No irritation, super light, and good result. In fact, lazy as I am (and also nearly 40 years old:), I'd even prefer stronger AHA to use once or twice a week instead of layering 4-5 products on top of each other. But for AHA-virgins, definitely great choice.

After reading these positive reviews I was excited to try this product. However, after using it for the first time last night I have woken up this morning with red, itchy patches on my cheeks. I have quite sensitive/reactive skin so I'm guessing this product is too strong for me.

Customer Care: Thank you for your review. Although this is not a common response, we do understand that each customer is uniquely different in how they will respond to products or ingredients. Please contact us for further assistance.

After purchasing a whole skincare regime from Paula's Choice and liking them all, I LOVE this product. After cleansing and toning I apply this exfoliant most evenings. It has a wonderful, creamy texture that sinks into the skin quickly and leaves my skin feeling lovely and smooth. A definite must by!

Within the first few days of using this product I had smoother, brighter skin, so the actual contents of the product are fantastic. Unfortunately like a number of other customers my pump broke almost immediately and I am now having to screw open the top to get product out. This defeats the purpose of the packaging as I understand it needs to be kept air tight so I'm very disappointed that the pump broke. Please redesign the packaging or I won't be repurchasing what I think is a very good treatment.

Customer Care: We have contacted you for assistance with the pump

Firstly, I LOVE this product. I've only had it a few days but I do think it's amazing. The difference it has made already is noticeable, hugely noticeable. However, the pump has broken. I've had the product less than a week. I went to pump some out and nothing happened. I tried again, nothing happened. Tried a few times... (you get the picture). I have now resorted to twisting the cap off and shaking a little out - not an exact science. So it would have 5 stars had the pump not given out on me...

Customer Care: We have contacted you regarding the problem with the pump.

Not happy at all!
Was so looking forward to using this product after it arrived as I had received a sample of this with a previous order and loved it!
However the bottle stated for "Normal/Dry" skin not "All skin types" likes it states on this websites description, image and the sample I received!
I have oily skin not normal/dry!
Very disappointed customer!
Customer Care: Thank you for your review. We would like to assure you that the RESIST Daily Smoothing Treatment with 5% AHA is a product that is indeed suitable for all skin types, however is best for dry skin.
AHA products exfoliate cells only on the surface of the skin and therefore is best for reducing signs of aging, including wrinkles, sun damage, and discolorations.

I love using this product on evenings when I feel the dry areas of my skin need a little extra attention. Upon waking I am always impressed how much using this improves the condition of my skin. It really makes my skin feel smoother, softer, and more moisturised than it typically does.

I was really excited about trying out the 2 Resist formulas, having spoken to the customer care staff. So after placing my order (which wasn't cheap) and waiting for my products patiently...I was really excited to use my products as soon as I received them. That evening I go to use my Daily Smoothing Treatment...I pump - nothing. I pump again, still nothing, after 5 minutes of twisting and frantically pumping, I realised that I'd received a faulty pump, meaning that I can't get the product out unless I turn it upside down and leave it like a ketchup jar. After dropping £55 on buying the products, I wanted to use the products as soon as possible, worse still I've logged on to see that this product is now out of stock....not the best introduction to Paula's Choice products for a first timer....oh well....waiting to see what customer service will suggest. Customer Care: Thank you for your review. We are sorry to hear of the pump of this product. We will contact you to discuss how to solve this issue at the earliest.

For the first time in years my skin has improved dramatically, is glowing, smooth and the pores are reduced. I have learned so much from the Beautypedia reviews and now avoid fragrance, alcohol and other irritants. I love this brand because there is actual research behind it and my results are confidence inducing. Please do not be put off by a few customers complaining about the prices; sure they are high compared to the US but I fully appreciate the currency difference, VAT, customs charges etc that have led to the price.
The products are great and I am grateful we can buy them in the UK. I have also noticed as well that UK made products are expensive in the US so it cuts both ways.
Please don't let a few complainers cause this brand to pull out of the UK or we all loose. After all I have used so many more expensive brands which did my skin more harm than good, paulas choice is cheaper by comparison and actually works.
I am satisfied and will continue to pay the price because I appreciate what I am getting overall!

This is the best day cream I have ever used and I will not be looking for anything else ever. I am on my second bottle now, that I had ordered few weeks before I finished the first one (which never happened before). It sinks into skin immediately and leaves the skin soft and plump. My skin loves it, I did not experience any peeling or itching. My bottles did not break (mentioned by few users) but I agree that it was difficult to asses whether it was almost empty or not. I use it with weekly resurfacing treatment and can not find anything that speaks against this product or the whole resist range. Truly fabulous product that will be staying with me for a long long time.

I really love this product - I am using a full resist regime and this is my favourite of the lot - it absorbs very quickly and leaves my skin feeling both silky and soft. That said, as with all the PC products I have I am a little frustrated by the packaging - it's flimsy and as it's not clear, hard to know when the end is near (more frustrating given PC only available online). It's also frustrating to see the price differential between the UK and USA sight - USA prices much lower (addition of VAT does not adequately explain this) and free postage over $50. I am genuinely pleased with the products and just wish I didn't feel a tad ripped off! Customer Care: Thank you for sharing your concern. We would like to highlight that the US retail price is exclusive VAT and other import duties or taxes which may apply. The price mentioned on the UK website is inclusive of 20% VAT. Also the shipping costs from the US (the free postage is for US customers only) are substantially higher than the European postage. There are various unavoidable regional factors which impact the price of products sold in a particular region. VAT & ongoing regulatory fees are just a few of them. These impact the final price which the consumer needs to pay. For Europe, the costs of compliance with EU regulations and EU testing policies have gone up and continue to increase. Also prevailing economic conditions in Europe and US make currency rates extremely volatile which in turn impacts the cost of imports. When you take all these into account, we feel you will benefit by buying from your PC UK web-shop.

I've used AHAs before and this is the only one that has ever worked for me. I bought this after the BHA 2% liquid, failed for me, and i don't regret it. My skin is alot smoother, hyper pigmentation marks (along with Resist Skin Hydrator) have reduced significantly so tone is now alot more even. I did make a mistake and got to cocky and started using this twice a day, all this did was to cause acne, so i reduced it, and my breakout subsided. Now i use a 1% BHA lotion on alternative days, and use this AHA treatment instead once a week. Through this i have found a perfect harmony for my skin, and i wish i took before pictures so i could compare it now.

I think this is a wonderful product. It goes on easily and sinks in well. I dislike silicone base and this has a more watery base which gets absorbed easily and quickly. Also helped my melasma. Not a quick fix but I see that it is peeling the old sun damage spots away. I also noticed great improvement in my skin appearance as I used to get spots during ovulation but these are not small and not so angry. Lovely. Will use for a long time.

I bought a sample of this and was going to buy it as I really liked it but I ended up on the US site by mistake, this is only $26 in the US which is roughly £17, why is it so much more expensive in the UK, it has put me off buying the product as I feel I am being ripped off.Customer care: We thank you for your feedback and expressing your concerns. The prices on the EU website include VAT (which averages at 19% in the EU) and that no other import duties or taxes are payable on delivery of the goods. Prices on the website of Paula's Choice USA are exclusive of VAT (which is payable on importing the goods in the EU) and any other import duties or taxes which may apply.
In addition, for Europe, apart from a general rise in costs, the costs of compliance with EU regulations and EU testing policies have gone up and continue to increase.
Through her ongoing research, Paula Begoun is continuously fine-tuning and updating her line to be sure each and every product contains beneficial, cutting-edge ingredients that provide distinctive benefits depending on your skin type and needs. It is her goal is to continue to offer the best possible products available.
Please be assured that as a customer of Paula's Choice you get the advantage of superior, well-researched products that are still remarkably affordable and we will continue with our special offers.

More reviews Less reviews

Ingredients

What are the key ingredients?

Ceramides
Major components of skin's outer layers, necessary for their water-retention capacity and provide replenishing and restoring benefits.

Glycolic acid/AHA
Can help shed dead skin cells to renew skin's surface, visibly softening signs of ageing, particularly from sun damage. Can act as a water-binding agent.

Salicylic Acid/BHA
Primarily an exfoliant, helps to shed dead skin on the surface and inside the pore, therefore effective for reducing breakouts and blackheads. It also has soothing properties.

Sunburn Alert: This product contains an Alpha Hydroxy Acid (AHA) that may increase your skin's sensitivity to the sun and particularly the possibility of sunburn. Use a sunscreen, wear protective clothing, and limit sun exposure while using this product and for a week afterwards. As with all cosmetics, avoid direct contact with the eyes.

Ingredients:
Aqua, Glycolic Acid (Alpha Hydroxy Acid, exfoliant), Cetyl Alcohol (texture-enhancing), Butylene Glycol (hydration), Dimethicone (hydrations/texture enhancer), Polyacrylamide (texture-enhancing), PPG-14 Butyl Ether (texture-enhancing), Palmitoyl Hexapeptide-12 (skin-restoring ingredient), Ceramide NG (skin replenishing), Tetrahydrodiferuloylmethane (skin-soothing/antioxidant derived from curcumin), Tetrahydrodemethoxydiferuloylmethane (skin-soothing/antioxidant derived from curcumin), Tetrahydrobisdemethoxydiferuloylmethane (skin-soothing/antioxidant derived from curcumin), Epigallocatechin Gallate (antioxidant), Salicylic Acid (Beta Hydroxy Acid, exfoliant/skin-soothing), Disodium Lauriminodipropionate Tocopheryl Phosphates (vitamin E-based antioxidant), PEG-10 Phytosterol (texture-enhancing), Vanilla Planifolia Fruit Extract (antioxidant), Bisabolol (skin-soothing), Allantoin (skin-soothing), Cyclopentasiloxane (hydrations/texture enhancers), Cyclohexasiloxane (hydrations/texture enhancers), Dimethiconol (hydrations/texture enhancers), Tribehenin (texture enhancer), Polysorbate 20 (texture enhancing), C12-15 Alkyl Benzoate (texture enhancing), PEG-40 Stearate (texture enhancing), Sorbitan Stearate (texture enhancing), PVM/MA Decadiene Crosspolymer (stabilizer), Disodium EDTA (stabilizer), C13-14 Isoparaffin (solvent), Laureth-7 (texture-enhancing), Sodium Hydroxide (pH adjuster), Caprylyl Glycol (preservative), Caprylic/Capric Triglyceride (pH adjuster), Hexylene Glycol (solvent), Ethylhexylglycerin (skin-conditioning agent), Phenoxyethanol (preservative).

FAQ

Good to know before you start using your exfoliant.

It is best to gradually build up use of an AHA product. Start by using your exfoliant once every other day and then increase usage to once or twice daily based on your skin's response. You need to experiment a bit to see what suits your skin best. During the day, always use a moisturiser with a broad-spectrum sunscreen rated SPF 30 or greater. Your skin will in fact be slightly more sensitive to sunlight when using an exfoliant, so the chance of sunburn and sun damage is slightly higher.

How should I alternate using Resist Daily Smoothing Treatment with Resist Anti-Aging 10% AHA Exfoliant?

Resist Anti-Aging 10% AHA Exfoliant is recommended for use at night, at least once but up to 4 or 5 times per week depending on how your skin responds. Since we do not advise using other exfoliants at the same time as Resist Anti-Aging 10% AHA Exfoliant, you can apply Resist Daily Smoothing Treatment as part of your morning skincare routine or on night(s) you do not apply the Resist Anti-Aging 10% AHA Exfoliant. In the morning, if desired, you can apply Resist Daily Smoothing Treatment after cleansing and toning or you can limit use of the Daily Smoothing Treatment to nighttime (this is best for first-time users). For daytime, follow with a serum and/or moisturizer or foundation rated SPF 30 or greater.

Can I use Resist Daily Smoothing Treatment at the same time as one of Paula's Choice BHA products?

Yes, but ultimately it is not necessary to use an AHA and BHA exfoliant at the same time. Exfoliation is a balancing act that requires not tipping the scale so the potential for irritation outweighs the benefits. Using multiple exfoliants at the same time increases the likelihood of irritation and doesn't necessarily provide greater benefits. If you'd like to use a BHA product and Resist Daily Smoothing Treatment, we recommend applying one in the morning and the other in the evening. Which one you apply when is a matter of personal preference.
Research
The New Ideal in Skin Health: Separating Fact From Fiction, Allured Books, Thornfeldt Carl MD, 2010, pages 180–181 Dermatologic Surgery, July 2009, pages 1,109–1,118 Clinical Evidence Online, December 16, 2008 Seminars in Cutaneous Medicine and Surgery, September 2008, pages 170–176 Journal of Dermatological Science, December 2005, pages 195–204 Plastic and Reconstructive Surgery, April 2005, pages 1156–1162 Cutis, August 2001, pages 135–142 Dermatologic Surgery, May 2001 pages 1–5 Journal of the European Academy of Dermatology and Venereology, July 2000, pages 280–284 American Journal of Clinical Dermatology, March-April 2000, pages 81–88; Dry Skin and Moisturizers: Chemistry and Function, edited by Marie Loden and Howard Maibach, 2000, page 237