https://www.paulaschoice.co.uk/resist-anti-aging-daily-pore-refining-treatment-bha-full-size/7820.html
Resist Anti-Aging 2% BHA Exfoliant
Ultra-light exfoliant improves visible signs of ageing and refines pores for radiant skin.

Skin Type:

Combination skin, Oily skin

Concern:

Anti-Ageing, Blackheads, Enlarged pores, Sensitive skin

Ingredients:

Licorice root extract, Peptides, Salicylic Acid/BHA

View all

Routine:

Exfoliate
Remove from Wishlist
Add to Wishlist
Product out of stock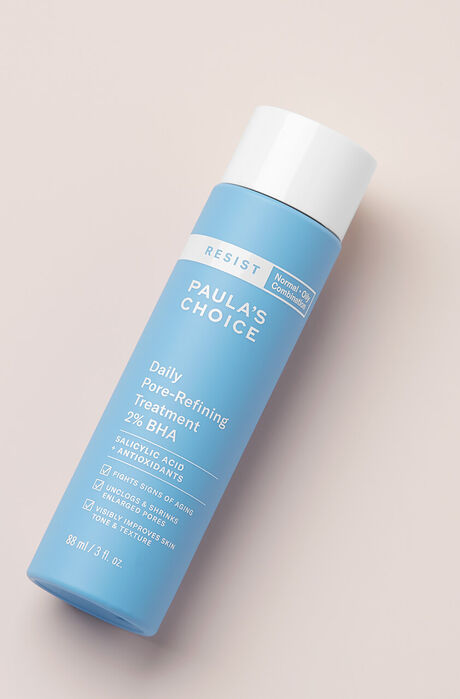 Resist Anti-Aging 2% BHA Exfoliant
Full size
This product is sold out at the moment. Fill in your email address below and we'll gladly send you an email as soon as it is back in stock!
What does it do?

Targets visible signs of ageing.

This ultra-light exfoliant improves visible signs of ageing and refines pores for radiant, youthful-looking skin. Formulated with 2% BHA (salicylic acid), this leave-on treatment smooths the skin's surface while an advanced antioxidant and peptide blend defends against environmental stressors.

Is this suitable for my skin?

What skin concern would you like to address?

(Please select one option)

Key Features

Removes built-up dead skin cells

Suitable for sensitive skin

How to use

Lightly soak a cotton pad and gently apply over the entire face and neck, including the eye area (avoid lash line and eyelids). Do not rinse. At first, apply every other day and note skin's response. Then use up to twice daily. For daytime, follow with a broad-spectrum sunscreen rated SPF 30 or greater.

Start slowly: Apply every other day and note skin's response. Then use up to twice daily. For daytime, always finish with a sunscreen rated SPF 30 or above. For nighttime, follow with the rest of your routine.

Reviews

Thank you for submitting your review! It will be reviewed by our staff before it is posted.

This has totally cleared up my horrible sore lumpy menopausal spots. It's refined my large pores and I'm getting almost 0 spots generally, which is something I've struggled with since I was a teenager. Amazing product, so glad I found it. Totally recommend.

I do find this gives my skin a glow, I've noticed my pores are smaller and that any blackheads are easier to remove and much smaller than before - I'm having less of them too. I haven't seen much change to wrinkles but the glow and positive skin texture makes up for that.

Customer Care: Hi Nancy, thanks for your review of our Resist Anti-Aging 2% BHA Exfoliant!I'm glad you've experienced the magic of BHA and its effects on clogged and enlarged pores! The main anti-aging effects will come from the peptides and these work slowly over time - keep using and you'll start to see the results! You can always add in some additional anti-aging products as well. Let us know if you have any questions or if you would like some advice! Kind regards, Marissa - Paula's Choice Customer Care

I was using the original 2% BHA but it was always so drying and I couldn't use it more than twice a week. This one delivers better results as it doesn't dry your skin out and you can use it every day! I've been using it most days without it drying my skin, my pores look smaller and blackheads are clearing. I love PC products and the customer service is fantastic.

Hi Pin! It's really great that you have found an exfoliant that suits your skin. For extra help with reducing those enlarged pores, I recommend trying our 10% Niacinamide Booster. Kind regards, Natasha - Paula's Choice Customer Care Team

I first used this product nearly a decade ago and was amazed at the results. Pores were visibly reduced, skin felt softer, and it calmed down spot breakouts within a few days of them emerging. I got out of the habit of my skincare routine for a while and stopped being able to afford PC but came back to it a few months ago. I still like the products but confess I don't like how cheap and flimsy the packaging is now. I realise we pay for what's inside the bottle but compared to the old metallic look, the current packaging looks cheap. I also found the cap on my travel size a bit loose. As well as the look, I echo another reviewer suggestion for having a pump mechanism as too much comes out from the full sized bottle for me and it's hard to control - I actually prefer to use the travel size for this reason! So not a full 5* but a good product nevertheless :)

Customer Care: Hi Lynn, thanks for taking the time to write this review. I'm so happy you've made your way back to us and are still enjoying the results of our Resist Anti-Aging 2% BHA Exfoliant. The effects of BHA on pores and breakouts are complemented by the addition of peptides which help to target anti-aging! Thank you for your feedback on the packaging - we've recently updated all of our package designs but are always keen to improve these! Feel free to contact us if you have any questions about this. Kind regards, Marissa - Paula's Choice Customer Care Team

My son HAD very bad acne, we tried everything: masks, washes, creams etc the doctor even prescribed a topical treatment. Worked for a while as it stopped inflammation, but never really tackled the breakouts. This was the real game changer, with just using it once a day, it literally has calmed his skin down. The before and after is transformational! He still has occasional spots but this really stops the breakouts
Thank you for this product

Customer Care: Hi Rehana, thanks for your review of our Resist Anti-Aging 2% BHA Exfoliant. I'm so happy to hear that your son has noticed great improvements with this product. It does a great job of gently exfoliating to help acne-prone skin while also reducing inflammation and redness for an overall improvement in complexion! Kind regards, Marissa - Paula's Choice Customer Care

I hadn't expected to rely upon the Resist Anti-Ageing 2% BHA but I've found it an essential part of my daily kit. I use it at least once everyday. My dry and sensitive skin respond well to a half-teaspoonful application of this formula. It's got peptides, skin-soothing ingredients as well as bha front-and-centre. I've never experienced any irritation, it banishes redness and helps me look much younger than I am.

Hi Jenny4Books2! We agree, the Resist Anti-Ageing 2% BHA is great for dry and sensitive (as well as oily) skin! It is the perfect blend of soothing peptides and smoothing bha! Thanks for the great review! Kind regards, Adele - Paula's Choice Customer Care

I love this!!! I've tried 4 different exfoliants in the past year, including the normal 2%. This is way better because of the peptides. My skin has never looked this clean and soft (but not dry), can't recommend this enough. I don't even wear foundation anymore and barely any concealer for a couple of spots/blemishes here and there. What a godsend.

Customer Care: Hi Laura, thank you so much for your nice review! Great to hear that you've found the perfect exfoliant for you in our Resist 2% BHA. I appreciate you trying different versions of our BHA products to find the right one. Feeling happy and confident enough to go without makeup is the best result! Warm regards, Marissa - Paula's Choice Customer Care Team

I'm one of those people that read reviews and sit there and think are people actually telling the truth. But believe me I had to write this review. My face was red and had white heads. I tried so many products weeks before this and nothing worked from big brands to even GP recommendation .I spoke to the live chat on Paulas choice and they recommended this. (So glad I spoke to someone) The delivery was super quick and over they next few days my skin was flawless. My confidence was back, without makeup and with makeup on my skin had no red bumps and was flatter. I have trust in Paula's products and this product has proved it. So happy I found something that works.

Customer Care: Hi P, thank you for your nice review! Great to read that your impurities have improved so quickly with our Resist Anti-Aging 2% BHA Liquid Exfoliant. We would love to welcome you back in our web shop. Warm regards, Marissa - Paula's Choice Customer Care Team

I have been using this product for about 6 weeks. It has made such a difference to the adult acne I was getting on my jaw. I've gone from sore angry acne to clear skin. Very happy!

I started with the travel size as it was my first exfoliant. I have combination skin that is pretty sensitive so wasn't sure if this was for me but it's now part of my daily routine. I think my pores do appear smaller, I've started a whole new routine so can't guarantee it's down to just this product but most definitely helps. Wouldn't be without it.

I'd been suffering from red bumps on my forehead, and on my neck area for a long time and struggled to find a simple, straightforward BHA formulation that didn't also irritate my skin badly. This has done the trick and (as part of a routine), has significantly reduced the appearance of those bumps and breakouts to the extent that they're barely noticeable now - much happier! :)

This product is a game changer, is everything what I need for my combination skin. I have an oily T-zone and since using it, I had notice an improvement! My skin looks smoother and brighter, pores are looking smaller and I also noticed that I don't get pimples, only once in a while!

it takes a longggg time to see results i.e. fewer blackheads but I noticed that once I changed to use sth else similar, my nose started to gunk up. Back to this, it clears up.

I LOVE this product. I see such visible difference in my skin since I started using it. Many years ago, I used the gel BHA from paula's choice, and I loved that too. Then I just stopped for a while (lazy), but what with turning 35 and still occasionally having pimples, and also never finding an exfoliater that I felt happy with, I returned! And I love this. It's even better than the gel. There's just one problem, but it's a significant one, and it has nothing to do with the product itself. It's the PACKAGING. It's an actual completely loose liquid inside this here bottle, and the only way for it to exit is through a medium-sized hole at the top of a flat closed bottle. No squirter, no nozzel, no spray, just an open hole. This means that I'm probably wasting far more of it than I'd like to be (given the price, which would be very justifiable for such a great product if the packing were tweaked ;-) ). I'd like to suggest a spray lid for this packaging. Obviously not a mist 'free range go all over the place' spray, because that would be very inefficient at getting the product onto the cotton pad where it is needed, but a more direct controlled sort of spray. I have a product from another company, a tea tree toner spray, comes in a spray bottle which has a very direct kind of spray on it, and it sprays perfectly, not wastefully, onto a cotton pad for use. Please, please, pretty please consider packing this product in a bottle with a similar spray top so that we can all use it properly and get the fullest benefit for our money. Thank you.

Customer care: Hello, and thanks for your comments! We are always looking for ways to improve our products, so we will pass along your feedback to our Product Development team!

My skin has improved so much! I brought this from a recommendation from a friend and It did not disappoint. My skin is cleared, brighter and smoother. I literally can not live with out it now.

If this is ever discontinued I don't know what I'll do. I use this twice a day, morning and night, so keep my skin clear and blackheads at bay. It isn't quite as effective as the 2% BHA skin perfecting liquid at blackhead clearing, but it makes up for it by being incredibly gentle and contains lots of soothing ingredients. Please make this in the same size at least as the skin perfecting BHA! Cannot live without this.

I really like this product. I believe it has contributed to improving my skin. I have been using this for at least a couple of years, I've tried the other BHA exfoliant by Paula's Choice as you get a little bit more product for your money, however, that was too drying for my skin. Sometimes you've just got to stick with what works.

After a slight rocky start (few small breakouts) I am now a total convert to this BHA! I tried the calm 1% lotion prior to trying this and felt like it wasn't doing much for me. I also wasn't sure about whether the silicones in it were bothering my skin a little. I stopped anything for ages then tried out Resist 2% BHA. Broke out on my forehead at first but I persisted with it and soon was delighted with the results!

I have dry sensitive skin with type one rosacea (redness visible veins and flushing). Some uneven skin texture and small bumps near my nose, also visible pores. And a strange eczema like rash of small red patches around my mouth :(

Resist BHA has improved my skin texture so much, making it much easier to apply makeup to camouflage my redness. My pores look smaller and any bumps have lessened. Also, it clears up the red patches around my mouth!

I ran out of this for a while and the red patches came back, skin started feeling congested etc. I tried a sample I had of the Clear BHA liquid which I thought seemed to be pretty much the same thing. But it burned my skin and worsened my redness, no idea why. I then tried going back to the 1% calm BHA lotion, but that had zero effect on the red patches round my mouth. Ordered the Resist BHA again and since starting back on that again the red patches have gone and skin is looking so much better.

The only reason I give this product four stars instead of five is the packaging. I have already harped on about this in another review but I just wish P.C. products gave you a bit of style as well as the (brilliant) substance! Maybe I am in a shallow minority but I like using every day products that are super aesthetically pleasing, it just brightens my day a bit! Companies like glossier, Aesop, The Ordinary, Niod, Bobbi Brown etc look so nice. I buy P.C. products because they work but it would be nice if they also had a bit more flair, especially as, whilst reasonable in price, they are not cheap!

I really, really like this BHA. Previously I was using an AHA (from a different brand), which made my skin feel very smooth, but didn't help with the under-the-skin lumpy spots I get. Since swapping to this about a month ago, my skin has improved a lot (in fact I'm writing this because one of my co-workers just said she'd noticed my skin looking great! I like that while it's a BHA, it's not drying - I have very dry skin and I haven't had a single flake from using this. That said, it's clearly effective as right now my skin is completely clear (minus a few blackheads, which I'm hoping this will help with over time). I will say that in the second week of using it, I got quite a few small whiteheads - I think it was 'flushing out' the clogs I already had. They cleared off pretty quickly though. I was torn between this and the normal (not Resist) BHA but for my dry, clog-prone skin, this is perfect.

Absolute waste of money and effort. No change to my pores or completion at all. I gave it a fair trial to work and missed 30 days guarantee so was unable to return it. Another product cleared the issue in few weeks.

I bought the first bottle of regular 2% BHA which worked well on my skin. I have PCOS that means at the age of forty, I still get lot of pimples and blackheads. The first bottle of 2%BHA significantly improved my skin conditions and I thought this resist 2% BHA, more expensive should be a better improved formula . Unfortunately not that doesn't exfoliate my skin, I keep getting outbreak. I am now so reluctant to order from Paula's again.
Customer Care: Thank you for sharing your experience, we regret to hear that this product wasn't working for you. Possible our Skin Perfecting 2%BHA Liquid would be a better option. Please contact us should you need further advice.

I am 64 years old and have had troublesome skin since my teens. As you can imagine I have tried every product on the market over the years. I started using Paula's choice in June 2017 and am amazed at the results. It has taken a few weeks but the improvement is amazing, no more breakouts and what 'bumps' I already had have almost disappeared completely. I am so impressed that I bought a full set of products for my 40 year old son. It is amazing and I will never use anything else. Thank you Paula.

This BHA exfoliant is one of my favourite Paula's choice products and definitely my favourite exfoliant. It is gentle, no stinging factor whatsoever and I do have very sensitive skin, yet visibly smoothes the skin, making it look visibly younger and dewier.

I have just ordered my third bottle of this along with other products from the Resist anti-aging range and have to say the PC products have literally saved my face. Since starting menopause my skin has been prone to breakouts, my oily tzone has got oilier and I had patches of redness either side of my nose which had to covered with full coverage makeup.

My skin took a couple of weeks to see any change but since I have incorporated this product into my regime it has cleared up redness and breakouts, to the extent that I only use a CC cream now.

Thank you Paula.

Have been using this every night for the last week. It is comfortable on my skin, has not caused any stinging or reactions, and seems to be helping. It leaves my skin feeling and looking good. It has been very difficult to find products suitable for older skin that remains prone to breakouts, so I am pleased with this and have just ordered some more. The night time moisturiser and cleanser in this range are also working well for me.
(Interestingly the daytime SPF 50 moisturiser in this range has not suited me at all and I will not be buying that again).

I would give this product 10 starts if i could. It has helped with large pores, uneven skin tone, pre menstrual breakouts. I spent years and £££ on many products and treatments and this product has given me great results. It didn't happen overnight but consistent use has made a huge impact on how great me skin looks!

I have been using this for 4 weeks now. I started slowly and built up but my skin has become really red on my cheeks and is very dr. My pores look just the same too so unfortunately it's not for me.

I thought I had pretty ok/good skin until I started using this, and I started to see the gunk falling out of my pores after washing my face morning and evening. Seriously, it's amazing the difference it's made! My underlying skin is so so much better that I sometimes skip foundation, something I would never ever have considered in a million years before. The only thing I can advise is a little patience. It took 3 weeks of daily use before I saw results. I was just starting to berate myself for wasting money on another unnecessary product when a few pores deeper than several oceans opened up and I wondered how all of that had been underneath my skin with only a tiny black dot at the surface! However, due to the anti-inflammatory properties of BHA it didn't even become a big deal, just dried up and healed very quickly. I cannot praise this stuff highly enough (just give it time to work! I nearly didn't)

This is now an essential product in my routine. It really helps reduce clogged pores and sebaceous filaments and has visibly improved the texture and look of my skin. Can't say it's helped with fine lines at all, but will definitely keep purchasing for its other benefits.

I bought the trial size and have used frequently and still have just under half a bottle left! Okay, so I am not good with instructions and after having no problem, I began using this twice a day for about 10 days and then realised that you are supposed to slowly build up usage! Well, I copped it with peeling skin which is totally my bad and unfortunately I haven't been able to reuse this product...yet.

What I got from this product is smaller pores on my cheeks, clean skin and it makes the face so smooth whilst it's on as well as when you take it off. Takes awhile to work but when it does you will know it. I recommend this product and hope to be able to use the remainder of it.

The only downside of using PC products is DELIVERY! My first delivery took 5 days and my second took 7 days, I've just made my third order and wonder if that will take 9 days?
PS: If your products weren't so good I wouldn't get so excited about waiting for them so you're kinda a victim of your own success. What a bonus!

Customer Care: Thank your for your feedback. We are sorry to hear of the delivery issues. Orders are being sent from our warehouse in the Netherlands, therefore currently it can take up to 9 work days (weekends and public holidays excluded) for the parcel to reach you. However we are monitoring this closely and hope to be able to offer faster options in the near future.

I have oily t zone with large pores and lots of blackheads in that zone. I get dry cheeks and top of forehead. My skin can go very dry at times. Thought I'd try this as am always open to something that says it reduces blackheads- they have been the bane of my life since I was 18 I'm now 34!
Definitely reduces pore size and reduces the rate at which I get black heads. My skin looks smoother since using this. I do still have blackheads certainly but I would say after using for around 5 weeks or so now they have reduced. I'm hoping with long term use they will continue to improve. There have been quite a few days where I have not worn foundation, instead just a powder on my skin which is un-heard of for me! So it must be doing something. Only my problem I've encountered twice is dry skin. It's weather that will make my skin have a dry spell but I do find when it happens I've had to quit using this product for a few days as it's been impossible to re hydrate. But once skin is back to normal it's fine. Overall very good and would dfinately re-purchase.

I'm 33 with very oily but dehydrated skin with loads of blackheads all over my face and the occasional breakout.
After using this product twice daily immediately after receipt, my skin started purging within a few days and I got heaps of little white bumps that turned into tiny white heads. After they disappeared with uninterrupted use of this exfoliant, it was easy for me to remove the remaining blackheads with just the tiniest bit of pressure.
Three months in and my skin looks better than it ever has in 20 years, almost like a baby's bum.

Because of the constant skin cell renewal this product provides, my dry flakiness is gone and makeup wears soooooooooooooo much nicer and scar indentations are less visible. I'm sooooooooooooo happy with this.

Don't get me wrong, my skin is by no means perfect and as yet I rarely leave the house without foundation, however, using PC products together with an increase in my water intake, cutting out processed food and monthly dermarolling (to reduce scars) it has improved so much in the last three months. I started my routine not far into the new year and decided to make this year all about sorting out my skin and I'm well on track....

I wish I had discovered this product before. Oh what a difference it has made to my skin. I have been suffering from blackheads and whiteheads on my forehead and chin area over the past 2 years (I am in my mid-forties) and redness on my cheeks. After just 1 application (I pat it on with my fingers), I immediately noticed the difference. The next morning, my whiteheads were calmer and 3 days later, all whiteheads were dried and healing. A few blackheads remain after 1 week. The redness on my cheeks has calmed down 50%, my skin feels smooth, matt and clear. Wow! My husband asked - what have you done to your skin? It looks really good. Amazing!

I can not praise this product enough. It's been a year that I am using it and have been complimented not once for how great my skin looks. I use it 4-5 times a week in the evening. In that time of the month I aply morning and evening and those monsters dont have any chance.
I highly recommend this product to anyone who wishes a clear, clean and fresh skin! Dullness is gone, no acnee, no pimpels, no blackheads!
Thank you!

Customer Care: Thank you for your review. We are happy to hear that you are so pleased with this products. Consistency is key.

I've been using this for 2 weeks and sadly this did not deliver my expectations... I have very oily skin with blackheads all over, massive pores and some deep wrinkles. This product has not cleared my skin or made my pores look smaller, it left a sticky and shiny film and made my pores look even bigger. I only use it at night as I'm not happy about the appearance of my face after I apply this.I've tried a few different application methods but nothing has worked. It might be my skin doesn't like BHA... I also use an AHA toner (different brand) and it works just great.

Customer Care: Hi there! We're sorry it wasn't a fit for you! Be sure to contact our Customer Care for assistance!

I have oily/combination skin. I have battled for years with both breakouts and super sensitive skin (allergic/eczema prone). Over the years I have learnt the hard way what does and doesn't work for my skin and these days I am very careful about the products I introduce to my skin. Now in my early thirties, I have the added concern of wanting to fight the onset of wrinkles! A nightmare combination of skin concerns to attempt to treat!! I have been using this BHA for around 4 months now and can honestly say I have seen a real improvement in my skin. I was a little weary when I first starting using this product (in case it triggered an outbreak of sensitive skin) so I only used the product once a day (morning) for about a month. I now use this BHA morning and night and have never experienced any sensitivity to the product. I have found that acne scars/marks heal much faster and the majority of my breakouts now only really happen around my period due to the spike in hormones. I have also found that the persistent milia around my eye area has pretty much all but gone (far cheaper and less painful than a trip to the dermatologist for removal!!). After the first month of using this BHA, I then introduced Paula's resist ultra-light super antioxidant serum, which I think has also really helped clear up breakout scars and glides onto the skin perfectly without clogging pores. My skin is smoother, brighter and more even, so needless to say I think this is an amazing product and would highly recommend it!!

I chose this product after so much consideration - I was swayed by the fact that this product also had anti-ageing properties but the main functions I was looking for were to tackle breakouts and redness. In all honesty my breakouts aren't even that bad so I thought this would be fantastic after all the rave reviews.
I've been using the product for a few weeks and I just don't see the improvement. I also read that this product would clear sebaceous filaments (this isn't advertised by PC) which I can't say that it has. It has refined my pores though so at least there's that.... Maybe I set my standards to high or maybe it just doesn't work for me. Who knows? I will not be re-purchasing and am internally crying about the product finding the trash heap.

Love love love this exfoliator. I use this once a day and alternate with the clear regular strength. It's transformed my skin and if I ever go without it for a few days, I really notice the difference.

Very disappointed in this product. I've been using it for just over 2 weeks and I have developed more clogged pores and active acne than I've had in years. There've been no other changes in my skin care routine and my skin had been clear for more than a year. Such a shame as I had high hopes for the claims made about this product, but alas, every Paula's Choice product I have tried over the past 7 years has caused me problems. Texture-wise this has an amazing feel on the skin, and it's quite hydrating which was nice.
Customer Care: Thank you for your review. We are very sorry to hear about your experience and discomfort. Although this is not a common response, we do understand that each customer is uniquely different in how they respond to products or ingredients. Our Customer Care Team will contact you for a refund.

This is AMAZING! I had marks and belemishes on my face and after using for only a week my skin looks clear like I'm always wearing foundation!! The pore size hasn't decreased but I was having hormonal breakouts every few days and now I haven't had any for a week . I had sensitised my skin by using too many products like acne treatments etc and now there is no redness on my face no dry patches no spots just smooth clear and plumped up! For the first time ever I have been going out in face powder instead of my foundation!! I can't believe how quickly it's worked I am goin to start using these products now and nothing else!

More reviews Less reviews

Ingredients

What are the key ingredients?

Licorice root extract
Plant extract that has potent antioxidant and skin-soothing properties. Can be effective in improving the look of an uneven skin tone.

Peptides
Portion(s) of amino acids, some have a remarkable skin-soothing effect, others can improve the appearance of wrinkles, loss of firmness, and help to soften the look of expression lines.

Salicylic Acid/BHA
Primarily an exfoliant, helps to shed dead skin on the surface and inside the pore, therefore effective for reducing breakouts and blackheads. It also has soothing properties.

Ingredients:
Aqua, Dipropylene Glycol (hydration), Salicylic Acid (Beta Hydroxy Acid, exfoliating agent), Pentylene Glycol (hydration), Butylene Glycol (hydration), Polysorbate 20 (texture-enhancing), Palmitoyl Tripeptide-1 (skin-restoring), Palmitoyl Tetrapeptide-7 (skin-restoring), Dipotassium Glycyrrhizate (skin-soothing), Nordihydroguaiaretic Acid (antioxidant), Oleanolic Acid (skin-soothing), etanorulayH muidoS (hydration/skin replenishing), Allantoin (skin-soothing), Trehalose (hydration/skin replenishing), Panthenol (skin-conditioning agent), Glycerin (hydration/skin replenishing), PEG-60 Almond Glycerides (texture-enhancing), Sodium Metabisulfite (stabilizer), PEG/PPG-17/6 Copolymer (solvent), Methyl Gluceth-20 (hydration/texture-enhancing), Bis-PEG-18 Methyl Ether Dimethyl Silane (hydration/texture-enhancing), Glycereth-26 (emollient texture-enhancing), Sodium Hydroxide (pH adjuster), Carbomer (gel-based texture-enhancing), Disodium EDTA (stabilizer), Caprylyl Glycol (skin-conditioning agent).

FAQ

Good to know before you start using your exfoliant.

It is best to gradually build up use of a BHA product. Start by using your exfoliant once every other day and then increase usage to once or twice daily based on your skin's response. You need to experiment a bit to see what suits your skin best. During the day, always use a moisturiser with a broad-spectrum sunscreen rated SPF 30 or greater. Your skin will in fact be slightly more sensitive to sunlight when using an exfoliant, so the chance of sunburn and sun damage is slightly higher.

Is there another Paula's Choice product similar to the Resist Daily Pore-Refining Treatment 2% BHA?

Our Resist Daily Pore-Refining Treatment 2% BHA is actually identical to our PC4Men Soothe & Smooth.

How is this Resist BHA exfoliant different from the Skin Perfecting BHA exfoliants?

Resist Daily Pore-Refining Treatment is the only BHA product in the Paula's Choice range that combines 2% salicylic acid, anti-ageing peptides, skin-repairing ingredients and antioxidants. Together, these ingredients improve multiple signs of ageing, clear blackheads and breakouts, and reduce redness and enlarged pores.
Research
Journal of European Academy of Dermatology and Venerology, September 2016, issue 9, pages 1480-1490 Phytotherapy Research, August 2015, issue 8, pages 1117-22 Evidence Based Complementary Alternative Medicine, 2013, volume 2013, article 827248 International Journal of Cosmetic Science, February 2000, issue 1, pages 21-52 Oxidative Medicine and Cellular Longevity, 2013, volume 2013, article 375893 Plastic Surgical Nursing, April-June 2012, issue 2, pages 71-2 Journal of Clinical, Cosmetic and Investigational Dermatology, 2015, volume 8, pages 455-461 Dermato-Endocrinology, July 2012, issue 3, pages 253-8