https://www.paulaschoice.co.uk/resist-anti-aging-advanced-smoothing-treatment-aha-full-size/7651.html
Resist Anti-Aging 10% AHA Exfoliant
This powerful exfoliant reveals more radiant, younger-looking skin after one use.

Skin Type:

Normal skin, Dry skin

Concern:

Anti-Ageing, Brown spots, Dull skin

Ingredients:

Glycolic acid/AHA, Peptides, Allantoin

View all

Routine:

Exfoliate
Variations
Full size 30 ml
Remove from Wishlist
Add to Wishlist
Product out of stock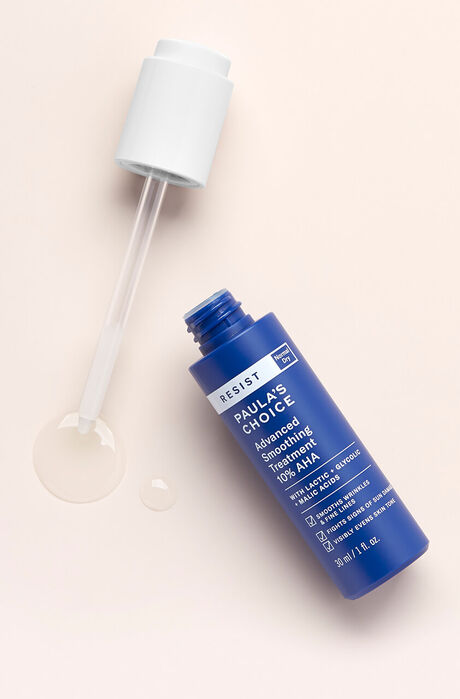 Resist Anti-Aging 10% AHA Exfoliant
Full size
This product is sold out at the moment. Fill in your email address below and we'll gladly send you an email as soon as it is back in stock!
What does it do?

A unique blend of four Alpha-Hydroxy Acids and 0.5% Beta-Hydroxy Acid

This exclusive formula contains a unique blend of four AHA's (glycolic, lactic, malic, and tartaric acid) and 0.5% BHA (salicylic acid) to powerfully, yet gently remove dead skin cells to dramatically improve the signs of dry, dull skin and uneven skin tone. The silky-light lotion provides immediate as well as long-lasting hydration, leaving skin feel soft and smooth. The pH-balanced formula also fortifies with skin-restoring peptides to target visible signs of ageing and includes powerful antioxidants to protect skin from environmental stress.

Is this suitable for my skin?

What skin concern would you like to address?

(Please select one option)

Key Features

Improves skin tone and texture

How to use

Dispense a few drops and smooth over face and neck after cleansing and toning. Do not rinse.

Start slowly: Apply every other day and note skin's response. Then use up to twice daily. For daytime, always finish with a sunscreen rated SPF 30 or above. For nighttime, follow with the rest of your routine.

Sun protection advice when using any AHA exfoliant: This product contains alpha hydroxy acids, ingredients that may increase your skin's sensitivity to the sun and the possibility of sunburn. Always apply a broad-spectrum sunscreen rated SPF 30 or greater every day. When outdoors, wear protective clothing whenever possible, seek shade, and avoid prolonged sun exposure.

Reviews

Thank you for submitting your review! It will be reviewed by our staff before it is posted.

I've tried a number of Paula's Choice Exfoliants and while I've been impressed with all of them, none of them has delivered as immediate and incredible results as this one has! All I can say is WOW!! After just a couple of uses, my skin was left feeling soft and glowing like never before. One thing to keep in mind - do start slowly. Sometimes less really is more. I found that if I use it more than 4 times a week my skin isn't too happy with me and using it just a couple of times provides fantastic results.

Customer Care: Hi Julie! I'm so happy you're loving our Resist Anti-Aging 10% AHA Exfoliant! With all exfoliants it's important to slowly incorporate them into your routine, but especially for this product as it is our strongest AHA exfoliant! I'm glad that you've found the perfect frequency for you. Please let us know if you have any questions or if there's anything we can do to help you. Kind regards, Marissa - Paula's Choice Customer Care

I love the whole resist line! It is perfect for my drier skin, however this is one of my least favourite products I have tried. I have since discovered the 5% daily smoothing treatment which I have seen much better results from. I feel this didn't as good of a job, as I quite often had some visible dry skin - no matter how much or how little I used this. The product did last a good amount of time (about 4-5 months) and applied nicely, with no irritation. I personally prefer the 5% AHA daily treatment, as I have seen better results from it, so would recommend that over this as it performs better and I don't see a need for this one on top of it.

Hi Belle, thank you for your honest review! It is good to read that you have found your favourite AHA exfoiliant, albeit not this one. Everyone has their own preference to texture/formulations and for this reason there are several exfoliants to choose from. Kind regards, Natasha - Paula's Choice Customer Care

Initially I was really disappointed with this and like another recent reviewer I was wondering why the old formulation had been replaced with this. A month on and I'm a convert. I'm glad I stuck with it through my skin not reacting so well, when I was tempted to give up, as now my skin feels like velvet and looks amazing. Ordering again soon.

No where near as good as the weekly resist. Can't believe you discontinued THAT for THIS? This is a far inferior product. The other product was such a joy to use you simply swiped your skin with a cotton pad then woke up to the best skin of your entire life. This..?! You have to battle with the annoying dropper while almost spilling the worthless contents out everywhere! Its an headache. Add to that you don't know how much you have left even if you did bother to repurchase. I was really enjoying using this site and exploring the products but now you've discontinued, what i believe to be, your star product, I won't bother anymore. So disappointed :(

So I've been using the 2% BHA salicylic acid exfoliant, however that feels a bit to intense for my skin. I use it once a week to give me a more deeper exfoliation. This however does wonders as a surface exfoliant! I love it! It moisturising and gets absorbed by my skin well! Would recommend for dry or combination skin!

Without doubt the best facial exfoliant I've used - my skin is brighter and smoother. I have quite sensitive skin and have had no problems using it which i currently do every other evening. I have been using Paula's Choice products for about a year and am a total convert to this range.

I have dry sensitive skin. I am in my 50s. I use this twice weekly over night on my face and neck. In the morning my skin is smoother, softer and brighter than before. It also helps with the occasional breakout and prevents dry, red skin. You know when something works when you stop using it for a while then go back to it and notice the changes it makes.

I use it once a week and I always wake to smoother brighter skin. I'm 40 with dehydrated skin and still suffer with the odd spots but this product really helps to get rid of little bumps under the skin.

Purely from a product functionality point of view - this did the job of exfoliating in a seemingly gentle manner, to the point where I could incorporate it up to 3 times a week in my P.M. routine, all whilst using prescription retinol 0.1% on 4-6 nights a week. It did not bring about any excessive redness, which my skin is prone to and it did not trigger my rosacea, episodes of which I can get from some less nourishing exfoliants.
That said, to me the product is overpriced for the amount. The £/mL is simply not realistic, to me.

All in all, I do recommend this product to whoever can afford it and has the need for a gentle multi-targeted exfoliant.
Personally, however, I would not be repurchasing this item, due to the above-mentioned reason.

You look younger after once use! It gently removes that top layer of dull skin cells to reveal a fresh younger looking you!

I use this on alternate nights and have noticed a huge difference in how my skin looks. It is much more even and smooth and my make up looks so much better as a result of the exfoliation. Highly recommend.

This product is like a kiss on the skin or a forgotten feather floating in the night.
In waking up and a glance in the mirror : ' behold! Where are my wrinkles and sagging skin?'

This is life-changing!!!! This together with PC Resist BHA 2% definitely changed my skin for the best. I used to have dark spots and uneven skin tone (sun damage), pimple scars and blackheads. Since using both, my skin is glowing and I have never been so confident about how my skin is. I would get compliments from friends and family! Truly, life-changing!!!!

This is my daily must have product. It keeps my skin plump, toned and moisturised which keeps wrinkles at bay! It also helps my skin to stay clear of spots or imperfections.

Could well be the finest product Paula's Choice has come out with yet and it's got plenty of competition. I was unprepared for how remarkably wonderful my skin responded to this treatment. I typically use a Paula's BHA exfoliant, the Calm 1% BHA exfoliant is an all-time favourite though I use the 2% lotion and liquids sometimes too. As I've gotten older, I've generally found an AHA exfoliant causes irritation. Having read the FAQ regarding Paula's Choice latest 10% AHA exfoliant lotion, I decided to give this a try. I've experienced no irritation at all and my skin looks wonderful. It's best to use only a small amount of this product, I think, particularly if you've particularly sensitive skin. I wholeheartedly recommend this product. It's reasonably priced and probably one of the best formulas on the market. Thank you, again, Paula's Choice.

I use this once a week and it's perfect for my sensitive, dry skin. My skin looks more even and brighter after each use. No irritation or dryness.

More reviews Less reviews

Ingredients

What are the key ingredients?

Glycolic acid/AHA
Can help shed dead skin cells to renew skin's surface, visibly softening signs of ageing, particularly from sun damage. Can act as a water-binding agent.

Peptides
Portion(s) of amino acids, some have a remarkable skin-soothing effect, others can improve the appearance of wrinkles, loss of firmness, and help to soften the look of expression lines.

Allantoin
Occurs naturally in the body. It's a by-product of uric acid and considered an effective skin-soothing and skin-conditioning agent.

Sunburn Alert: This product contains an Alpha Hydroxy Acid (AHA) that may increase your skin's sensitivity to the sun and particularly the possibility of sunburn. Use a sunscreen, wear protective clothing, and limit sun exposure while using this product and for a week afterwards. As with all cosmetics, avoid direct contact with the eyes.

Ingredients:
Aqua, Butylene Glycol (hydration), Glycolic Acid (exfoliant), Glycerin (skin-replenishing), Lactic Acid (exfoliant), Caprylic/Capric Triglyceride (skin-replenishing), Malic Acid (exfoliant), Tartaric Acid (exfoliant), Palmitoyl Tripeptide-1 (skin-restoring), Palmitoyl Tetrapeptide-7 (skin-restoring), Ceramide NG (skin-replenishing), Salicylic Acid (exfoliant), Glycyrrhiza Glabra (Licorice) Root Extract (soothing plant extract), Camellia Sinensis Leaf Extract (soothing antioxidant plant extract), Avena Sativa (Oat) Bran Extract (soothing plant extract), Punica Granatum Fruit Extract (antioxidant), Lycium Barbarum Fruit Extract (antioxidant), Vitis Vinifera (Grape) Seed Extract (antioxidant), Sambucus Nigra Fruit Extract (antioxidant), Camellia Oleifera Leaf Extract (soothing antioxidant plant extract), Chamomilla Recutita (Matricaria) Flower Extract (soothing plant extract), Peucedanum Graveolens (Dill) Extract (antioxidant), Allantoin (skin-soothing), enisonedA (skin-restoring), Hydrogenated Lecithin (skin-restoring), Bisabolol (skin-soothing), Polyquaternium-10 (film-forming agent), Xanthan Gum (texture enhancer), Carbomer (thickener), Polysorbate 20 (emulsifier), Sodium Bicarbonate (pH adjuster), Sodium Hydroxide (pH adjuster), Aminomethyl Propanol (pH adjuster), Phenoxyethanol (preservative), Benzyl Alcohol (Preservative).

FAQ

Why did we choose to use a blend of AHAs?

We wanted to create a product that harnessed the integrated power of multiple acids. The idea was to formulate a product with acids that have different molecular sizes and that each work a little differently on skin. Here's a breakdown:

Glycolic Acid – penetrates skin rapidly and stimulates collagen production.
Lactic Acid – an exfoliant that also enhances skin hydration.
Malic Acid – promotes surface exfoliation and has some antioxidant properties.
Tartaric Acid – assists the exfoliation process. Also contributes to buffer the system to help maintain the pH

Can it be mixed with other products for application?

We recommend using this product alone after your toner.

Is it suitable for those with rosacea-prone skin?

In general, a BHA exfoliant is more suitable for rosacea-prone skin types than an AHA exfoliant because of its anti-inflammatory properties. However, this Resist Anti-Aging 10% AHA Exfoliant also contains 0.5% BHA (salicylic acid) and other beneficial anti-irritants to help soothe skin. So, if you have rosacea-prone skin and you want to boost your exfoliation this is a great option.

This product contains lactic acid, can people with lactose intolerance use this product?

It is safe to use this product if you are lactose intolerant because intolerance occurs within the digestive system (small intestine). Lactic acid absorbed by the skin should not affect the digestive system in anyway.
Research
PRS Global Open, December 2016, page e1152 International Journal of Cosmetic Science, August 2016, ePublication; February 2015, pages 455-464; and October 2009, pages 327-345 Journal of Clinical and Aesthetic Dermatology, October 2015, issue 8, pages 21-26 Clinical, Cosmetic, and Investigational Dermatology, December 2014, pages 9-17; November 2013, pages 281-288; and November 2010, pages 135-142 Dermatology Research and Practice, May 2012, ePublication Journal of the American Academy of Dermatology, April 2007, pages 651-663