https://www.paulaschoice.co.uk/resist-advanced-replenishing-toner-full-size/7670.html
Resist Anti-Aging Replenishing Toner
Gentle, milky toner offers superior hydration while minimising the appearance of wrinkles.

Skin Type:

Normal skin, Dry skin

Concern:

Anti-Ageing , Brown spots

Ingredients:

Hyaluronic Acid , Green Tea Extract , Lecithin

View all

Routine:

Toner
Variations
Full size 118 ml
Remove from Wishlist
Add to Wishlist
Product out of stock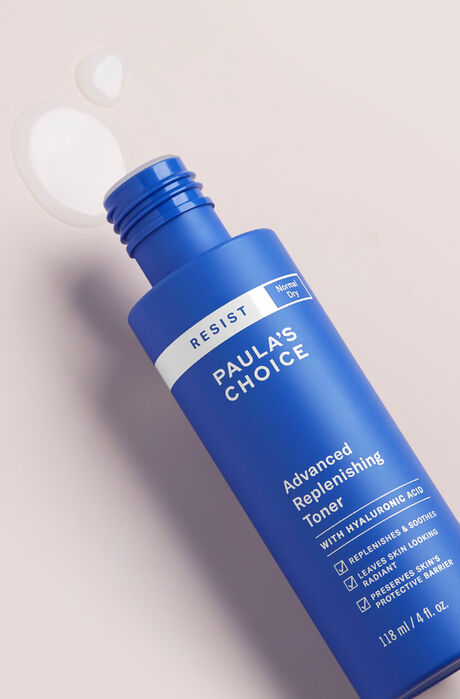 Resist Anti-Aging Replenishing Toner
Full size
This product is sold out at the moment. Fill in your email address below and we'll gladly send you an email as soon as it is back in stock!
What does it do?

A unique anti-ageing toner for normal to dry skin.

A unique anti-ageing toner enriched with essential omega fatty acids and antioxidants to replenish normal to dry skin. This milky toner offers superior hydration while minimising the appearance of wrinkles, improving uneven skin tone and protecting the skin's barrier.

Key Features

Leaves skin soft and hydrated

How to use

After cleansing, apply a little bit of toner on a cotton pad to your face and neck. Do not rinse off.
Follow with an exfoliant, antioxidant serum and/or a day or night cream suitable for your skin type. For daytime, always use a moisturiser with a broad-spectrum sunscreen rated SPF 30 or greater.

Reviews

Thank you for submitting your review! It will be reviewed by our staff before it is posted.

I love this toner! I wasn't sure if it would be suitable for me, as I have oily skin, but I find it to be perfect to use at night before the rest of my routine. I feel like it replenishes my skin and makes it feel soft and glowy.

Customer Care: Hi Elsa, thanks for letting us know your thoughts on this toner. It really is a great addition to your routine after cleansing to make sure that you've removed all your makeup and to ensure that your skin is ready and prepped for the rest of your products. Although this toner is suitable for normal to dry skin, it's great to know that it's replenished your oily skin type and that you're benefitting from all it's wonderful anti-aging and skin barrier protecting properties. Kind regards, Shannon - Paula's Choice Customer Care

For most of my life (I'm 52 with dry skin) I've used a cleanser and toner (using cotton pads to remove) but have for the last year or so moved away from that to using cleansers that you wash off with a microfibre cloth. However, it doesnt matter which cleanser I use (have tried dozens), using water on my face to remove it completely strips my skin and my face becomes super dry and taught within seconds. I tried this toner as a last resort as I was certain I would have to revert back to using cotton wool to remove (and not water) but this toner has been a game changer. It instantly puts the moisture back that the water seems to strip out of my skin, its soothing and calming like nothing else I've tried. Well done Paula's Choice! I have just ordered 2 more bottles as I cant live without it.

Hi Michaela, thank you for taking the time to write a lovely review of the Resist Anti-Aging Replenishing Toner. It is great to hear this helped restore the moisture in your previously dry skin. If you need more tailored skin care advice please get in touch. Kind regards, Adele - Paula's Choice Customer Service

I love the whole resist line! It is perfect for my drier skin, and this toner is no exception. It definitely feels soothing and hydrating, and has helped to even out my skin tone. It lasts a long time, approximately 2-3 months with twice-daily use, so I feel the price is more than justified. I knocked one star off as it is quite easy to over saturate a pad. I feel I could get even more use out of this product if it were to have some form of pump to control the volume of product released - similar to what the rest of the line has. Definitely recommend this product.

Hi Belle, thank you for your positive review! Glad to read you like the feel and effect of this toner. Perhaps you can try applying the product without using a pad to save wastage. Your feedback will certainly be considered. Kind regards, Natasha - Paula's Choice Customer Care Team

Mega hydration. I use this as a serum in the morning. It's the only product that gives that blast of moisture and it doesn't evaporate after a few seconds. It's also extremely soothing. Perfect just before day cream. Will be ordering third bottle soon.

Very soothing and moisturizing, makes my skin feel nice and comfortable

I will never be without this toner ever again. I don't know what I was thinking; I went through an episode of having really hypersensitive skin last year & cut out everything I was using. I slowly began rebuilding a routine that was perfect for my combination skin & fell back in love with this toner... all over again! Whatever I combined this toner with was obviously not agreeing with me, but this toner alone, combined with my rosehip oil & PC's balancing moisturizer is a routine I will never ever change! My skin has been looking & feeling incredible with consistent use & has given me genuine, long lasting results. My skin barrier is stronger than ever, & I don't get breakouts anymore!... must be the grapeseed extract??

Paula's products have been a mainstay for me for over three years; I'd be hard-pressed finding a replacement line. I don't want to be without Paula's Choice products.

I've chosen the RESIST Advanced Replenishing Toner for my first written review.

While I periodically use other Paula's Choice toners, this one is the very best overall. I gently shake the contents of the toner before unscrewing the lid each time I use it. The ingredients inside are some of the best anyone can use on their skin. I want them all making it onto my face.

I'll sometimes use cotton wool to apply the toner after cleansing, especially when I've washed off make-up, sunscreen and an urban commute. More often I simply pool about two teaspoons or so of toner into one hand then use both hands applying the toner like an aftershave, lightly smoothing all over face and neck as well. The consistency of this toner works fine that way though I've had to practice a bit.

The application of this toner alone after cleansing may well be enough at night for some people. If using the toner alone in the daytime, a sunscreen of SPF 30 or greater is a must. I typically use a Paula's Choice exfoliant, booster or serum and moisturizer after cleansing and toning. I'll write about those in their appropriate section.

Customer Care:
Hello Jenny, thank you for sharing your experience with us, we are always delighted to hear from our customers!

This is an excellent toner. It left my skin feeling moisturised and comfortable.

So I bought the trial size that lasted for about 3 weeks despite being used twice daily and I think that's value for money. I liked the toner, don't get me wrong but not enough to repurchase. That said, it did help me realise the need and place of toners so I have ordered a full size of one of the other PC toners.

Not bad but I wouldn't use again, let me just qualify that by saying I have not ever been a toner user. I am now, just not this one.

I have never believed in toners - I never saw the point. I swayed from this position when I saw my favourite Aesthetician raving about this product on YouTube. She was saying that that it gives a glow and radiance to the skin, and that when she ran out of the product, her skin's luminosity soon took a dip. That was enough to convince me and I ordered promptly. Turns out, this toner did not disappoint one bit! I am 40 and have very dry, lacklustre skin, despite eating healthy food, exercising and using the finest products known to man. It only took a use or 2 of this toner to start seeing a remarkable difference in brightness and clarity and it immediately won "can't live without" status in my skincare regimin. I would seriously recommend this bad boy. It's worth every penny!

Ever heard of the 'devil's 3 seconds'? I have. Experienced it too, I think. I heard it first on some beauty show from Korea and it means the first 3 seconds right after towel drying your face from a wash. During these 3 seconds while the pores are still open, it is crucial to moisturise to prevent your face turning taught and dry. Where I say I've experienced this, I mean, I find that my face turns taught and dry very quickly right after drying my face if delay splashing some sort of toner on it. And that time seems to be as short as 3 seconds. Anyway, while some toners seem to evaporate just as quickly as you slap some on, this milky toner with a very runny jelly-like consistency tends to stay on my face quite well, and most of all, VERY moisturising. On first use, I even thought about leaving the skincare routine there for the night since it was quite 'quenching'. Also good at calming down irritated skin. Am a fan.

I haven't used toner for years but as I get older I decided that I need to take more care of my skin. After receiving a sample of this Toner I went ahead and bought a full size bottle. You only need a few drops on a cotton pad for your whole face and neck, so it will last ages. It's lovely, cooling and refreshing and definitely makes my skin feel nicer and ready for moisturing. It has a lovely, silky feel to it and soaks into your skin quickly. I have bought other, cheaper toners in the past but will definitely be sticking to this one from now on.

In my opinion this product isn't worth the price: the container is quite small and therefore I find that with daily use the product runs out quite quickly, and I haven't noticed any benefits to my skin. Having said that, I acknowledge that I may have chosen the wrong toner for my skincare needs as I don't have mature skin, but I bought it based on the fact that it apparently calms redness. I can't say I've noticed any improvement to my normally slightly red cheeks, nose and chin. Ultimately this was an inoffensive but fruitless purchase for me.

This feels soothing and calming on my skin - easy enough to apply it with fingers, you don't even have to use a cotton pad. Has a lotion texture which soaks in quickly and leaves my combination skin rebalanced.

This toner gets my skin feeling in perfect condition for the rest of my routine. It softens my slightly drier cheeks and preps my slightly oily t zone for my spf. Its packed for loads of antioxidants as well and free of irritants, what more could you ask for!

I purchased this product, along with the Paula's Choice Resist Intensive Wrinkle Repair Retinol Serum, and I have been using both for over five weeks now and have noticed no discernible difference in my skin whatsoever. If anything, my skin seems slightly more irritated and prone to spots.
Although these products are by no means the most expensive, it still felt like an investment at £55 for the two. Since having both my children, my skin has gone from good to tired-looking, blotchy, bumpy and haggard. I was desperately seeking a skincare regime that would help alleviate some of these problems and the reviews of Paula's Choice products generally, seemed very good. I really wanted to like the Resist products and I have persevered with them, but sadly, they don't seem to work at all for me.Customer Care: Thank you for your review. We are sorry to hear that you haven't seen better results. Please contact our Customer Care Team so we can help you find products that may work better for you.

This is a fantastic product - really cuts irritation and is pretty economical if you apply with your hands. No alcohol, fragrance or anything ridiculous to make it problematic.

However, since PC UK uses Yodel to deliver to the UK, I'll reduce ordering from this site to a absolute minimum as actually getting the product delivered is more hassle than its worth. I'll try the new Clinique essence stuff to see if its a dupe I can buy locally. Can't find a dupe of the wonderful azalaic acid stuff PC do, unfortunately and that stuff is amazing.

I don't often write reviews, but this product is so good. Skin feels lovely and it has really helped with my redness. Only one small criticism - wish they did larger bottles.

This stuff is amazing...calms my skin like nothing else i have ever tried...and most important. ..no breakouts!!! I have hunted high and low for years for products that do not upset my skin...I finally found them here...so happy. Please don't EVER change the formula...many thanks!

I bought this toner along with the other RESIST products and I have to say that I love this toner! One of my main gripes with the RESIST line is the "less for more" rule they seem to follow. You only get 118ml of product but the consistency of it, akin to milk, more than makes up for this. Due to its consistency this toner spreads easily across the entire face and neck and you don't need to use a lot at all! It leaves the skin feeling dewy and doesn't leave any shine either. After using this, my skin seemed to have a radiant glow about it! Truly a five star product!

I have just ordered a second bottle of this toner. It's simply an oustanding product. It glides on smoothly and sinks in without leaving any residue. I have a combination skin and find that it balances it perfectly. During the warmer months, I found it was often enough on its own for moisturising my skin. Now, in the colder weather, it's still going strong and I haven't needed anything more than applying a sunscreen or serum on top.

I have normal/combination skin and whilst the RESIST line (and Paula's Choice products in general) have significantly improved my skin, this is a standout product. As Eric writes, the texture is milky and slightly thicker than other PC toners and applying after a shower instantly rehydrates and smoothes skin. It is soft to apply, absorbs quickly and leaves a noticeable difference in skin tone - this product could easily be worn alone under sunscreen if you have my skin type. Top marks!

More reviews Less reviews

Ingredients

What are the key ingredients?

Hyaluronic Acid
Component of skin tissue. A superior skin-replenishing ingredient that can boost skin's moisture content, soothe, and defend against moisture loss.

Green Tea Extract
Possesses potent antioxidant and skin-soothing properties and has impressive research in terms of its many benefits for skin, including anti-ageing properties.

Lecithin
Phospholipid found in egg yolks and plants. Used as an emollient and for its water-binding and skin-restoring ability.

Ingredients:
Aqua, Cyclopentasiloxane (hydration), Glycerin (hydration/skin replenishing), Glycereth-26 (emollient), Polysorbate 20 (texture-enhancing), Dimethiconol (texture-enhancing), Linoleic Acid (skin replenishing), Oleic Acid (skin replenishing), Linolenic Acid (skin replenishing), Phospholipids (hydration/skin replenishing), Carnosine (skin-restoring), Epigallocatechin Gallate (antioxidant), Genistein (antioxidant), etanorulayH muidoS (hydration/skin replenishing), Sphingolipids (hydration/skin replenishing), Ferulic Acid (antioxidant), Laurdimonium lyporpyxordyH Hydrolyzed Soy Protein (skin replenishing), Glycyrrhiza Glabra (Licorice) Root Extract (skin-soothing), Acetyl Glucosamine (hydration/skin replenishing), Quercetin (antioxidant), Oenothera Biennis (Evening Primrose) Oil (non-fragrant plant oil), Beta Vulgaris (Beet) Root Extract (skin-restoring), Curcubita Pepo (Pumpkin) Seed Extract (skin-restoring), Lecithin (skin-restoring), Caprylic/Capric Triglyceride (emollient), Hydrolyzed Corn Starch (hydration), Hydrogenated Lecithin (hydration), Palmitic Acid (hydration), Butylene Glycol (hydration), Acrylates/C10-30 Alkyl Acrylate Crosspolymer (texture-enhancing), Xanthan Gum (texture-enhancing), Laureth-23 (cleansing), Laureth-4 (texture-enhancing), Aminomethyl Propanol (pH adjuster), Disodium EDTA (stabilizer), Sodium Benzoate (preservative), Ethylhexylglycerin (preservative), Phenoxyethanol (preservative), Chlorphenesin (preservative), Benzoic Acid (preservative), Sorbic Acid (preservative).

FAQ

Why do I need a toner?

A toner is a great addition after cleansing to make sure that you've removed your makeup. A good toner contains antioxidants that soothe and protect the skin, and restorative ingredients that counteract dehydration. Your skin feels softer and functions better.
Research
Journal of Cosmetic Dermatology, June 2013, issue 2, pages 96-102 Indian Dermatology Online Journal, April-June 2013, issue 2, pages 143-146 Journal of Drugs in Dermatology, September 2014, issue 9, pages 1021-5 Journal of Investigative Dermatology, October 2005, issue 4, pages 826-32 Journal of Drugs in Dermatology, September 2014, issue 9, pages 1021-5 International Journal of Cosmetic Science, February 2000, issue 1, pages 21-52 Evidence Based Complementary Alternative Medicine, 2013, volume 2013, article 827248 International Journal of Toxicology, 2001, volume 20, supplement 1, pages 21-45 Clinical Dermatology, August 2010, issue 4, pages 440-51 International Journal of Cosmetic Science, August 2005, issue 4, pages 243-9